Recently this reviewer has partaken of several theatrical works and an art exhibition where lust figures significantly: John Doyle's production of Stephen Sondheim's Sweeney Todd currently running on Broadway; Washington, DC's InSeries production of The Marriage of Figaro: Las Vegas Version; Arlington, Virginia's Signature Theatre world premiere of the Edgar Allan Poe biography Nevermore; and New York City's Neue Gallerie's art exhibition of Egon Schiele: The Ronald S. Lauder and Serge Sabarsky Collections.
This reviewer is particularly interested in how these artists have pushed against the line of good taste in their exploration of sexual subject matter. Webster's defines lust first as "a desire to gratify the senses," as in "bodily appetite." Webster's definition progresses to "excessive sexual desire, especially as seeking unrestrained gratification." Lust and love are not identical behaviors although a person in love could lust after his or her partner. Lust unlike love always falls on the dark side of moral judgment.
THE DEMON BARBER OF FLEET STREET AS A CABARET
The story of Sweeney Todd is driven by the vengeful rage of a naïve barber who was sent Down Under to Australia as a criminal because a judge lusted after the barber's beautiful wife. However Sweeney Todd's lust for blood (in this case, lust is something other than sexual fulfillment) is heightened by his partnership with his former landlady Mrs. Lovett who has always harbored a certain lust for the barber. Judge Turpin, the original predator, continues his out-of-control appetites by demanding that the barber's daughter Joanna, whom Turpin has raised in his home, marry the ageing judge. This despite rumors that Turpin raped Joanna's mother Lucy causing Lucy to commit suicide. The book of this musical, written by Hugh Wheeler (Wheeler drew the story from a book by Christopher Bond) masterfully interweaves these characters in the tradition of Shakespeare.
John Doyle's production adds a new level of art to Sondheim's musical. The entire production is presented as a cabaret where the actors are also the musicians forming their own intimate orchestra. Todd's revenge, which is exercised in his barber's chair, becomes a stylized act. Doyle and his lighting designer Richard G. Jones use red lights to highlight the instance where Todd slits the throat of people who have wronged him. Next, Todd's victims are dressed in white lab coats with a stream of red, presumably blood, running down the front of the coat. The dead instead of disappearing into Mrs. Lovett's cellar where she grinds them up for her pies remain on stage to play their musical instruments. With his minimal cast, set, and approach, Doyle has cut out the vulgarity seen in the original award-winning production and captured rave reviews from the top critics in the country.
MOZART'S FIGARO IN LAS VEGAS
The Marriage of Figaro by Wolfgang Amadeus Mozart with libretto by Lorenzo da Ponte concerns a count who lusts after his servant Figaro's bride Susanna. The complications of this comic opera are that the Count's wife, who is being pursued by a young man named Cherubino, still loves her philandering husband and that a woman named Marcellina, to whom Figaro owes money and who covets Figaro as her bridegroom, turns out to be Figaro's mother. In January 2005, The InSeries of Washington, DC, known for its trademark cabaret and experimental chamber opera productions, remounted a production of The Marriage of Figaro: Las Vegas Version with book by Elizabeth Pringle and new lyrics by Bari Biern. The adaptation places Figaro and Susanna in a Las Vegas hotel during the Vietnam War era.
Although billed as a new production, The Marriage of Figaro: Las Vegas Version brings back most of the accomplished players who premiered in the original 2001 sold-out production by the InSeries. Interesting casting choices included African American baritone Terry Eberhardt as the happy-go-lucky Figaro, soprano Rebecca Ocampo as a cute Susanna dressed in black-rimmed eyeglasses and 1950ish pink skirt-and-sweater ensemble, and the tall, lanky mezzo-soprano Ingrid Cowan playing the long-haired Hippie Cherubino.
To this reviewer's sensibilities, if a director chooses to alter the reality of who a character is, such as casting an African American singer as Figaro, a character whose birth becomes an issue during the course of the opera, then go all the way and also cast either Marcellina or Curzio (Figaro's father) as an African American. That way a director can open up a cast to a more diverse set of singers and still root the choice in something that makes visible sense. Also the reviewer is not sure why Susanna in this production looks like a geek. This raises the question why the Count is particularly attracted to her. Traditionally Susanna is a beautiful and voluptuous woman. Another tradition in casting which the InSeries production follows is choosing a woman to play Cherubino, a role written for the high male voice of a castrati. Ingrid Cowan does a good job in representing herself as a Hippy youth beset with raging hormones. Cowan's rolling entrance on stage wrapped into the arms of long-legged showgirl is impressive and thoroughly convincing.
In fact, the InSeries has a solid cast of good to excellent performers. Duets between Rebecca Ocampo (Susanna) and Laura Lewis (The Countess) were impressively satisfying. Ingrid Cowan's (Cherubino) aria "I am love's captive" was a stand out.
Given the Las Vegas element of this adaptation, one would expect this version of Figaro's marriage to lean toward vulgarity. The question is how much? Does the audience really need to see the rather well endowed and fleshy Linda Nadeau (Marcellina) in a skimpy bathing suit? Do contemporary pop songs like "The Name Game" and Burt Bacharach's "I'll Never Fall in Love Again" enhance an opera with lush music by Mozart? In theory, Mozart's Figaro set in Las Vegas seems like a great way to re-conceive an old classic about lust, but what the InSeries needs to watch is fine-tuning and cliché all the way through to the close where Figaro and Susanna as well as Marcellina and Curzio are married by who else? Elvis.
QUOTH THE RAVEN
Signature Theatre of Arlington, Virginia, known for its annual Sondheim productions (last season they premiered a scaled-down version of Pacific Overtures with participation by Stephen Sondheim) is a small theater company that takes a lot of risk by presenting many premieres in one season. Their third show of the 2005-2006 season is Nevermore by Matt Conner with lyrics adapted from the writings of Edgar Allan Poe and book by Grace Barnes. This one-act musical concerns Poe's obsession with the women in his life. Here the story of lust is a hunger for the mother. Poe lost his mother when he was two. Although this reviewer found the music as well as the beginning and ending of Nevermore unsatisfying, overall the text is rich with such provocative lines as, "Happy endings are the death of artists."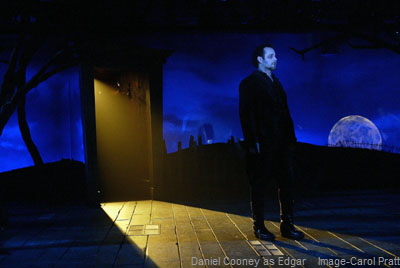 Eric Schaeffer as director of Nevermore pushes into Poe's darkness particularly when he has Edgar (Daniel Cooney) deflower his child bride who is also his cousin Virginia (Lauren Williams). Also on the edge (but not crossing the line to vulgarity) is the scene where Virginia masturbates while Poe tells her one of his horror stories. In the black stage set defined by barren trees and under dim blue lights, aberrant sexual behavior becomes part of Nevermore's nightmare landscape. And much to Grace Barnes' credit, Nevermore stays away from the much-satirized poem "The Raven" and novel The Fall of the House of Usher in favor of work such as the poem "Annabelle Lee" and the short story "The Masque of the Red Death."
SCHIELE: MORE THAN FRONTAL NUDITY
Egon Schiele (1890-1918), a protégé of Gustav Klimt, was known for his arresting images of fierce emotional power. Dead at the age of 28, a victim of the world pandemic Spanish influenza, Schiele was known for his narcissism, exhibitionism, and sexual exposé that pushed the limits of what was socially acceptable. Born to a father who succumbed to madness brought on by syphilis, Schiele had been accused by his father with good reason of pursuing an incestuous relationship with his younger sister Gerti. Schiele painted Gerti multiple times although not under compromising (nude) conditions. Some images, including the 1909 Portrait of Gerti Schiele, hang in the Neue Gallerie exhibition, which continues until February 20, 2006 in New York City.
In this 150 paintings and drawings cross-section of Schiele's work, one can notice the influences of not only Klimt's attention to design and fabric but also the wild brush strokes of Van Gogh, the Cubism of Picasso, and the death masks of Edvard Munch. Among the more shocking paintings present in this exhibition is the 1910 painting entitled Mother and Child. In this work, a woman wearing only black boots looks over her shoulder while a grotesque child wedges against her right thigh, running his hands up her back just above her prominent butt.
Images of lesbians holding each other with red-tipped nipples popping out between their intertwined arms seem tame by comparison to the mother and child. As do nude women with legs wide spread unabashedly showing their vulvas.
What is particularly noticeable in Schiele's nudes is their lack of human qualities. He drew pregnant woman as if their child-filled bellies were removable bowls. Faces seem to be nothing more than masques. For Schiele sex seems to be sex for the sake of sex.
But this is not to say that the majority of the work in the Neue Gallerie's exhibition portrays sexual exposé. There are quite a number of self-portraits including single works that show Schiele's face and body multiple times as well as landscapes. Did Schiele's contemporaries consider his work pornographic? When he was arrested in 1912 for kidnapping an underage girl, the police seized more than 100 of his drawings and although the kidnapping charges were dropped, he was found guilty of exhibiting an erotic drawing in a place accessible to children. The presiding magistrate burned that drawing in the courtroom.
ART VERSUS ENTERTAINMENT
A governmental judge cannot legislate what is acceptable in the domain of art and neither can special interest groups. In the United States, various public factions criticized the National Endowment for Arts severely for granting Robert Mapplethorpe public money. The complainants did not approve of his sexual imagery.
So why is it that a critic will condemn one artist's view of sexual subject matter and say the work crosses the line into vulgarity versus the work of another like that of Egon Schiele and say that despite the depiction of shocking images that break with codes of moral decency, the artist's vision adds value? This question is not easily answered because each work of art that rises above mere entertainment may require its own criteria to properly judge it. That said, some of the criteria for judging any work of art may include these components:
Demonstration of craft

Does a visual artist have the skills to draw the human body before breaking with that realistic depiction? Does the playwright demonstrate an ability to create tension between the characters? Has the playwright differentiated characters enough so that the audience knows one character from another? Then of course there are all the questions of stagecraft that include how actors deliver their lines; how actors move on stage; how well do the musicians play; the precision and timing of lights and lighting effects; the quality of stage sets and costumes; and how well are all aspects integrated?

References to established works of art or philosophies

What past vision anchors a painting or play such that it moves on to create a new vision of the world? In many ways, acknowledgment of what has preceded a new work of art is another demonstration of craft. In this case, the artist demonstrates what he or she has learned from his ancestors or contemporaries.

Relevance

Does the artist's vision inform the viewer about how to survive, about life and death, about the human condition, about social and cultural problems? Does a story about a nobleman who is trying to steal the sexual favors of his servant's bride still have relevance in the 21st Century?

Invention

Does this work of art take the viewer some place he or she has never been before? Breaking the mold and charting new territory requires finesse that is built from knowing one's craft, history and value that an audience can redeem from this work of art. Creating something that is unfamiliar and clever is not enough to define a work of art versus an entertainment.
The bottom line in judging a work of art is that any subject matter can be tackled but the artist will be judged on how well he or she puts that subject and vision across.