Albert Frederick Arthur George, Duke of York, found himself from birth in an anomalous position known only to members of the House of Windsor. As the second son of King George V, Bertie (as he was known to his family) led a life of unimaginable wealth and privilege but no real power, in which his duties always took precedence over his rights.
The coming of radio redoubled Bertie's predicament. "In olden times it was enough if a king looked impressive and didn't fall off his horse," George V (Michael Gambon) tells Bertie (Colin Firth) at one point in Tom Hooper's film, The King's Speech. "Now we're expected to invade their homes and ingratiate ourselves with them." But for Bertie, radio presented a special problem: from early childhood, he suffered from a pronounced stammer that made public speaking impossible. The film's opening sequence depicts one of the most mortifying experiences of Bertie's life: asked by his father to deliver an address via wireless at the closing of the 1925 Empire Exhibition in Wembley, he approaches the microphone as if it were a guillotine, stutters out a few broken words, then stands silent as the BBC broadcasts his humiliation to Canada, Australia, New Zealand, Kenya, Bermuda, Brunei…
Bertie struggled, with the help of his supportive wife Elizabeth (Helena Bonham Carter), to overcome his handicap. History soon demanded that Bertie become a commanding public speaker. Bertie's charismatic older brother David (Guy Pearce), known to the world first as the Prince of Wales and then as King Edward VIII, led his family and his nation into a crisis borne of his cringing devotion to the woman he loved, American divorcee Wallis Warfield Simpson (Eve Best). Hitler, meanwhile, prepared to take a flamethrower to Europe. A king who appeared eloquent and resolute in public speaking became an absolute necessity.
Lionel Logue (Geoffrey Rush), the therapist who at last made an orator out of Bertie, was the strangest choice possible. An elocution teacher and failed actor from Australia—his nationality alone made him suspect—Logue insisted on getting to know his patients intimately and addressing them on a first-name basis. As David Seidler's screenplay makes plain, these things were, and are, unacceptable to any royal. When Logue suggests to Elizabeth that she and her hubby pop round for an intimate chat, she replies, "I don't have a hubby, we don't pop, and we never, ever, discuss our private lives."
The King's Speech, then, is the story of how one man overcame another's inhibitions and mistrust, to their own benefit and the world's. Because the history is well-known, it violates no secrets to say that. The joy of The King's Speech—and watching it is indeed a rich, moving, joyous experience—is in seeing how it happened.
Bertie and Logue were both likable men, and The King's Speech excels at showing their shared humanity, even as it depicts the extreme contrasts of their lives. If Logue assembled model airplanes with his sons in their gloomy flat, Bertie imitated a penguin for his daughters in their sumptuous townhouse. (Buckingham Palace came later.) Some of the best scenes in The King's Speech show the two men bonding over the exercises Logue makes Bertie perform to break down his impediment and his reserve. Bertie sings Stephen Foster songs, recites Shakespeare, shouts strings of cuss words. (For this last, the MPAA gave The King's Speech an R rating—a ridiculous act of prudery, especially when it gave a total vulgarity like Little Fockers a PG-13.) He reveals to Logue sorrows and humiliations he has never confided to anyone else. Even then, the road to recovery is not smooth, and Bertie dismisses Logue more than once. Nevertheless, reason and friendship win out, and when Bertie once again approaches a microphone—this time to rally the support of his people in World War II—he is indeed the voice of his nation.
The scenes delineating Bertie's uneasy relationship with his older brother also could not be bettered. According to The King's Speech, David lived to evade responsibility, and the chief attraction of Wallis Simpson was that she provided the excuse for him to do just that. The scenes of David baiting his tongue-tied younger brother, who is clearly the better, more honorable man, are painful to watch. As for Wallis, she is portrayed as a cold, snippy witch whose morals and political connections are equally dubious. Bertie seethes quietly--and Elizabeth not so quietly--as they watch Wallis getting her kicks ordering the King of England around like a busboy at the Savoy Grill. In any case, the film makes us extremely grateful that George VI and Elizabeth Bowes-Lyon, not Edward VIII and Wallis Simpson, occupied the throne when the Luftwaffe crossed the English Channel. (Die-hard partisans of the Duke and Duchess of Windsor are well advised to skip this movie.)
To watch The King's Speech is to savor the delights of a solid, perfectly calibrated movie in which—like a meticulously run royal household—everything is exactly as it should be. A film such as The Social Network might be more dazzling, but it doesn't offer the bone-deep satisfaction of The King's Speech. Hooper's direction flows elegantly from scene to scene; Seidler's dialogue has a witty tang, but not so much as to be unbelievable. (When Logue tells Bertie, "Surely a prince's brain knows what his mouth is saying," Bertie replies, "You have little acquaintance with princes, don't you?") The film has a properly rich, sumptuous look, thanks to Danny Cohen's photography, Eve Stewart's production design, Netty Chapman's art direction, Judy Farr's set decorations and Jenny Beavan's costume design. The film admirably recreates a 1930s London in which manservants walked ahead of royal limousines to prevent collisions with prams and horsecarts in the impenetrable fog.
But the real power of The King's Speech is in its acting—again, as it should be. Beloved figures from British Rep are set lovingly in small roles, as jewels in a crown: Claire Bloom as Queen Mary, Timothy Spall as Winston Churchill, Anthony Andrews as Stanley Baldwin. (Two of the actors provide a delightful frisson, merely by their presence: Derek Jacobi, the most famous stammerer in thespian history thanks to I, Claudius, is the golden-throated Archbishop of Canterbury, and Logue's wife Myrtle is played by Jennifer Ehle, whose best-known previous role was Elizabeth Bennet to Colin Firth's Mr. Darcy.)
It is impossible to say enough about the excellence of the three leads. Colin Firth's Bertie radiates a quiet, dignified decency that makes his outbursts of frustrated rage all the more frightening; he is a man trapped in a stultifying role, driven to serve but impatient equally of hidebound societal rules and his own frailties. Firth is one of those actors who can use his eyes to convey successive layers of intelligence and feeling, and as Bertie he pierces our hearts. You will never forget the look on his face when, having just been proclaimed king, he rushes to embrace his daughters, only to have them stop him: they must curtsy first.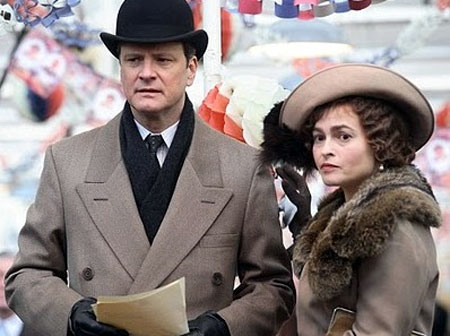 Geoffrey Rush is similarly impressive as Logue, a man whose myriad disappointments haven't prevented him from knowing who he is, or from being in charge of his own niche of the world. "My castle, my rules," he admonishes Bertie more than once in his crumbling office, and he means it; here is a man with the strength and self-confidence to command a king. As Elizabeth, Helena Bonham Carter is everything you would ever want a queen to be: loving and loyal in private, gracious and wryly charming in public. She gets to be the most regal wisecracking sidekick in cinematic history, such as when she explains to Myrtle Logue how she is to be addressed: "That's 'Ma'am' as in 'ham,' not 'Mom' as in 'pom.'"
The King's Speech will inevitably be compared to other films about the Royal Family in crisis, such as The Queen (about Bertie's daughter) or The Madness of King George (about his distant ancestor). Yet The King's Speech is, to my mind, the most enjoyable of the three. There is something ineffably satisfying about knowing that courage, perseverance and decency mean just as much within the House of Windsor as they do anywhere else.