How does an opera get successfully launched in America? Yuval Sharon, Program Director of New York City Opera's VOX program, has interesting answers to this difficult question. Based on a December 6, 2007, telephone interview, this writer discussed with Sharon the state of contemporary opera relative to trends in musical styles and subjects, how an opera team can best compete to be showcased in VOX, and what NYCO's commitment is now and in the future.
THE GENESIS OF VOX
To better understand Sharon's take on contemporary American opera, one needs to know about the history of VOX. The VOX program, a one-of-a-kind, annual festival of work-in-progress operas, began in 1999 as an idea by composer-in-residence Deborah Drattell, who this writer interviewed by telephone on December 17, 2007. Because NYCO had extra orchestra time in its 1999 schedule and, more importantly, Drattell, who is also a concert violinist, had a close working relationship with the orchestra manager, Richard Beeson, Drattell was successfully able to get NYCO General Director Paul Kellogg's approval for this project. The caveats, however, were that union issues had to be addressed with the orchestra and Drattell had to raise the money to fund the two-week program she planned. She says she remains grateful to Jeffory Lawson (now Director of Development at New York City's Roundabout Theatre Company) and to David Titcomb, who succeeded Beeson as NYCO Orchestra Manager, for the help they gave her.
From 2001 to 2006 as NYCO composer-in-residence, Mark Adamo held the position as Director of the VOX program. In 2006, Sharon took the lead. Since his graduation from the University of California Berkley, Sharon had been working for NYCO in various positions including as the creator and co-director of the Opera-for-All video documentaries and as an assistant director.
VOX: A DOZEN OPERAS IN TWO DAYS
Typically for the VOX program now, twelve operas in development are selected competitively and presented in the annual showcase that occurs over a two-day period in the spring. The program, which is free to the public, continues to include participation from the NYCO orchestra. Some of the notable success stories are: Mark Adamo's Little Women (VOX 1999) and Lysistrata (VOX 2001), Scott Wheeler and Romulus Linney's Democracy: An American Comedy (VOX 2000), Charles Wuorinen and James Fenton's Haroun and the Sea of Stories (VOX 2000), Bright Sheng and Colin Graham's Madame Mao (VOX 2002), Richard Danielpour and Toni Morrison's Margaret Garner (VOX 2004), and Robert Aldridge and Herschel Garfein's Elmer Gantry (VOX 2007).
Drattell said Mark Adamo and John Corigliano approached NYCO after Adamo's Little Women was presented in a 1998 workshop by the Houston Grand Opera. They wanted help from NYCO to further develop the opera. Although Kellogg was initially resistant, Drattell supported Adamo, saying that Little Women and the new VOX program would benefit. Drattell said the help from VOX ignited Little Women's trajectory of success that marks as of spring 2008 about sixty productions worldwide.
PUCCINI VERSUS A NEW MUSICAL RESPONSE
For the 2008 VOX showcase, Sharon said NYCO received over 80 opera submissions. Typically sixty percent of the VOX submissions over the last couple of years offer Neo-romantic music in the tradition of Puccini. Sharon said while these composers writing in a conservative musical language throw in a little dissonance and maybe a twelve-tone row, for the most part, they are only giving "a little nod to Modernism." The other forty percent of the submissions offer a unique musical response that often is redefining opera. Some of these submissions are branching out from acoustic instruments with new technologies that use electronics, such as synthesizers and laptop computers.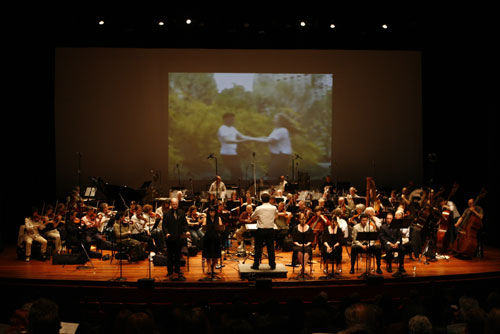 In the 2006 VOX program, numerous new operas used electronics, including Anne LeBaron and Philip Littell's Crescent City. This work, directed by Yuval Sharon, received a concert performance this month by the LOOS Foundation in The Hague, Netherlands. If one had attended the 2006 VOX showcase as this writer did, one would also know the complicated story of how Crescent City, "a Brechtian political tale of one city's response to a natural disaster," evolved from Wet, a comic opera about water rights and the horrors of floods. Wet with music by LeBaron and libretto by poet Terese Svoboda premiered at the Los Angeles Walt Disney Redcat Theater in 2005.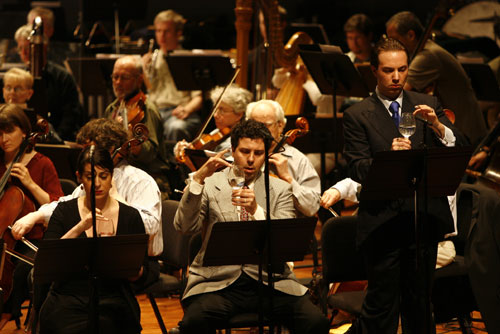 Sharon said that few of the submissions to VOX offer original stories. In the last three years, he has typically seen many operas about World War II and the Holocaust, the myth of Oedipus, and adaptations from existing literary works and historical incidents. Sharon said Holocaust stories are "very tricky to pull off." Out of 83 submissions this year, there were eight operas dealing with World War II stories. "The pieces that excited me the most are the original ideas. They are hard to beat," said Sharon. He also feels that original stories often produce the most passionate and sincere musical settings. Because opera music by American composers is "very polyglot with jazz and pop coming in," Sharon said, "sensibility is easier to talk to." For Sharon, the subject of an opera feeds the American sensibility.
SUBMIT WITH THE BEST RECORDING POSSIBLE
When asked about how best to submit work to the VOX program (the next submission period has not yet been announced but the deadline typically has been in mid September of each year), Sharon divided his answer in two parts. His practical advice is "have a very good demo recording." This means good recording equipment and good singers. Piano accompaniment is fine. Paramount is to communicate the intent of the work. Poor recordings tend to "obscure the work." His artistic advice is "be sincere. The response to the story by the composer is critical." What the VOX panel (made up of such principal NYCO artistic staff members as the music director, orchestra manager, chief of vocal staff, and VOX program manager) is looking for are operas that "burn with something to say."
For those composers and librettists who are chosen for the VOX program, the process begins much in advance of the May showcase. Those selected are notified in December. Sharon says he spends a lot of time grooming the composers. Using NYCO resources, the artistic team is taught what will make their opera successful for the total company. Dramaturgs provide examples that will help the opera advance. Tips are provided to help market the work once the tenure with NYCO VOX is completed.
COMMITTING TO THE FUTURE
Sharon said that almost half of the over seventy operas-in-progress presented at VOX have gone on to completion. This includes such companies as Houston Grand Opera (Mark Adamo's Lysistrata, or The Nude Goddess), Los Angeles Opera (Deborah Drattell and Nicholas Von Hoffman's Nicholas and Alexandra), Michigan Opera Theater (Richard Danielpour and Toni Morrison's Margaret Garner), Santa Fe Opera (Bright Sheng and Colin Graham's Madame Mao) Washington National Opera (Scott Wheeler and Romulus Linney's Democracy: An American Comedy). New York City Opera has presented numerous VOX alumni operas including the 2000 world premiere of Haroun and the Sea of Stories. The complete list can be seen at the VOX website www.vox-nyco.com. Recordings of opera workshop for 2006 and 2007 can also be found by at this URL by navigating to Past VOX and clicking on the year.
In mid March 2008, Sharon will make the 2008 program known to the public. The audience is typically filled with composers, librettists, poets, directors, opera company representative from all over the United States, and opera aficionados. This is how lesser known opera companies wanting to make a name for themselves can get a no-risk opportunity to hear work under development that they might want to sponsor for their first production of a world premiere. For example, Nashville Opera was excited to present the world premiere of Elmer Gantry. Speaking to Jonathan Marx of the Tennessean.com, Nashville Opera artistic director John Hoomes said: "'This is the first time we've done a world premiere of this scale,' noting that the company's 2005 premiere of Marcus Hummon's Surrender Road was a much more modest affair. 'For our company, it's a huge step forward. What we're committing to is a belief in the future of our art form.'"
What New York City Opera has been and is doing for the future of opera is huge. There is no other program like this anywhere in the world. In the 2009-2010 season, NYCO will gain a new general director. Belgian impresario Gérard Mortier is known to some in the opera world as a controversial iconoclast. Yuval Sharon says it is hard to predict what will happen with the VOX program. Deborah Drattell says she cannot imagine VOX not continuing. She suspects it will evolve and showcase an international set of new operas. This writer suggests now is the time to support VOX.
Photos - Carol Rosegg