In 1947, eight theatre groups turned up uninvited to the first Edinburgh International Festival. The inn was full so they checked in at venues away from the big public stages. The first Fringe was born. There was no central box office, no Fringe Programme, no advance publicity – the interlopers just arrived. One year later, Robert Kemp of the Evening News unknowingly coined the name that was to later describe the largest and most famous festival in the world: 'Round the fringe of the official Festival drama there seems to be a more private enterprise than before... I'm afraid some of us are not going to be often at home during the evenings'.
In 1958, the Festival Fringe Society became organised. A constitution was drawn up, a brochure with all non-festival shows published, tickets sold centrally, a club set up and information given. It took however another 13 years until in 1971, John Milligan was employed as the first Fringe administrator and the first steps to a more professional Fringe were taken. Finally, in 2000 the Fringe became the first arts organisation in the world to sell tickets online in real-time. Over 4,500 bookings were made over the Internet, and it took only another three years before ticket sales hit the million mark for the first time (1.18 million) in 2003. The annual Edinburgh Fringe, the biggest and best-known Fringe Festival in the world is now in its 60th year and will indeed be bigger and more glamorous than ever.
2006 features 28,014 performances of 1,867 shows in 261 venues, an estimated 16,990 performers will be on Edinburgh's Fringe stages, over a third (36%) of all shows are World premieres. 4% are UK premieres, 10% European premieres and it would take you 5 years, 11 months and 16 days to see every performance back-to-back.
Speaking of the 60th anniversary, Paul Gudgin, director of the Edinburgh Fringe Festival said on Thursday 8 June: "It's an extraordinary milestone for an event that started with six theatre companies that turned up uninvited on the 'fringe' of the official Festival back in 1947 - and it's quite staggering to consider that, since its inception, the Fringe has featured about 300,000 performers performing 36,000 shows to a total audience of what we reckon is around 19 million." This year's programme manages to top both the page count and the number of shows of last year, making it the largest arts festival in the world, from theatre, comedy, music and musicals, children's shows, dance & physical theatre and exhibitions and events. Theatre, in fact, is again the largest single staple of this year's Fringe, and in 2006 takes on a decidedly religious theme: Petrol Jesus Nightmare (Traverse Theatre Company) is trailed as 'an apocalyptic thriller about the violent consequences of faith' while Mary and the Stripper (M+E Productions) compares a modern-day girl's life to that of Mary Magdalene, next to such shows as We Don't Know Shi'ite (WMD Theatre), Breaking the Pope (Borderline Theatre Company and Jesus: The Guantanamo Years (Abie). If that is still not enough, there is an 80-hour, 10-day, live reading of the entire Bible - Bible Babel Live! at Old Saint Paul's Church.
In the same year that The Da Vinci Code became a Hollywood Blockbuster and Jerry Springer - The Opera caused chaos around UK theatres, the Fringe seems to be exploring faith in all its forms. Paul Gudgin, Director of the Fringe, said "It is always interesting when particular issues come to the fore in the Fringe programme - at the 2002 Fringe we felt a massive response to September 11, while in 2005 the War on Terror was a central point of inspiration for many shows.
This year, I'm fascinated to see so many shows addressing faith and religion, clearly it's a very personal subject that artists and writers currently feel a particular need to explore."
The Black Jew Dialogues (StageCoach Productions) is a comical examination of the American Black-Jew experience. Both …according to Jesus (Kavan) and Jesus: The Guantanamo Years (Abie) features Jesus Christ as a stand-up comedian. God's Pottery performs The Concert for LaVert using their comic 'biblical know-how'. In The Heretic as Jesus Murphy - evangelical atheist - takes on God. Two shows explore controversial aspects of Muslim faith - Nick Doody, in Before He Kills Again, and Omar Marzouk and Mette Lisby in Cartoon Heroes, Drawing a Line.
Other highlights for this year's Fringe include: From the Creators of The Muppets, Jim Henson's Puppet Improv (adults only version and kids' version!), Tim Fountain's stage adaptation of the cult classic Midnight Cowboy, a brand new daily chat show Lunch With the Hamiltons (Neil and Christine), 70's favourite The Goodies Still Rule OK!, the play Talk Radio, Stewart Lee's first directorial outing since Jerry Springer - The Opera, featuring a host of big name comedians, the outdoor burlesque sunset show A Midsummer Nights Tree, hard-hitting theatre piece My Name is Rachel Corrie, directed by Alan Rickman, Allegiance: Winston Churchill and Michael Collins, starring Mel Smith, Live 8's African Children's Choir bring Africa's Heartbeat and Chanbara (Yamato) from Japan, featuring the Crazy 88 from Kill Bill. Music highlights include T on the Fringe's Belle and Sebastian at Princes St. Gardens, and Internet success story and current UK no.1 Sandi Thom. Bill Bailey returns with his stand-up show, last year's Perrier Best Newcomer Tim Minchin returns with So Rock and Big Brother's Russell Brand will appear for a limited run. Finally one-off appearances from Pam Ayres, Ned Sherrin, the Krankies & Stu Francis and Fringe at the Castle, a special night at Edinburgh Castle in celebration of the Fringe's 60th year. Meanwhile, Paul Gudgin and the rest of the regular Fringe crew announced 'with great pleasure' that the giant Fringe Sunday fest is back, following concerns that last year might have been its last appearance. Fringe Sunday returns to The Meadows on 13 August with support from Bank of Scotland and is entirely free.
C Theatre, the in-house company of C Venues, one of the biggest venues in Edinburgh will once again open the daily program with a new parody of "Shakespeare for Breakfast". But they are not the only ones who return every year. Victor Sobchak's company Act Provocateur Int participates for the 11th time in a row at the Fringe, this year with new adaptations of the novels Lolita and Crime and Punishment, Pigeon Man Apocalypse and American Football, two new plays by the American playwright William Whitehurst, Radzinsky's Diva for the Role of Dostoevsky's Wife and The Seagull.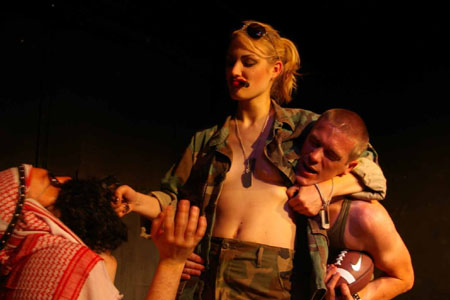 What is the magic of performing at the Edinburgh Fringe? The Fringe's guiding principles involve uncensored artistic expression, accessibility, and community development and it encourages artists and audiences to explore boundaries and make bold choices in the creation of art. The main principles are to provide all artists (both emerging and established) with the opportunity to produce their play no matter the content, form or style, and to make the event as affordable and accessible as possible for the members of the community, empowering audiences with the ability to decide for themselves the truly great productions from the good, the bad, and the gloriously disastrous. Unfortunately, some shows are below amateur standard, but I have seen performances, that had the class of world theatre, actors that can keep up with the best of the international theatre scene and saw new plays that are worth to be printed and be staged over and over again all around the globe.
The negative side to it?
As a very rough estimate for a middle range venue with average facilities, a company might pay in the region of £100 per 100 seats per day.
Finding a place to stay can be quite pricey. Often the cheapest option is to rent privately owned student type accommodation, which can cost anything from £40 - £120 per person per week. Hotels and B&B's tend to be out of most people's price range as August is one of the most expensive months for a room, even so they are often fully booked by April / May. Take into account publicity costs, print costs, transport costs, the cost of any specialist equipment, technicians, it is doubtful how many companies will make a fortune. A participating company will not only face competition for an audience from around 1,500 different Fringe shows but also from the Edinburgh International Film Festival, Edinburgh International Festival, Edinburgh Book Festival, Edinburgh International Jazz Festival and the Edinburgh Military Tattoo. So, although many people travel to what is generically known as the 'Edinburgh Festival' there are many things to distract them from buying a ticket for your show. However, financial gain is not the number one reason to come to Edinburgh.
There are rows about the way the Fringe organises itself. Since the Fifties there have been complaints that it is too big, too risqué, too open, too unruly and, most recently, too commercial and too professional. And relations with the official Festival have at times been unseasonably frosty for August. In the Sixties, advice for Fringe performers was, 'Festival vs. Fringe. Do not expect much help from the official Festival Society. As a body, it resolutely refuses to recognise its poor relations'.
The Festival Fringe Society (commonly known as the Fringe Office) does not produce any of the shows, does not invite anybody to perform, and pays no fees to performers. The Fringe is an open arts festival, and I doubt that many performers get away without debts.
Fringes around the world have adapted a simple formula that was created in Edinburgh. The main principles were to provide all artists (both emerging and established) with the opportunity to produce their play no matter the content, form or style, and to make the event as affordable and accessible as possible for the members of the community, empowering audiences with the ability to decide for themselves the truly great productions from the good, the bad, and the gloriously disastrous. Edinburgh is a fantastic networking opportunity -- it is very rare to have so many diverse and influential people in the same place at the same time and a unique opportunity to rub shoulders with producers, journalists, festival directors, Media, and also other companies or individuals who may have interests close to your own.
It is Theatre! Art! The living proof that theatre is very alive and that there are thousands of people out there writing, directing, designing, acting.
The Edinburgh Festival Fringe is the biggest and best-known arts festival in the world. It is an exciting challenge and an enriching experience. But watch out - it can be addictive!