hen summer approaches I like to look back and take note. What do I remember from the last 9 months? Which high points or low points of cultural offerings have stuck to my memory?
Naturally, memory is biased when it comes to events one has already written about. However, Robert Wilson's The Black Rider, Laurie Anderson's The End of the Moon, the first West Coast appearance of Shen Wei Dance Arts, Matthew Bourne's Nutcracker!, or SF Ballet's Romeo and Juliet also stood out because they were big thrills of the season. (See the Archives for these reviews.) But the highlights alone don't define a season, just as the icing doesn't define the cake.
A theme that made the San Francisco season 2004/05 memorable to me was the repeated experience that the success of a performance has a lot to do with the presence, or lack thereof, of coherence – particularly among the performers. The lack of coherence seems to most painfully afflict opera productions. It is in fact built into the system. Stars are engaged years ahead of time only to be replaced in the last minute. Singers are engaged for one spectacle and thrown together for a usually brief time of rehearsals, often without much regard to their singing/acting style, their appearance, or their luck with the particular language of the opera. That this gamble sometimes succeeds seems a small miracle. But one such miracle did happen with the San Francisco Opera's production of Tchaikovsky's Eugene Onegin, last fall.
Eugene Onegin
Whereas opera as usual has one or two great (expensive) performers who have to carry the weak (inexpensive) ones along, this time every role was perfectly cast – not just for vocal expressiveness, but also youth, characterization, and visual appearance. Onegin (Canadian baritone Russell Brown) had enough worldly elegance and charm covering his elitist coldness to make it believable that naive, romantic Tatyana (the engaging Russian soprano Elena Prokina) would fall for him and then be mortified by her lack of emotional control. During the confrontation over her love letter, Prokina's subtlety in hiding her shame created a tense expectation that the scene might not end as badly as we know it does. I found myself rooting for Onegin, wanting Tatyana to look right through his youthful defenses against feelings. The mise en scene by Johannes Schaaf , an eminent German opera director, turned this encounter into a universal, inevitable failure reflecting the different socialization of women and men. The full reversal of the situation in the last act powerfully brought out the contrast between a woman who has risen in society and will no longer give in to her youthful feelings of passion, and Onegin who is annihilated by their sudden force.
In the same way, the tragedy between Tatyana's light-hearted younger sister Olga (charming alumna of the Merola Opera Program, Mezzo Allyson Mc Hardy) and her over-sensitive poet Lensky (effortlessly lyrical Polish tenor Piotr Beczala in his US debut) touches the archetypal forces of destiny that opera at its best evokes . Schaaf , who is notorious for "post-modernized" opera productions, commented that he wanted to create the opera "the way Tchaikovsky would have. He preferred his singers to be actors, first, able to show the audience everyday characters going through ordinary situations." The subtle psychology of "ordinary" behavior , carried by Tchaikovsky's deeply emotional and passionate music, effectively (and without stylistic distractions) evoked the pain of these young people who are fatally attracted by their opposites while these opposites exclude each other.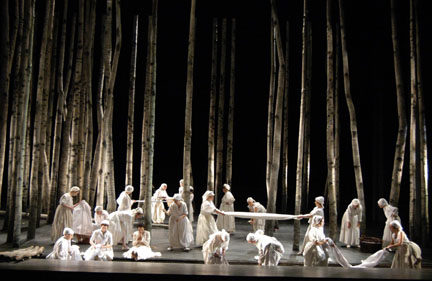 Photo - Larry Merkle
Additional coherence was provided by the stark scenography of Pina Bausch's superb set designer Peter Pabst. His forest of birch trees (as striking as his forest of redwoods in Bausch´s California creation Nur du / Only You) seemed more forbidding than romantic during the first five scenes. Pabst showed only the somewhat chaotic position of trunks: their green crowns are literally and symbolically out of reach . Filled in with white sheets hung between them by the village women, the trunks became an illusionary, childlike hiding place for Tatyana's angst before the letter scene with Onegin. The starkness of the naked birches in the winter scene of the duel, when Onegin kills Lensky, was matched by the same striking simplicity in the ball scene. When the curtain went up, the focus and symbol of the tsarist society's glamour (and Tatyana's successful marriage) was a huge chandelier with hundreds of real candles. The candles lit up with pyrotechnic wizardry – a self-igniting flame ran around the chandelier, lighting each candle, tier after tier, until they were all ablaze...and brought the house down.
(I recommend two equally accomplished versions of Eugene Onegin in DVD: Live from the Kirov, with Sergei Leyferkus, Yuri Marusin and Tatiana Novikova, on Kultur; and the version on Decca, with Bernd Weikl and Teresa Kubiak, conducted by Solti,: this is an opera-film by Peter Weigl who, by the way, also did the fascinating film version of Britten's Turn of the Screw.)
The Gamester
Instead of coherence, The Gamester by Freyda Thomas, at A.C.T., the American Conservatory Theater, was a case of mixed pickles. Freyda Thomas is known for her translations and adaptations of Molière plays (starting with The Learned Ladies, off-Broadway in 1991, with Jean Stapleton). The Gamester is an adaptation of the 17th century comedy Le Joueur by Jean-Francois Regnard, a "post- Molière wannbe" (Thomas). The play (premiered in 2001 at Chicago's Northlight Theatre) uses the original form of rhymed couplets and the basic skeleton of Regnard's play, leaving out many characters (for good reason) and adding a few new ones. The Gamester tries to make the main character of Valère, a young gambler, sympathetic as he struggles between his gambling addiction and his desire for the beautiful Angélique. Angélique sets him the challenge of having to choose between the two, but Valère wants to have his cake and eat it too. He and the other major and minor characters engage in diverse funny and absurd gambles of sex , lies and money, and of course, there is a happy ending.
The play is fun enough to be a perfect invitation for any theater company, whether college kids or professionals, to take on the stock characters – the clever servant of a reckless master, the ingenue with guts, the lecherous uncle, the sex-crazed widow with a fortune, etc. – and have a jolly good time with the farce. But oddly, only half the company managed to do so. A few actors stole the show with their hilarious 17th century characters, and the rest did not manage to find much or anything funny about theirs and thus did not seem to be in the same play.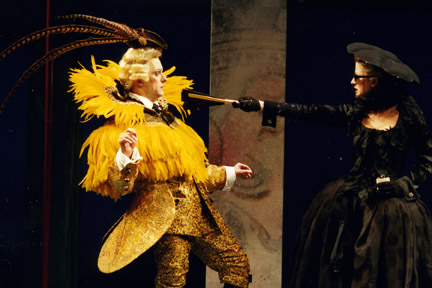 Anthony Fusco and René Augesen Photo- Ken Friedman
In a farce, you want every character to be over the top, inventive, a caricature. Freyda Thomas's text does not limit this expectation; therefore the question remains who was at fault: the actors who just didn't have what it takes, or the director – in this case Bay Area native Ron Lagomarsino ( known for the original off-Broadway Driving Miss Daisy, films like Dinner at Eight, and TV shows like Joan of Arcadia).
The worst "offender" was Lorenzo Pisoni as the hero of the story, Valère. Pisoni grew up in the Pickle Family Circus and apparently performed well as the Ringmaster in Cirque de Soleil's Mystère, in New York. Here, he gave the impression of a fairly new and conventional actor with very few comical turns in his repertoire. He came across as a confused modern guy, declaiming and carrying on in couplets. The Angélique of Margot White was lovely and perfectly bland as the romantic love object, until in the end, she challenged her lover in the casino, in drag, casting a convincing figure of outward empowerment and secret gender turmoil. Brilliant comedy was played by Ron Campbell as the uncle who competes with his nephew in the pursuit of Angélique, quite unaware of his disadvantage. Campbell played him as a befuddled old goat with the senile tic of an uncontrollably protruding tongue, and he masterfully conveyed the physical surprises and shocks each time the lecher forgets his age.
A player at the same level was Anthony Fusco as the linguistically challenged Marquis de Fauxpas, who tries to woo Angelique's elder sister. In his extravagant bright yellow suit with chicken feathers Fusco was an accomplished stutterer who tied himself in knots to get the words out in time. Joan Mankin embodied the easy cliché of the insatiable widow who offers her fortune in return for Valère's favors. Too many of the altogether 11 actors, however, remained too "normal" for this would-be Molière farce that could have been a comical gem.
As You Like It
Once in this season it so happened that one single actor embodied the incoherence of the entire enterprise – which was the case with Sir Peter Hall's rendition of As You Like It. The Theatre Royal Bath/Peter Hall Company passed through San Francisco at the end of a "Best of Broadway" tour (after New York and Los Angeles). Hall's production carried along rave reviews from England and everywhere else, for his direction and his spectacular daughter Rebecca Hall in the lead role of Rosalind. I was looking forward to seeing the truly androgynous Rosalind the reviews had promised, and indeed, Rebecca Hall looked adorable in her breeches. She looked and moved like a cute dyke, assuming all the attitudes and exaggerated gestural mannerisms of young modern-day actresses. If, for example, you have seen Laura Dern in her brilliant stint as Ellen's obsession in the notorious coming-out show of Ellen, or if you have recently watched The L-Word, you know the repertoire of gestures by heart. 20-year-old Rebecca Hall played a Shakespearean heroine of the year 2005, in a production set in some indefinable gloomy past. The other actors delivered classical British theater style of the understated kind – a reminder that British understatement can be a euphemism for depression. In a rather drab Forest of Arden, sadly devoid of any magic, the men huddled in a frozen circle. While the one or the other was holding forth in the understated fashion (James Laurenson as the Duke, Philip Voss as Jacques), they remained the entire time without movement or facial expression. Rebecca Hall, by contrast, exulted in her lines with breathy declamatory over-emphasis. She seemed to command only one register, making all her lines sound like high-singing, sighing romantic exclamations – an unfortunate contrast with her ultra-modern body language. After a while, her heavy aspiration before every new exultant line became a very audible addition to the exaggerated effect or affectedness of her style.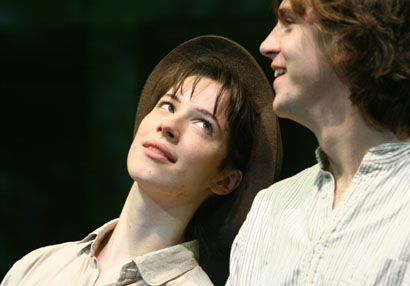 Rebecca Hall (Rosalind) and Dan Stevens (Orlando) Photo-Nobby Clark

I suppose the young actress (one of Hall's six children by four wives, in this case opera diva Maria Ewing) was overtaxed by this so-called "debut" and was indulged by her famous dad (who had already given her a previous role). She might also have been exhausted at the end of this two-year touring marathon. In spite of her considerable charm, she did not yet master the technique it would take to speak Shakespeare's lines more naturally and integrate herself into the team effort of a theatrical production and style.
For Sir Peter Hall, founder of the National Theatre and the Royal Shakespeare Company, who once directed Laurence Olivier and has been in charge of several dozen Shakespeare plays, this happened to be the first As You Like It. God knows why he avoided it thus far, but the result indicated that this comedy that tends to be a hilarious and successful romp for theatre students, eluded the almost 75 year -old master. He started out with a rageful Orlando shoveling dirt onto the minimalist stage – setting up apprehensions about a possible theft from Pina Bausch. No other stylistic element picked up on this whim ever after. Whereas the costumes were on the whole drab and indefinable, the court of the Duke's usurping brother appeared in fascist Italian attire. Why? Comic touches were rare in Hall's oppressive Forest of Arden, but when Hall went for it with the amorous pursuits of the jester Touchstone, he veered into the burlesque/grotesque. The understated "happy ending" then seemed absurdly pedestrian, especially after all the emphatic sighing (one critic called it "whining") of Rosalind. The final mystery was what "Best of Broadway" supposedly stands for – an incoherence with names that have a ring of fame?