Life is full of surprises. I expected to just barely tolerate four and half hours of Richard Wagner's Siegfried and would better enjoy many of the ten operas showcased in the two day 11 hours of the tenth anniversary of New York City Opera's VOX. Neither expectation panned out that way.
OUT OF THE SURROUND COMES A JUICY STORY
On May 9, 2009, I saw/heard Siegfried, the third opera in Wagner's Ring cycle, a production by Washington National Opera under the masterful direction of Francesca Zambello. For the most part, I found the music to be a rich broth of sound that enveloped an engrossing psychological story.
The story is a coming of age portrait about Siegfried (Swedish tenor Pär Lindskog), a young man who has been brought up by a dwarf named Mime (German tenor Andreas Conrad). Siegfried demands to know who his parents are but Mime isn't forthcoming. Neither Mime nor Siegfried loves the other. Mime is part of a nether world clan called the Nibelangen. He has been robbed of the Niebulang gold and magic ring and those things now reside with a giant named Fafner (Israeli bass-baritone Gidon Saks). One complication is that Mime's brother Alberich (American baritone Gordon Hawkins) also wants the Niebulang fortune and the other is that Mime expects Siegfried to slay the dragon but Mime has been unsuccessful in forging a sword that is strong enough to do the job.
What kicks Mime into action is a threatening visit from a mysterious man who turns out to be Wotan (American bass-baritone Alan Held), Siegfried's grandfather and the chief god of the world. Although Wotan could have killed Mime, he spares the dwarf and decrees that the fearless person who can reforge the sword named Nothung will also take Mime's head. No problem for Siegfried who makes wild bears his companions and who happens to be the son of the man who last owned and used Nothung.
So Siegfried reforges his father's sword, kills the giant and in doing so is gifted with the ability to understand the language of the birds. The birds warn him about Mime and help him find his true love. His soul mate is Brunhilde (Swedish soprano Iréne Theorin), daughter of Wotan and Erda (American mezzo-soprano Nancy Maultsby). She sleeps in a ring of fire because she tried to protect Siegfried's parents and incurred her father Wotan's wrath. To get to Brunhilde, Siegfried has to do battle with Wotan. No problem, he chases off Wotan and then awakens his bride.
AT LAST THE FAT LADY SINGS
What was uniformly consistent throughout this production was not only was the singing exceptionally good but so was the acting. I believe this is what engaged me throughout until the last scene where Siegfried and Brunhilde meet.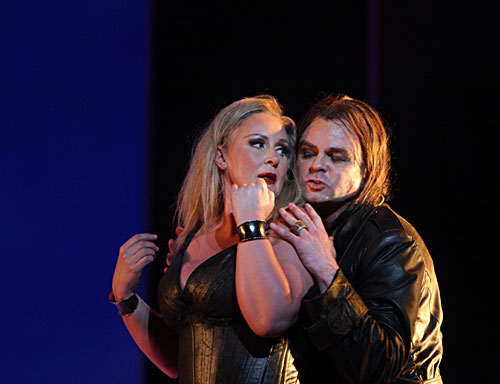 I found this scene unnecessarily long. Here the Lindskog as Siegfried seemed less able to keep his ruffian character visible as a befuddled Siegfried grappled with whether he was learning fear from this encounter with the powerful woman Brunhilde. What is particularly impressive about Lindskog is that he was able to recover from his opening night bronchitis to performed engagingly well. This opera because of its length is a huge demand on the tenor's voice and the last scene requires not only staying power but also nuanced interpretation.
The most surprising and delightful performance of the opera came from Micaëla Oeste who sang the role of the woodbird. Costume designer Catherine Zuber put Oeste in a bright orange costume to draw attention to this role without literally transforming a human to a bird. However, it is Wagner's music that is markedly different from what has come before in Siegfried that brings the attention to this character. Oeste did an impressive job with the vocal gymnastics' of this music.
ENTERTAINMENT VERSUS ILLUMINATION
So back to this issue of audience staying power and how I am choosing to discuss the experience of a fully staged classic opera directed by a much admired veteran who has brought together an international cast of exceptionally talented singers compared to a two-day workshop showcase of ten new operas. First, I should note that the average audience member for Siegfried is not likely to attend the NYC Opera VOX program. Operagoers for old repertory works usually want to be entertained and are not interested in the process of making new operatic works. As my first priority, I attend opera performances to be educated. What I hope for when the opera ends is that I will be illuminated or moved to some new level of understanding and appreciation about some aspect presented—be that story, music, or some aspect of technical delivery (direction, singing, acting, stagecraft, etc.).
One reason why I think this comparison works is because New York City Opera has given its best professional resources to the VOX program. The May 1st and 2nd concert-style performances by the orchestra and performers were impressive by themselves. The videos interviewing the creators of the new operas speak to NYC Opera's intention to maximize understanding about the excerpts shown and what the creator or creators intended.
VOX 2009
Here is the list of the operas showcased in the order of presentation:
Katrina Ballads by Ted Hearne
Mosheh by Yoav Gal
The Rat Land by composer Gordon Beeferman and librettist Charlotte Jackson
Séance on a Wet Afternoon by Stephen Schwartz based on the novel by Mark McShane and the screenplay by Bryan Forbes
Invisible Cities by Christopher Cerrone
Armide by composer Jonathan Dawe and librettist Heather Raffo
Car Crash Opera by composers Michaela Eremiásová and Jairo Duarte-López and librettist-animator Skip Battaglia
Crescent City by composer Anne LeBaron and librettist Douglas Kearney
A Bird in Your Ear by composer David Bruce and librettist Alasdair Middleton
Of the ten works showcased, I liked Ted Hearne's Katrina Ballads best. I could literally hear the composer working the music out of the unadorned text that was often drawn from news reportage. Hearne's setting of George Bush's comment to FEMA director Michael Brown after the Katrina Hurricane ("Brownie, you did a heck of job.") best illustrates this. Baritone James Bobick deserves high praise for a stunning delivery of Hearne's extremely challenging setting based on the repetition of this text.
I also loved the bluesy opening "New Orleans [she pronounced New Orleans as n'orleans) is sinking" by mezzo Abigail Fischer. Her musical accentuation made me feel the pain again about what was going on in New Orleans during and after Katrina. Hearne created an entire musical landscape of compelling voice textures, some moving together sounded like a storm, some like keening that lead to phrases such as "I can't find her body." The close by Isaiah Robinson, a special guest tenor associated with the development of Katrina Ballads, brought in a gospel element to Hearne's jazz thread to accentuate the Katrina disaster message that "George Bush doesn't care about black people."
The opera I appreciated the most after Katrina Ballads was A Bird in Your Ear. This piece is what I would call family entertainment and could appeal satisfactorily to children and their parents. Based on a Russian folk tale, the story concerns a boy who comes to learn the language of the birds. Bruce's music is lyrically satisfying and the poetry of the libretto appealing. This subject matter—understanding what birds say—dovetails with the story of Siegfried, which in no way is suitable for immature audiences.
However, the urge to understand what birds communicate with their songs made me think about the differences between speaking and singing and between spoken, musical, and opera theater. The message of A Bird in Your Ear is "wisdom lodges in the ear" and therefore one must listen. So Bruce's and Middleton's opera appealed to me at some primary level. I cannot say I would choose this piece if I were given the chance to choose three operas out of these ten VOX excerpts to develop more fully but I appreciated this one more for its consistency and completeness.
I would, however, be interested in seeing more development of Mosheh and Armide. What I particularly liked about Mosheh was that the character God was sang by two voices in unison—a countertenor and mezzo-soprano. This was both surprising and awe-inspiring as any representation of God should be. I also felt that the excerpt of this opera was not sufficiently long enough to understand where the piece was going. What intrigued me about Armide was that the composer was so-to-speak remixing Lully's opera by the same title under some principle of fractal mathematics. While I wasn't in love with Jonathan Dawe's reshaped music nor did I think the use of old singing styles worked, the updated story set in post-war Iraq was appealing. I also suspect, based on a lyrically beautiful duet between Armide and Renaud that Dawe could probably pull off something appealing and theoretically exciting out of this piece.
While Stephen Schwartz's Séance on a Wet Afternoon was given the honor of closing the first day's set of operas as well as the expertise of soprano Lauren Flanigan, I found the piece rather sentimental in its musical approach. Those who love Schwartz for his musical theater works—Wicked, Godspell, Pippin—most likely will enjoy his venture into opera.
What I liked least in this VOX line up were the two pieces brought back from earlier VOX showcases, a first in the usually all-new line up. The Rat Land was presented in VOX 2007 and Crescent City in VOX 2006. The Rat Land uses microtonal musical language to capture what Beeferman makes of the chaotic world he hears. While I subscribe to the fact that we live in a chaotic world, I did not find his music appealing or compelling the first or second time around. I also found that Charlotte Jackson, The Rat Land librettist, did not choose her words very carefully despite composer and librettist being concerned with speech rhythms. I was rather curious about Crescent City because I had been hearing about this electronic music opera on an environmental theme (then called Wet) since LeBaron's music made it's 2005 premiere with a libretto by poet Therese Svoboda at the Red Cat in Los Angeles. In 2007, I heard LeBaron and her second librettist Philip Littell talk about the new Hurricane Katrina libretto organized under the title Crescent City, but I did not hear the piece at that time. Douglas Kearney's libretto puts a Voodoo Queen, Marie Laveau, at the center of his story that concerns a hurricane that is bearing down on Crescent City (a stand-in for New Orleans). The music seemed noisy to my ears and the orchestra often overpowered the singers.
LET'S HEAR IT FOR THE SWORD
I have been attending VOX since 2006 and I believe it is the most important forum in the United States for new opera. Overall what surprised me the most about VOX 2009 was I could have happily done without hearing more than half of these opera excerpts. Given that VOX got ten times more applicants than the showcase selected, I wonder about those operas not selected this year. Last year at VOX, all of the operas had something to engage the audience. This year there was a fair amount of pushing the boundaries (did I mention Car Crash Opera used animation and music from two composers?) but not enough music and words worth listening to. Here's where Nothung, Siegfried's reforged sword, would have come in handy.
Siegfried Photos - Karin Cooper
VOX Photos - Carol Rosegg