George Balanchine was unquestionably a revolutionary artist who changed ballet forever. He was also a pragmatic business leader who knew how to please his board of directors by paying attention to New York City Ballet's financial bottom line. In spite of seeming to enjoy complete artistic freedom and a penchant for risk-taking, in fact Balanchine and his co-director, Lincoln Kirstein negotiated fervently about creating a well-balanced repertoire that pushed the artform forward without driving the company toward the brink of bankruptcy.
One of the tenets these two giants of 20th century creativity agreed upon early in their association was that there would be no revivals. Many companies use revivals of historically important ballets to stir interest, bring in new audiences, and create an aura of artistic significance. But Balanchine and Kirstein chose to pursue these goals by creating daring new work including original musical compositions to accompany Balanchine's choreography.
So, when Balanchine decided in the early 1970s to revive Coppélia he first had to convince Kirstein that it was a sound idea. While undoubtedly he harbored desires to revive the piece because of his memories of it as a child in Russia and his longing to share his love of Russian culture with American audiences, he gave another, more persuasive story to Kirstein. The ballet's third act includes choreography for scores of young ballet students. If he packed the stage with all of the little darlings from NYC Ballet's school, the School of American Ballet, and each of them brought their parents, grandparents, brothers, sisters and cousins, the houses would be filled. The company could return from its summer season at Saratoga Springs with a sparkling new revival of a 19th century masterpiece and a handsome bounty in its bank account.
Finding this argument irresistible, Kirstein relented and Coppélia was resurrected by George Balanchine and Alexandra Danilova, his former lover and a beloved master teacher at the School of American Ballet. Danilova had danced the lead female role of Swanilda at the Maryinksy Theatre in St. Petersburg (then Leningrad) and brought her special reverence for the piece as well as her photographic memory to the reconstruction project.
What Balanchine could not have known about this revival and its allure for audiences was that his beloved and painfully exiled former muse, Suzanne Farrell, would attend a performance at Saratoga Springs. She was so moved by what she saw that she immediately wrote and asked to be allowed to return to him and the New York City Ballet. (Their rupture had been caused by Balanchine's fury over her decision to marry a man closer to her own age—Balanchine was over forty years her senior, desperately loved her and created some of his greatest works for her.) Returning to the States after several years as the star attraction with Maurice Béjart's Ballet du XXieme Siècle, grace à Coppélia, Suzanne Farrell would return and spend the rest of Balanchine's life at his barre and on his stage.
It's odd, surprising and even perhaps ironic to understand that it was this old-world, old-fashioned story ballet about a misanthropic doll-maker and his obsessive attempts to bring his most beloved doll to life would have attracted Farrell away from Béjart's cutting-edge company. It is Balanchine's choreographic genius that makes Coppélia work this kind of magic. Recently restaged by the San Francisco Ballet, this is at once a traditional, three-act, full-scale 19th century reconstruction and no ordinary story ballet.
San Francisco Ballet's artistic director Helgi Tomasson was also present for Balanchine and Danilova's recreation of Coppélia. In fact, he performed the lead male role of Franz on numerous occasions. Perhaps employing similar calculations about the abundance of young students who could populate the stage and whose families could populate the audience, Tomasson agreed to a 21st century restaging in collaboration with Seattle-based Pacific Northwest Ballet.
The ballet opens with a colorful crowd scene in a village square in Eastern Europe. Overlooking the square from her perch on a balcony is the prized mechanical doll crafted by the bizarre and mysterious Dr. Coppelius. In the midst of much mayhem the young lovers Swanilda and Franz are having a tiff. Franz is infatuated by the doll and Swanilda is coquettish in her jealousy. Their contretemps doesn't last long as everyone joins in various Hungarian and Russian folk dances, lovingly restored by Danilova and Balanchine. In the evening as the square clears and the lovers part, Franz and his buddies rough up Dr. Coppelius causing him to drop the key to his workshop. Swanilda and her girlfriends come across the key and decide to sneak into the workshop to discover the secrets of Swanilda's love rival.
Act two takes place in the dark and dusty workshop where the girls find Coppélia and discover to their relief and much giggling that she is in fact only a doll. Dr. Coppelius marches in and scares them all away except for Swanilda who hides behind a curtain with the doll. Now Franz climbs in through the window in search of his own truths about the delicious doll. While the doctor and would-be lover have it out Swanilda transforms herself into the doll by changing into her dress and emerging from behind the curtain. Dr. Coppelius is elated to see that his doll has in fact come to life. He drugs Franz so that he might steal his heart and other vital energies and give them to Coppélia. The doll dances with more and more vigor and Dr. Coppelius believes his experiment to be a success until Franz awakens and Swanilda reveals her true identity. She thrusts the lifeless doll from behind the curtain into Dr. Coppelius' arms, leaving him a disillusioned mess weeping over his lifeless creation.
The final act celebrates Franz and Swanilda's wedding and the village festival of bells. While acts one and two involve a great deal of pantomime, act three contains several sequences of complicated choreography. Balanchine and Danilova threw everything they could dream of into this lush production and it mostly works. Balanchine augmented the beautiful score by Léo Delibes by supplementing the third act with another Delibes piece entitled La Source. Balanchine had choreographed his own Sylvia Pas de Deux to this music, and coincidentally, Helgi Tomasson had frequently danced the piece while with the Harkness Ballet. During the Coppélia creation process Balanchine asked Tomasson to remember and revive the choreography so he could weave into Act III's ceremonial festivities as the Grand Pas de Deux.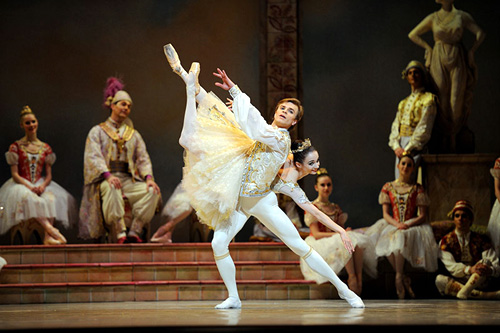 This augmentation is somewhat more successful than Balanchine's other attempt at adding filler. Balanchine also resurrected the "War and Discord" section of Delibes' original score. (Both Arthur Saint-Léon and Maurice Petipa eliminated this section from their productions of Coppélia in 1884 and 1894, respectively.) Suddenly a group of silver-clad suits of armor are thrusting themselves around the stage. The incongruity feels both jarring and cynical.
The throngs of children also appear in Act III. Thanks to the challenging choreography and unimaginable hours of rehearsal, this section works much better than most student performances. Several complicated sequences involving not only difficult steps but shifting patterns allowed the young pink-clad girls to acquit themselves in fine fashion. Presumably their families crowded in to see them and had every reason to be proud.
One final Coppélia anecdote comes from much loved retired dancer of New York City Ballet, Jacques D'Amboise. His beautifully written and quite juicy autobiography, I Was a Dancer, includes this tidbit. Among his talents for choreography, musicality and all things aesthetic, Balanchine had an exquisite eye for talent. He chose, nurtured and enabled dozens of great dancers to flourish throughout his long life as dance maker and impresario. However, among the ones who got away was a ballerina named Janie Parker. Janie danced for Balanchine's second favorite dance company, the Geneva Ballet. He loved getting away from New York and visiting his friend and former NYCB dancer Patricia Neary, who directed the Geneva Ballet. He so admired and coveted Janie Parker that when she decided to leave Switzerland and return to her native America he offered her a position at New York City Ballet. Shocking Balanchine, she refused. She did not want to face the rigors of living in New York City nor the famously cut-throat backstage competition at NYCB.
Upon hearing the news, Balanchine sniffed and said, "Stupid girl. I would have given her everything. Even Coppélia."
Photos: Erik Tomasson
Choreography by George Balanchine © The George Balanchine Trust