Editor:
Arthur Meiselman
Associate Editors:
Samantha Borland
Ravi Shukla
Toland Thomas
Design/Art Direction:
Jevrah Stone
Contributing Writers/Editors:
Karren LaLonde Alenier
Michael Bettencourt
Ned Bobkoff
Andréa Carvalho
Martin Challis
Claudine Jones
Andrea Kapsaski
Renate Stendhal
Nathan Thomas
Consultants:
Alicia Kane
Marguerite Duras
Mark Wellman
Maude Adams
Albert Camus
Marcus Aurelius
Mr. Welles
Mr. Kane
Stephen Jay Gould
Turhan Bey
Eugene Pallette
Sanuk
Harry Lime
Stephen Pinker
Nurva Columbinia
Margaret Hamilton
H.L. Mencken
Red Rough
Web Administration
Moira Brooks
Representation:
D'Arcy-Kane Agency
Legal Counsel:
Prentice Moore
Web Addresses: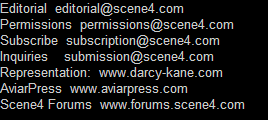 Primary Postal Address:
Scene4 Magazine 6920 Roosevelt Way NE Suite 117
Seattle, WA 98115 USA +1 206.388.4026
[United States, Thailand, United Kingdom, Canada]
Scene4 is published by and is a registered servicemark of AVIAR-DKA Ltd. The opinions, views and facts in published articles and commentaries are strictly those of the individual authors and do not necessarily represent Scene4 Magazine or Aviar-DKA Ltd.
© 2004 AVIAR-DKA Ltd. All rights reserved (including authors' and individual copyrights as indicated). All copyrights, trademarks and servicemarks are protected by the laws of the United States and International laws. Reproduction in whole or in part without permission is frowned upon and prohibited .