"Everything must have an ending except my love for you." This is the line that closes Einstein on the Beach, the seminal opera/music theater piece by Robert Wilson and Philip Glass. This intermissionless, four-and-one-half-hour meditation on the life and accomplishments of physicist Albert Einstein is realizing its fourth production and third international tour that began in previews January 20, 2012, at The Power Center in
Ann Arbor, MI and will close March 10, 2013, at the Hong Kong Cultural Centre Grand Theatre in Hong Kong, China. This reviewer experienced this extravaganza of imagery, sound, and movement on September 19, 2012, at the Brooklyn Academy of Music Howard Gilman Opera House in New York just before it left BAM for its October 26-28 run at the University of California Zellerbach Hall in Berkeley, CA. November 9-11, the Teatro Del Palacio de Bellas Artes in Mexico City will host the production followed by Het Muziek theater in Amsterdam January 5-7 and 10-12, 2013.
Should there be another revival in the future, it is likely that not all the original creators—director Robert Wilson (b. 1941), composer Philip Glass (b. 1937), and choreographer Lucinda Childs (b. 1940)—will be present. With the 2012-2013 production, Glass and Childs were seeing their first live performances since they were part of the music ensemble or dance-acting cast in all the other productions. Einstein on the Beach premiered at the Avignon Festival (France) in 1976 and ended that tour with two nights in New York's Metropolitan Opera House, an engagement paid for by Wilson and Glass—they rented the Met and suffered financial debt for years after. For the experimental theater and contemporary opera enthusiast—for example, John Adams and Peter Sellar's Dr. Atomic owe a huge debt to Einstein on the Beach, it seems imperative to attend a performance of this production while Wilson, Glass and Childs are still involved.
DON'T BREAK ON A KNEE PLAY
Knowing how to be comfortable in such a demanding theater experience as Einstein on the Beach is useful. This reviewer had the good fortune to talk to two people who had seen this production multiple times (the actor was seeing it for his third time and the physicist, his fourth). They counseled that when you get up from your seat to take a break (the creators and the theater personnel expect audience members to do this), do not go when a knee play is on stage, go about five to ten minutes into a major scene or dance performance.
Knee plays are short connective entr'actes that help with set changes and provide what Glass says is a "constant [musical] motif in the whole work." There are five knee plays spread among major scenes named as: Train, Trial, Dance 1, Night Train, Trial/Prison, Dance 2, Building, Bed, and Spaceship. The BAMbill (written program) contained a textual and pictorial map (storyboards) of the positioning of knee plays and major scenes. This reviewer thinks that the courtroom scenes (Trial and Trial/Prison) should not be missed.
Additionally, carry along something soft to put in the small of your back to make you sit up straight to avoid back fatigue. Have handy a bottle of water and small snacks you can carry out to the lobby so you don't waste time locating the concession, standing in line, or deciding what suits your palette. If you can possibly get a seat on an aisle that allows you to see the action on and off the stage (at BAM some of the Knee Plays had the chorus in front of the stage rising from the orchestra pit), that would avoid the problem of climbing over people when you want to get up to stretch.
IS THIS AN OPERA?
As he explains in Mark Obenhaus' 1985 film Einstein on the Beach: The Changing Image of Opera (New York's Morgan Library & Museum is showing this film as complement to its Robert Wilson/Philip Glass: Einstein on the Beach exhibition through November 4, 2012), Robert Wilson calls Einstein on the Beach an opera because opera means work as in opus and because Einstein on the Beach has many of the elements of traditional opera such as recitative, choral and solo singers, dancers, scenery and props on a large scale. Unlike traditional opera, Einstein has no story and no featured characters played by high profile opera singers though this reviewer noted a favorite young mezzo-soprano Hai-Ting Chin, who sang a solo part during the Bed scene. However, the singer was not on stage though she was visible for choral numbers that she took part in as well as an acting moment when she walks across the stage with a conch shell pressed to her ear.
For Wilson, the emphasis is on dance and gesture as it melds with the music. Wilson thinks scenically in portraits, still lives, and landscapes. This is how he measures space, conceiving knee plays as portraits, the big scenes of trains, trials and building (he features an atomic reactor building in Scene IV) as still lives, and the dance scenes (labeled in his map as Field, Space Machine) as landscapes.
If asked what Einstein on the Beach is about, Wilson is likely to quote this line from Einstein, "The most beautiful experience we can have is the mysterious." Because the text is abstract and was written by people with no particular expertise in writing libretti—choreographer Lucinda Childs, actor Samuel M. Johnson (he played the Judge in the original production), and autistic poet Christopher Knowles, the text takes a back seat to music, movement, and imagery. Nonetheless, the text is often haunting including "Prematurely Air-Conditioned Supermarket" by Lucinda Childs, "Two Lovers" by Samuel M. Johnson, and "Mr. Bojangles" by Christopher Knowles. Through most of the opera, images of Albert Einstein are projected or a violinist made up to look like the elder Einstein with wild white hair sits on stage playing long, seemingly repetitive passages of Glass' trance-inducing music. Antoine Silverman played impressively without signs of fatigue the night this reviewer attended the opera. At BAM, the earlier performances saw Jennifer Koh playing the violin as Einstein.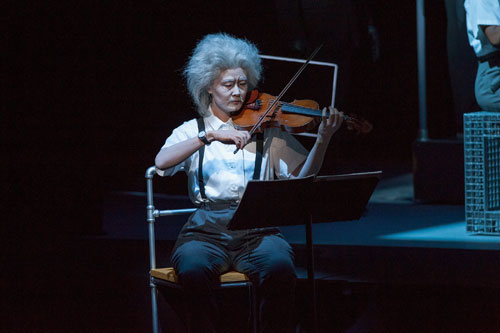 WHAT DOES THE TITLE MEAN?

And where does the title come from and what does it mean? Apparently the original title was Einstein on the Beach on Wall Street. New York City's Paula Cooper Gallery from September 12 to October 13, 2012, exhibited a number of artifacts from the original production including an early score from Glass labeled with this extended title. Neither Glass nor Wilson remembers how that title came to be. The BAM blog contained this comment, "The fact that Glass and Wilson's was originally titled Einstein on the Beach on Wall Street should clue you in to the fact that we aren't really dealing with E=mc2 and the speed of light here. The goal was more to capture what they called the 'poetic idea' of Einstein, Einstein as a kind of mythic and indescribable evocation shared by the collective unconscious and conjured somewhere—who can say exactly where?—in the work's stunning imagery and sound." Throughout Obenhaus's film, which was produced for the Brooklyn Academy Music, the institution that has hosted part of productions 2, 3 and 4, Wilson repeats Einstein on the Beach is a poetical interpretation of Einstein. Wilson means poetical in its broadest sense—including music, movement, and imagery.

While Wilson and Glass have never shared how they arrived at the shortened title, the conjecture that has been offered for years and always appears as parenthetical—one can see this in the End Notes write-up of Robert Wilson or more recently in an essay by David Rice's September 19, 2012 ClassicalSource.com review, is that the apocalyptic novel (set in a world devastated by the atomic bomb) On the Beach by Nevil Shute is where Wilson and Glass derive their title. Adding fuel to this fire is that Shute derived his title from T. S. Eliot's poem "The Hollow Men," which includes these lines pulled from section IV of this long poem:

In this last of meeting places
We grope together
And avoid speech
Gathered on this beach of the tumid river

The 1957 William Morrow edition of On the Beach included these lines from "The Hollow Men,":

This is the way the world ends
Not with a bang but a whimper

THE INFLUENCE OF GERTRUDE STEIN

Wilson and Glass have said they are indebted to Gertrude Stein's and Virgil Thomson's opera Four Saints in Three Acts and that the Stein-Thomson opera may be the only precursor to Einstein on the Beach. In particular, Wilson has spoken about the influence Gertrude Stein's voice recordings have had on him. Within the text of Einstein on the Beach, a paraphrasing of Stein occurs:

If I act as an artist, it's because I wonder why something is.
If one knows exactly what one does, there is no reason to do it.

Stein wrote, "If it can be done why do it." In Einstein on the Beach, text occurs in which repetition and parataxis (short phrases are juxtaposed without a clear connection) seem very much like Stein quotations: "If you see any of those baggy pants it was huge…if you know it was a violin to be answer the telephone… it it it is like that, hey Mr. Bojangles." Just to be clear, most of the cast are dressed in baggy pants, the same high-waisted baggy pants worn with suspenders worn by Einstein.

THE COURT OF COMMON PLEAS

While New York audience in 1976 might have walked out of Einstein on the Beach shaken by the mob scene in front of the atomic reactor building or intrigued by the lights of the spaceship with vertical and horizontal glass elevators, for this reviewer, the meat of Einstein on the Beach, the stuff one will continue to chew on, comes with the courtroom scenes. Oddly the first courtroom scene features a black judge of a certain age and a child.

They are both dressed in the British judicial style with black robes and white wigs. They strike their gavel and say, "Now this court of common pleas is in session" and then riff on the word pleas with a string of pleasing, pleasure, peas. They entertain talk of the men all being created equal in this court but how about the women? Clocks appear in various forms hanging over the court and a two-dimension clock goes through an eclipse with a black disc slowly covering its face. The court stenographers periodically get up and scratch their butts and then the chorus comes to the front of the stage with brown bags and pulls out food to eat as if goading the audience to take a break. Epithets like "male chauvinist pig, put that kiss back" are hurled. Throughout this scene Einstein fiddles.

In the second courtroom scene, a sexy woman dressed atypically in a wrap-around dress moves from the witness chair (an unusually tall and narrow chair made of pipes) to what seems to be a bed while two prisoners move stylistically behind bars on one part of the stage. The woman repeats a text about being in a "prematurely air-conditioned super market" where there are bathing caps with "Fourth of July plumes" that remind her that she has been avoiding the beach.

This text seems reminiscent of Allen Ginsberg's 1955 poem "A Supermarket in California" which also has odd juxtaposition of details and pacing. Why the woman in the second courtroom scene is avoiding the beach is anyone's guess, but it reminds the listener about the title of the work. Then this scene morphs into heiress Patty Hearst after she became a brainwashed bank robber. Before the opening of the fourth production, talk was that Einstein on the Beach would seem dated for such references to Patty Hearst, the songwriter Carol King, the Beatles, the New Orleans street dancer in baggy pants Mr. Bojangles, etc. Instead the critics and fans alike have found new ways of looking at Einstein on the Beach. This gives the black bus driver at the end of the opera and what he says a new dimension in the universe:

How much do I love you? Count the stars in the sky. Measure the waters of an ocean with a teaspoon. Number the grains of sand on the seashore. Impossible, you say. Yes, and it is just as impossible for me to say how much I love you. My love for you is higher than the heavens, deeper than Hades, and broader than the earth. It has no limits, no bounds. Everything must have an ending except my love for you.

Like Four Saints in Three Acts, which set a record in 1934 for the most consecutive performances of a live opera production (60), Einstein on the Beach, despite its demands on its audience, is remarkable for its staying power. Those who see this spectacle of music, dance and image in its entirety are changed forever in terms of defining opera and theater experience.

Photos - Stephanie Berger