The San Francisco Chronicle called it "a little silly and naïve," and was it? Four Saints was supposed to be a highlight of the two landmark shows on Gertrude Stein – Seeing Gertrude Stein: Five Stories and The Steins Collect: Matisse, Picasso and the Parisian Avant-Garde (both discussed in these pages). In a nine-week run the exhibitions attracted over 400,000 visitors. (Only Chagall drew more people in the history of SFMOMA, I was told.) A whole flurry of lectures, classes, panels, performances marked the "Summer of Stein," and the new production of Stein's first operatic collaboration with American composer Virgil Thomson, premiered in 1934, was eagerly awaited.
Any attempt at grappling with a Stein opera – opera with an abstract text -- is impressive. Through the SFMOMA grapevine I had heard that the (largely pedestrian) music by Virgil Thomson would get a blast of refreshment: modern composer Luciano Chessa, the performance group Ensemble Parallèle, and even a video and drag performer from New York, Kalup Linzy, would take Thomson in hand. This great idea, cooked up in a co-production between SFMOMA, Ensemble Parallèle, and the Yerba Buena Center for the Arts, where it was performed, allegedly ran smack into the Virgil Thomson Estate. I heard there was no permission to touch the saintly score or even break it up for some relief from its repetitive Baptist hymns, all-American choruses devoid of any polyphony, and naive oom-pah-pah marches. Four Saints had to be performed untouched. Anything new or even irreverent could only be smuggled into the staging or else, had to be added as a separate piece.
As a mere hors d'oeuvre, the new work, titled A Heavenly Act, seemed disconnected and lost in space. A not quite heavenly space: a big projection screen that showed a resemblence of clouds moving behind a stage that was empty apart from a dressmaker's doll in a white Victorian dress. The principal saint of the opera, 16th century's Saint Teresa of Avila, in Victorian white? Life on earth just a dusty window-dressing, already passé?
Nothing much happened on that stage: a dozen monks and nuns in hoods shuffled about, whispering and mumbling text (supposedly by Stein). They got rid of the doll, and their unhooded faces appeared on the screen, framed by medieval-looking wings. There was a lot of obvious "saintly" behavior, singers looking upwards blissfully or downwards thoughtfully, their faces assembled in iconic groupings on beautiful black and white film. One could debate whether this added much to Quessa's intriguing music, queer circus waltzes, microtonal passages à la Satie and quasi-Gregorian chants.
Kalup Linzy created a little stir when he came shuffling out with massive wings à la Angels in America, and he was fun when he sang a "soul" number to a perilously disharmonic orchestra accompaniment. But otherwise he had nothing to do but mosie around, looking like a big, surly turtle, or, with sun glasses onscreen, like a big menacing turtle. Maybe that was the point. Gertrude Stein's notion was that saints -- like geniuses – "don't do anything, they just are." "It takes a lot of time to be a genius," she said. "You have to sit around doing nothing, really doing nothing."
See a moment of it here: http://www.youtube.com/watch?v=MoYc-5bZMPA&feature=related
Where was Kalup Linzy when a big, menacing turtle was really needed? He ought to have been Saint Teresa, singing falsetto. Or Saint Teresa II (Stein put in two so there could be a duet). Once the main dish, the "real" Four Saints in Three Acts, started with its overly bright music and relentlessly bright white light, it could have been brilliant to keep him around as a dark angel, even taking the mic every now and then to chime in. Among the nice and charming singers representing Stein's throngs of saints (among them a "Saint Chavez," "Saint Settlement," "Saint Plain," and "Saint Answers") no characters came to life. They were just … singers. Earnest singers, loyal to their lines, no matter how nonsensical or funny or absurd. Saint Teresa – clearly meant by Stein and Thomson to be a stand-in for Saint Gertrude Stein -- was a flute-voiced, petite blonde (Heidi Moss).
Why saints? What does a Jewish author have to do with Catholicism, Heaven and the like? Virgil Thomson felt that saints were "in", and Stein settled for Ste Thérèse d'Avila because of her love for Spain – Picasso and Juan Gris – and because Thérèse was one of her nicknames for Alice B. Toklas (her own household saint). The name was ultimately changed back to the original Spanish Teresa (three syllables for the composer to play with). I assume the unvoncentional life of this powerful nun (and reformer of the Carmelite Order) was another reason for Stein's choice, and even though nothing biographical or historical entered the opera one could argue that Stein's repetitive words and sounds make for a possible modernist echo of mystic invocation and maybe even intoxication, i.e. ecstasy. The male counterpart, Saint Ignatius Loyola, founder of the Jesuit Order (in 1539), seems to owe his existence in the opera to the fact that opera à la Thomson needed a male hero who was also a reflection of the composer: both Stein and Virgil Thomson saw artistic creation as a form of sainthood (and perhaps martyrdom). In this reading, the first two of the "Four Saints" would represent Gertrude and Alice, the other two Virgil Thomson and the scenarist of the opera, his lover, Maurice Grosser. The whole thing is pure "Steinese" – a play without action, a tossing around of words and nutty word games. The German Romantic poet Novalis called this kind of writing, "Nonsense is just another form of language."
Stein might have heartily agreed. "In Four Saints I made the saints the landscape," she explained in Lectures in America. "All the saints that I made and I made a number of them because after all a great many pieces of things are in a landscape all these saints together made my landscape." If you look for further associations in this landscape you will find some magpies. According to Stein, they "look exactly like the birds in the Annunciation pictures the bird which is the Holy Ghost and rests flat against the side sky very high. There were magpies in my landscape and there were scarecrows." Maybe this little Steinian irony tells us what Spanish nuns looked like to the Jewish author. Like most of Stein's works, Four Saints can thus be seen as obliquely autobiographical, self-canonical as much as self-ironical.
I didn't detect any allusions, however, to any personal or queer subtexts in the staging by Brian Staufenbiel, the director, Nicole Paiement, the excellent conductor, and their Ensemble Parallèle. The modernist take on Four Saints ended with A Heavenly Act, and then there was the challenge of getting through the rest. Even though Ensemble Parallèle had opted for the shortest (oratorio) version of the opera, with Thomson's fifteen (or more) false endings it proved still way too long. In the course of writing this first opera, Stein seems to have had doubts herself about the length of the thing and when to stop. "How do you do," the libretto asks. "Very well I thank you. And when do you go. I am staying on quite continuously. When is it planned. Not more than as often." Haha. Her saints repeat repeatedly, "Ask Saint Therese how much of it is finished. Ask how much of it is finished." A question also very much on my mind.
According to author and Four Saints expert Steven Watson and his highly amusing book Prepare for Saints: Gertrude Stein, Virgil Thomson and the Mainstreaming of American Modernism (1995), Stein had handed the composer not a libretto, but something that appeared to him as "one compact mass of words." She had not consistently assigned parts to individual singers, so the text added up to what Thomson later called "a quite impressive obscurity." A quite impressive understatement. Stein's radically modernist maxime was: "Never describe as a narrative something that has happened." In Watson's words, "Stein conceptualized theater as the creation of experience through word constructions." Which is a challenge, to say the least, when you have to get these word constructions across a stage to an audience.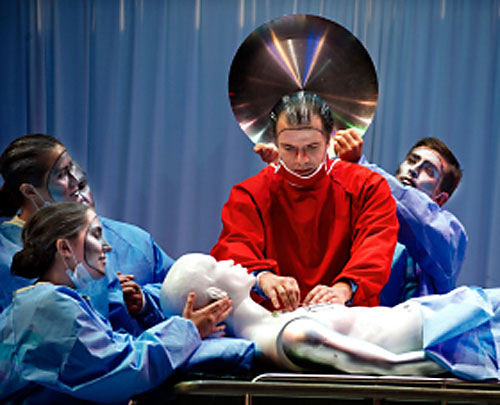 The singers on the San Francsico stage looked lovely in "grey-face" and fake corn-row hair (perhaps an homage to the original black cast of the opera), and they concentrated on singing (maybe calling the opera "an installation" was a give-away). They got through the nonsensical wordiness all right -- to not much avail, however, as one didn't understand a thing. This, of course, is hardly different from any other opera sung in English, only here it's worse as there is no story, drama, symbolism or other known reality to hang on to and perhaps guess what is being sung. That said, there are passages that did get across because they are repeated twenty times, like the line, "Once upon a time," but as no story follows you are soon on your own again. Lost were many lines that give you pause or crack you up when you read them: "If it were possible to kill five thousand chinamen by pressing a button would it be done. Saint Theresa not interested."
If there wasn't enough production money to offer supertitles, or if perhaps there were too many words for supertitles, why not invent some scenic equivalent of written words that would have brought home a joke or two? Why not sometimes use sprechgesang, the half-spoken voice, instead of staying glued to the written score? And what a score, alas. According to Watson, even Stein had some misgivings about Thomson's genius. "He frosts his music with a thin layer of banal sounds to put people off, but what's underneath is very pure and special," she defended him to his many critics. "When I reach down I get southern hymns or all those dar-fool ditties we used to sing, 'Grasshopper sitting on a railway track'," Watson quotes the composer and adds, "'Jingle Bells' frequently crept into his compositions."
Perhaps it would take a genius to get Four Saints across as something exciting today. I missed Robert Wilson's attempt at the Houston Grand Opera in 1996 (but can imagine his sterile, cold perfectionism), and witnessed the way Mark Morris missed the opportunity to turn it into a ballet of Steinian wit and irony, in 2000. The only slight laughs in the stagnant "installation" by Ensemble Parallèle were created by occasional recognizable bits of Steinese poetry: "Then. Then. Men. When. Ten. Then. When. Ten. When. Then. Then." Or, "How many acts are there in it. Ring around a rosy. How many acts are there in it. Wedded and weeded. Please be coming to see me. When this you see you are all to me. Me which is you you who are true to be you. How many how many saints are there in it. One two three all out but me." Friendly chuckles met the "pigeons-on-the-grass-alas," performed by Saint Ignatius with a doo-wop chorus of four male saints behind him doing some sort of synchronized steps. And there was laughter generated by the MCs or "circus"-announcer characters Commère and Compère who spell out the numbers of acts and scenes in the wildly absurd disorder Stein had divined for them: "Act I. Scene II. Act I. Scene VII. Act II. Scene II. ('Would it do if there was a Scene II.') Scene III and IV." Etc.
I counted one detectable idea for each of the acts. In Act I, Saint Teresa rolls in on a beautiful white Spanish baldachin bed on the blazing, white stage. In Act II an unspeakable act does occur on this bed when she dies from a euthanasia injection. (Don't ask why.) In Act III Saint Ignatius performs a funny autopsy on her body (a dummy doll), while Saint Teresa (still quite alive in the libretto) twitters on, literally hovering "above." In the unexpected Act IV, Dr. Ignatius gets his comeuppance on an improvised electric chair. Right on, I wanted to say. More aggressive handling, yes, even more killings, and more radical dissections and iconoclastic subversions could have done miracles for these saints.
In a pre-performance gallery talk at the Contemporary Jewish Museum, Steven Watson charmingly evoked the miracles performed at the world premiere, in 1934, at the Wadsworth Atheneum of Hartford, Connecticut. The opera created a fashion frenzy in the chic society. It was the most written-about production in America in ten years. It was the first major Gesamtkunstwerk in America in the vein of Wagner and Diaghilev. It was a très gay affair managed with panache by Virgil Thomson, Maurice Grosser, choreographer Frederick Ashton, amateur director John Houseman and other members of Thomson's old Harvard crew. Ashton (soon to be one of the major choreographers of his time, together with Anthony Tudor and George Balanchine) sailed from London's Sadler's Wells Ballet and hand-picked the dancers from a notorious dance hall in Harlem. The all-black cast (Thomson's daring idea) was a sensation in America in 1934. Ashton quickly renounced efforts to teach them classical ballet steps and attitudes and instead trusted their inborn genius of movement. The singers were superbly trained from their own church choirs, and they brought Virgil Thomson's Baptist musical inspirations convincingly to life. According to Watson, a high point was the chorus swaying ecstatically in a long religious procession while hardly moving onstage. Another delight was the surprise fourth act, which Stein situated in Heaven, where it ended with the announcement, "Last act," whereupon the whole chorus of saints closed the opera in unison, "Which is a fact."
"One would laugh either against Gertrude or with her," Watson quotes young Stein aficionado Henry McBride. "One, in any case, would laugh." He also reports that Variety's critic noted, "It is drivel, of course, but the most beguiling, fascinating twaddle one can possibly imagine."
In San Francisco, you could see filmed excerpts from the original Four Saints at both Stein exhibitions, and you could tell right away why the "twaddle" was a huge success and why Four Saints had the longest Broadway run of any opera in American history to that date. You see a line of preachers gently moving their hands over the imaginary pigeons on the grass as if caressing and blessing their little heads. You would swear to see them right there, "in the shorter longer yellow grass." In the next moment, half-naked male dancers do a Charleston-shimmy in exotic skirts no different from a Paris night show at Pigalle. With a stage-set in glittery cellophane by the reclusive artist Florine Stettheimer and with her all-out costumes in tinsel, feathers, lace, it was wildly eccentric, sexy, outright queer, colorful and demented. It was pure Stein.
Steven Watson's Prepare for Saints describes the reaction: "The audience stamped their feet and screamed 'Bravo' and 'Viva' as the red curtain parted and shut. Carl Van Vechten wrote Gertrude Stein that he had not witnessed a crowd more inflamed since the legendary premiere of Le Sacre du Printemps, in 1913. (…) Amazed by his feelings of giddiness on the occasion, Alfred Barr looked up, blinked, and said, 'Well, I'm not drunk.' Henry-Russell Hitchcock was the most demonstrably enthusiastic. At first he cheered, then he stampeded up and down the aisle, smashing his opera hat, and finally he began pulling his stiff, formal shirt to shreds."
Four Saints in Three Acts: An Opera Installation, an Ensemble Parallèle
production presented by SFMOMA in association with YBCA.
Photos: Steve DiBartolomeo