A fundamental precept of live theatre is to "show" not just "tell." Shadow Theatre, based on imagery, is all of that and more. Its primary performers are puppets, lit from behind, creating unusual layered images that comprise the scenes of a story, often accompanied by music. It is an ancient form of theatre with roots in the oldest civilizations. As with all of the performing arts, shadow theatre arose as way to represent the mysteries of life, the problems and hopes and dreams and joys of living.
Asia shares in this long tradition and Thailand has a premier shadow theatre company—The Wandering Moon, or more accurately, The Wanderingmoon Performance Group & Endless Journey. It is a perceptive and meaningful title for this theatre company which was founded in 1999 in Chiang Mai. It has actively worked to develop contemporary shadow theatre as an art form and as a medium for social change with a focus on environmental issues. This is especially engaging since the company employs a mix of shadow theatre, film, songs, with puppets and live performers. There is no dialogue or narration.
I recently saw Walking River Tale on a stage under the raintrees in Chiang Mai. Families with children were there. Thai and foreigners, students in uniforms, old people dressed in traditional Lanna style. It was amazing. As many people as I have ever seen in a public exhibition here. A small band in the corner singing the country songs, before the audience went in and sat down on the mats.
Walking River Tale portrays the struggle between the mythical creatures, Naga and Garuda , and symbolically tells the conditions of the MekongRiver, It reflects the beliefs and faith in the river and the changes affected by the Mekong countries' economy, the cultural identities and free trade globalization. It is a powerful, contemporary performance of the myth about the fight of Naga , the god of the river and the natives of the Mekong ,and Garuda, god of sky, the symbol of over-reaching authority.
Prior to the performance, I had a chance to spend some time with Monthatip Suksopha, the founder and artistic director of the Wandering Moon.
JY: What is the setting for your performances?
MS: The stage of the Shadow Theatre, if we have a chance to choose, should be a clear dark night without rain, an open-air stage where audiences sit on mats. If the weather is not suitable for an outdoor performance, we may choose the art museum or university's conference room or a theatre stage. It depends on time and opportunity. When we come, we work together with the host, to recruit people to do a workshop with us. During the day, we offer an opportunity for children who want to participate in the activities. Tale of Mekong River and the Walking River Tale project are quite popular.
The performances of Wandering Moon are both contemporary and abstract. Sets of emotional songs are played instead of dialogue. This characteristic is different from the traditional play. It is like cartoon animation. Full of color, and speed, and surprising windows to different views of life. We are a non-profit organization. People who participate in the activities can join or see the show totally free of charge.
The shows played many times in Thailand. Many provinces of Thailand are near the Mekong River: cold, shiny water with intense, reflected images of light before sunset as the sun disappears. We have also performed in a number of other countries such as the Philippines, Laos, Bangladesh, Cambodia, to name a few. Our workshops give education and skills to children and older people who are attracted to shadow theatre and its unlimited imagination. Audiences are drawn to the 4.5 x 4 meter movie screen, like an open-air movie. It's a familiar event since the way of rural life in Asia is accustomed to the cinema when they have a ceremony in the playgrounds of temples, in schools or countryside.
JY: How do you relate to traditional Thai Shadow Theatre?
MS: It's a strong relationship. As the founders of contemporary shadow theatre in Thailand, we never lose sight of the history of the traditional Thai shadow theatre in central Thailand and the shadow plays in the south of Thailand
The first is Nang Yai, a high class performance in the middle areas of Thailand. There are many historical references to its beginning in the Sukhothai period. The Sukhothai empire used to be the center of Thailand. The Ramajana epic, which has more than 300 characters, used leather that was perforated into images of giants, humans and monkeys. We know that Nang Yai was played for the nobility and the royal family. What distinguishes Nang Yai as high class entertainment are:
The buffalo leather carving, perforated with characters from the Ramajana Epic;
The acting and movements from Ramajana – giants, humans, and monkeys play important roles;
Special musical instruments;
Storytelling verses called "rai";
Audiences that are familiar with Ramajana.
Originally, the Ramajana epic was not from Thai culture --it was related to Buddhism and Brahmins. And the royal Rama and Sida.(Protagonists from Ramajana) are familiar in Thai culture.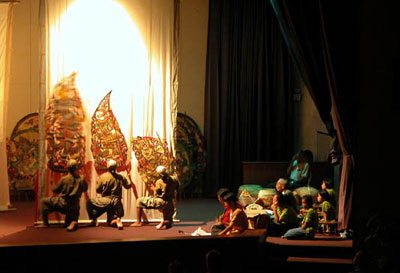 I went to study Nang Yai in many temples, I found that this performance didn't allow women to play the shadows. The monks explained the history of Nang Yai to the audiences. I eventually learned the steps and movement of the actors from Patravadee theatre in Bangkok.
The second one is a famous traditional shadow theatre for the villagers in the south of Thailand, Nang Taloong. It is the art form used for celebrations and is a part of life in south of Thailand. It is also uses leather displays. It has protagonists and 15 jokers, hermits and giants. The story is based on rural life satirizes politics and society. It was used as a medium to inform people about healthand community and it used the southern Thai dialect.
After I graduated from Chiang Mai University, I went to join a community theatre called "Makampom group," as a volunteer for a grass-roots micro- media project. Starting with hand puppets used as teaching aids in 1997 we began to produce shadow theatre. I also was a volunteer for a women's study center in legal training for a women's leadership program and I was a freelance actress in an Experimental and Physical Theatre. In 1999, I founded the Wanderingmoon Performance Group&Endless Journey, working with non-governmental organizations and community campaigns for a variety of social issues.

JY: What about other shadow theatres in other countries?
MS: In Asia we have Wayang Kulit, a beautiful shadow play from Indonesia, and India. China also has vibrant shadow theatre. For the pasttwo years we have had an opportunity to join the International Shadow Theatre Festival in Schwaebisch Gmund Germany They had many kinds of productions: shadow puppets from bodies and hands, drama shadows, fairy-tale shadows, avant garde stories and classical Italian stories.
When I had a chance to see so much contemporary shadow theatre in the last two years, I felt confident in performing our work. We have a unique form and an important tale about environmental preservation. On 16-21 October 2006, the Wandering Moon will go to Germany. "Shadow Theatre and Music" is the focal point of the 2006 festival. Music plays a central role in more than half of the productions.
This festival will concentrate on how shadow players can change music into visual images and it promises to be especially exciting and interesting.
JY: Why is shadow theatre an important art form?
MS: Because it is at the same time an old and new means of expression. Alternative Media Development is considered a major tool for both governmental and private organizations. Without alternative media development, there's no variety of tools to apply to different target groups. Many organizations focus on data and problems and it happens that they are strongly supported unlike those who focus on tools. Most people think tools are not as important as issues despite the fact that good and reachable information comes from meaningful approaches.
Once upon a time, there was a woman who fell in love with a shadow the first time she laid eyes on it. Day after day, night after night, she traveled with a shadow puppet. People started to call her "Aunty Tip." On her way, she met other "Moons" traveling just like her. They gathered and called themselves: "The Wandering Moon Performing Group & Endless Journey." Soon the Moons became part of a special performance: "Shadow Theatre." It was said that shadow has a life. Once the Sun sets and the Moon comes out to play, it is sometimes full of joy jumping out of the screen, sometimes sad as if waiting to be discovered. Most of their performances have stories... stories that make people wonder and make them carry on the journey. Contemporary shadow theatre is a science and art that is still a mystery in the country. Though many people have seen it, its mystery still attracts people to come closer and closer until they feel the magic for themselves.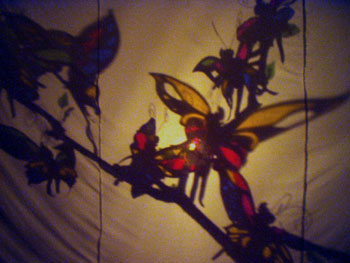 Shadow Theatre offers freedom for the imagination.
No other performances precisely prove the power of what Antoine de Saint-Exupéry, the author of The Little Prince, once said: "What is essential is invisible to the eyes." Every time we perform a shadow play, many miracles happen to both performers and audiences. There are thousands of questions we cannot find the answer to. The curiosity of children and grown-ups endlessly pushes them back stage after the performance ends, to see what magic is hidden behind the thin white screen. In every performance, one thing is not forgotten--shadow has its own life though it is made by people and the truth behind such beauty is actually a fragile piece of paper. All puppets have their time to expire. Every journey we take articulates the fact that some day what we're seeing will be gone. One day you'll never see any of them again. You might miss their last performance on the screen. Though similar shadows might be made, they will never ever be the same ones.
The only thing left behind is memory and what we can feel with our hearts. Every puppet has a different shadow just like its creators. In shadow theatre workshops, the ugliest puppet unbelievably turns to be the most beautiful in the world of shadow. The shyest children become the most full-hearted and energetic puppeteers feeling what is in their hands. In many journeys, light and shadow enchant the audience. This is what is special in telling stories with shadow theatre. The puppeteers/ performers are in a magical, mysterious space. We have traveled far and still see this world of shadow creating new meanings on stage, and many more to be discovered. Only those using their hearts will be there.
For more information please visit
www.wanderingmoontheatre.com