I would like to give you a New Year's gift for art lovers in Thailand and overseas. It is a precious and lovely art collection from Eng-on Homsuwan. Most of the paintings are painted using watercolor and they are pictures of roses which are the symbol of love and beauty.
Eng-on has exhibited her works more than 200 times with various famous artists both in Thailand and foreign countries. From 1998 to 2012 she had more than 10 solo exhibitions. This is the proof of her diligence and passion with watercolor painting which is the basis of her success in Thailand and abroad. For me, roses in Eng-on's paintings contained wonderful meanings when I saw them for the first time. Eng-on painted all these paintings with meditation and wisdom as well as the courage of a female artist who trained and immersed herself in the world of art.
In November at Chiang Mai University museum, I met Eng-on and her husband Karp Homsuwan who used to be a lecturer of Architecture at Silpakorn University. The art exhibition that day was called "RMUTL International Workshop 2014". Much later, in December I was invited to see Eng-on at her house near Mae Kuang Dam and the entrance of Wangtarn Resort in Doi Saket District where Eng-on opened a small café called "Engka Café" in her house. This place is also the art gallery and studio where many students come to learn watercolor painting. With a good and serene atmosphere, this place is more than suitable for creating artworks. Karp greeted me and my team when we entered Engka Café, and showed us the gallery and houses for lodging. After a short walk, I sat down at one of the chairs in the garden overlooking the lotus pond. Eng-on arrived and we had a casual interview. During the interview I and my coworkers had iced coffee, two pieces of carrot cake and coconut ice cream with ripe mango and peanuts while we were talking about watercolor painting and principles of Buddhism.
I found Eng-on to be a real expert on the way of simple living.
We went back to talk about her works with art.
JY: What is your inspiration to paint?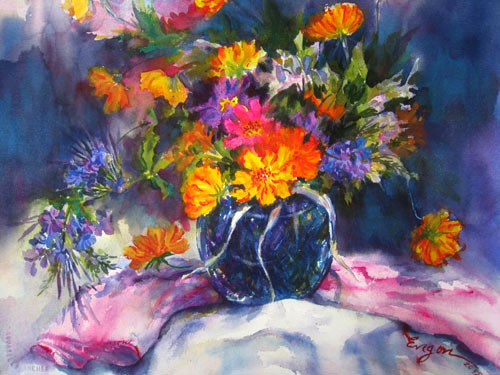 EH: When I was a child, I was very fond of art and won many art competitions. I was also chosen as a school representative to compete with other students in several art contests. I love all kinds of art including flower arrangement. Back then I wished to enroll in Silpakorn University but my father disapproved and recommended that I select Nursing at Mahidol University. Nevertheless, I was quite happy with the decision I made. After graduation I went to work as a registered nurse in New York for two years and came back to work in the operating theater at Ramathibodhi Hospital, Bangkok Thailand for 15 years. At the same time I learned Chinese drawing and always practiced drawing and painting with watercolor. I married an architect who graduated from Silpakorn University. Later, I had early retirement from the nursing career and helped my husband who ran an architecture firm. With some free time, I decided to learn arts especially watercolor painting at Chang Sin College in Bangkok from Tuesday – Friday every week with Monday as my holiday. On the weekends I went to locations in Bangkok and nearby provinces to create landscape paintings.
After finishing my watercolor painting courses, I went to learn arts from various art teachers, notably, Sawat Tantisuk (a Thai national artist in Fine arts). One of the art teachers whom I admired and studied with, said to me "you must be diligent and practice with your own hands." These words are instilled in my memory and I practice every day. In addition to this, I trained in oil painting at Silpakorn University and Bunditpatanasilpa Institute, graphic art (woodcut) with Prayad Pongdam (a Thai national artist in woodcut print), sculpting (self-portrait) with Bamrungsak Kongsuk. Personally, I love the works of Vincent van Gogh. His use of strong colors and unique brushstrokes fascinated me so much. I also went to see his works in several museums and this inspired me to work on strong and colorful paintings. My teachers encouraged me to do a solo exhibition and pass on my knowledge of art to art students from many institutes. On myriad occasions I also teach watercolor painting for free and I gave 100 scholarships to many art students from Chang Sin colleges in Bangkok, Supanburi and Nakornsri Thammarat provinces. Later, students of mine are any people who are not necessarily art students but enthusiastic to learn and practice watercolor painting as they share the same passion to paint all kinds of flowers.
JY: Tell me a bit more about yourself?
EH: I was born on 24 December 1947 in Bangkok. I graduated from Siriraj Nursing, Mahidol University and another Bachelor degree in Nutrition from Sukhothai Thammathiraj University. For my art education, I trained with various artists in Chang Sin College, Poh Chang college, Bunditpatanasilpa Institute of Fine Art and Silpakorn University. I had 10 solo exhibitions from 1998 – 2012 and more than 200 group exhibitions. In 2014 my works were selected to exhibit at the World Watercolor Media Exposition and the World Watercolor Society 2014 in Bangkok.
JY: And your teaching of Watercolor painting in Thailand?
EH: In Bangkok, I was invited by the faculty of Architecture, Silpakorn University to teach Watercolor painting to outsiders for three years. Moreover, I was a guest lecturer for many colleges and did workshops in Bangkok and other provinces. I also opened "Engka Studio" to teach watercolor painting to people in Bangkok who wanted to learn Watercolor painting.
Around five years ago, I moved to stay in Chiang Mai with my family. The last two years I opened "Engka Gallery" at my house in Chiang Mai. I also opened my small but lovely Engka Café in the same area. In Chiang Mai my students are people in Chiang Mai and nearby provinces as well as some foreigners who know me personally and follow my works. However, here I open the art training course by reservation only and limit the number of students in each training session because actually I want to paint more Watercolor paintings and sometimes I need more time to be in isolation and meditate as I am a Buddhist.
JY: What is your view about Chiang Mai in general?
EH: Chiang Mai people are very nice. Chiang Mai is a city of art and culture in the North of Thailand. Local artisans and contemporary artists can live and work harmoniously together. There are good natural locations to gain more inspiration to do works of art such as mountains, rivers, waterfalls and hot springs. Beautiful temples and old historical sites are plentiful. Many people in the communities wear traditional attire in daily life throughout the year and also during special traditions and religious ceremonies. For me, living in a good atmosphere and good surroundings really helps me to create more beautiful work of art easily and ceaselessly as well as I feel that I am happier this way.
JY: What are your ultimate goals in the future?
EH: As a Buddhist, I believe that working with happiness depends on both your strong body and mind as well as always trying to avoid nonsensical and evil thoughts by doing meditation to suppress them first and then using internal wisdom to find the way out of unhappiness and suffering according to teaching of the Buddha. This may seem too abstract at the beginning but everyone can do this as I believe that at least meditation is a universal concept, regardless of the culture and religion. Purity of work may come from an artist whose mind is cleansed from malicious thought. Every day I work and practice my painting skill with happiness. By doing this, my next work will always be as good as or better than the last one. Occasionally, I am also a watercolor tester for Thai and foreign brands that are sold in Thailand. With good equipment and prepared mind, I am sure that any work of art will be powerful and leave a strong impression to anyone who sees it. This really helps me to find my own identity in art that is strong with brushstrokes and colorful with strong colors as well as a good story behind each painting which captivates the attention of people. Good consciousness and concentration are good ways to practice external mediation which can be used for any kind of work especially art. This is what practitioners of meditation know by themselves.
JY: And tell us about your travel to foreign countries.
EH: For the past three decades, I have visited many countries in Europe. I was so happy to see some priceless works of van Gogh at museums. I cried with tears of joy and was very excited to see his last painting in Auvergne, France. I also visited his cemetery and gave roses to show my gratitude that he is my life-time inspiration of art. In the city there are some replicas of his art works wherever he went to paint including the final painting of "Wheat Fields and Mustard Fields." I also went to visit Claude Monet's house in Giverny, France to see his house, garden and arched entrance adorned with the roses that Monet used to draw in his paintings. I went down the tunnel to see the famous lotuses in the pond and Monet's bridge which was completely shrouded by Purple Wisteria.
---
Flower salad will be the first menu item if you visit Engka Café. Even some tropical flowers can be eaten. I have two salad-dressing recipes for you to choose.
The first recipe is a mixture of Balsamic vinegar, olive oil, sliced fresh garlic, salt, roughly-sliced black pepper and a little bit of sugar. Alternatively, the second recipe is the mixture of olive oil, red wine vinegar, sliced onions, sliced fresh garlic, mustard, salt, black pepper and sugar.
The second item for this month is spicy shrimp salad with lemongrass and mint.
This Thai food dish is very simple to prepare and the taste is well... simply delicious. To do this, you mix some soft grilled river shrimp together with the following ingredients: sliced red onions, fresh sliced lemongrass, sliced kaffir lime leaves, mint, sliced spring onions and some grilled chili paste. For an enhanced taste, you can add lemon juice, fish sauce, sugar and sliced red hot chilli.