He is the child of Ruen and Thonglor Nirand. His father was a Lieutenant in the Navy. He was born on 7 February 1936 in Bangkok. He is a Thai National Artist.
There are several praiseworthy things I would like to say about Pichai Nirand. The first one is his oil painting. The expressive way he uses oil colors in his paintings and the subtle details he instills in each painting are fascinating. The second one is his dedication to art. These days he is still working on his paintings. Although Pichai is hardworking and diligent, the collector demands to buy his paintings are still very high. Sometimes he takes more than a year to finish a single painting because he has so many paintings to take care of at the same time due to numerous pending requests. The price of his painting is also quite steep especially a large painting which costs more than 1 million Baht. He is the one who is called a gentleman artist .This reflects his generous manner and politeness .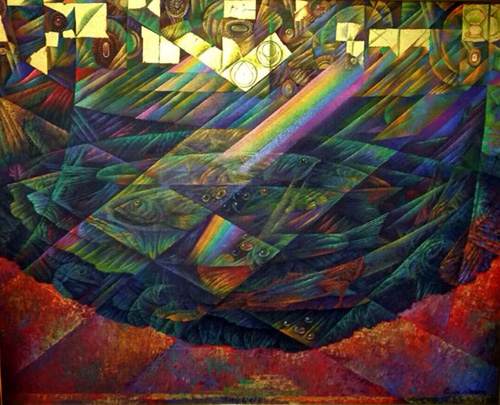 On meeting him, I asked Pichai about how he uses color in his painting. He said calmly that using color depends on his mindset to determine the outcome of the work he wishes to have. In my view, this simple advice requires comprehensive knowledge and experience in art. He told me when he was young, he was very fortunate that his friends often bought good and expensive colors from foreign countries and shared them with him. He entered Silpakorn University and was a student of an Italian Professor Silpa Bhirasri. He looked at an old photo of him and his classmates from Silpakorn University. He talked about some of his friends in the photo who he used to work with; many of them have died due to old age. He also told me about the preferred art style of his friends and what kind of art work they could do.
With high curiosity, I looked at the photo and saw Pichai, his friends and Professor Silpa. Some of his friends came from different faculties but they loved art as well. I told Pichai that his friends were good looking and they were taught art and art concepts in the European style. Then we changed our topic to talk about Professor Silpa. Pichai said that Professor Silpa was a devoted man who helped his brilliant students many of whom were poor. Pichai was one of the students who Professor Silpa had to help financially by finding scholarships and grants for tuition fees and painting equipment from third parties. Professor Silpa wanted Pichai to graduate from the university and be a great artist in the future because Professor Silpa saw his determination, creativity and rare artistic talent.
Pichai received the bronze medal in Fine Arts from the 11th National Exhibition of Art when he was a student in 1960. The name of the painting is "The End". During the exhibition, Professor Silpa talked to guests who were in the exhibition and praised Pichai. "I believe that this young artist has certain qualification. If he can use it, he might be very good at doing works of art" (This statement was also recorded in an article from Professor Silpa Bhirasri in the agenda of the 12th National Exhibition of Art in 1961.) When the exhibition in 1960 ended, Professor Silpa brought this painting to hang in his office at Silpakorn University and at the present it is still there.
Pichai Nirand never stops creating art works. He stated this in many books. "I feel that working on art helps me to realize true value of my life. If I stop doing work on art, I feel that I am so withered". At the present, Pichai's works focus mainly on the colorful Buddha's footprints and Buddhism philosophy. They are abstract paintings but some of them are landscape paintings and flowers. Looking at these pictures, we can see that blooming lotus, birds and fish are symbols he used in many of his works. They imply the Buddha's teachings such as the cycle of life of human and animals as well as images of Buddha. He was the one who came up with the outstanding Buddha's footprints. Some of the notable works are the cycle of life (painting), the eye of wisdom (2005, sculpture) and the Cetasika City [Mental state city] 2007, mixed media.)
Pichai has exhibited in many countries such as Japan, Singapore, Malaysia, Philippines, France, USA (New York) and Beijing (China) from 1963 – 2004. After graduation he was a teacher at Chang Sin College and the worked at the Fine Arts department until he received the title of Artisan Grade 8. In 1995 he left his job to become the freelance artist.
Here is the my interview with Pichai Nirand at his house and studio in Chiang Mai
JY: Can you tell me about your art education?
PN: In 1955-56 I began to study at an art school called "Silpa Suksa School" in Bangkok. Later it was renamed Chang Sin College. After that I attended the Silpakorn University for 3 years. In 1960 I created some works of art and worked as an art teacher at Chang Sin College. Initially I did some realistic artworks for a brief period of time but at last I turned to find my preferred style in abstract paintings. From this point onwards I also incorporated some concepts as well as symbols from Buddhism to express Buddhism philosophy and the Buddha's teachings. This helps me greatly to shape my whole art style to focus solely on abstract Buddhism Art.
JY: Can you tell me about awards and honored you received?
PN: From 1960 -1963 I sent my paintings to the 11th, 12th, 14th and 15th National Exhibitions of Art in Bangkok. I received a bronze medal, a silver medal, a gold medal and another bronze medal respectively. In 1995 I received the Mahajanaka Gold Medallion from His Majesty the King Bhumibhol Adulyadej and in 2003 I was selected to be the National Artist in Visual Art (Painting) from the Office of National Culture Commission.
JY: I would like to know more about some important works you did for Buddhism and the King of Thailand
PN: In 1985-87 I designed three of the four Buddhist Commemorative Sites at Buddha Monthol at Salaya Sub-district, Nakorn Chai Sri District, Nakorn Pathom Province — (1) Diamond Throne: symbol of enlightenment. (2) Bed of the Buddha: symbol of Nirvana and (3) Wheel of Buddha's Teaching: symbol of the first preaching sermon. I also engaged in model enlargement and CI-supervision of granite sculpting there.
In 1995 I was one of the eight artists who were invited to illustrateHis Majesty the King's book "The Story of Mahajanaka" – to support the Royal Thai Army's exhibition glorifying the virtues of Thailand's past soldiers, organized on the occasion of His Majesty's 50Years Reign.
JY: What do you feel about art and Thai society?
PN: At the present, Thai society gives so much importance and understands art more than in the past. We can see that there are more art collectors and the artist's quality of life is getting better because Thai society started to know the real value of art and artists are well respected. For the mainstream value of the past, many Thai parents did not encourage their children to study art because they wanted their children to be soldiers, police, physicians or businessmen and because some parents believed that an artist's career had no future. At that time many students who truly loved art decided to enroll in arts institutes despite their parents' disapproval.
Thai artists in ancient time mainly created marvelous works of art for Buddhism as can be seen in archeological sites and ancient relics from different periods. For me, it is quite sorrowful that Thai society is now heavily influenced by materialism. Many Thai artists no longer want to know about the importance of ancient art or how ancient arts relate to Thai society and the way of life. This worries me so much that ancient Thai art and knowledge might be forgotten in the near future. On the other hand, everyone seems to live joyfully among modern arts including clothes, tools, buildings, houses, vehicles, etc. Those things were designed and created by experts who have the artistic perspective as you can see the beauty in such useful innovations.
All my artistic creations have a principal objectiveto express a way of thinking that combines moral teachings from other religions and Buddhism philosophy in the form of art works that promote the existence of peaceful society.
I create a work of art to find the beauty, the aesthetic of happiness for my soul and for society to have more chances to appreciate art works. The way of my creation might be a simple guideline for younger artists to expand and improve it for better future. Art is a product of the brain and thoughtful diligence. Art helps to train the human mind to be more gentle and virtuous. In my view, if people have no art, they will not be different from any animals at all. Art is like another doctrine or belief or even a religion of the world that can make peace for all mankind.