A conceptual master stroke by Polish film and theater maker Mariusz Trelinski serves up two short operatic fairy tales back to back. Tchaikovsky's last, little known opera Iolanta is paired with Bela Bartok's Bluebeard's Castle. The span of only two decades separates the two compositions, but there could hardly be a bigger clash between two centuries and their radically different views of love. On the one side, a 19th century fairytale of endangered innocence with a happy ending; on the other a dark 20th century vision of innocence lost. In Iolanta love heals all; in Bluebeard, love is destroyed by existential despair and violence.
With stunning film-inspired sets, sung by dream casts and conducted by Valery Gergiev, this operatic double bill created a lot of excitement among audiences and critics alike. Iolanta is a beautiful, lusciously romantic score, sung by Russian star soprano Anna Netrebko (who stirred up controversy at the Met for her support of Vladimir Putin and the Ukrainian secession) and Piotr Beczala as her knight in shining armor--an ideal partner for Netrebko because of his lyrical voice, handsome looks, and great capacity to act. German soprano Nadja Michael as Bluebeard's latest victim, Judith, looks and moves like a runway model and dancer; she, too, is a born actress, with a stunningly dark voice that seems to have evolved from a deep mezzo range. Her Bluebeard, with plenty of a menace in his voice and bearing, is Russian bass Mikhail Petrenko.
Iolanta or Blind Innocence
Director Trelinsky links the two short operas thematically by bringing out the hidden darkness in Iolanta, but keeps the stage magic relatively simple, doing justice to the simple tale of an innocent, blind princess who is kept hidden from the world by her father and has never been told that she can't see. Her universe consists of a small box onstage, a colorless bedroom plastered with deer heads, that shifts and turns and dissolves in darkness, surrounded by the immense scenic space that evokes surreal woods, skies, emptiness, night. A white deer leaps across this space as the curtain opens, and gently dies. In Trelinsky's reading, Iolanta is the gentle deer and her hunter is her royal father, King René (Ukrainian bass Ilya Bannik), who keeps her a prisoner. He arrives in the middle of the night with a freshly hunted deer which he bleeds into a white bowl. He will not allow his daughter to wed unless she can see. But as in Sleeping Beauty-- another fairy tale that Tchaikovsky set to (ballet) music, Prince Charming arrives in time to awaken Iolanta from the slumber of innocence and blindness, saving her from her father's control.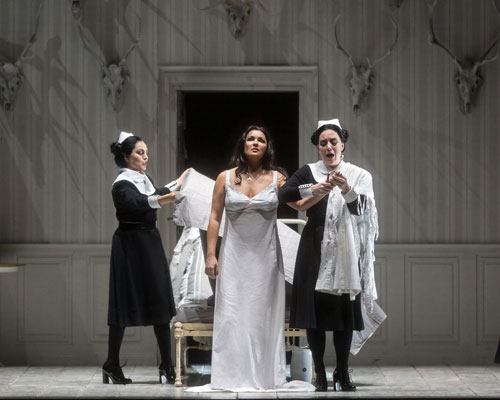 Iolanta comes on the heels of Netrebko's daringly violent Lady Macbeth at the Met. It's always a treat to hear Netrebko sing in her native Russian (as in Eugene Onegin 1), the way the vowels seem to smoke up her voice and give it an extra dramatic stretch. Netrebko's plush voice didn't produce its usual luster in some of the top notes this time, but she met the challenge of the role, the girl's blindness, with remarkable perfection. Not once in the 100 minute-opera did it seem that Netrebko was only pretending to be blind. Her Iolanta is sad and vulnerable, longing for something she can't name. (Waiting and longing, the libretto taught me, are one and the same word in Russian.) She wonders "if eyes are only for tears" and asks why she "hears sobbing when the nightingale sings." Trelinsky contrasts her loneliness with the (silent) antics of two young nurse-maids who are extremely bored with taking care of the princess day in day out – a touch of humor that wonderfully speeds the opera along. Netrebko, who has already popularized Iolanta in Europe, very touchingly conveys Iolanta's awakening to love and the brutal shock, when she takes off a doctor's blind-fold, of losing her universe of darkness to seeing.
Something about this shock recalled a coming out, coming face to face with a truth one has been blind to, or has been forced to keep hidden for a lifetime. Was this perhaps what inspired the gay composer to write so much beautiful heartache and longing into his final opera score?
Bluebeard or Innocence Lost
Love gives Iolanta eye-sight, but according to Trelinsky, there may be truths she cannot yet grasp. A little older, as Judith in Bartok's version of the French fairy tale, she is drawn to Bluebeard's Castle, to a man just like Iolanta's father. The heroine of the story knows Bluebeard is a dangerous man but she cannot resist her fatal fascination. When she enters his castle she willingly puts on the blindfold Bluebeard hands her. We hear in the score what she hears, the bone-chilling creaking and sighing of the doors, the sounds of knocking and hammering against locked doors, the chill amplified by loudspeakers and the deep, foreboding voice-over of the prologue, "Once upon a time… We tell our stories and are amazed… Our eyes' curtains are raised, old is the tale within."
Bartok's version (libretto by Bela Balazs) is darker than the French fairy tale by Perrault. Perrault has only one key and only one forbidden seventh door. The key retains its blood stain when the young bride drops it in the room full of blood, where Bluebeard's dead wives hang from hooks on the wall. But the girl is saved in the end and Bluebeard is killed. In Bartok's opera, every door is a step and a challenge. Judith wants what Bluebeard cannot tolerate: she begs, cajoles, insists he give her the keys to open the doors so that light can fill the darkness and chase away the shadows from Bluebeard's soul. She wants to know every hidden corner of the man she loves.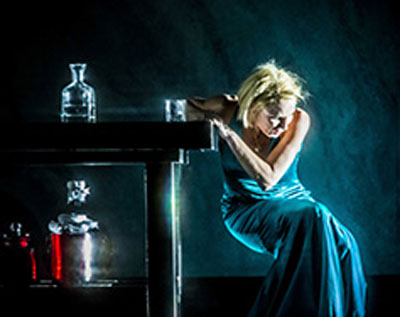 With each key given over, the stakes grow higher. Bluebeard warns her, pleads with her, "Through and through my castle trembles… Judith, careful 'tis my castle." "I shall warm this icy marble,/ Warm it with my living body," she responds. As Judith opens the doors she discovers that "the walls are weeping" and that all of Bluebeard's riches are covered with blood. At the same time, light is indeed flooding in bit by bit, room by room, begging the question if Judith's knowing acceptance will be the healing force of love as inIolanta? Will love become sacrifice and transform the murderer? Text and music hold the balance between the two determined, obsessive lovers, one of whom sees "a ray of light" where the other sees "a stream of blood"– the precarious balance between man and woman, love and death.
Trelinsky's imagery is inspired by film noir, especially Hitchcock's Rebecca, and he toes an interesting line between conventions of horror and poetic invention. Right upon entering the bleak castle, Judith stumbles against an open grave. She doesn't see the grave, nor the spade leaning against a table, but from the start, she is afraid. Nadja Michael is the luminous center of this mise en sc√®ne. With her short, platinum hair and long, slender limbs she seems the timeless modern woman, fearless in her mind and vulnerable in her body. The singer/actress brilliantly embodies the ambiguities of desire and fear and her voice holds the ambivalences of dark intuitions and strident beliefs. Mikhail Petrenko's presence conveys withholding, barely contained rage and moments of desperate urgency when he needs her to relent: "Kiss me, Judith, kiss me…" Bartok's score is an amalgam of thrilling dissonances, dark brooding, and sensuously melodic waves of longing.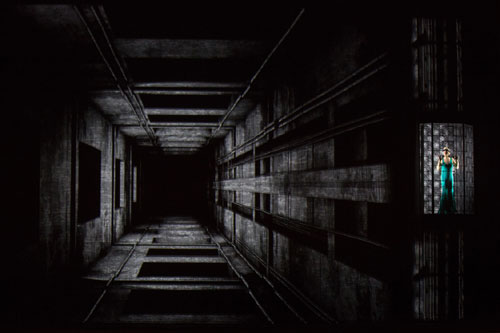 The castle (sets by Boris Kudlicka) at first glance is a sinister elevator shaft, then a vast space of shifting, gloomily lit glass walls, dripping with water, with occasional cloudy apparitions of young women wandering about in a trance. There is something icy and metallic about these walls, but Judith and Bluebeard are repeatedly confined in a narrow anteroom with flowery wallpaper, she in her shimmering turquoise evening gown; he with one black leather glove. This old-fashioned frame appears like a trap – the conventional trappings of what men and women expect of each other.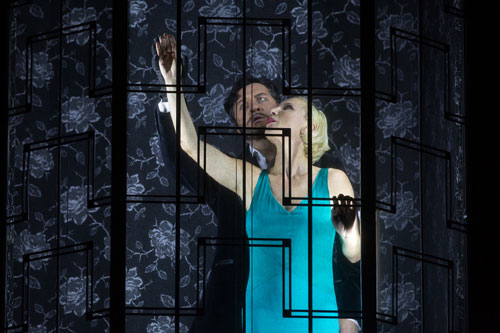 Bluebeard's seven chambers are partly "work rooms" where only spare details, a series of knives on the wall, for example, indicate their usage. The precarious progress of intimacy between the lovers is indicated by Judith's state of dress and undress. In the chamber of treasures she takes a steaming hot bath before discovering that all the jewels are covered with blood. In the chamber of luscious gardens she is in a white robe, rushing to the billowing curtains, saturated with light, before the white roses on the table turn blood-red under her touch. Increasingly, undertones of violence and sado-masochism show in the interaction of the couple. Judith only wears a vulnerable white undergarment in the sixth chamber that holds a "lake of tears"--a naked, black-and-white-tiled room that brings up the thought of slaughter.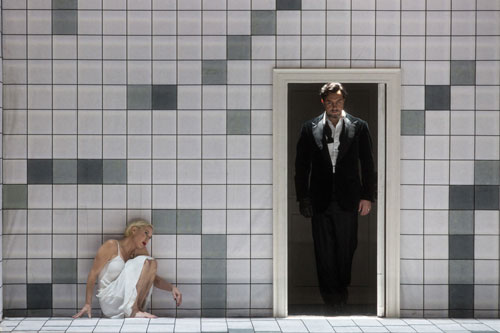 The final, seventh chamber reveals an aquarium-like other-world where uprooted trees float in space and several long-haired young women in long silk slips à la Pina Bausch 2 move about like lost souls. (I did not detect any other allusions to Bausch's 1977 violent masterpiece Blaubart, based on the same opera.) The open grave reappears in the center, this time with a young woman half buried in it. While Bluebeard lies down in the grave next to this victim, Judith joins the other undead wives. Her dream of light and insight vanishes with her in the gloom. Bluebeard's last words resound like a premonition of the 20th century , "Henceforth, all shall be darkness, /Darkness, darkness."
Seven Keys
I have never seen a more successful transformation of the opera stage by cinematogaphic means, although there have been striking moments of video use in recent productions (Robert Lepage's Ring Cycle 3 and The Tempest at the Met, the San Francisco Ring Cycle by Francesca Zambello 4, or Jake Heggie and Gene Sheer's Moby Dick 5). This double-bill is also the most difficult to judge from outside the Met in Live in HD transmission to cinemas around the world. I think this time the cinema audience may be favored by the satisfaction of close-ups that made the experience much like a like a psychological thriller on celluloid.
Trelinsky seems to be one of the magicians who hold the keys to what opera could be today: among them, masterful direction, psychological depth, suspense and beauty. With stylish and intelligent productions like this one, modern and young audiences could be tempted to enter the "temple" and be superbly entertained.
Footnotes
1. Eugene Onegin
http://www.scene4.com/archivesqv6/nov-2013/1113/renatestendhal1113.html
2. Pina Bausch
http://www.scene4.com/archivesqv6/sep-2009/0909/renatestendhal0909.html
3. Robert Lepage
http://www.scene4.com/archivesqv6/dec-2010/1210/renatestendhal1210.html
4. San Francisco Ring
http://www.scene4.com/archivesqv6/aug-2010/0810/renatestendhal0810.html
5. Moby Dick
http://www.scene4.com/archivesqv6/dec-2012/1212/renatestendhal1212.html
Video: Interview with director Mariusz Trelinski
https://www.youtube.com/watch?v=FnBJl6kLFuY
An Aside
"Better than Callas," the Salzburger Nachrichten judged Anna Netrebko's most recent new role in Europe, Leonora in Verdi's Il Travatore.
The European press knew where to place Anna Netrebko: at the very pinnacle of international opera. Americans can check on YouTube whether the Europeans got it right, viewing the entire Trovatore live from Salzurg 2014 (see Trovatore Salzburg (full length) . The intelligent modern production sets the confusing tale in an art museum, fitting parts of the story into a pictorial realm of Renaissance troubadours. Gorgeously open, floating high notes are not the only achievement of the diva in this new role and new dramatic repertoire. Every move she makes composes a painterly Renaissance gesture and figure of great beauty that echoes the oversized paintings of the museum setting. Netrebko, together with handsome young tenor Francesco Neri and still handsome Placido Domingo, transposes the absurd libretto back into an ancient troubadour tale of thwarted love that makes (operatic) sense.
Photos - Marty Sohl, Metropolitan Opera