NOW AVAILABLE
The authorized version of Lester Cole's HOLLYWOOD RED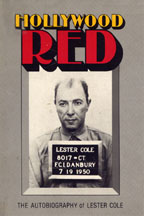 One of the founders of the Writers Guild of America and the most unrelenting and outspoken member of the blacklisted Hollywood Ten, Lester Cole was a protégé of the legendary Cecil B. De Mille, a roommate of Cary Grant, a pal of Humphrey Bogart, a gadfly to Richard Nixon and Ronald Reagan, and then there were... the women in his life.
Scene4 Books is proud to offer the authorized reprint of this controversial autobiography. Timely! Provocative! Startling! Now, after 32 years, a witness to the nightmare of what we did and what we may be doing again.

Few Americans remember the dark days of the House Un -American Activities Committee. From 1938 to 1975 it traveled like a carnival throughout the country, breaking up families, turning friends into enemies, destroying reputations and lives. This is the intimate, inside story of one of the Hollywood Ten, screenwriters and directors jailed for defying HUAC's nightmare of enforced orthodoxy.

"...the best 'inside' book yet about Hollywood under HUAC, a book that brings the whole period, and what came before and after, into frightening clarity, but also a book that is moving, exciting, funny and blessed with humanity."
— Carl Foreman, Director and Screenwriter whose films include High Noon, The Bridge On The River Kwai, Guns of Navarone, Young Man With A Horn and others.