Somewhere right now "Sultans of Swing" is playing on the radio. Yes, it's an example of the disservice ossified Classic Rock stations do to music and listeners alike, but it also speaks to the enduring popularity of a now 38 year-old masterpiece.
On October 7, 1978, a group from London named Dire Straits released its eponymous first album. "Sultans of Swing" kicks off Side B. Tight, irresistibly rhythmic, narratively intriguing, masterfully executed, the song justifies its airtime. And I'd argue that its guitar solo by Mark Knopfler, the band's lead singer and leader, rivals Jimmy Page's canonical licks on "Stairway to Heaven" as one of the solos most familiar to Rock fans.
Dire Straits is as fine a debut as any Rock group has ever crafted (I'm thinking of The Doors, Boston, Aerosmith, Led Zeppelin and, of course, The Beatles.) The disservice radio stations render us is not playing the other eight songs on the record. It's like going to a bookstore to buy Joyce's Dubliners and finding that the editions only contain "Araby".
It's a perfect album. For those of you who listen to music on a Mac, you know that iTunes tracks how many times you've played a given song. Vinyl albums have a less exact index of listening frequency: how dog-eared the cover has become and–unless one is manically fastidious–how crackly the record sounds when the needle drops. Another measure of heavy rotation: I'm working on my second copy of the LP.
Part of the pleasure of Dire Straits is that it's one of those records on which you can just lower the stylus and let it play through to the end of the side–then flip it over and repeat the process. The man most responsible is Mark Knopfler.
If ever the term "artist" applied to a musician, Knopfler merits the title. He does it all. As a guitarist, he tempers profound skill with elegance–he understands the charm of a pause or single well-placed note as much as dazzling filigree. His attacks constitute a signature, a fingerprint. How many guitarists can you identify by hearing just a few licks? B.B. King and Eddie Van Halen are two others that come to mind.
With its rough textures, Knopfler's singing voice has been compared to Bob Dylan's, though Knopfler has a huskiness and depth of timbre where Dylan can only muster his famous high-toned nasality.
Knopfler shares something else in common with Dylan: he's a laureate lyricist, one of Rock's greatest storytellers.
Dire Straits abounds with stories.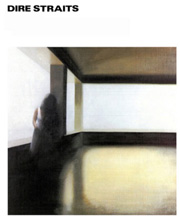 The album comes out of the gate with "Down to the Waterline" (which has always struck me as the sister-ship to "Sultans of Swing" with its nearly identical rhythm guitar and tempo.) With a few strokes, Knopfler sketches a classic scene of youth's undaunted ingenuity as a couple find the privacy needed for their trysts in the dank shadows of riverside quays, cargo ships, and darkened doorways.
"Sultans of Swing" plunges us into a smoky Jazz bar with its proudly named ensemble, including "Guitar George" who knows all the chords and Harry, blithe on account of holding down a daytime job. "Wild West End" takes the listener on a young man's mellow gambol through London's heart where a few errands (coffee beans, a new pickup for a steel guitar) occasion some curious encounters along the way.
But my favorite story–and on any given day my favorite song on the LP–is "In the Gallery," a blistering Stratocaster toccata woven into a searing indictment of the art world. An iron fist in a velvet glove, no better critique has been penned of the dereliction of duty and outright charlatanism that comprises most contemporary sculpture, painting, and, most assuredly, poetry:
In the Gallery

Harry made a bareback rider proud and free upon a horse,

And a fine coalminer for the NCB that was,

A fallen angel and Jesus on the cross,

A skating ballerina–you should have seen her do the skater's waltz.

Some people have got to paint and draw,

Harry had to work in clay and stone.

Like the waves coming to the shore

It was in his blood and his bones.

He was ignored by all the trendy boys in London, yes, and in Leeds.

He might as well have been making toys or strings or beads,

He couldn't be, no, he couldn't be

In the gallery.

And then you get an artist he says doesn't want to paint at all,

He takes an empty canvas and sticks it on the wall.

The birds of a feather, all of the phonies and all of the fakes,

While the dealers, they get together

And they decide who gets the breaks

And who's going to be

In the gallery.

No lies, he wouldn't compromise,

No junk, no bits of string.

And all the lies we subsidize

That just don't mean a thing–

I've got to say he passed away in obscurity

And now all the vultures, they're coming down
from the tree,

He's going to be, yeah, he's going to be

In the gallery.
If you've heard this scorcher, you know how Knopfler growls the words with savage indignation, how the drums and guitars make the tune swagger like a street tough. It's a song that gets your attention by grabbing you by the shirt collar. And Mark Knopfler grabbed the attention of fellow Rockers: Bob Dylan tapped him (and drummer Pick Withers) for his next album, Slow Train Coming, and Walter Becker and Donald Fagen A.K.A. Steely Dan had him play on "Time Out of Mind" on Gaucho–two of Knopfler's many future collaborations as either musician or producer.
Like a shot heard 'round the world, Dire Straits signaled the rise of a Rock superpower cranking out one great song after another: "Lady Writer" and "Once Upon a Time in the West" on the follow-up Communiqué; "Romeo and Juliet," "Tunnel of Love" (beautifully deployed in the film An Officer and a Gentleman), "Skateaway," and "Solid Rock" from Making Movies; "Telegraph Road" and "Industrial Disease" on Love Over Gold; and of course "Money for Nothing," "So Far Away," "Your Latest Trick," and "Walk of Life" from their monster-seller Brothers in Arms (the title track used memorably in a Miami Vice episode as well as the movie Spy Game.)
It all began with a perfect album back in '78. Perfection has a way of enduring–just turn on your radio and you'll soon hear what I mean.