It is a special time in Bangkok—an exhibition of Thai national artist, Pratuang Emjaroen
The exhibition venue will be on the 8th floor of the Bangkok Art & Culture Centre (BACC) between 2 September – 25 November 2016. The last time I went to visit the Pratuang Emjaroen Art Gallery in Kanchanaburi Province, I had a short interview with Srisilp Emjaroen, the youngest daughter of Pratuang Emjaroen. She is a curator of the art gallery. This time I had a chance to do a close up interview with her father, who is now 81. We talked about his heath, upcoming exhibition and working principles.
JY: How is your health?
PE: My overall health is quite the same as other seniors around my age. I am aware of my own sicknesses and go to see doctors occasionally. For the past summer months, I ate less and my weight decreased so much. Luckily, my third wife Boonying took really good care of me. Although my present health can not be compared with earlier times, I am still full of delight because my children and grandchildren usually visit me. They know me well, that I like listening to music and singing so they buy me some good old Thai songs and Thai country songs for me to listen to all day long. I usually draw a picture and sing at the same time. That makes me so happy.
JY: Do you still draw every day?
PE: Yes, I do. For me drawing is like breathing. It is a part of my daily life. After waking up, the first thing I do is draw something with a pen in my sketchbook and then I brush my teeth. After breakfast I continue drawing and then take some rest when I am too tired.
JY: I would like to know about the latest exhibition of your
work.
PE: It will be held by the Bangkok Art & Culture Centre (BACC). Paintings in the exhibition were created during 1963 – 2005. This exhibition is somewhat different from the previous one I held by myself in 2005. This time it reflects the perspective of the curator team instead of one artist. Hence, management, grouping as well as exhibition types are also different. The title of this exhibition is "Pratuang Emjaroen: Traces and Trails". The exhibition will be held on the 8th floor of BACC between 2 September – 25 November 2016. During the exhibition period the curator will guide visitors to see my paintings and there will be group activity to talk about me and my works by my students and members of Tham group, and visitors are welcome to join the discussion. The curator team also provides art activity for young children (in limited number) once a month.
My notable paintings in this exhibition are:
Sacrifice (Fasting Buddha)
Dharma-Adharma

This painting was inspired by a political incident in Thailand on 14 October 1973. It took me one year to finish it, the length is just under 6 meters). Meditation and other splendid paintings borrowed from art collectors such as:
Music of the Universe
It is a part of the Universe series which gave me fame and acceptance for being an artist) and Lotus Leaf. (Water Drop on Lotus Leaf series is another set of my paintings that is very beautiful and sought after by art collectors.)
JY: What about the principles of working that you like to mention?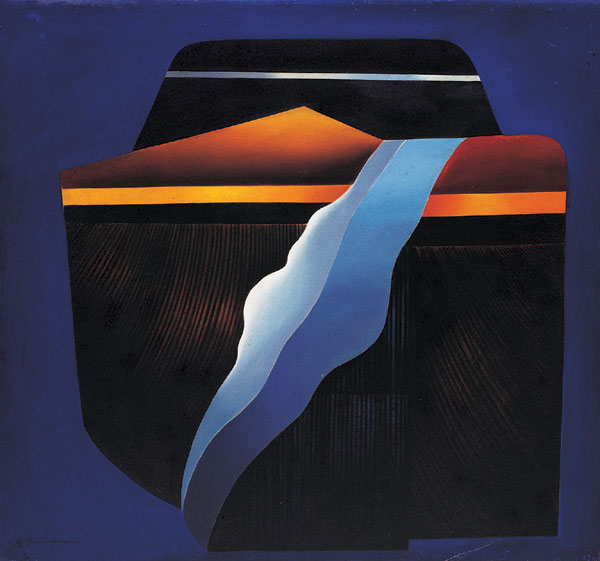 PE: To create any virtuous art, I devote myself and my life to learning without wasting too much money or depending on anyone. My art school can be anywhere such as on the ground, under water, in the sky, etc.
Art is in every particle of nature. I select the simplest and the most direct way to represent my views. That is, if I want to know more about something, I will go to touch and study it directly. I believe nature is a genuine teacher of truth. It is very easy for me to learn anything from nature. Most natural teachings are absolutely evident and distinctive both from within and out. It can uncover the darkness of the unknown and bring the lightness of knowledge to all of us.
Whenever I go to learn from the earth, it teaches about sacrifice and shows me the virtues of its devotion for all living things like plants, animals and humans. Heavy mountains can be supported by the landmass. I can see clearly that wounded land is full of sacrifice. Land can be soft or hard depending on its use. The land also can be tiny particles or durable large crystals. Every form and size of the crust to the center of earth contain true teaching which is complete beauty and power in everything.
Besides, I also see the virtue of the land in the flowers and plants like rice. I touch and taste it. I see the life cycle. I see the beginning, the change and the end in every cycle in time. To find more knowledge in the land, it does not teach me just the visible beauty in shape, volume, skin color and elements because it is just a peel of knowledge, but it always teaches about independent relation. Internal and external beauty is full of life and soul. The land tells me that these virtues are the true beauty beyond time.
JY: Apart from painting, I have heard that you also love to write poems and articles. Tell me about that.
PE: I will quote one of the poems that I wrote for you.
The way of appreciating art

Don't look at the painting just for its colors

Don't look at the painting just for brush strokes

Don't look at the painting just for familiar information

Don't look at the painting just for techniques

Don't look at the painting just for artistic composition

Don't look at the painting justfor academic knowledge

Don't look at the painting just for partiality

Don't look at the painting just for preference

Don't look at the painting just for its beauty

Don't look at the painting without concentration

Look at the painting with happiness