C. Courtney Joyner is a writer I've been following since reading a piece by him in the December 2013 issue of True West magazine. It's the go-to source for history buffs and aficionados of the Old West where he serves as the resident film editor. The article details his efforts (inspiring and humorous) to bring his 1993 movie idea into book form culminating in the 2013 publishing of Shotgun.
I recently caught up with Joyner and we had a wide ranging discussion about Shotgun, The Westerners (a non-fiction book published in 2010 consisting of a series of interviews with actors, writers, and directors), the ebb and flow of the Western genre itself as it relates to American culture, and his long and distinguished career as a screenwriter, director, and producer working with the likes of Vincent Price, Viggo Mortenson, William Shatner, and Academy Award winner Dr. Haing S. Ngor.
We started off by chatting about Shotgun. It sold out its initial printing and has transitioned from paperback to hardback – a true rarity in the publishing business. But is Shotgun your traditional Western novel?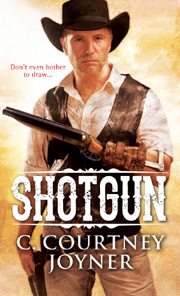 Well it is and it isn't. It is a post Civil War tale set in the Colorado Rockies. The book is full of compelling characters, greed and vengeance, classic shoot 'em ups, gallows humor, clever one liners, fast horses, loose women, and a train carrying gold. It contains all the elements of a classic Western fans of the genre have come to expect…and so much more! The main character, John Bishop, was a veteran of Civil War battlefields who tended to the wounded and dying. After the war, his quiet family life is shattered forever after a gang of outlaws kill his wife and son leaving him near death and without an arm. The book gets its title from an elaborate shot gun which is rigged up to a prosthetic Bishop utilizes to wreak havoc and retribution upon his tormentors.
Although the Bishop character wasn't modeled after any real life figure, Joyner nonetheless went to extraordinary lengths to portray such a shotgun setup as realistic as possible by collaborating with gun master Mike Tristano who worked on 3:10 to Yuma, Heat, and a zillion other films. And since Bishop is a doctor, Joyner meticulously researched medical journals of that time period all in an effort to keep it real. We talked about some recent Western films that insulted its viewers by introducing flying saucers, weird special effects, and weapons of mass destruction not known in that era. And while a belief in mysticism was fairly common in the Old West Joyner concedes, these films turned the supernatural into the super ridiculous. He maintains there has to be a "level of reality" present to make these films or even novels watchable and readable.
The book is sufficiently different and unique from the run-of-the mill Western novel that one not inclined to peruse one, might want to read Joyner's. Shotgun boasts a strong female character in White Fox – a gritty Cheyenne wise beyond her years bound to Bishop due to circumstances. Joyner mentioned that early Westerns portrayed women as weak and helpless, throwing their hands up in distress while running around in a Conestoga wagon. But this was hardly the reality. Women on the plains and prairies of that era had to be tough and resilient more than holding their own against the worst kind of adversity.
He just completed a screenplay about one such woman – the notorious Belle Starr. Joyner also utilizes elements of horror (he is equally at home in that genre as well) and suspense in his storytelling. He name-checks Edgar Allan Poe as well as introducing a mysterious group of horsemen called the Fire Riders. The book is full of visual imagery no doubt due to Joyner's talents as a screenwriter. There are times when the writing transcends the genre and becomes great literature a la Cormac McCarthy. Some passages stir, move, and disturb the reader all at once.
After Shotgun, we then moved on to his 2010 book The Westerners. There was such a time Joyner told me when one could write a letter to a John Ford or a John Sturgis and get a reply back. And occasionally you might even get to meet them in person. Of course it didn't hurt your chances for success if you were a USC film student like Joyner. It was at USC that Joyner worked on a documentary about legendary film director Sam Peckinpah. During the course of his work, he was able to meet and interview Peckinpah's frequent actor for hire, Warren Oates. He was able to bring these two titans together for a Wild Bunch screening one of his professors was putting together. This became the genesis for the book which would later include interviews with Glenn Ford, Jack Elam, and others. It is an excellent resource containing a wealth of knowledge gleaned from these seminal figures who shaped the Western as we know it today.
Finally our conversation turned to Vietnam, Texas – one of Joyner's films I remember watching in the 80's. It's a film about a priest haunted by the Vietnam War. Recently re-released, I was drawn to it mainly because of its provocative title. That and one of the co-stars— none other than Dr. Haing S. Ngor. Joyner reminded me that Ngor was assassinated not long after the film's completion. A prince of a man, he escaped the killing fields of Cambodia only to be gunned down by thugs on the streets of L.A. The film was so powerful, that a snippet was used as a public service announcement in regards to Amerasian orphans.
Joyner is currently working on the sequel to Shotgun. It promises to be just as exciting as the first. His initial offering has already elevated him to the top of an elite club. It was only natural for me to ask about any possible movie deals concerning the book given Joyner's Hollywood connections. So far, not yet…but stay tuned.
Update
Joyner has indeed written the followup to Shotgun called the The Bleeding Ground, released in July. I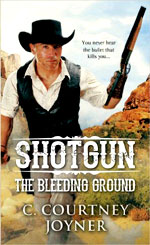 n this new adventure, the protagonist John Bishop returns in a brother versus brother feud. Throw in Pat Garrett, Billy The Kid, and cattle baron John Chisum and you have the makings of another classic Western. Joyner says there will be another two installments in the series. And if that wasn't enough, his take on the Captain Nemo character Nemo Rising will be available in April of next year.