Part I of a Review of This Year's Season
Santa Fe Opera is celebrating its 60th anniversary with a run of five operas, each one of them outstanding. SFO, as locals call it, has been and is a leading force in the operatic landscape of the States, guided by an enduring artistic vision: "Founding father, John Crosby, set our template from day one," the present director, MacKay explained. "Finding the finest young singers, encouraging new operas, establishing a repertory pattern we still follow. Inventing vocal and technical apprenticeships, now copied throughout the opera business, creating and maintaining the way-ahead artistic and administrative standard for every summer opera festival in America." This solidly implemented vision seems inspired by the unique beauty of Santa Fe Opera's setting, its architecture and acoustics.
The openness of the stage to the elements, sunset skies and summer storms adds a thrill to the music and whole artistic experience, especially when the weather gods are in cahoots with the composers, sending thunder claps and flashes of lighting just in time, for example, for Don Giovanni to get to hell. (More about this in Part II of this report.)
No wonder Sante Fe audiences are among the most enthusiastic I have encountered. They support "their" conductors and singers—top stars like Susan Graham and Patricia Racette, Joyce di Donato and James Morris; new rising stars like Daniel Okulitch, Stephen Costello or Ayleen Perez (all part of the anniversary season)—with the passion of a cult, an intelligent, well-educated cult, filling seats at 89% capacity. (By comparison, the Met fills them at 72%.)
There is no doubt about which opera was the "sleeper" of this special season: the seldom performed Vanessa (1958) by American composer Samuel Barber soared above the rest, even above an excellent new Don Giovanni, a charming Capriccio, a surprising Romeo and Juliet and a suspenseful Girl of the Golden West. The newly commissioned opera this year, The
(R)revolution of Steve Jobs by Mason Bates, was delayed and Vanessa was chosen to fill the gap. I wouldn't be surprised if this brilliant Santa Fe Opera rediscovery creates a stir in the opera world and you will be able very soon to see Barber's Vanessa at an opera house near you.
Vanessa is considered a "Gothic" opera because Barber's
partner, Gian Carlo Menotti (the composer and librettist),
wrote the libretto inspired by the "Seven Gothic Tales" by Isak Dinesen, pen name for the great Danish storyteller Karen Blixen, who was a "dear friend" of the two men and was very much en vogue at the time. There are faint echoes of these stories in Vanessa ("The Monkey," "Supper At Elsinor"), but the tale spun out by Menotti has nothing to do with ghosts or supernatural forces. It could just as well have come out of Blixen's "Anecdotes of Destiny," as Vanessa is about a dramatic change in the life and destiny of three women.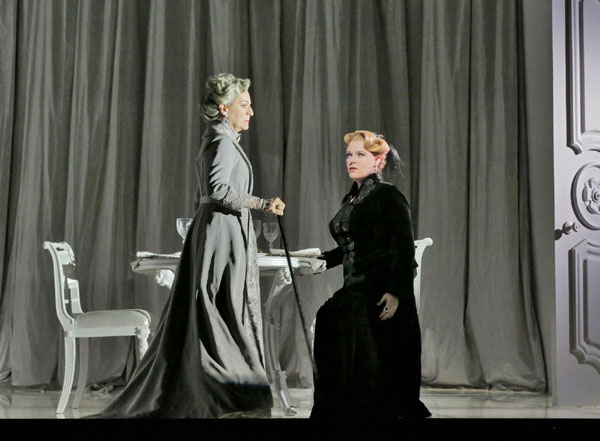 The women—a taciturn old Baroness, her middle aged daughter Vanessa and Vanessa's young niece Erika—live shut away on an estate in a snowy Scandinavian forest. They are metaphorically frozen in place as Vanessa has been in mourning for twenty years over a lover she lost to another woman. Secluded, curtains drawn and every mirror covered to keep time at bay, Vanessa has been pining for Anatol, but now a letter has announced Anatol's return.
Vanessa is hysterical with anticipation while the old Baroness is skeptical. Erika, a shy girl who rarely smiles, seems moored in melancholy ("Why must winter come so soon"). When the visitor arrives in a snowstorm at night, Vanessa is unable to turn and face him for fear that she has lost her beauty and his love ("Don't say a word, Anatol…"). She departs with a blood-curdling shriek when he is not the man she expected. Young Erika finds out that he is the late Anatol's son, also named Anatol, who came to meet the woman who obsessed his father for the past twenty years. The two young people, who both grew up in the shadow of someone else's lost passion, make love that same night.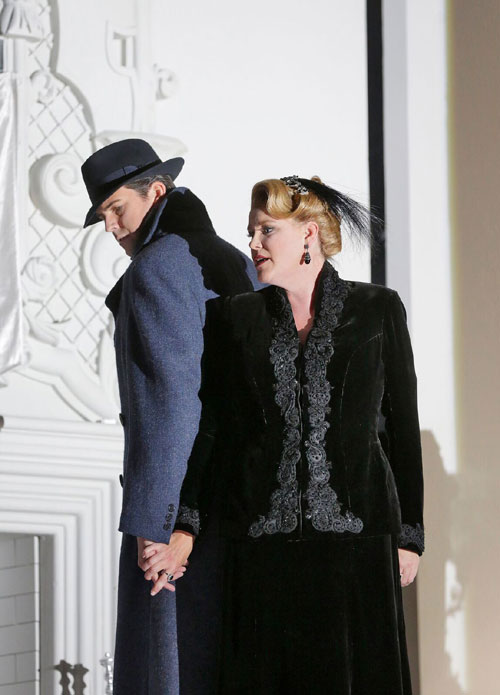 The next day, however, Erika already suspects that this man who has awakened her passion, won't return her love and is unable to love, while Vanessa expects he will be her new Anatol, bringing back her youth and passion, while her mother suspects he is a cad and fortune hunter. All the elements are set for everyone's illusions and delusions of love to crash into each other.
Vanessa is the rare modern opera that combines an outstanding libretto (*qv) with deeply emotional, gripping music, performed with superb conviction and energy by the Santa Fe Opera Orchestra under Leonard Slatkin. Barber's score for this intimate and grand story of passion gives ample room to moods of longing, brooding, nostalgia. His lyrical passages are always colored by underlying darkness and dissonances. Sharp orchestral outbursts play like sudden intakes of breath under shock. The suspense the composer creates in his driven, highly rhythmic passages and ever-looming presence of violence has been negatively compared to film music, especially to Hitchcock's movies of the late fifties, but to my ears, this multimedia richness of a score, that also includes beautiful folk tunes and haunting waltzes, is one of the most interesting and satisfying modern opera scores I have heard.
Barber's Vanessa (and perhaps also his second opera, Antony and Cleopatra, 1966) may just provide the modern romantic inspiration we've been waiting for.
From a first celebrated opening of the Pulitzer-Prize-winning opera at the Met in 1958, to a critical flop at the Salzburg Festival; from attacks of anachronism by the music world, to a descent into oblivion: It has only taken half a century for the maverick romantic to come back in force.(**qv) "Why should every opera sound like Wozzek?" the composer once complained. He simply did not fit into the musical fashion of his time and refused to bend to any "modernist" rules. Other detractors absurdly accused him of copying Puccini, obviously missing out on the grand Straussian sweeps in the orchestration and the haunting lyricism inspired by Britten (particularly by Britten's own Gothic opera, The Turn of the Screw, from 1954) that enrich this beautiful score.
If ever there was justice done to an unjustly underrated work, this was it. Acclaimed opera director James Robinson brought out the subtleties and psychological ambiguities in the three women and kept up the mystery of Anatol, who is a different man in each woman's eyes. Robinson's team designed a spell-binding, slightly surreal sitting- room all in white and silver shadings: sets by Allen Moyer, lighting by Christopher Akerlind, costumes in subdued colors by James Schuette. The room silently and mysteriously changes like a commentary on the shifting moods and moves of the story, changing angles, bringing in a staircase for hidden goings-on in the house, then letting the forest into the room, evoking both frozen timelessness and a glittering hope for some explosive change. With particular daring, the production plays into the movie stereotype by creating an increasingly haunting effect of black and white cinematography without using a single projection image.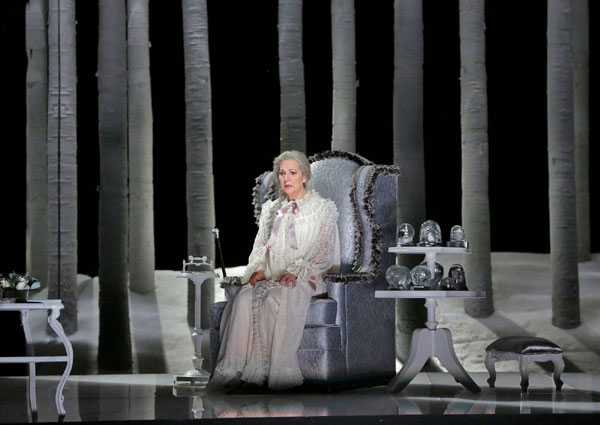 This strong stylistic sense is carried with excellence by the well-chosen cast. As Vanessa, Canadian soprano Erin Wall (who starred as the three heroines of The Tales of Hoffmann at Santa Fe Opera, reviewed in these pages) (***qv) brings across the hunger of a starved, passion-crazed lover, with a certain brashness that suits Vanessa's need to grasp at love at all costs. Just as powerful is the quiet, dreamy passion of Viviane Verrez as Erika, a lonely girl who is preoccupied with a collection of snow globes from the great cities of Europe, dreaming of a world locked inside glass domes. Verrez, a young mezzo from France, makes an impression as a singing actress of unusual talent and beauty, with a finely muscled, dark voice that carries many colors of emotion. Erika may turn out to be a signature role for Verrez who is one of the exciting discoveries Santa Fe Opera is famous for--an artist to watch.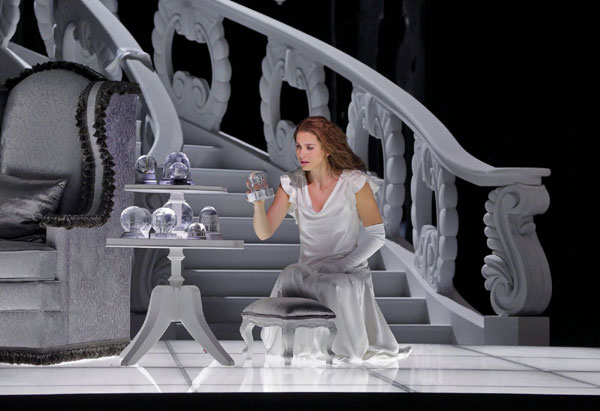 Equally impressive is Helene Schneiderman as the Baroness. Her dark, vibrant voice stands out when she sings, but her silence speaks as distinctly through her stunning stage presence. Almost immobile in her fauteuil, her intense eyes following every move, radiating acute suspicion and pained reserve. she is the implacable witness of few words.
The director also beautifully plays up the notes of comedy in the appealing figure of the family doctor, tenderly sung by bass baritone James Morris (remembered as a powerful Wotan at San Francisco Opera's 1985 Ring Cycle.) Morris delights when he instructs Anatol in the country dances of the past. (Vanessa and Erika remember the village song, "Under the willow tree…", a song as beautiful as the song Tatjana and Olga sing in Tchaikovsky's Eugene Onegin). And he brings masterful touches of comic acting to the ball scene, when he has had too much champagne while the Major Domo (Andrew Bogard) tries on a lady's fur coat. This engagement ball, the culmination of the drama, is a fantastic piece of music, mixing romantic waltzes, village songs, voices and laughter back-stage, as ephemeral as a distant memory of youth and happiness (superbly choreographed by Sean Curran)—a nostalgic moment just waiting to end with a bang.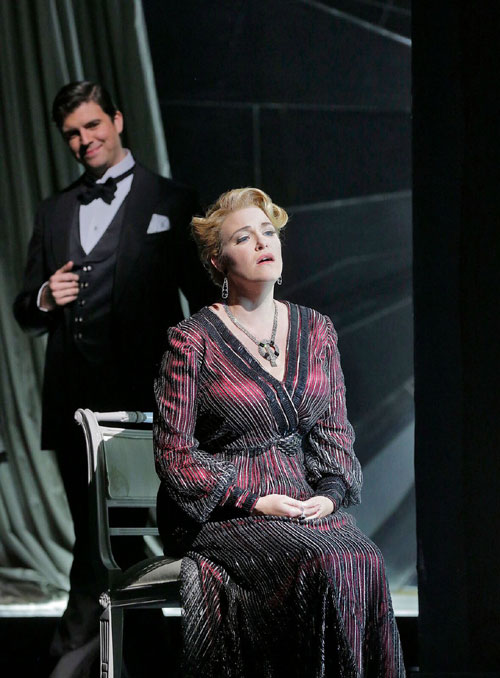 As Anatol, young American tenor Zack Barichevsky is less powerful than the other players (vocally less commanding than Nicolai Gedda on the original and only recording of the opera—the historic Met production), but dramatically there is a lot to say about his comparatively shadier presence. Menotti's libretto leaves it intriguingly ambiguous whether Anatol is only an imposter, and whether he feels more than superficial affection for either one of the women. Both composer and librettist give him a troubling degree of the benefit of doubt, and therefore suspense, ending the story in a heart-stopping, devastating final scene that is best not revealed ahead of time.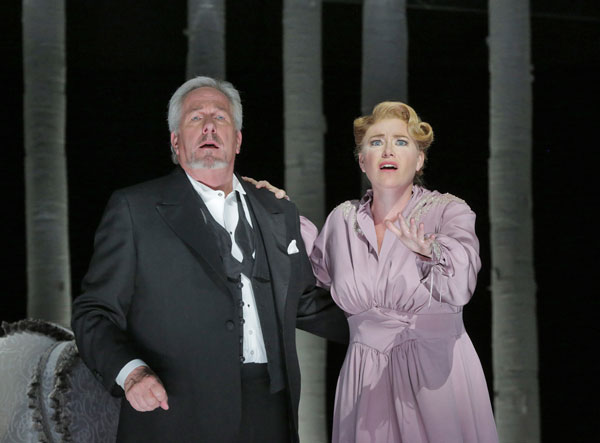 The three-dimensional treatment of each character, colored by contradictions, makes this a psychological thriller you can never quite settle or solve, even though a quintet of the five protagonists before the final scene, "To leave, to break, to find, to keep," gives the future of each person away like a Greek chorus or a strange oracle. Still, this doesn't take anything away from the shocking ending and the whole mystery of the story. The opera therefore stays with you like any great work that resists easy analysis and exerts a pull to be experienced and sounded out all over again.
---
* The libretto by Menotti has been published, so one can savor the finely honed poetry and clever psychology of his writing.
** I recommend musicologist Paul Wittke's essay on Barber's style — "musical logic, sense of architectural design, effortless melodic gift, direct emotional appeal of high quality": "During the heady years of his musical adolescence, the 1930s and '40s, he was virtually ignored in any book of American musical life, relegated to a polite and often ungracious footnote, for not believing in raising the decibel of aural shockwaves."
http://www.musicsalesclassical.com/composer/long-bio/samuel-barber
*** See at http://www.scene4.com/archivesqv6/sep -2010/0910/renatestendhal0910.html
Photos - Ken Howard
Cover Photo - Renate Stendhal