While United States could not see clear to elect its first woman president, the Metropolitan Opera has presented L'Amour de Loin (Love from Afar), an opera composed by a woman—Finnish composer Kaija Saariaho. The Met presented its first woman written opera, Der Wald by Ethel Smyth, in 1903. L'Amour de Loin, a lyrically shimmering collage of sound, premiered in 2000 at the Salzburg Festival directed by Peter Sellars. Since then, numerous other productions have played in Europe, Canada, and the U.S.
The Met's production is directed by Robert Lepage known for his use of technology and, in this case, he and set designer Michael Curry have created a sea of LED lights and a set of moving bridges that emphasize the other worldly sound of Saariaho's music. Surprising to see is the chorus occasionally rising out of the sea of lights.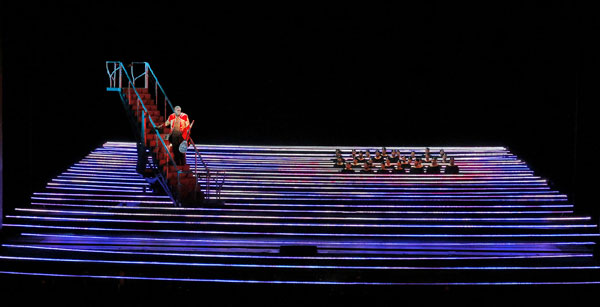 The five-act opera running just over two and half hours plus intermission features only three characters— Jaufré Rudel, the real life 12th century prince of Blaye (bass baritone Eric Owens); Clémence, based on Countess Hodierna of Tripoli (soprano Susanna Phillips) and The Pilgrim (mezzo-soprano Tamara Mumford). The story recounts the poet-prince courting the beautiful never haughty countess through the Pilgrim who brings news of the other in her travels.
This reviewer saw the Met Live broadcast on December 10, 2016. The movie theater attendees have much to gain for their $25 tickets that includes a look into the orchestra as they play and commentary that opens the opera and is presented at the intermission. Soprano Deborah Voight provided interviews and insights for this Met Live broadcast.
Amin Maalouf's poetic libretto (in French with English surtitles) is extraordinary for its lyricism and clarity as well as its surprising expression, such as attributing sound to Clémence's dark hair (so dark it cannot be seen at night) which rustles like leaves. Certainly Ms. Phillips' long flowing hair with ornamented accent braids makes Maalouf's line easy to accept. There is nothing trite about Maalouf's language of love. Additionally admired is Maalouf's invention that takes the tragedy of Jaufré's death to a higher plane as Clémence recognizes God as the ultimate love at a distance.
All three performers provide excellent singing interpretations that make their characters believable and passionate. It's quite possible that The Pilgrim's part could be sung either by a tenor or mezzo with a fine command of the lower range as Ms. Mumford exhibited. Satisfying to this reviewer was the medieval tonalities and nod to traditional songs and dances of that period.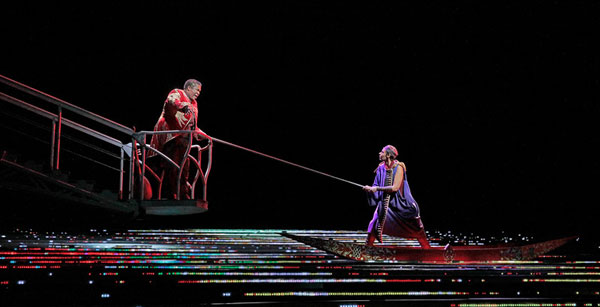 Notable costumes include the classy fish-scale-patterned dress worn by Clémence and the troubadour prince's smoking-style jacket with what appears to display phoenixes wrapped from the chest over the shoulders. The prince tragically doesn't get more than a few minutes of Clémence's embrace, so his phoenix rising is a wistful hope.
One more thing to consider about L'Amour de Loin is how relevant its themes of immigration and longing for native lands are to our time.
Photos: Ken Howard