One reason, my short leisure trip to Chiang Saen District, Chiang Rai Province with my family was so meaningful was that I could see the location where the Mekong River flowed past Thailand, Myanmar and Laos. This area is well known as the Golden Triangle.
Another reason was to visit a venerable female artist who lives there after her retirement. Her impressive works are mainly about teachings of the Buddha with the essential concept of Dharma, Nature and Normality.
In addition to painting with oil color and watercolor on canvas, Sriwan is an artist who is also interested in mixed-media arts and ceramics sculpting. On that day Sriwan and I went to visit a small temple on the hill called "Doi Sa Ngoh". There I saw mural paintings and decorations that Sriwan created. This was why I wanted to follow the life and inspiration of an elderly woman who works near her house for the rest of her life.
Sriwan has had solo exhibitions in Thailand and neighboring countries such as Cambodia and Vietnam. She received several awards from National Art Exhibitions. Her own solo exhibition series called "Colors of Sriwan" appeared for many years after the workshop "Human and Nature". A later solo exhibition series "Concrete and Abstract" was also well received and very impressive.
Sriwan used a part of her own house to build a gallery called "Sridonmoon Artspace". After knowing more about her life, I've found that she is a woman who devoted her lifetime to creating magnificent art and leisurely living near the Mekong River. Interestingly, the naming of Sridonmoon Artspace came with the logo of a shining moon in one of her paintings. Moreover, the local name of the land where she is currently residing is called the golden land with the symbol of a mountain, an elephant and a snake as well as Buddhism's pagoda as a landmark.
Here is the interview
JY: What is your inspiration in art?
SJ: Talking about my own inspiration, my method of arts creation usually goes along with nature and my personal disposition. Like breathing, I work at my own pace without any tension. The story and content in my work reflects my thoughts, feelings and emotions at the time of creating a piece of artwork.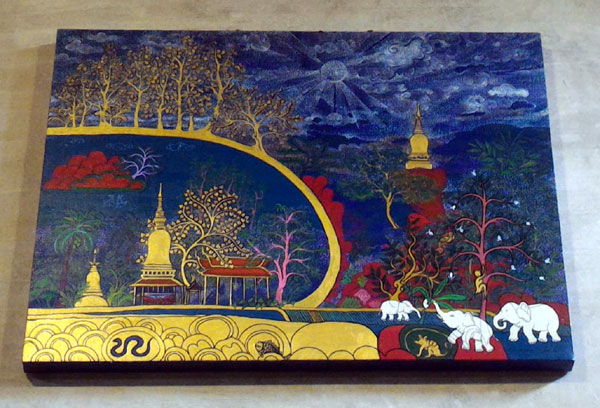 For the remainder of my life, I live on making more meaningful paintings. My main focus is on comprehending Buddhism's belief in physical and spiritual concepts as well as observing our own minds. At the moment I am getting slower in creating more paintings which my main type of artworks is but my love of experimenting forbids me from making only one kind of art.
JY: What about your art education and career?
SJ: I graduated from Pohchang Academy of Arts in 1970. Then I went to study art at Silpakorn University and got master's degree there in 1979. Most of my life I was an art lecturer in many universities in Thailand especially in Bangkok. After retirement I selected Chiang Saen District, Chiang Rai Province as my destination to live and continue to create more works.
JY: Tell us about awards and workshops within and outside the country?
SJ: For the awards, I received, in 1976 and 1977 I participated and submitted my Printmaking in the 23rd and 24th National Art Exhibitions in Bangkok and got bronze and silver medals respectively. In 1984 I received a SPAFA scholarship for a Training Art Teacher to study at Philippines University. In 1996 I received a workshop Rockefeller scholarship for Thai – Vietnamese Artists in Dalad, Vietnam. After that, in 2000, I had another workshop for Thai – Cambodian Artists in Cambodia. In 2002, I received Silp Bhirasri's Scholarship. In 2013 I was selected to be the "outstanding alumnus" for Silpakorn University and then in 2015 Pohchang Academy of Arts gave the outstanding alumnus award to me as well.
Previous Solo Exhibitions
1984 – Painting and Printmaking at the Art gallery of Silp Bhirasri Bangkok
1987 – Art Exhibition "Human and Nature" at the Art gallery of Silp Bhirasri Bangkok
1990 – Art Exhibition "Human and Nature" at Witch & Tavern Bangkok
1993 – Art Exhibition "Colors of Sriwan" at Dialogue Gallery Bangkok
1997 – Art Exhibition "Colors of Sriwan" at Chao Phraya House Bangkok
2001 – Art Exhibition "Colors of Sriwan" at Genesis Artist Gallery, Silom Galleria Bangkok
2005 – Art Exhibition "Concrete – Abstract" at Rose Garden Gallery, Rose Garden A Prime Hotel Resort, Nakhon Prathom Province
2010 – Art Exhibition "The land of Siam, Worldly pleasure - Supermundane" at The Art Gallery of the faculty of Painting, Sculpture and Graphic Arts, Silpakorn University, Bangkok
2015 - Art Exhibition "Dharma, Nature and Normality" at Wangna Art Gallery, Bunditpatanasilpa Institute, Bangkok
JY: Do you have any current projects or exhibitions this year?
SJ: At the end of this year there will be the first Bangkok Art Biennale 2018 in Bangkok from 19 October 2018 to 3 February 2019. I have already submitted my proposal and work for this exhibition.
About the Thailand Biennale
To avoid confusion, around the end of this year, there will be two international art exhibitions in different venues. As mentioned above, one will take place in Krabi Province, and another one will be hosted in Bangkok this October.
The Thai capital is to launch its first ever art biennial as government and corporations lend support to the contemporary art festival. Bangkok Art Biennale was set up by Apinan Poshyananda, Thailand's former culture minister, and the drinks magnate Thapana Sirivadhanabhakdi. The first edition is set to run from 19 October 2018 to 3 February 2019.
Poshyananda, who is also an artist and curator, is the event's artistic director and chief executive. He says that previous attempts to establish a biennial in Bangkok failed "due to lack of commitment from government and periods of political unrest". With corporate support and the backing of the Bangkok Metropolitan Administration, the Ministry of Tourism, and the Thai Tourism Authority, he says "we are ready to launch this event in the heart of the City of Angels. Now is the right time to draw attention to it as visitors will get the opportunity to enjoy layers of heritage and contemporaneity."
With biennials proliferating throughout Asia, Bangkok's version will offer site-specific interactions with the Thai capital's famously energetic street life, Poshyananda says. "Bangkok Art Biennale 2018 will offer a new dimension where heritage sites, temples, contemporary spaces and public parks serve as backdrop for creative imagination. More than 70 international and local artists will converge to create art works on the theme of Beyond Bliss."
The theme is deliberately broad and philosophical, he adds. "In the age of chaos and confusion, we are all in search of our own bliss. Visitors will experience happiness, intuition and contemplation. Conversely, some will experience bliss as unrealised and impossible to reach."