This month I would like to introduce an artist who excels in drawing, painting, sculpting and installations.
His name is Surapong Sudasna na Ayudhya, also known as Man Surapong. His mindset is not to limit oneself from one's potential and to explore all kinds of art techniques.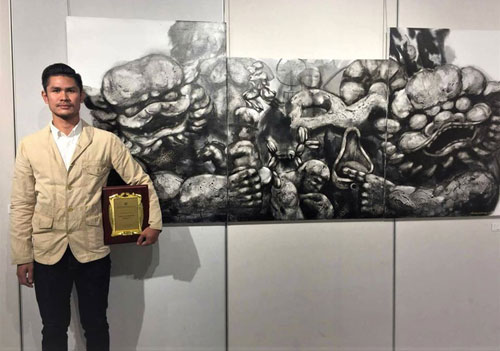 In 2012, a Chinese ink-acrylic painting on paper "Human" by Surapong won the 2nd prize (Triennial Prize) in an art exhibition "The 3rd Bangkok Triennial International Print and Drawing Exhibition". Artists from 60 countries came to participate in this exhibition and in total there were 2,963 submissions. At that time Surapong was a graduate student who was studying for a Master's degree at Silpakorn University in Bangkok. In October 2015, one of his paintings (Chinese ink-acrylic on wood) "Painters in blue atmosphere" was inspired by the everyday life of painters who work at high places which are difficult and dangerous. The painting was auctioned at Sotheby in Hong Kong. In 2017 he received an excellence award from Shanghai International Contemporary Art Exchange Exhibition and Workshop in Shanghai, China.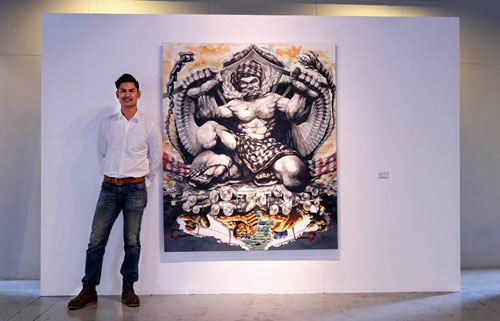 Here is the interview
JY: Could you tell me about your art education?
SS: After finishing high school in Bangkok, I chose to study art at Silpakorn University and obtained a Bachelor's Degree of Fine Arts (Painting, with 2nd Class Honors) in 2008 and then Master's Degree of Fine Arts (Painting) in 2014. Although my focus study is painting, my subjects of interest encompass sculpting, mixed media art and installation as well. Many artists and I don't limit ourselves to one branch of art we're proficient in. That's the reason why I don't want to give up sculpting or installations to pursue the one path of painting as I believe that every type of art has its own charm and supports other kinds of art so well. Art competitions and exhibitions give me more opportunities to think outside the box and make the many kinds of art I want.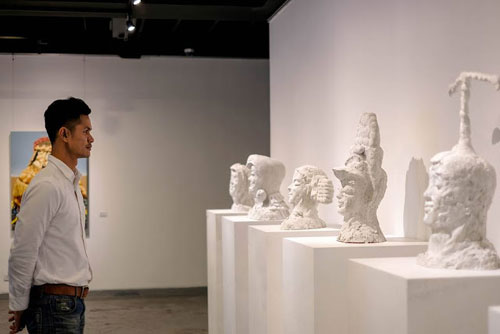 JY: What about a scholarship and training you had in the past?
SS: In 2013, when I was studying for the Master's degree at Silpakorn University, I received a scholarship for art students from "General Prem Tinsulanonda Statesman Foundation". I joined the Workshop Youth Camp Creative Arts with national artists, and was one of the 4th generation students, selected as an outstanding student. The trip brought me to an exhibition in Los Angeles, USA. In 2015, I went to Italy to work as an assistant artist in the 56th Venice Biennale Art Exhibition.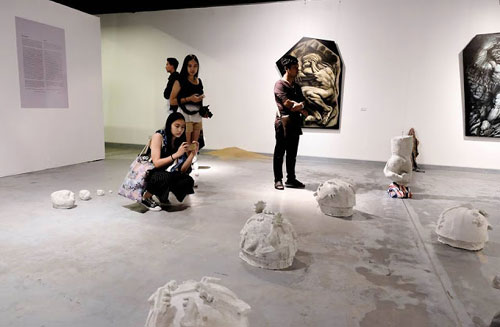 JY: Will there be any changes to your exhibitions in the future?
SS: At the moment, my plan is still the same as earlier exhibitions. I just want to exhibit my paintings as well as sculpting works and installations.
JY: Do you have any suggestions or comments about improving art quality in Thailand?
SS: There are so many ways to improve art quality in Thailand. To achieve this result, we should improve the life of artists. First of all, I think the most problematic issue for an artist is lack of funding. There are many outstanding Thai artists but many have insufficient money to make beautiful artworks with impressive quality. It is always helpful if the government and private organizations could provide more financial support or set up more domestic and international exhibitions for independent artists who have less money so they can create more excellent art works. Secondly, apart from solely giving full support to the most famous artists they already know, the art collectors should have open minds to consider buying some contemporary or experimental arts from less well-known artists. Thirdly, the artist should ask themselves first whether they can work without money or not, since the starting point is usually the hardest compared to the end point and they must not have to wait for help without doing anything. Finally, the pricing of artwork is another issue for artists to consider because it can have tremendous impact on the artworks in the future. Setting too high price is a problem because the value of artworks cannot be reduced easily. Thus, a good plan for appropriate pricing is necessary as it helps increase the number of potentially new and existing art collectors.
JY: Some final thoughts?
SS: There are some people I look up to and want to thank them. The first one is professor Kamol Tassananchalee (National artist). Associate Professor Ithipol Thangchalok (National artist) was my advisor when I was an undergraduate student. Roong Terapichit was my professor who told me not to imitate other artists and find my own way of working, and Thawan Duchanee, a national artist who passed away in 2014, gave me a chance to participate in an exhibition in USA in 2013. They all taught me not to limit my own ability in drawing and try my hardest to surpass my own ability in sculpting.
Past art competitions and exhibitions
2007
- Group Exhibition "Silpa Bhirasri Day 2007" Silpakorn University, Bangkok
2008
- Group Exhibition "Silpa Bhirasri Day 2008", Silpakorn University, Bangkok
- Group Exhibition "Playing Sound Around Art", Silpakorn University, Bangkok
2009
- Group Exhibition, Charity art exhibition for the dogs "My Friends", Central World, Bangkok
- The 20th Toshiba "Bring good things to life" Art Competitions 2009
- Group Exhibition "Silpa Bhirasri Day 2009" Silpakorn University, Bangkok
- Art Thesis, Faculty of Painting, Sculpting and Graphic Arts, Silpakorn University, Bangkok
2010
- Group Exhibition "Convey to …", Nan Riverside Art Gallery, Nan Province, Thailand
- Group Exhibition "Deviation" Number One Gallery, Bangkok
- The 56th National Art Exhibition, Bangkok
2011
- (Distinguished Prize) The 23rd Toshiba "Bring good things to life" Art Competitions 2011
- (3rd Prize) The 13th Panasonic Contemporary Painting Exhibition 2011
2012
- (Distinguished Prize) The 14th Panasonic Contemporary Painting Exhibition 2012, National Gallery, Bangkok
- The 58th National Art Exhibition, Bangkok,National Gallery, Bangkok
- (Platinum Award Prize) The 3rd UOB Painting of The Year Exhibition, National Gallery, Bangkok
- (2nd Triennial Prize) The 3rd Bangkok Triennial International Print and Drawing
2013
- The 4th Young Artist Talent Art Exhibition, Royal Thai Consulate General, Los Angeles, USA
- (3rd Prize) The 3rd Asia Plus Art Contest, The Queen's Gallery
- Group Exhibition, "After the Missing Dialogue" People's Gallery, Bangkok &
2014
- Group Exhibition, "8 Years Young Artists Talent", The Queen's Gallery
- (Distinguished Prize) The 16th Panasonic Contemporary Painting Exhibition 2014, National Gallery, Bangkok
- Group Exhibition, "No Man's Land" One: East Asia Art Space, Thong Teck Building, Singapore
2015
- Solo Exhibition, "HERO", S.A.C. Subhachok The Art Centre, Bangkok
- Group Exhibition, "City Remembrance-Reimagining", Edwin's Gallery, Jarkata, Indonesia
- Group Exhibition, "Autopsies Live in Bangkok", National Gallery
2016
- Pulau Ketam International Art Festival, Malaysia
- Myanmar-Thailand Watercolor Art Exchange and Workshop, The Yangon Gallery, Myanmar
- "Hanoi March Connecting", International Art Exhibition and Workshop, Hanoi, Vietnam
- (3rd Prize) The 5th Amata Art Award "Suwannabhumi", Amata Castle Chonburi, Thailand
- Asian Watercolor Art Exhibition 2016, Andaman Museum Culture Center
2017
- (Excellent Award), Shanghai International Contemporary Art Exchange Exhibition and Workshop
- "Hanoi March Connecting 2", International Art Exhibition and Workshop, Hanoi, Vietnam