Last month in Paris at the resplendent Festival d'Automne, dancer and choreographer Anne Teresa De Keersmaeker watched her first major piece of choreography, Fase, which she created in 1982, from the audience. She had always danced it herself in the past. At this point in her career she has entered a mourning period for her life as a dancer and is facing the realities of transmitting her work to newer and newer generations of dancers. Meanwhile, the Festival d'Automne is presenting a 35-year retrospective of her work, including twenty different works in theatres all over Paris. It's a monumental undertaking and a heady tribute to the prodigious lifework of this prolific Belgian choreographer.
The retrospective opened at Centre Pompidou with Fase, Four Movements to the Music of Steve Reich (1982). The title is self-explanatory. Three duos and a solo deliver a visual interpretation of the mathematical precision and subtle mutations in Reich's Piano Phase (1967), Come Out (1966), Violin Phase (1967), and Clapping Music (1972). Both physically and mentally rigorous for the dancers, if not the audience, De Keersmaeker's choreography employs repetition of simple, almost pedestrian and childlike movements, into a hypnotic trance dance.
Anne Teresa De Keersmaeker's Fase (Piano Phase
Piano Phase features two dancers (alternatively performed by Yulika Hashimoto and Laura Maria Poletti & Laura Bachman and Soa Ratsifandrihana), wearing platform sneakers and beautifully swirling bias-cut dresses. Deceptively simple patterns of footwork and single-arm swings above pivot turns are occasionally punctuated by full-body gestures. Thanks to the beautiful lighting of RĂ©mon Fromont, multiple dark silhouettes of the dancers appear on a large upstage screen, as if several more dancers are floating in the abyss. The choreography constrains the dancers to tight geometric spaces and relationships, most often requiring them to repeat slightly altered phrases side-by-side, facing downstage, right or left. The concept involves dancers who are identical in size and height who almost always remain strictly vertical. When they occasionally break into generously lyrical shoulder rotations (Ă©paulement) that suspend them in slight forward motion, the contrast brings a feeling of breath to the otherwise breathless pace. By altering the time signature and facings in space of one dancer at a time, De Keersmaeker transforms not only their relationship to each other in space but creates a journey from one fixed relationship to another one. She explores and exploits the rhythmic possibilities in the music without ever betraying Reich's driving, pulsing accompaniment. The dancers watch each other constantly, regardless of where they are in space, and communicate through audible breathy cues. They create and inhabit a distinct universe governed by De Keersmaeker's strict rules and Reich's unrelenting repetition.
Come Out introduces the same dancers in loose blouses tucked into high-waist slacks and chic clunky-heeled ankle boots. (Costumes are by Martine André and the choreographer.) They perform the entire piece seated and confined to two stools placed only about a meter apart, down-stage right, under two hot pendulous lamps. More sensuous and arguably voluptuous compared to Piano Phase, the movement vocabulary evokes a clever series of shape-shifting phrases, fast-paced hand gestures and sweeping moves around the stools. Always abstract, the gestures are nonetheless weighted with meaning and the dancers, though seated, occasionally seem to take flight.
Reich's vocal piece, Come Out, was created as a reaction to the police brutality aimed toward suppressing the American Civil Rights movement in the late 1960s. When he was still an unknown composer working on his experimental minimalist concepts in New York City, an activist named Truman Nelson approached him to make a sound collage of taped interviews of six young black men who were accused of murder, held without bail, and brutally beaten by the police. Reich lifted a single phrase, spoken by Daniel Hamm describing what he did in an attempt to prove how severely he had been beaten:
"I had to, like, open up the bruise to let some of the bruise blood come out to show them…"
Reduced to just "come out," the rhythmic juxtaposition of the words came to define Reich's groundbreaking compositional style.
Anne Teresa De Keersmaeker's Violin Phase
Violin Phase is yet another controlled environment—this time a circle that is alternatively described from its perimeter and by its quarters, drawn by a single dancer. Expressions of tempo and volume of gesture drive toward a dramatic break with the rigorously established patterns. When she created Fase, De Keersmaeker had already, at age 22, understood the drama of minimalism and the pressure created by holding back. In previous performances, filmed from above on a surface of white sand, the pattern of a sand dollar was drawn by the dancer's feet.
Clapping Music, the finale, brings the two dancers back together and downstage, close to the audience. By now, in spite of the coolness of the choreography, an intimacy has developed with the audience. A complicity built of compassion for their rigor and devotion, their physical stamina and monk-like concentration, brings the dancers closer to the audience both physically and emotionally. Layering quick hitch kicks, direction changes and frozen moments on their tippy-toes, the choreography shifts and switches constantly from unison to opposing movements, taking on a cartoon-like quality of robots in an assembly-line.
Anne Teresa De Keersmaeker's Fase (Clapping Music)
After a childhood of serious study of European classical music and the flute, Anne Teresa De Keersmaeker turned to classical dance as a teenager. Her profound knowledge of music and respect for composers is one of the fundamentals of her prolific career as a choreographer.
In a recent interview with Gilles Amalvi for the Festival d'Automne, she spoke at length about her creative process and especially about the work, over the past two years, of preparing for this expansive retrospective. Looking back at her own choreographic body of work over a career that started when she was just out of school (at Mudra in Brussels with Maurice BĂ©jart and the Tisch School at Julliard in NYC), she realized that her early works were created long before her current dancers were even born. While continuing to work on new creations, she has spent the last two years going back into the studio with her repertoire from the early years to reset these pieces on new generations of dancers. In the case of her work based on John Coltrane's iconic "A Love Supreme," it meant a complete recasting. Originally set on two men and two women, it is now danced by four men. Each of the original musicians on the recording, Coltrane on saxophone, McCoy Tyner on piano, Elvin Jones on drums, and Jimmy Garrison on bass, are interpreted by a different dancer. The muscularity of the music demanded it.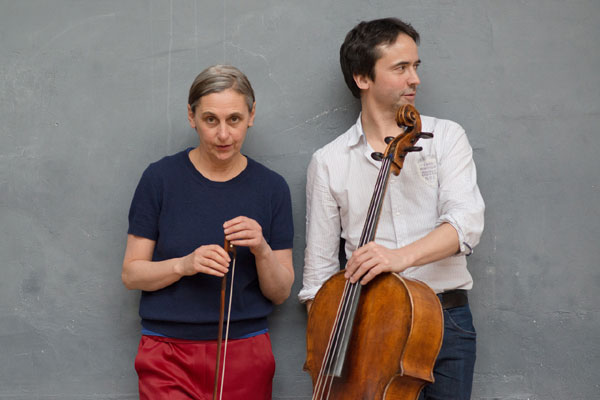 Anne Teresa de Keermaeker with Jean-Guihen Queyras
She feels that she has always been on the same quest but approached, returned to and restated her animating questions from new and different perspectives. She works alone at times but also in very close collaboration with her dancers, former students, composers, musicians, choreographers and other masters of stagecraft. Her collaborators enable her to zoom in as they enlighten the creative dilemmas she wishes to address. They help her to see and explore questions in ways she feels she would not otherwise. And yet, she is devoted to finding the balance between solitude in her process and collaboration, which she sees as sharing. In solitude she can take her questions to a deeper level; in collaboration she forms new questions that might otherwise have eluded her.
Organization of space and time, for her, is always linked to her observation of and preoccupation with the patterns found in nature. The Golden Mean and the concepts of the spiral by Fibonacci are never far from her framing thoughts. These western ideas influence her concepts of geometric proportion and scientific observation as do the eastern ideas of flow and circulation of energy.
Another tension in her process, and in her creations, is the open investigation of her questions with the need to create a work that can be "written" down in a way that is not subject to vast variations and interpretations. The form must be solid enough to withstand the possibility of transmission to new cast members, new generations of dancers and, other dance companies. For this formality to exist, she must define her framing principles at the level of time and space and ensure they are immutable regardless of the contingencies present at creation (i.e., the personalities of the original cast who inspire her in their own unique ways). She refers to the great composers, who have so often accompanied her, such as Bach and Mozart, and their process of making music for a specific orchestra composed of certain musicians, some quite well known to the composers. Their works have transcended these potential restrictions over time but what have they lost? When other musicians perform A Love Supreme (or when someday four other men perform her work based on it), what changes?
Throughout the entire fall, until the end of December, Paris is a laboratory of discovery of the life work of Anne Teresa De Keersmaeker, thus far. Information about the Festival d'Automne (September 10-December 31, 2018, in venues throughout Paris), is available here: www.festival-automne.com
(Interesting background information about Steve Reich's Coming Out is available here: https://pitchfork.com/features/article/9886-blood-and-echoes-the-story-of-come-out-steve-reichs-civil-rights-era-masterpiece/)
See also, an article written about De Keersmaeker's Rain, performed by the Ballet de L'Opera National de Paris, written by the author and appearing in Scene4:
https://www.scene4.com/archivesqv6/2014/dec-2014/1214/catherineconwayhonig1214.html
Cover Photo: Anne Teresa de Keersmaeker's A Love Supreme
Photo Credits and Copyright: Max Vadukul, Herman Sorgeloos, Anne Van Aerschot
Special thanks to Festival d'Automne Ă  Paris