To get through a terribly hot summer where both the climate and the politics in Washington have been abnormally unpleasant, the Steiny Road Poet turned to reading every novel in Jeffrey Siger's mystery series about Chief Inspector Andreas Kaldis, a Greek crime buster. Prior to her summer trip to Athens and the islands of Santorini and Amorgos, Steiny discovered Siger's work when she looked for books set in Greece.
FAMILY FIRST—AN INGREDIENT FOR
A SUCCESSFUL CRIME NOVEL
She began by reading Siger's eighth novel in the series, Santorini Caesars and was well rewarded with the information and descriptions about this island paradise. What drew her into these novels were the finely wrought characters. Andreas Kaldis is a fearless leader of his country's crime division. He not only puts thugs in their place but politicians also.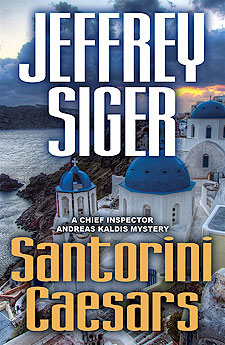 In this novel Inspector Kaldis also dares to take on the Greek military. In Kaldis, Siger portrays a righteous but practical man. However, Siger also portrays the vulnerabilities of Kaldis and the inspector's sense of humor. We see the more sensitive traits in Kaldis' interactions with his all-knowing secretary Maggie, his young sidekick detective Yianni Kouros, his rough-cut mentor Cyclades Chief Homicide Inspector Tassos Stamato, and his adoring upper-class wife Lila Vardi and their young son Tassaki.
Kaldis explains that Tassaki, the nickname of his son Tassos, came about innocently—a friend thought adding aki would be the diminutive of Tassos—but the word tassaki in Greek means ashtray. One of Siger's endearing approaches is that he tries to write from the Greek point of view. In the case of Kaldis explaining his son's nickname, Siger is pointing out that Greeks love to give nicknames and sometimes the nicknames take on a life of their own as Tassaki's mother Lila acknowledges. She knows she can do little to stop people around them from calling her child this unseemly name. A further complication of Greek tradition is that so many people have the same name, so nicknames are important. And despite Kaldis' inner circle having a man named Tassos Stamato, the boy is named for his deceased grandfather.
THE TOOTH FAIRY—GREEK SETTING
BUT AMERICAN AUDIENCE
That said, Siger doesn't strictly adhere to writing from the Greek point of view. In the third novel Prey on Patmos, writes:
"On the other hand, if there were something more, the ministry knew better than to expect political correctness or a coverup from Andreas. Threats and tenders of bribes only pissed him off more. Perhaps this was one of those rare cases where politicians didn't care about scandal as long as the guilty were caught. Yeah, and maybe he should go back to believing the tooth fairy."
So, the Steiny Road Poet went to a friend born and bred in Greece to ask him if he knew about the tooth fairy. "What?" Steiny's friend asked. Steiny persisted by asking, "What did you do with a tooth that fell out when you were a child?" Puzzled, he answered, "Nothing."
Because Siger consistently refers to elements that are American and never introduces puzzling sayings or references that a modern-day Greek might use, Steiny understands that Siger is purposefully making these choices because he is writing for an American audience. Nowhere is this clearer than in novel 6, Sons of Sparta, when various characters make references to DEA without explicating that this acronym stands for Drug Enforcement Agency. Here's the first reference to DEA in Sons of Sparta:
"'My guess is he was set up. I doubt he even knew there was grass growing out in the middle of that horta. But you did. Probably even planted it. And when DEA found it, you made a deal to give them the owner. They got to nail a bad guy they'd wanted for years, and you got to walk away clean. Everyone's happy, except of course for the guy who went to prison. Does he still call you on your name day?'"
What's really interesting about this passage is that Siger mixes elements of Greek life with the reference to DEA, an American organization that is used as a stand-in for whatever the Greek equivalent might be. Additionally, his references in this passage to Greek life are funny. In this comment, detective Kouros is saying that marijuana (he refers to it with the American nickname grass) is being grown in the middle of the Greek leafy green called horta. In Greece, the vegetable horta has the nickname weeds and another American slang term for marijuana is weed. Therefore, Siger gives us weed in the weeds. If that was too subtle for the average American crime novel reader who may have never been to Greece and never ate or heard of horta, then Siger tries again by asking the bad guy who turned in his marijuana growing partner if that man who went to prison still calls the snitch on his name day. In Greece, a person's name day (associated with Greek saints) is celebrated more than one's birthday.
NINE NOVELS IN BREATH-TAKING SPEED
In each of the nine books written to date, Siger concentrates on different aspects of Greek life and different kinds of crime. Here are the books with a short subject precis in the order they were published.
Murder in Mykonos (2009)
The work of a serial killer is discovered in a church and the killings seem to have a ritual aspect. Siger folds in Greek myths in this story. The ending of this novel kept Steiny up reading until the last page.
Assassins of Athens (2010)
A teenager from a prominent family is murdered and this death seems to be a message attached to some kind of vendetta that has political power behind it. Kaldis meets Lila Vardi, who provides some help with this investigation.
Prey on Patmos (2011)
Religion and marriage take center stage. A beloved monk is murdered during Easter week. Lila Vardi announces she is pregnant and marriage between two people of different social status is questioned particularly by Inspector Kaldis.
Target: Tinos (2012)
The charred bodies of two Romany brothers chained together kick off a politically fraught investigation. The issues of immigration, racial prejudice and Greek financial problems yield a surprising outcome which includes a secret society. Kaldis and Vardi marry.
Mykonos after Midnight (2013)
The Mykonos club scene is the scene of a brutal murder which spirals out to international money laundering.
Sons of Sparta (2014)
Yianni Kouros' family who live in the region called the Mani bring to light an old feud and how vendettas crippled the families of that region. This novel also explores problems with corrupt foreign investors who take advantage of Greece's weak economic situation.
Devil of Delphi (2015)
Adulterated liquor erupts into a political mashup that threatens Kaldis's job and family and has nefarious international impetus.
Santorini Caesars (2016)
Professional assassins target a young demonstrator from a prominent family tied to the military. Kaldis veers into matters outside police business.
An Aegean April (2018)
The international refugee problem is in prominent focus as Kaldis tries to solve the particularly barbaric murder (the man was sliced in two with a heavy sword) of a wealthy Greek shipowner.
WHERE TO BEGIN
Steiny did not read these novels in the order that they were written but she was glad that she read Mykonos after Midnight before she read Devil of Delphi. These two novels share a character who is off-the-charts evil. To read Devil of Delphi first would spoil the drama that takes place in Mykonos after Midnight.
Generally speaking, effective crime novels have great stories but come up short on the writing. Sometimes Siger exceeds in his writing skills, particularly on the descriptions of the places he is describing. He clearly loves Greece and is passionate about what the land and sea look like. However, Siger does not do well with love scenes. They are awkward and mechanical. Despite this lack, Siger still manages to get the emotional landscape between his characters right.
Gertrude Stein used the format of a murder mystery (Blood on the Dining Room Floor) to find her way back after a bout of writer's block brought on by too much publicity for The Autobiography of Alice B. Toklas, a book Stein did not feel proud of. Poisoned Pen Press founding publisher Robert Rosenwald says Jeffrey Siger is working on his tenth novel which has the tentative title Mykonos Mob. The anticipated publication date is April 2019. Siger seems to have little problem with writer's block and in a short email exchange, Siger answered a few questions.
ADDENDUM—A BRIEF Q & A
Have any of your novels been optioned for film?
"My entire series was optioned by an Austrian production company putting together a series for German television. Sadly, tensions between Germany and Greece over the Greek financial crisis sent that project skidding off the rails. Currently, I'm in discussions with two separate production companies seeking to do a similar project."
Among your nine, do you have a favorite?
"I'm sure you've heard authors say before how hard it is to pick among one's 'children,' but if pressed, I'd have to go with the baby in the family, #9, AN AEGEAN APRIL. I'm particularly proud of it for two reasons: the hard look it takes at the many sides of the refugee/migrant crisis haunting the Eastern Mediterranean, and the number of people intimately familiar with the situation on Lesvos (aka Mytilini) where the novel is based, who've let me know how much they enjoyed it."
Do you have a murder mystery/crime novelist who has influenced your work?
"Consciously, I think of myself as inspired most by Conan Doyle, Cormac McCarthy, and August Wilson, only one of which fits comfortably in your category. Subconsciously, though, I must have been influenced by Donna Leon, Joseph Wambaugh and Ed McBain as reviewers regularly see their influences on my work."
After learning that Jeffrey Siger takes his inspiration from such excellent writers, the Steiny Road Poet is primed for his next book.