The shoulder rig slung over the blue turtleneck. The heather brown tweed blazer. The rumpled khaki trench coat. And the '68 Mustang GT Fastback in Highland green.
These are some of the colors and textures rendered iconic by Steve McQueen in Bullitt, the Hollywood classic which premiered 50 years ago on October 17, 1968.
But it's not just the what but the how that sets McQueen apart in a movie which simultaneously delivers riveting, big-action drama and an understated character study. More than a hard-boiled crime flick with a penchant for getting the details right and one of the greatest high-speed car chases, Bullitt is a film about how a complex man moves through the world, physically and philosophically.
At the center of the enterprise is McQueen, an actor who, by 1968, had established himself in a series of roles as the epitome of a new kind of cool, an ideal expressed in a look he could summon which bordered on a glare, defiant and independent but not wild-eyed—a smoldering focus.
I first encountered McQueen and that look as a kid watching The Great Escape, the World War II POW camp break-out directed by John Sturges from 1963.
In an ensemble cast of superb actors—Richard Attenborough, James Coburn, Charles Bronson, James Garner, Donald Pleasence—McQueen stands out for several reasons. As US Army Air Force Captain Virgil Hilts, McQueen plays the only major American character; his fellow prisoners are British, Australian, or Canadian. He initially refuses to participate in the massive escape plan, preferring to go it alone. His garb, as in other films, distinguishes him too; in a camp full of prisoners in blue RAF uniforms and captors in Wehrmacht gray, McQueen sports a seasoned brown leather flight jacket, a pair of khaki pants, and, unaccountably, a blue sweatshirt with sleeves roughly cut at the elbow. There's his distinctly American mitt and baseball, which, after failed escapes, he takes on 30-day stints into "the cooler" to help pass the time (much to the puzzlement of his joyless Nazi guards.)
And then there's his path to escape come the big break: a fiendishly-acquired motorcycle ridden with memorable command.
Once again, it's not just the what but the how.
No doubt, McQueen gets the most exciting sequence of all the escapees, but he brings nuance to it as well. Soon after disguising himself in the dead German soldier's uniform, there's a scene where he stops the bike on a long straight road, a tantalizing wall of Alps in the distance. He whispers to himself: "Switzerland." And then he twists off the gas cap and rocks the motorcycle a little to hear how much he's got in the tank. It's a sweet touch, an elegant detail which McQueen, an accomplished motorcyclist, performs with easy authority. He's not acting, he's quite obviously in his element.
And perhaps you're like me: no matter how many times I watch The Great Escape, I think McQueen might finally make it over that second hedge of barbed wire. But his seizure affords an opportunity: he flashes his captors the glare.
Before Bullitt, McQueen's mythos had been building for a decade. He shot to fame as Josh Randall, a principled bounty hunter of the Old West with a lightning-fast draw of a sawed-off Winchester dubbed the "Mare's Leg," in Wanted: Dead or Alive, which beamed into American living rooms for three years on CBS beginning in 1958.
In 1960 he portrayed another paladin gunslinger, Vin Tanner, in The Magnificent Seven, his second film with director John Sturges. Along with heroics and memorable lines ("We deal in lead, friend."), McQueen notably survives, a fate denied four of his comrades. In '63, as mentioned, he attained cinematic immortality atop a motorcycle in The Great Escape. In 1966 he turned in a searing performance as a rebellious sailor in The Sand Pebbles, garnering him Golden Globe and Academy Award nominations for Best Actor.
Then came the role which would seal his legend, a film in which his smoldering focus would be concentrated laser pure, the essence of McQueen cool. Importantly, it was a contemporary role, a portrayal of a man whom we recognize, even at 50 years' remove, working within modern parameters. On the surface, that man is Lieutenant Frank Bullitt of the San Francisco Police Department, but it's Steve McQueen's interpretation of Frank Bullitt, so in many ways, the character in the movie is McQueen himself.
There's a wonderful 10-minute featurette about the making of the movie called 'Bullitt': Steve McQueen's Commitment to Reality (too bad Wallace Stevens died in 1955 because that's a title he would've adored!) In this behind-the-scenes look at the film, McQueen describes how he and director Peter Yates strived to take accuracy and believability to new heights: "The thing we tried to achieve was not to do a theatrical film but a film about reality."
To gain insights into the craft of a real San Francisco detective, McQueen worked with Inspector Dave Toschi, a cop already on his way to achieving his own renown as one of the lead investigators in the Zodiac Killer case. A fast-draw aficionado from way back, McQueen appropriated Toschi's shoulder-holster rig. He also liked his trench coat. (Four years later, Toschi's style, as well as his notorious murder case, would inform another fictional Frisco detective of the big screen named Harry Callahan.)
Early in the film, a key witness in an organized crime investigation and the police officer guarding him are seriously wounded by hitmen. In the scenes that follow, the viewer watches some gritty emergency room procedures conducted in the terse argot of experts. That's because they are experts, real ER doctors and nurses. As McQueen explains: "The feelings, the sensitivities that were in that hospital—this is the kind of reality that's important in motion pictures. If you try to act it, it doesn't quite come across as if you're really doing it. We had the reality we wanted."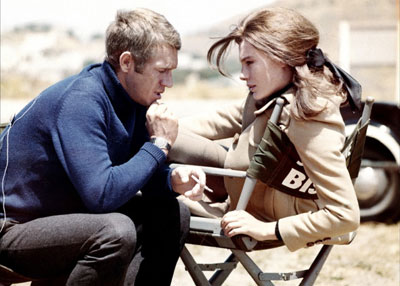 McQueen's co-star and girlfriend in the picture, Jacqueline Bisset, attains the same convincing fluency in her job as an architect. Once again, it's because Peter Yates films in a real architectural firm in the city and the staff tutors Bisset and the extras. "They were very courteous," McQueen recalls, "and they showed our actors how to work the slide rulers, how draftsmen would be, how they would act."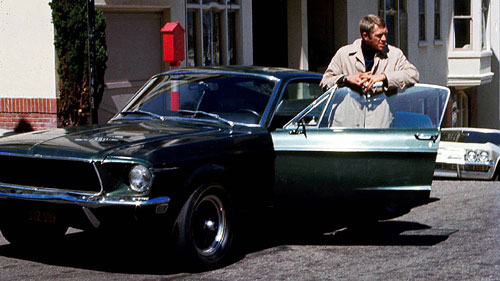 A centerpiece and a masterpiece, the car chase in Bullitt pits a '68 Ford Mustang GT Fastback against a '68 Dodge Charger R/T up, down, and over the precipitous streets of San Francisco. It remains the gold standard, certainly the work most responsible for earning the movie an Oscar for Best Film Editing. I'd also submit that the sounds of those scenes—the roar and purr of those big-block Detroit engines, the shrill tire squeals, and the taut accentuation of Lalo Schifrin's soundtrack—contribute massively to the excitement.
For McQueen, his "commitment to reality" in the car chase meant that Peter Yates could hardly keep him out of the driver's seat. Already beloved of Hollywood stuntmen for his grit and willingness to participate in dangerous work, McQueen burnished his legend by driving in many of the sequences.
For that understated character study, I'd point you towards a low-key scene I really enjoy, when Bullitt gets information from his source, a dapper, dignified character named Eddie, played by Justin Tarr, who sports a strikingly cool pair of amber sunglasses. It's not the usual transaction where cop treats informant with derision. Quite the opposite; Bullitt finds Eddie having lunch with an attractive woman at a chic cafe. He courteously interrupts, shaking hands with Eddie. They cross the street for privacy.
As soon as they start talking you notice they're on a first-name basis. After Eddie tells him what he's heard, Frank replies with solemn gratitude: "OK Eddie, thanks. Anything I can do for you?" Eddie tells Frank about a mutual acquaintance who just got "3 to 5" for receiving stolen property. Once again, McQueen's look is all sincerity as he says "I'll try."
It's very subtle and there's an implicit history of trusted quid pro quo, because Eddie says "Thanks Frank" with a smile which seems to indicate that Bullitt will get his pal off the hook. It's that McQueen cool again, the kind of cool which earns him impeccable street cred.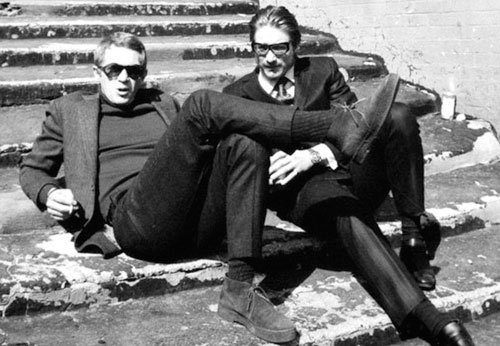 Interestingly, in Bullitt McQueen trains his defiant glare not on the bad guys but on the all-too-slick San Francisco District Attorney Walter Chalmers, played with suave guile by Robert Vaughn. Chalmers seeks (and flagrantly peddles) personal advancement from the use of a star witness whom Bullitt and his men must guard for an upcoming Senate subcommittee hearing on organized crime. When one of his men is nearly killed in what had to be an inside job, the police lieutenant must restrain his anger, but he makes his disdain clear in his famous line to Chalmers: "Believe what you want—you work your side of the street and I'll work mine."
Bullitt has stood the test of time. And this month, all around the country, it will electrify audiences again on the big screen. Go see it for the rich colors and textures captured on those Arriflex cameras, dig the flute-forward soundtrack by Lalo Schifrin, savor the forensic details, thrill to the chase, and watch how Steve McQueen moves through the world. It's a worldview.