The Smithsonian American Art Museum of Washington, DC is exhibiting an important story about how the fashion photographer Diane Arbus became internationally famous as an art photographer. In three small gallery rooms, SAAM curator John Jacob, using resources belonging to the museum since 1986 but never before exhibited, shows how the packaging—a Plexiglas box that acts as either a case or a frame—brought attention to her work.
At the urging of her friend Marvin Israel (he had worked with her first when she a fashion photographer and he was art director at Harper's Bazaar, 1961-1963), Arbus began assembling box sets of her work as a way to earn money. Before her death by suicide in 1971, she had assembled eight box sets and sold four. Photographer Richard Avedon bought two and artist Jasper Johns bought one. Bea Feitler—also an art director at Harper's Bazaar, 1963-1972—bought the fourth box set to which Arbus added an eleventh photograph. Feitler died in 1982 of cancer. SAAM purchased Feitler's box set in 1986 from a Baltimore-based dealer who had acquired it at auction in 1983. This box is the only publicly held box set of Arbus' work.
In 1972, Arbus' work was selected for exhibition in the American Pavilion of the Venice Biennale. SAAM's precursor, The National Collection of Fine Arts, was involved in organizing this exhibition as led by Walter Hopps, director of the Corcoran Gallery. The inclusion of photographs by Diane Arbus represented the first time photography had ever been shown in this historically prominent venue for art that began in 1895 and had featured over the years such visual artists as Gustave Klimt, Renoir, Picasso, Braque, Magritte, Klee, and Chagall.
Featured in her box set was such well-known photographs as: the Jewish giant, the identical girl twins, the nudists at home, and a woman holding a baby monkey that is dressed in pajamas. What is unusual about the set of photographs is that each photo includes a vellum slip-sheet with commentary handwritten by Arbus.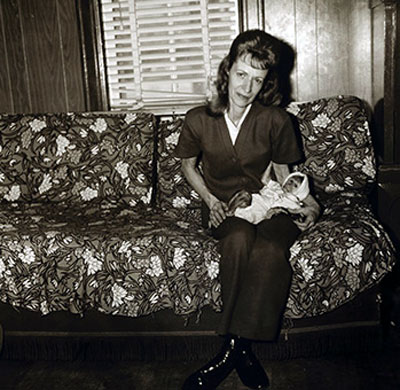 In an interview conducted August 14, 2018, with John Jacob, the curator said he had been working for SAAM for three years and Arbus' box set was something in the collection that stood out for him since it has never been featured in an exhibition. Given that Jacob's prior experience before coming to SAAM emphasized the archival holdings of individual artists, he realized that SAAM had a wealth of archival materials associated with Arbus and this box set of her work. When asked if his target audience for this exhibition was scholars or the general public, he said both. The inclusion of various written documents and photographs of Arbus giving a lecture at the Rhode Island School of Design on the photos in this box set made this reviewer think otherwise. It's an exceptionally interesting story that how the work was put together took a photographer of unusual portraits to another level of recognition. The general public is not likely to slow down enough in its viewing of these three rooms to understand John Jacob's message though they will enjoy seeing a small cohesive collection by Diane Arbus.