. . . and the house of Elrond was a refuge for the weary and the oppressed, and a treasury of good counsel and wise lore.
–The Silmarillion, J.R.R. Tolkien
On an October Sunday a few weeks ago I went for a hike around my town, Princeton, New Jersey. It's a form of exercise and moving meditation I've done hundreds of times. I don light wool socks within my trusted boots, a pair of khaki shorts, a t-shirt, my beloved New York Giants baseball cap (which looks like Mel Ott himself might have worn it), and a GoRuck backpack with 25 pounds of weight in it. Sometimes I take exclusively to the woods. More often I walk one of a few loops which leads me through various Princeton neighborhoods.
An hour usually suffices, but this particular afternoon beguiled me into overtime.
It was one of those exquisite days of Indian summer without breeze or the need of one, blessedly still, deeply calm. The crickets' continuous whir seemed to me the sound of time held in fecund suspension.
It was one of those days which allowed me to see again and anew the timeless beauty of my town and remember just how lucky I am to live in it going on a quarter century now. A kid in a nondescript gray hoodie, jeans, and Converse sneakers rode by me on a bike; for all I know he cycled straight out of 1970.
It was one of those days I wish I could cast in amber . . . but then realized Nature had already done it for me. Moving through the warm stillness along Snowden Lane, l beheld the trees, radiant as if illuminated from within, kindled by long, low-angled shafts of 5 o'clock sun into fire-fangled yellows, oranges, and reds.
Without effort, lines from the Wallace Stevens poem "Credences of Summer" sprung to mind. Nature on my particular latitude–Princeton–had gently tipped past "green's green apogee." I said to myself, as Stevens so keenly observed: "This is the barrenness / Of the fertile thing that can attain no more."
The image persists of New Jersey as an industrial wasteland where toxic sewage seeps into fetid marshes and equally noxious smoke billows into the air. The vistas one sees upon leaving Manhattan via the Lincoln or Holland Tunnels and heading south on the Turnpike do nothing to dispel that impression.
But New Jersey's nickname, "The Garden State," remains well-deserved owing to our abundant harvests of fruits and vegetables, as well as our many wildlife preserves and protected forests, such as the Pine Barrens. Indeed, as I near the end of Snowden Lane I see the weathered sign for Herrontown Woods, one of several preserves just within Princeton alone.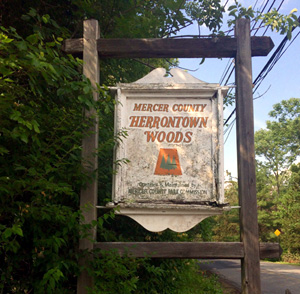 And in a fashion, Princeton serves as gateway to all that pastoral, a citadel on a line of demarcation which separates refineries, factories, box stores, asphalt, and white-knuckled gridlock from orchards, pastures, farms, woodlands, and an ease of mind which comes in such environs.
People who've lived here for a while, especially those who commute in and out of Manhattan, often mention that feeling of "ahh" they get when the step off the train onto the Princeton Junction platform.
I often explain to those unfamiliar with Princeton how the town, with its famed university and bucolic surroundings, is an enclave of green in the most densely populated state in America. I liken Princeton to Rivendell, the enchanted haven of peace maintained by Elrond, an ancient half-elven king in J.R.R. Tolkien's The Hobbit, The Lord of the Rings, and The Silmarillion.
There's no better way to experience the Rivendell Effect–that feeling of having narrowly evaded malice, of leaving behind road rage and noise and the manic clutter that lies to the North–than turning off U.S. 1 (which my friend always qualifies as "that hateful road") and driving down Washington Road Elm Allée. A truly majestic entrance nearly a mile long, its old-growth elms flank your path like stately columns. The exquisite symmetry is no accident; this grand piece of gardening was first begun in the mid-1920s and has been lovingly attended and supplemented since.
And when you've passed through Elm Allée, Washington Road takes you over the Delaware and Raritan Canal (which you might miss in a car if you aren't looking) and thence up and over a narrow end of Lake Carnegie (which you can hardly miss.) The road then heads uphill into the heart of Princeton where town and campus sit side by side on Nassau Street.
If Princeton is Rivendell then our renowned university is the "treasury of wise lore" at the heart of the enclave. (Actually, there are just as many "townies" with no affiliation to the school who comprise as rich a living archive.)
As a college campus, Princeton remains iconic, the epitome of an idealized setting for higher learning. But along with its neo-Gothic architecture and attendant buzz of intellectual pursuit, Princeton has trees–thousands of them. By design, the campus serves as an arboretum, home to American beech and English yew; white ash, red oak, copper beech, and yellow willow; red maple, sugar maple, and Norway maple; London plane tree and cedar of Lebanon; sycamore and magnolia.
Just a few miles southwest of campus center is the Princeton battlefield, a glorious green sward of massive significance. Behind it lies 589 acres of public-access woods protected by the Institute for Advanced Study, its network of trails a boon to poets and mathematicians, dog-walkers and cross-country runners, bird watchers and Nobel laureates.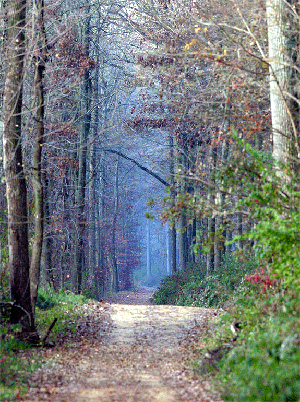 But I'm at the other end of town now, near Rocky Hill on our northern border. I'm luxuriating in locomotion even as I hoof it up the steepest pitch of Herrontown Road. My pack has long since melded with my shoulders. There's a small pasture, a rectangle of wild grass now bathed in afternoon's gold. This little plot has always been dear to me. Two Hereford cows eye me over their salad.
And now I've attained Princeton's highest point, the Herrontown Woods Arboretum on my left, the Autumn Hill Reserve on my right. I could turn around and go back the way I came but I see chambers of amber in the forest on my left that look too inviting. I step off the road and disappear down a familiar path, deeper into my enclave of green.