I followed the exhibitions of Chatchawarn Ruksa, four-legged exhibitions, dozens of times. Over the years at "Loving Paws" events, there were auctions to bring income for the charity that cares for dogs and cats:
Rescue Paws
It can be said that recording stories, the writing of the national expression of Thailand, has much to study. We have inscriptions on Thai paper ( Kadas) folded and palm leaves which are used in a record called "Thai Book". Most of them are the stories of Buddhism, the records needed to be applied to the works of art to be studied with the frescoes in temples and important festivals. There is a textbook of astrology by Krom Phraya Pawaresawariyalongkon who was the 8th Thai Patriarch of Rattanakosin in the reign of King Rama. In addition to being a Pali philosopher, his Majesty also had abilities in various fields such as astronomy, architecture and he wrote a textbook to look at the characteristics of Thai cats and birds. So we know that Thai cats have been recognized and praised and members of households since the earliest days.
The book points out the astrological picture of 17 good traits of cats when they are adopted. How will the owner get good things in life? Since the beginning of the Rattanakosin period his writings caught the attention of cat lovers, up to the present, including further research for people interested in animation in making movies.
For many years, I have seen the work of drawing lovely pets. And I've seen that Thai cats are very popular both at home and abroad.
JY. Can you tell us about your inspiration for being a watercolor artist?
CR. Inspiration for work has two things: techniques for wet painting and paws which are lovely, beautiful patterns. Also soft fur of cats, dogs, squirrels, and birds. Previously, I drew modest house landscapes because I was an art teacher to students.
I paint the cat with watercolor mainly using the wet paint technique.
My watercolor painting started with landscape painting, including people, still life. Then I tried painting various animals including cats. I found that I enjoyed painting cats more than any other. So I tried and tested how to draw cats to get the best results. At present, the experiment has not stopped.
JY. Please share with our readers your proudest work of the past.
CR. The most important work that I have drawn is the image of the Virgin Mary painted with oil paint on a piece of gold leaf. It is a model drawing from the real image, which is an important picture of ancient Roman Catholicism.
It is currently installed at Saint Alfonso's Temple (Catholic Temple), Muang District, Nong Khai Province. Thailand. I have also painted a mural in this temple.
JY. Please tell us about your education and work.
CR. In my education, I graduated with a Bachelor of Business Administration, Major in Accounting, Graduate School of Teaching.
I worked for a company before I was a market officer for a finance and securities company Then changed to stay with Siam City Cement Plc.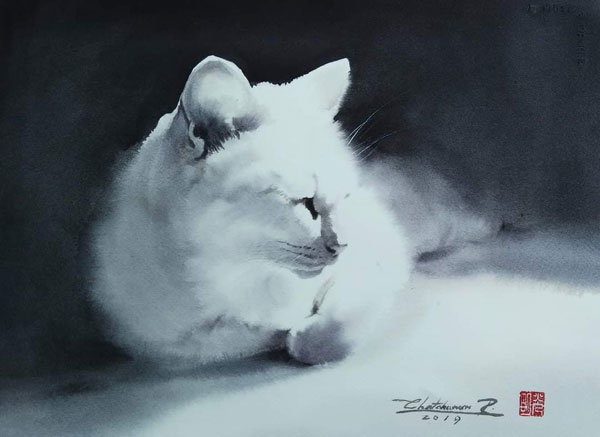 Followed by becoming an art teacher at St. Paul School Nongkhai Province Thailand. I became a freelance artist and self-employed artist. The work experience in each location was very valuable. Makes us understand the social dimension of being happy with others and know how to plan for work.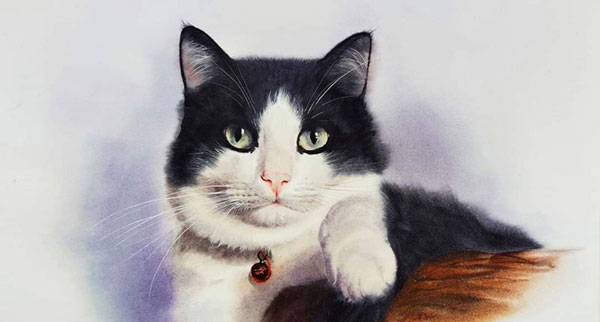 Insights in making art or whatever: We must first have love. Love what we do and we will do it by heart. And work needs to be planned well. Continuous work inevitably contributes to good results. My work has developed continuously.
Teaching experience
- I was an art teacher for 10 years at St. Paul School, Nong Khai. Thailand.
- Teaching watercolor painting to interested groups for 5 years - Now in Bangkok and other provinces.
Work experience
- Three solo exhibitions at the Lampang Art Gallery, Lampang - Over 40 exhibitions in Bangkok and other provinces Which is one way of using money to help care for stray dogs and cats This is considered to be helping Thai society while working as an independent artist today.