There was no 8th Wuzhen Theatre Festival in 2020. Over the year, a sense of China's theatre shutdown emerged from email exchanges, some of which I've shared below. But as the fall Wuzhen Festival season came and went, I found myself craving news of how my Wuzhen colleagues were faring during the pandemic. I asked them briefly to "report": What were they doing professionally instead of the Festival? What did the shutdowns mean for their theatre lives? What adjustments had the theatres made, either difficult or fortuitous? What did they see ahead? What new ideas had the theatres come to that might survive The Time of the Virus?
My warmest thanks to my respondents. Their "reports" offer a behind-the-scenes look at the Wuzhen Theatre Festival, and tell the story of their country's pandemic from the practical and philosophical perspectives of the Festival's creators, its artists and associates.
Note that a Theatre for Living internet reality show at Wuzhen plays a central role as the story unfolds. This program is behind China's "Great Firewall," seen on iQIYI, China's leading Netflix-style streaming service.
The people I know at the Wuzhen Theatre Festival—whether wielding a broom or building a village, going to the doctor or scrambling to preserve a nation's theatre culture—are creative, witty, thoughtful, eloquent, affectionate, and intrepid. As you will see below.
Anything I've added or commented on is in [brackets].
*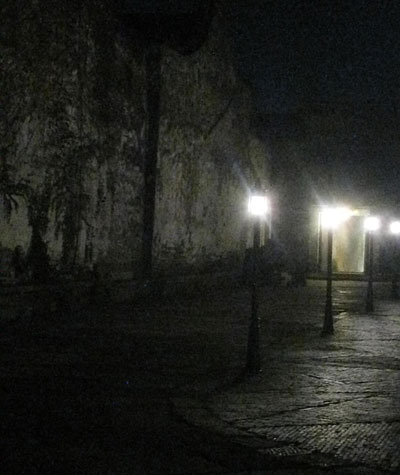 Wuzhen, Night, Fog. Photo L.T. Renaud.
PART I
[Special thanks to Stan Lai for forwarding my requests and translating the responses from this first group of four reports, shown here in the order I received them on January 27, 2021.]
MENG, JINGHUI
Festival Co-Founder, Artistic Director; Member, Chairman's Committee.
"The most acclaimed Chinese theatre director in the international theatre firmament."
During the pandemic, I have created a one-person play and two children's plays. During this time I have read a bunch of good plays and a bunch of lousy plays. Recently, I have been reading the collected plays of Brecht and Bulgakov. A question keeps popping into my mind: what is more important, life or freedom? What is life? What is freedom? There doesn't seem to be an answer. It seems that the answer keeps changing. It seems that the answers are not answers.
HUANG, LEI
Festival Co-Founder, Producing Director; Member, Chairman's Committee.
One of China's most prominent theatre, television and film actors; director, producer, screenwriter, professor.
[Huang Lei's report began with a video clip that can only be viewed on China's "WeChat" messaging app: a dance-exercise routine by a young couple in candy colors—bouncing, shimmying, waggling...]
I saw this video, and to quote a line from [the theatre classic] Teahouse, I truly want to have a good cry. The Chinese saying goes: "Low quality coins drive out high quality ones."
The most important thing I've done this year is the Internet TV program, Theatre for Living. I hope to use certain methods to express my views about this world. Many have to do with theatre, and some do not. This year I have not gotten away from Wuzhen, and have not gotten away from thinking. I have not gotten away from using more powerful methods to respond to the world.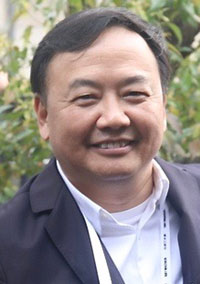 CHEN, XIANGHONG
Festival Co-Founder and Chairman.
Renowned for his primary role in ancient Wuzhen's preservation and restoration, and its mix of tourism and culture.
For all of the people who reside in this town, they are all used to the annual Theatre Festival. It seems as if the year is split into "the days of the Theatre Festival," and "the other days." For all of those people who come from all over the country as visitors to the Wuzhen Theatre Festival, those days are reserved for individuals to enjoy art and let themselves go.
The pandemic has disrupted this normal pattern, and we find that, in addition to all of the limitations we face in normal life, the postponement of the Theatre Festival has left our little town particularly quiet. This is a vivid example of how people perceive the Wuzhen Theatre Festival and the town of Wuzhen as one unity. Wuzhen without the Festival cannot restore the brilliance and soul that the Festival brings. This has made me think about one question: how to let the Wuzhen Theatre Festival continue, year after year. It may be postponed due to a pandemic for a year or two, but it absolutely cannot for any other man-made reasons be dislodged from this place where it has settled its roots. Any long-term strategy must strengthen the roots. The Wuzhen Theatre Festival must continue to add elements, to be more inclusive, to mix in more international theatre arts, but it must also continue to keep the pure vision and unique features that we started with, and the professionalism and artistic standards that are publicly acknowledged.
This pandemic has led me to cherish life more, and to cherish the Theatre Festival more.
DING, NAI-CHU
Festival's Executive Director; Member, Chairman's Committee.
Theatre and film producer extraordinaire.
2020 has certainly been a great challenge for humanity, but I have taken the opportunity to think about the next steps. Though the Theatre Festival has been temporarily postponed, our Theatre Above in Shanghai has charged valiantly ahead after being shut down for three months. We started by being allowed a 30% audience capacity, and this has now grown to 70%. Our philosophy is: a small loss is a victory during this period of time. Seeing the enthusiasm of our team, onstage and backstage, and the tremendous support from our mask-wearing audiences, we feel consolation and encouragement. The theatre is like a healing hub during this time. We don't know how long this will last, but we pray that we have the method and wisdom to dance with the situation. We look forward to the Wuzhen Theatre Festival's return this year.
*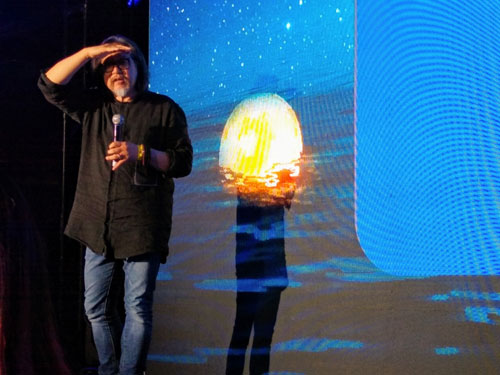 Stan Lai on stage, Awards and
Closing Ceremony, 2019. Photo L.T. Renaud.
PART II
STAN LAI (LAI, SHENGCHUAN)
Festival co-founder, Festival Director; Member, Chairman's Committee.
"The best Chinese language playwright and director in the world."
1. [Selected remarks: seven months of pandemic-era emails: Taipei, Shanghai, Wuzhen]


(June 29, 2020)
… I am starting deep work on another project [in Taipei], and the situation in Shanghai is starting to worry us. When will theatres be able to sell 100% of the house? With the current 30%, we are feeling the impact and may need to look at hard decisions. The Wuzhen Theatre Festival will rest for a year, unless something miraculous happens in the next few days. Though there was reason for optimism a few weeks ago, the new cases in Beijing changed that.
(July 8, 2020, Taipei)
The "hard decisions" for [Stan's Shanghai theatre] Theatre Above are existential. The rules in China are very supportive of workers, so we have been running on full staff of over 80 people with little to no income for half a year now. Laying people off is not an option. We are working hard to stay on our feet.
It's hard for us to plan. I have a new production set for Theatre Above in Shanghai in mid- September and another at the National Theatre here in Taipei in early September (postponed from June). I won't be able to navigate it if I need to be quarantined 14 days each way. So we are still figuring out when to go back to Shanghai. My mom and [brother] are going back to Shanghai on Tuesday. They will most likely be able to quarantine at home. My mom says it reminds her a little of 1949 [when non-Communists fled Communist China for Taiwan "temporarily" for 38 years]—she had no idea she would stay so long!
It's been a nice time actually—four generations in the house.
Then — if all reverts to normal, I will be directing [younger colleague] Hongyi's new play, Brothers and Sisters, in October at Theatre Above. He has written a very good work about his generation — which of course has no brothers and sisters [due to China's one-child policy, 1979–2015]. Too bad Brothers and Sisters couldn't premiere at Wuzhen—that was my plan—to show our commitment to young playwrights.
Keep fingers crossed that the 30% rule will soon be overturned and we get back to 100. I mean, look at trains and airplanes. If they can do 100%, why can't we?
(July 12, 2020)
In China I see trains have no middle seat empty. In fact I saw a photo of a U.S. domestic flight all full. Need to check if it is fake news.
(September 13, 2020)
Just to report: we have completed a two-week run of Look Who's Crosstalking Tonight at the National Theatre, Taipei. ["Crosstalk" is a form of extended comic dialogue.] I am at the airport on my way to Shanghai, finally, where I will be in quarantine for two weeks.

The re-mounting of the play was a resounding success… Its performance is an example of a kind of artistry and chemistry and crazy creativity that is no longer seen on the Taiwan stage.
(December 4, 2020)
Been busy with many tasks which would certainly interest you. We are nearing the end of a run of The Village at Theatre Above, with our all-Shanghai cast. The Taiwan cast is unable to travel because of restrictions and quarantine. Under regulations, they would have to quarantine 14 days each way if they came to perform. That's really too much to ask of any actor…
I just got back from Wuzhen, about the Internet reality show they are doing. Believe it or not, I am part of it. Huang Lei [see above] invited me to participate, as myself. They are working hard to let me be who I am. It is fun to be back in Wuzhen. And COLD!
The premise is: seven [later, eight] actors come to Wuzhen to form a theatre group that must learn to survive on its own, on ticket sales alone. Their first gig is a children's play about chickens, because their sponsor is a chicken farm.

The theatres are back to 75% capacity, which is better than before, 50, and 30 before that. Aside from this, most of life is back to normal.

I am also preparing One One Zero Eight [see 6th review, Wuzhen] for a new run. Interestingly enough, the play is about half an hour shorter than when you saw it. I think it is in far better shape than last year in Wuzhen.

… A lot is happening with us. We are planning how to come back from the pandemic. We feel some confidence, but it is all so fragile.
(January 19, 2021)
In Wuzhen, working on a new play (!) for the TV show with Ding Yiteng [see below]. Promise to fill you in in a couple of days.
(January 23, 2021)
[To a mutual U.S. colleague:] I will quarantine for two weeks in Taipei… When we quarantine here in Asia, it is strictly enforced and monitored — you cannot even go out your front door. I will also need to quarantine 14 days when I go back to Shanghai in the latter part of April (new play opening in Taipei in early April).
January 23, 2021
It's been a whirlwind few months. [Here, Stan gives updates on new and re-staged versions of six shows, plus a show for March 2021 in Shanghai and an April 2021 premiere in Taipei, ending with "Whew."]
Amongst the revivals, One One Zero Eight was very intense: we changed the lead actor to one of our regulars, Zong Juntao, because Mr. Fan could not make it from Taiwan due to the quarantine measures. At the same time, the performance coincided with the moment the main actress Ni Ni was really coming into A-list stardom, with a television series that was premiering at the same time, as well as a big blockbuster film. This added tension to everything because of security, etc., and media demand, many asking her and me: what is the secret of her improved acting? (blush)
And of course all this time I have been writing the new play, River/Cloud, which I will read this afternoon with the cast via Zoom.
Complicating the busy-ness has been the new rise of the pandemic here. When we were in Beijing performing, most of the theatres closed, and there was only Secret Love [see 4th review, Ashland] at the Poly Theatre and 1108 at the National Theatre. The streets were eerily empty, with many restaurants closed. Even though there were only a few cases reported. When we got back to Shanghai, we were asked to take a test, which we did, at a clinic, but the car we wound up taking back home had been in contact with a person who tested positive, so we had to stay home yesterday, and today we have been asked to take a test again, although the driver has been cleared. The government here really means business.
2. [At Wuzhen: theatre meets reality show]
Now to the TV reality show in Wuzhen, Theatre for Living, which basically shoots a day or two every week, without a set schedule.
We started shooting in December. Eight theatre artists—actually there are two television actors who want to be theatre actors—live together in an old building in [a rural village area of Wuzhen] Wucun, including Ding Yiteng [see below], Wu Bi and Liu Tianqi (previous winners of the Festival's Youth Competition [for new plays]), and Liu Xiaoye, who played in Meng's [see above] Two Dogs at the Festival's Water Theatre a few years ago. So you know many of them. Liu Xiaoyi is the dancer who studied making large puppets in England and Prague—he performed in the Chinese War Horse, and actually was the war horse that came to Wuzhen during the opening ceremony in 2014 in the rain.
So these eight guys are asked by Huang Lei [see above] whether they can make a living as theatre artists. They all say yes, and so they are to produce and perform 10 plays within 10 weeks, living in Wucun and using the theatres in Wuzhen. I serve as the so-called "artistic committee," which must approve each performance before they can go and sell tickets to make money for themselves. That's the basic conceit. The first installment premiered last week and was extremely well received, receiving one of the highest marks on the Chinese version of Rotten Tomatoes (9.3) and at least 4 million viewers that we can count — many, many more are off the radar. The second installment aired last night but I haven't heard anything or seen it yet.
In the first installment, Huang Lei duped the cast of eight into making a play about a chicken farm, which he claimed was the sponsor, but that turned out to be fake. Anyway, they actually produced a very nice and whimsical work about a chicken who refused to lay eggs, but wanted to see the ocean. I gave notes and asked to see a second run-through. The second thing they did was a very beautiful and poetic work that I believe was initiated by Ding Yiteng. It was set in [Huang Lei's] Ripples Bar, and was performed on one of the tables. I gave notes, but the piece didn't really work. Huang Lei came up with the idea—and he found in his phone—a letter written by a woman and left on a tree outside the bar a few years ago. The woman was in despair because a short affair she'd had in Wuzhen during the Festival had ended. We incorporated the letter into the show—I even encouraged them to make it the backbone of the show. The actors actually leave the bar at the end, with the audience watching on television screens, and one of them gets on a boat in the canal and rows away. I'll bet you will be able to see this when the festival starts again, if in fact we can have any outside visitors!
Then they tried to make an adaptation of King Lear, and nobody liked it, and I asked them to shelve it for the time. They broke into three groups, and did some amazing work, including Ding's work at the Water Theatre. I have actually become quite close with him and the other guys—you will see it is good. I have not been soft with any of my comments, although they may seem to be diplomatic on camera, but these guys understand, and that surprises me to no end.
So last week I was asked to come in and finish the Lear project. Before, I'd spent an afternoon teaching them how to use improvisation to make scenes—of course not easy. In the ebb and flow of things, we didn't succeed in making any scenes—then suddenly we started to click. Very quickly, I created a series of vignettes that changed perspective every scene. Meaning, in the first scene you think this person is telling the story, but actually the story is being told by the second character, and so on and so forth. And it had to do with Lear. I asked them to follow up on this idea, but there wasn't anything strong, so I created a 30-minute new work, The Lear Circus: A Fantasia of Random and Improvised Events, which is what it was. In this play, and in the Ripples Bar play, we had help from our very competent (and pretty!) actresses from our Theatre Above. (I believe [an actor we both know] fell in love with one of them—she is married).
3. [Stan added closing comments for Scene4 readers:]
(January 26)
I went back to Taipei for Chinese New Year's last year [January/February], and wound up staying till September. The revival of one of my plays after 30 years, Look Who's Crosstalking Tonight, had a setback: the National Theatre demanded that audience members sit one seat apart. We decided to postpone, and eventually performed in September, to an enthusiastic full house—it seemed as much a spiritual renewal as a theatrical revival. In Taiwan, life is much closer to normal than most places in the world, and the theatre has been running at full capacity since late summer 2020.
One thing I could not overcome in the revival of the crosstalk play was, I wanted to restore the feeling of a typical 1989 Taipei nightclub, and in those days a nightclub performance was not complete without a full steak dinner. I had arranged for tables to be set on stage, with approximately 30 audience members in the special seats, complete with a steak dinner. It turned out the logistics were too much for the pandemic situation, so we kept the audience on stage, but had to lay off the steaks.
In a way, the quiet time was very welcome in my life, because I finally found the time to finalize the manuscripts for all of the English translations of 12 plays of mine [edited by L.T. Renaud] that will be published by the University of Michigan Press later this year.
During the pandemic, we also unveiled our experiment in high-resolution recording of one of my plays, Writing in Water [see 10th review, Wuzhen]. The filming was done at Theatre Above in Shanghai by a British team well-versed in NT live shooting, and the premiere screening was in Beijing in December 2020. This is the first experiment of its kind to be screened commercially, and I must say I was surprised, because the camerawork captures much that cannot be seen by an audience. I felt that the audience was led very easily, perhaps more easily than in live theatre, into the particular journey of this play. After the screening, I asked the audience whether they felt they were watching a live play or a filmed version of the play? They thought about it before replying: both.
*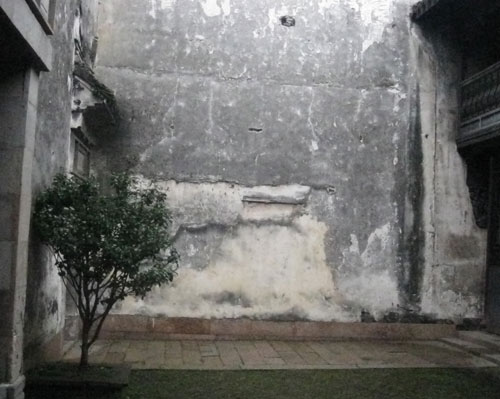 The Festival's slogan is "Beyond the real, all Wuzhen's a stage."
Even this empty, out of the way corner begs for a performance.
Photo L.T. Renaud
PART III
RAYMOND ZHOU [ZHOU, LIMING]
Juror, Wuzhen's Emerging Theatre Artists Competition; Organizer, the Dialogues forum series. China's most influential film and theatre critic.
(Received January 24, 2021)
"My Theatre Abstinence in the Year of the Pandemic"
By Raymond Zhou
For a theatre enthusiast, 2020 was an unusual year to say the least. Even though performing arts venues in China took tentative steps to reopen in the second half of the year, I made a half-conscious game plan to sit out the whole year, a kind of personal experiment to see what my life would be like without this art form. I'd call it "my year of theatre abstinence," which started out of necessity—a necessity so many theatregoers around the world have been subjected to.
When I first realized, around March, that lockdown and social distancing would be the new normal, I asked myself what parts of a theatre experience might be reproduced virtually. By that time, I had been binge watching recordings of straight plays and musicals and found the form a rather passive representation that hardly fits the Covid-era requirements. There must be a middle ground between live theatre and moving images that manages to retain the essence of both forms, I thought.
I dipped my toes, so to speak, by launching a four-minute parody of Hamilton's theme song, for which I rewrote the lyrics to reflect the initial impact of the pandemic while hewing closely to the original rhyming scheme. A dozen of China's best musical performers volunteered, each singing a couple of lines from their places of quarantine. After a week of hectic coordination, I uploaded the video in mid-April, getting 10 million views in just a few days and a barrage of media coverage.
That sweet smell of success set me on a path of greater ambition. I started to conceive a play of regular length that can be performed either on stage or virtually with most of the actors, let alone the audience, in separate spaces. The story revolves around a Chinese student who lies to his parents that he is studying in the UK but is actually hiding out in another Chinese city. He pulls the trick off mostly by virtually manipulating his background when his mother makes video calls to him.
I borrowed a song title from Hamilton and called my virtual play "You'll Be Back." I began to send out my finished draft in July, but people said it was too "dark" as it uses the pandemic as a point of departure, and it's about the young man using the occasion to "break off" from his family. That is obviously politically incorrect at a time when mainstream views see a crisis of this nature as the raison d'être to bring a family together.
To add a twist to the irony, a new domestic film released in October built its central comedy around a similar conceit: a husband tells his wife that he is studying fine art in Russia but secretly goes to rural China to work on poverty relief. The boss of the production company was among the first recipients of my play in early July. But I'm not accusing them of stealing my idea because their film must have been in production by then. Since theirs turned out to be a blockbuster seen by tens of millions, that would make my effort look like a copycat. So, I shelved it, maybe for good.
Just when I had forgotten about endeavors of fusion, I stumbled on a new reality show that just started to stream. Titled Theatre for Living, the iQiyi weekly show assembles some of China's up-and-coming theatre talent in a contest-experiment. They are put up in Wuzhen to create short plays, not only staging them but also selling tickets and making a living out of the project. The brain on-and-off-screen is Huang Lei [see above], one of the founders of Wuzhen Theatre Festival, and Stan Lai [see above] serves as a judge of a sort. Many of the participants are alums. The familiar faces and locations have made the series an alternative to the canceled festival.
It is almost inconceivable that the high brow of theatre and the low brow of a reality show could be fused into one. Judging from viewer comments, many have never been exposed to theatre before. The show has got rave reviews and is currently the highest rated of all Chinese reality shows. Sure, a recording of a theatre piece, which ends each episode, cannot capture the charm of live theatre, yet an approximation is better than nothing at all.
Hopefully, by the coming November, Covid will be defeated by vaccines and the Wuzhen Festival will be more popular than ever due to the new reality show.
(January 28, 2020)
I was invited by Huang Lei to attend the taping of the grand finale of the theatre-themed reality show. Unfortunately I'm stuck on Hainan Island because cross-province travel has suddenly been made very difficult. I'll let you know how the show unfolds.
*
HAN, YUXIN
Wuzhen Theatre Festival (former) staff member and a theatre lover. Yuxin was [my] Senior Editorial Assistant for the Festival's English-language materials.
(Received January 28, 2021)
I was reunited with my family for the Spring Festival at the end of January 2020, as many of my colleagues were with theirs. And I never thought that I would not be able to see my colleagues in Wuzhen for the next five months.

During the quarantine, we released a documentary about the 7th Wuzhen Theatre Festival [2019] and did some preparatory work for the next festival. But most of the time we were just waiting for the message saying whether the festival would resume. We were finally informed to get back to business in June, but the situation didn't change much. Since there wasn't much work to do, we spent a lot of time sweeping up the office, processing digital documents, and taking care of the plants. Since none of us knew whether the theatre festival could be held or not, when spectators called our office, we had to give them vague answers.
We did talk about the possibility of holding the festival online with live streaming or video recordings. But the copyright issues and the other problems, such as equipment and online platforms, seemed to be hard to solve in such a short time. On July 12th, the Chairman's Committee finally decided to postpone the 8th Wuzhen Theatre Festival until 2021. As I remember it, that was a day of silence.
Not long after the postponement was announced, some Culture Wuzhen staff transferred to other positions in Wuzhen, and some chose to leave Wuzhen for a new job or a gap year. It was quite sad to see that similar scenes were happening across the whole industry. Like many other producers, stage managers, ticketing officers, actors and actresses, we had to find other ways to feed ourselves outside the theatre.
I have watched quite a lot of videos and live streaming performances produced by many theatres online in the past year. The irony is that I would not be able to see so many masterpieces from all over the world if the pandemic had never broken out. I know face-to-face international communication will not be restored in a short time, and the digitization of the performing arts is an inevitable trend. I'm still badly missing the smell inside the auditoriums and the busy footsteps backstage. I believe that once the virus is over, most of the former theatre staff will be back, and spectacular crowds will be back in the auditoriums without hesitation.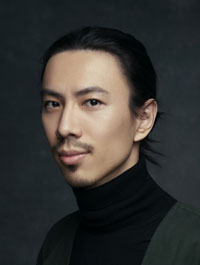 CHAO BIAN
Wuzhen Theatre Festival-wide senior translator. Producer, Director of film and theatre, Screenwriter.
[When I reached Chao, he replied by sending me photos of the clouds he could see out the window of the plane he was on. He was starting a four-stop trip that would end in Tibet, staying just ahead of renewed Covid restrictions. Here, an edited version of the longer remarks he recorded into his phone.]
(Received January 27, 2021)
1.
What happened in 2020 is that in January I went to Beijing to audition actors and dancers for my projects. And then I think I might have gotten Covid19. Because at that moment it was completely secret and nobody knew about it. About two days after I got home [to Nanjing], I got a very serious… cold. And then a sore throat, and then a high fever, and then my lungs were—during the night, at 2 a.m. or something, I completely could not breathe. So my parents helped, took me to the hospital, because I was literally immoveable, and suffocating. Very serious. At the hospital they checked my lungs, and prescribed medication. At that time the whole Covid19 situation was still not widespread and nobody knew exactly what was going on, we just heard about the news in Wuhan, and then the news spread more and more, and then people started to realize exactly what was happening. And I was still sick, it took at least a month to recover from whatever was happening to me. But I completely recovered. Still today, it is a mystery whether I had Covid.
The great, interesting story about making theatre during this challenging time is that people are becoming more and more creative. For example, when we were approached by several theatres, producers, investors, we kind of thought out of the box—how to make theatre accessible to the audience. One of the clients is Cadillac. They wanted us to make a story about technology and humanity. So we proposed a theatre livestreaming, so the audience in China, and abroad—because we actually put English subtitles—can watch from home, they don't even need to come to the theatre. So that was a very interesting proposition for Cadillac, their first time. They invested in us, offered resources for us to put up a show. So starting in February, my four collaborators and I were working on a script, set in 2030—so, ten years in the future. The story is about this young scientist who aspired to be the next Elon Musk, helping to rescue the world. Because he had lost both of his parents during this pandemic—ten years earlier, in 2020. And it was a time for him to realize: Wow, the medical resources are limited, and medical personnel need to make a wise choice whether to offer the medical supplies to the famous, the reputable scientists, Nobel prize-winning scholars, or to the young people who still have a lot to experience ahead in their lives. So it's a struggle. But what gives humans the right to choose between life and death? Who gave those doctors and nurses that power? That becomes a question of interest for this young scientist—we named him Frank. Having lost both his parents in this pandemic, for ten years he has researched and developed a brain chip to be implanted in the human brain so it can make a very fast calculation of all the losses and gains. So this AI, artificial intelligence, is helping. It was just recently I heard that Elon Musk invented this neuro-chip that was being implanted in a pig. So I think that's actually, scientifically feasible—it's not something that's never been thought of before. But then that poses a very challenging scenario, a moral, social dilemma. So: we kept our script closely relevant to the current times.
2.
The quarantine, the cancellations and the uncertainties, the trials in what you called "the time of the virus"—these are exactly what we are facing. We stay at home, making theatre at home. There's social distancing, but we're still connected, via current technology, to make the story happen. Essentially it is still storytelling, but on what platform, through what medium, is the kind of question we have to ask ourselves. It's great that we can have theatre live, that "church-going" experience in the theatre, but in this time of trial, we have to work smart, and make theatre more accessible.
This time certainly will be remembered. Everybody was at home, quarantined, so there was a lot of contemplation, self-realization. A lot of silence, quiet time, makes us face our inner demons and dragons and work out a lot of issues. And I think people are probing existential questions and crises: What is the meaning of all this?—and how this earth, our lives, and our society function. All of these questions are very nutritious, inspirations feeding into our creative endeavors.
And this time will certainly be remembered by me for the particularly difficult illness that I suffered, I struggled with, that I fought. I thought I was going to die. But then through self-contemplation, and some wonderful meditation exercises, I was able to heal myself completely.
3.
And theatre is, in a way, a social medicine. When society has a disease, it has to be able to see itself to be healed. Theatre is going to rip open the wounds, allow us to see the core wounds and fears in our society. The story has to face that. So when we wrote our script, we didn't shy away from it. … Technology is good, but only when it serves the human, not completely overstepping our humanity…. A lot of things have come to the surface, and that's a good thing. Covid killed a lot of people, but also brought up a lot of social issues that we've never thought about before. It's a lot of ups and downs. But it's a reflection, it's mirroring our inner turmoil. And theatre is a vehicle for us to drive into that fear so we can completely open ourselves to the truth of what we are going through. And in that way, we can dig deeper into our humanity, our collective consciousness, help to cure the disease and heal ourselves, our society, our world.
In December, China actually got completely in control of the Covid situation. So a lot of audiences were able to come into the theatre to experience the story in person. Plus we were streaming online. "Anna" is one show we worked on. We invited two movie stars in China who are very popular right now and attract a lot of audiences and attention. Those actors worked wonderfully to make the show a journey of self-awakening, of enlightenment. So that theatre is a meditation, a musing, a self-reflection for the mass audience.
We see a lot of ridiculous things around the world now: distrust, those crimes, very vicious things. But you also see the bright side: the shadow exists to prove that light exists. You see a lot of people united together, helping each other, neighbors. The stories we see on CNN--I'm sure you do, too—are very touching. So, it's all resources for the artist to draw from, from this troubled time.
This is a very important pause, for us to reflect on our lives so we can bring to art deeper meanings. And there are projects I am very excited to work on.
DING, YITENG
Theatre director and actor, much seen at the Wuzhen Theatre Festival, around China and abroad. Doctoral student at Central Academy of Drama (Beijing).
Selected remarks from our emails:
April 21, 2020
I came back to Beijing from London with my mom and we have just finished our 14-day quarantine. For me, it is pretty annoying and difficult to focus on things during this period. Restrictions in Beijing are slowly opening up, people are beginning to go back to work and starting to do things outdoors. But "theatre" is still far from us, I don't think we will have any public activities before July.
August 21, 2020
I have been giving workshops in Beijing, and have started to make a new play inspired by the well-known Chinese love story, "Romance of the Western Chamber." It is my first time working on the theme of romance. I am happy that the new show is invited to the Daliangshan Theatre Festival, which is the only big festival event in China this year. I am doing my best to complete this play before November, even if the situation is still a bit intense here.
Fortunately Chinese theatres are re-opening right now, but with only 50% of the spectators for each performance—that is the regulation! In this situation, I have Tou'o [see 4th review, Wuzhen] performing in the city of Suzhou in the upcoming September, and the Frankenstein [see 2nd review, Wuzhen; show for which I was script advisor, later dramaturg] in Hangzhou in October.
My dear, we all need time to go through this super-big event and get used to the huge transformation of our lives, and we are always together....
September 17, 2020
Yes, it is almost Wuzhen season, all my theatre friends have been talking about Wuzhen recently…I wish it could come back next year… Honestly, it is very difficult to develop a new show this year… you know… but I am doing it… I am also looking forward to seeing you, especially at our next Wuzhen season…
November 4, 2020
You know what, I am in Wuzhen right now! I am invited to join a TV (and internet?) show in Wuzhen. The TV show is made and organized by Huang Lei [see above] and director Stan Lai [see above]. I will tell you more when everything is much clearer.
I have been flying a lot recently... Beijing... Shangxi...Wuzhen... Shenzhen... Daliangshan... Chengdu... with my workshops and the new show....
[Here is Ding, Yiteng's "report" for Scene4 readers:]
(Received February 7, 2021)
"Turn right first, if you want to go left. Take a step back first, if you want to go forward."
This is the critical aesthetic principle of traditional Chinese theatre, which not only guides the traditional Chinese method of stylized performing, it also permeates its dramaturgical structure. In the Chinese opera, Defeating JiaoZan, Yang pretends to be defeated first, then turns the table on Jiao when he is blithely pleased with his momentary victory.
Similarly, such contrasts can be found in Western pieces. When I saw La Traviata at the Royal Opera House in London, I was extremely touched by how the director "processed" the last scene: Marguerite's life was already on the edge due to her suffering from tuberculosis, but when she saw her lover, she glowed with happiness as if she had never been sick—then she ran around and around the huge stage, until she bloomed and burned out the last bit of life in her body.
Such philosophy of contrast (opposition?) can be the inspiration for our real lives just as it is in our art. During the pandemic, we all share the same helpless feeling in the face of the "stagnation" and "setbacks," but I believe somehow at those silent moments we are accumulating precious energy, and getting ourselves prepared to face the upcoming new renaissance in the theatre.
Just as Eugenio Barba says in The Paper Canoe: A Guide to Theatre Anthropology: "Actor, my friend, my brother, you live only by contrariness, contradiction and constriction. You live only in the 'contra'."
I sincerely hope we all stay safe, and will keep hoping that until we finally meet again.
Co-founders (l to r) Meng Jinghui, Huang Lei, Stan Lai.
Their annual greeting to Festival guests, 2019.
Photo L.T. Renaud
* * *
Cover Photo:
At Wuzhen, a closed door and shadows.
Photo L.T. Renaud
Note
See my yearly Scene4 theatre reviews and writings on the Wuzhen Theatre Festivals since 2014, in the Scene4 Archives.