On April 25th, 2022, the Steiny Road Poet read in the renown Monday Night Poetry Series at the KGB Bar of the East Village in New York City. This was a reading for five Broadstone Books authors—Susana Case, Myra Malkin, Margo Stever, Mervyn Taylor, and Steiny (a.k.a. Karren Alenier).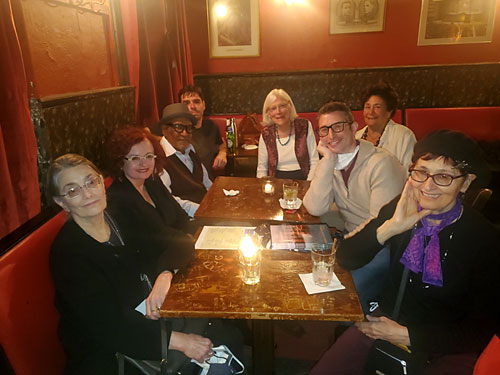 Steiny felt this was an important opportunity to highlight the brave but suffering people of Ukraine and the incredible generosity of their neighbors in surrounding countries who have taken in millions of Ukrainian refugees. What Steiny didn't know at the time of her reading was that Denis Woychuk, founder of the KGB Bar, comes from Ukrainian stock and that he, as a child, visited this location with his father where a social club called the Ukrainian Labor Home was based. Steiny also learned that when Woychuk was told (erroneously) by a clerk of New York State government that no one was allowed to name their corporation such names as KGB, FBI, CIA, or GAY, he compromised and named his corporation Kraine Gallery Bar. Learning that makes Steiny giddy with unkind glee to think that a 'Krainian has appropriated the name of Vladimir Putin's feared alma mater. We know that Putin fears poets and other truthtellers.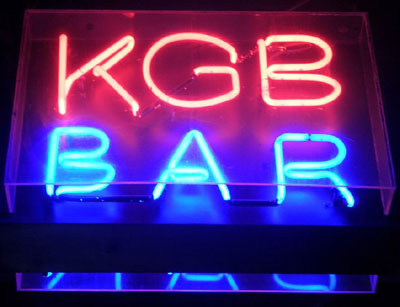 In 1993, Woychuk opened his second-story, dive bar (against prevailing wisdom that street-level bars get more traffic). To keep that seedy look that's apparent when you climb the steep staircase up to the second floor, he doesn't do much maintenance and he purposely keeps drink prices low to attract literary artists. Such nationally known poets as Charles Simic, Katha Pollit, Marie Howe, Yusef Komunyakaa, Ocean Vuong have read in the Red Room of the KGB. Before Covid struck, the KGB was on the "Best" list of many guides as a dive bar. One more thing, before the Ukrainian social club was established in 1948, mobster Lucky Luciano used the place in the 1920s as his hangout called the Palm Casino.
So that's the skinny on the KGB Bar. Here's one of the poems Steiny read and its form, created by Truth Thomas, is known as the Skinny. Well, Alenier has created a double Skinny by adding a second column of one -word lines (first and last lines have same words in whatever order and lines 2, 6, 10 are the same word):
Weslaco Texas a dark comedy
my sister lives in a noisy neighborhood
bang duck
border police
gun running
death quick
bang duck
drug deal
business cards
explodes played
bang duck
in a noisy neighborhood my sister lives