The most rewarding way I've learned about wine has been to visit vineyards and meet with great vignerons. Those tours have been my postgraduate symposia.
At its best, opening a bottle of wine means decanting a delicious liquid as well as a kind of physical poetry, but to visit a vineyard imparts a profound understanding of the almost miraculous way the poetry gets in the glass.
To see vines hung with clusters of grapes; observe tanks and vats where fermentation takes place; visit cellars where newborn vintages sleep in barrels like babes in a nursery; and then sit down with a winemaker and taste his or her creations—well, when you do that you understand why wine has been revered as a sacramental beverage for millennia and how the cult of Dionysus swept across the ancient world.
Almost all my vineyard tours have been part of the annual trips to Europe my friends and I have been making for over 20 years. My first tour was at Domaine Barm猫s-Buecher in Alsace, France in 2001, as auspicious an introduction as one could ever receive.
There, in the village of Wettolsheim, we met the already-renowned winemaker Fran莽ois Barm猫s and his wife, Genevi猫ve. (Tragically, Fran莽ois was struck and killed by a car while out cycling in 2011.)
The eyes of Fran莽ois Barm猫s sparkled like sapphires, cinching his uncanny resemblance to a leprechaun. He was a truly happy man, one of those rare people who pursued his passion and was successful doing it. As a farmer he found fulfillment in his closeness to the earth; as a vigneron he could take ample pride in the literal fruits of his labor. He was way ahead of his time too, choosing to farm biodynamically: no artificial fertilizers, no pesticides, harvesting according to the moon's phases. He showed us, for example, how he planted nettles around the trunks of his vines to thwart unwanted visitors.
Some wine regions have comparatively few grapes, but Alsace teems with varietals: Auxerrois blanc, Chasselas, Gewurtztraminer, Muscat, Riesling, Sylvaner, Pinot Blanc, Pinot Gris, and Pinot Noir. Fran莽ois grew the lot. And he regaled us with the mother of all wine tastings, pouring literally dozens of wines—Cremant d'Alsace, still wines of every different varietal, the same varietal from three different parcels, Grand Cru selections, vendange tardive (late-harvest wines)—with no end in sight!
I'll never forget the great warmth and literally overflowing hospitality he and Genevi猫ve showed us. To the Tolkien fan, Fran莽ois was Elrond and Tom Bombadil rolled into one.
Over the years, I've been very lucky to meet some of Europe's best winemakers. They have graciously given me and my fellow wine pilgrims their time and insights, guiding us around their estates and sharing their superb cuv茅es. And I've learned something new about this ancient art every time.
At his beautiful Tuscan vineyard Isole e Olena, Paolo de Marchi, the famed "Dean of Chianti," educated us in 2011 on the science and counterintuitive subtleties of vine density, or how many vines one should plant in a given space.
We visited Bordeaux in 2013. At Chateau Haut-S茅gottes in Saint Emilion we met Madame Danielle Meunier. The spry octogenarian told us she had worked with many a tonnelier, or cooper, and that the way they toast the inside of an oak barrel with a torch can vary greatly, thus imbuing the wine aged within them with more or less flavor. After years of experimentation, she now had three coopers whose barrels met her exacting standards.
The next year we journeyed to southern France's Languedoc region where the young couple Marjorie and St茅phane Gallet run their Domaine Le Roc des Anges in the Rousillon appellation. Over some very rugged farm roads, Marjorie drove us out to a parcel of Carignan vines planted in 1903.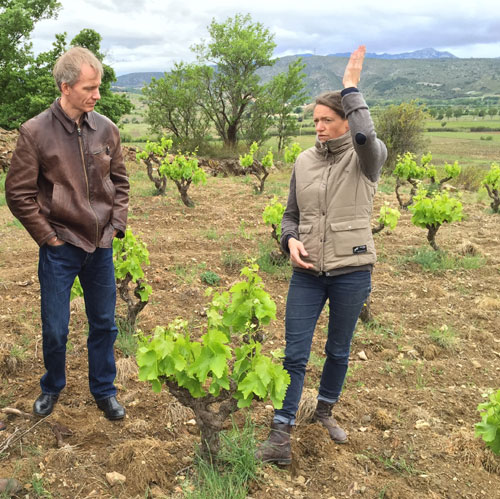 She showed us how Carignan folds its leaves during the day's hottest hours to conserve moisture, an extremely useful adaptation given the region's scorching summer temperatures. Owing to this trait and the fact that such old vines have root systems extending dozens of meters down into the ground, she didn't have to bring supplemental water to the plot during dry stretches; those incredible old Carignan vines were self-sufficient.
And in 2018 we had the rare pleasure of spending a good part of a great day with master vignaiolo Giampero Bea at his vineyard in Umbria. He made such an impression on me that I wrote a piece about him for this magazine the same year. Along with his magnificent wines (especially those Montefalco reds based on Sagrantino), he shared several insights that wonderfully illustrate how a winemaker is a farmer, a scientist, and an artisan:
He told us, for example, of how a fungus began to mysteriously afflict a neighboring vineyard when the proprietors pushed their plantings further down the valley. Giampero smiled and shook his head. There was no mystery; his neighbors forgot what their ancestors had figured out: above a certain elevation the vines were safe from harmful fungus.
This kind of continuing education in wine—a total understanding of the land, grapes, facilities, cuv茅es, and the people who put their souls into making oenological magic—is wonderfully chronicled in the memoirs of America's two greatest living wine merchants: Neal Rosenthal's Reflections of a Wine Merchant and Kermit Lynch's Adventures on the Wine Route.
Of course, the daily enjoyment of wine with family and friends constitutes its own ongoing education: we taste, we share, we learn. More than anything else, the most valuable knowledge I've attained as a connoisseur is how to enjoy wine at every level and pair it well with foods as well as moods.
Friedrich H枚lderlin has those lines in his great ode, "The Rhine," in which he asserts:
But a wise man managed to stay lucid

Throughout the banquet,

From noon to midnight,

Until the break of dawn.
With wine, as with life, we never stop being students.