Chonkhet Phanwichien loves to teach, even on YouTube, where he offers free lessons beginning with how to sharpen pencils for drawing to detailed techniques for drawing people and flowers.
Besides his love of teaching, he also has won many awards for his own work and as a provider of art education that creates happiness for those who are interested in creativity.
I admire his wonderful talent in the beauty of his portrait work and his landscapes.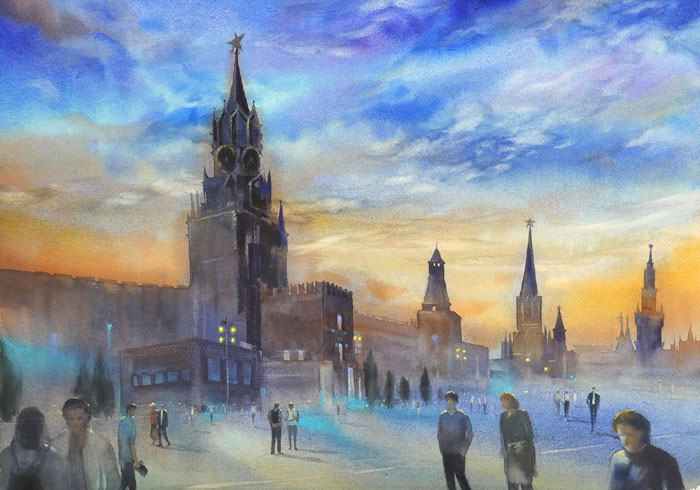 JY. Please tell us your artwork story.
CP. Art for me is like playing in a playground with a variety of toys. I like all kinds of art. I like to watch the imagination of other people create it. It teaches us to be accepting. We respect the opinions of others, accept the alienation of individual differences when all these people are mixed in one place It creates a charm in that society.
My work is therefore always born of experimenting with new things and challenging myself. It's like I find a new toy every day. But no matter how I switch to playing with any toys, I'm still in the same playground. In my work, sometimes I see realistic, sometimes half-cartoon. Or maybe enjoy different types of color techniques such as watercolor and chalk. It may not look stylish at all, and others may not remember my work but I am the one who listens to my heart rather than listening to the surrounding sounds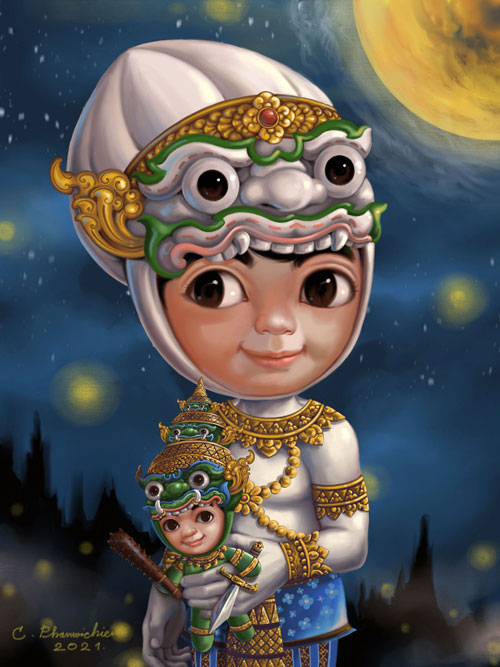 I'm a person who has to have fun at least 50% of the time. I believe that life should be designed to be the way we want to live. And I will always be the one planning my life, 10 years in advance, and will also have a short-term plan. I will have a vision in the future of where I want to be, what I want to be, what I want to be in the next 10-20 years, and in that plan, there will be room for me to have more time to work on my art.
JY. Please tell a personal story, interest in art, history, study, work, family.
CP. I know that I loved to draw since, before school, on the walls of the house, the sofa, everything in the house will be full of me using a pen to draw. My father and mother are children of farmers, graduating from Grade 4, both from Saraburi. They did not want to be farmers. Father came to live in Bangkok as a mechanic working in a plastics factory, until they opened a small factory with both having to take care of their own business. Therefore, there was not much time to take care of the three children, of which I am the middle one. If in the factory there were workers who liked to draw, as a child, I would take a notebook for a worker who is good at drawing to show them what I can draw.
But the finances were not very good. Many times I owed my school fees. until the teacher refused to announce the results of the examinations if my father did not come to pay the tuition fees. Both my parents saw me drawing. They probably didn't think that I would be this serious. But when I was in Grade One at a new school, they were pushed to choose what they wanted me to study in particular, including music, art, physical education, industry, science, math, etc. I didn't know what inspired me to choose art. In spite of that, I liked playing football very much. From then on, my life revolved around art. submitting to contests… got some rewards, some didn't. Mom and Dad didn't say anything. Because my grades never fell below 3, my father really wanted his son to be a police officer. My older brother (seven years older than me) was forced by my father but he
refused. In the end, I didn't study to be policeman.
When I was in second grade, my father passed away and my mother became a single mother. The factory, where my father was the pillar, now there was only my mother left to deal with. When my father was here, my father had a duty to find work, talk to customers, and my mother would supervise the workers at home. She could only support the existing work enough to send the three children to complete their studies At that time,
I was about to finish my degree. Mother still had to find money to pay off the debt that Father borrowed from others.
I graduated from high school so I chose to study a Vocational degree in Fine Arts at Thonburi Vocational College. It is a place where drawing skills are cultivated and I can only think about the care and attention of all the teachers. I got a lot from there. When the foundation of understanding was well cultivated, it was not difficult to build on it even further. I had a lot of fun doing various kinds of art, including drawings, sculptures, prints, etc. But at the same time, my finances at home started to falter. Plus I got into a motorcycle accident and needed to spend a lot of money on the treatment. I raised money to help ease my way at home by submitting to almost every prize-winning contest. That was enough to get some rewards, earn money to buy painting supplies. Then my artistic path became clearer.
However, when I finished my vocational certificate, it was during the year 1997, the Tom Yum Kung crisis. From thinking that I would take a break for a year to work and earn money to continue my studies, it was extended to two years because it was very difficult to find a job. During the second year at work, I got a job painting a wall. So I had enough money to study at Poh Chang. But since I was two years away from studying, it caused the skills to decline as well. At Poh Chang, I took the entrance exam to major in painting. When I passed the exam, the money I saved when I had a job was only 12,000 baht. It was definitely not enough to finish my studies. Just the expenses before the start of the first semester were almost gone. So I took a loan, which was the first year that this project existed. I got the right to borrow and get money to spend, 1,666.66 baht per month. I remember this amount accurately, because I had to live a whole month on this money. Live and eat with Mom but when it came to paying tuition, including the cost of equipment, canvas, color, I had to find a way. Textbooks were borrowed from friends. If you have a drawing job, you get everything. Mother always greeted me with concern. I was afraid that after graduation, I wouldn't have a job.
At Poh Chang, I met Ajarn Panya Petchchu, who was kind to all his students. I studied with him in many subjects. When we live in a society where there are only smart people, it drives us to develop ourselves further. Moreover, the kindness of Ajarn Panya is available to everyone. Makes me absorb the story of "giving" without "knowing"
After graduating as a technician, I just thought that having someone hire me to paint was very happy thing. But when I actually did it, most of the hired jobs were pictures that I didn't want to draw. I was happy and excited only at first. After doing it for a year, I started to feel that I had to do something. What are we going to do? I was still drawing and most of the drawings that I draw must be the ones I want to draw as well. So I tried to consult with Thaweechat Wiramwet .
I used to be teaching a teacher when I was studying at Thonburi Vocational College. The teacher taught art at Central Pinklao and asked for advice. I was confident in doing it. Initially, I tried teaching my friends who were interested in drawing. Then I start taking notes on how we plan to teach. Then apply to teach at art schools that open in shopping centers. After starting to do it for a while, I liked it.
JY. Please tell about your Inspirational works, artists you like, submitting work to participate in a contest or charity auction.
CP. I like Vincent van Gogh's work. Even when I was a child I would also like everyone who draws pictures and shows off their brilliant craftsmanship but as time passed I look at the feeling of work as the first thing.
Drawing honestly with my feelings today is difficult for me. If you're young, it's easy. But now things are all piled up. Makes us think too much. I saw van Gogh's work. The first real work. I feel this as a breath. It's really his spirit. And I want to make it like him too.
As for submitting works to participate in exhibitions or submitting contests, I keep doing it with rhythm and chance. But when I was a kid, I like to submit to contests a lot because it's fun. I submit to contests according to Japanese manga magazines. I send them very often. What is impressive is the submission of the work to the contest. Many beautiful drawings were impressive because they received an award from Her Royal Highness Princess Maha Chakri Sirindhorn. And what's more impressive are watercolor works that have been submitted to contests and won prizes in Georgia, Azerbaijan, and Turkey and I had the opportunity to participate in watercolor works in Italy, Japan. We are like national team athletes. When they give an award, it's like the Thai people get an award too. Very proud.
JY. Tell me about Thai artists, foreign artists in your eyes.
CP. The important thing is how to make people understand art better. Some artists may promote themselves as being noble, for marketing to be valuable, to be desired which is not a mistake But on the other hand, it's what we're pushing that the villagers or the general public can't reach. It's not something related to them. Or make most people understand that only people who have graduated in the art can draw, is an artist who creates more and more works, but there are very few people who will connect art to the majority of people in the country. In spite of the fact that if art is more accessible to the general public, it will be easier to learn to be happy on your own, both consciously and concentrating, once the general public enjoyed the art. When they see the hanging paintings or have the opportunity to see the paintings at art exhibitions, they will understand and begin to deepen with that image.
Part of the reason why I have a YouTube channel is to help people get more interested in art. Art classes are not for students. The more adults have to study is like studying Dharma, there is endless study.
For example, when doing YouTube at first, it was done in order to expand the student base so that more acquaintances could apply to study at the studio. In addition, it earns money from advertisements, enough to keep doing. It's not a big income. Paying for electricity is still not enough.
That is, if I look at the income, I should have quit years ago, but when I think about it, what we've done, the techniques we've taught over 300 clips, might be inspiring. Or you can help someone. And it really does. When we get to know that it's beneficial to people, we feel good and happy. It's another thing that I will continue to do even though I've thought of stopping many times. And a lot of skills, no team, doing it alone, setting up the camera by myself, setting up the lights myself, trial and error, drawing and lecturing Whoever has done it will know that drawing and explaining it is a very difficult thing. But I know what I can do to help others is welcome even if it's just a small part.
Resume
First of all, I would like to express my gratitude to all my teachers. Prasit Prasart Wicha forged me to be who I am today. Without these people I couldn't have traveled this far than I had imagined.
- Wattana Sueksa School
- Suksa Naree Wittaya School
-Thonburi Vocational College, Faculty of Fine Arts, Department of Fine Arts
- Pohchang School Faculty of Fine Arts international painting master
Exhibition history
2001 Participated in the exhibition of a drawing contest organized by Hitachi.
2002 Participated in the exhibition His Majesty the King organized by ICC Company.
2004 Participated in the 19th PTT Art Exhibition.
2005 Participated in the 60th Anniversary Yensira Due to Phra Boriban exhibition organized by ICC Company.
2008 Participated in the exhibition "THE 2ND SILAPAKORN PRADIT AWARD" by Nanmee Co.Ltd.
2008 Participated in the 2nd Thai embroidered fabric prototype painting exhibition at the Queen Sirikit Art Gallery.
2009 Participated in the Aesthetics of Anatomy Exhibition organized by Artery Silom Galleria.
2010 Participated in the exhibition in honor of His Majesty the King at Siriraj Hospital.
2011 Participated in the exhibition "9 lines to the end of King Rama IX" at Central world.
2015 participated in the exhibition Project to raise awareness of the land by the Royal Thai Army at Central world.
2017 Participated in "Still on my mind" exhibition at Central World.
2017 Participated in the Sleeperak Sathorn 11 Art Space exhibition.
2017 Participated in an exhibition in the project resident artist Sathorn 11 Art Space.
2017 Participated in the exhibition "Stid in Dharma Nirand" at Central world
2017 Participated in the MILD exhibition at Siam@Siam Design Hotel Bangkok.
2019 Participated in the Baramee of Art Charity 1st exhibition at the Phra Baramee Hall, Chachoengsao.
2019 Joined the exhibition "I miss you so much" at Phra Baramee Hall, Chachoengsao
2020 Participated in the Baramee of Art Charity 2nd exhibition at the Hall of Dhamma Phra Baramee, Chachoengsao.
2020 Fabriano acquarello 2020 international Fabriano in watercolor 2020/Italy
2020 Japan international online watercolor painting Autumn 2020
2021 Participated in the Baramee of Art Charity 3rd exhibition at the Hall of Dhamma Phra Baramee, Chachoengsao.
2021 Joined the exhibition "I miss you so much" at Phra Baramee Hall, Chachoengsao.
Awards
1997 1st prize, Line Drawing Skill Competition Thonburi Vocational College
1997 Consolation prize for high school and vocational drawing contest organized by MITSUBISHI ELECTRIC
1997 Consolation prize for high school and vocational drawing contest organized by Hitachi Company
2002 Outstanding People's Award Art Contest in Honor of Her Royal Highness Princess Maha Chakri Sirindhorn
2006 Outstanding Award, Art Contest THE 1ST SILAPAKORN PRADIT AWARD" by Nanmee Co.Ltd
2018 Runner-up award Oil paint type Lefranc painting contest
2020 Golden Diploma Certificate Award, Tbilisi, 4th international watercolor festival, Georgia
2020 3rd place 1st BAKU international watercolor contest, Azerbaijan
2020 3rd place watercolor festival and golden brush contest Love, Peace & Tolerance Through Art, Izmir/Turkey
Current job
- Teaching art at Thaiartstudio.com for more than 20 years.
- Supervise all teaching. Teaching working adults and tutoring for entrance exams.
- Lecturer on site organize art events according to government and private agencies such as AIS, Metropolitan Electricity Authority, NIKE, Thai Nam Thip, Ajinomoto, Siam Commercial Bank, etc.
- Make teaching materials for people who are interested in art and can watch and practice at youtube channel/thaiartstudio.
- Draw pictures for teaching materials and draw and play regularly.
You can follow the work via the following channel:
https://linktr.ee/hugderr