When German poet and dramatist Hugo von Hofmannsthal plotted his second opera collaboration with composer Richard Strauss (after Electra in 1909) he could not have known that a hundred years later, his Rosenkavalier would fit even post-modern audiences to a 't'. The gender bender comedy of manners with a cross-dressing twist and disguises at its core has always held a piquant charm: the curtain opens famously on a bedroom with two women in bed, one of them in drag. This concept was so risqué that directors, from the Dresden opening in 1911 (staged by Max Reinhardt) until the sixties, usually opted for a tender opening embrace outside the bed.
One of the lovebirds is 17-year old Count Octavian (written for a mezzo soprano), who has just had his first love night with a mature and married lady of grand standing, the Marschallin. Almost caught en fragrant délit by an early morning visitor, Octavian slips into the clothes of a chamber maid and "Mariandel" is promptly ogled and courted by the impertinent, lecherous Baron Ochs von Lerchenau. The "Vienna masquerade" begins and at first amuses the Marschallin to the point where she grants Ochs' request for a highborn messenger to deliver a silver rose to the baron's intended bride, the nouveau-riche ingénue Sophie. The Marschallin proposes Octavian for the aristocratic ritual of the rose (a brilliant invention by Hofmannsthal). Octavian, dressed in silver from head to toe, and Sophie fall in love at first sight, accompanied by some of the most transcendent music of opera. Their attempt to prevent Ochs from getting Sophie scandalously interrupts the marriage proceedings. In the end, Octavian has to don the maid costume again in order to compromise Ochs and force him to abandon his designs on Sophie. But this new scandal calls up the presence of the Marschallin, and now the three of them have to face the outcome of the masquerade: the bitter-sweet realization of love and loss. As the Marschallin sadly sets her young lover free and Octavian has to renounce his first sexual passion, Sophie realizes that the Marschallin gives her Octavian and yet forever holds a piece of him.
It is rare to see a Rosenkavalier production that renders the psychological subtleties of this sophisticated opera. Both libretto and music swing back and forth between farce and high romantic drama, touching upon the vulnerability of women in arranged marriages, class distinctions, and the passage of time. Hofmannsthal at first had an opera buffa along Molière lines in mind and Strauss much preferred the title Ochs but gave in to his wife's more romantic taste. I admit to being biased. To me, the collaboration between Hofmannsthal and Strauss is one of the most exciting facets of opera in the 20th century. Although written with a modern sensibility, Der Rosenkavalier is anchored in a nostalgic dream of the past—the Habsburg Monarchy of the 18th century—which Strauss embraces with floating reminiscences of Vienna waltzes, Volkslied innocence, full-blown post-Wagnerian tonal richness and the edgy harmonies of modernism. If opera is the only romantic art form left to our era, then Der Rosenkavalier is its crowning glory.
The San Francisco revival of Lotfi Mansouri's production from 1993, designed by Thierry Bosquet, is almost perfect. The elegant stage set is a replica of the original 1911 production and San Francisco Opera's excellent conductor Donald Runnicles reigns (once again) with urgent energy over a cast of singers who this time around are well chosen down to the smallest roles. I have seen the opera numerous times and most often—even in otherwise good productions—had to cringe over the annoying secondary roles: the screeching warbles of Sophie's duenna Marianne (apparently the "charity" role for singers beyond their prime), the grating banality of the two gossip vendors and schemers Valzacchi and Annina, or the ridiculous vapidness of Sophie's father, Faninal. This time, under renowned stage director Sandra Bernhard's guidance, all these characters were exceptional in their singing, inventiveness and comic timing—which added considerably to the pleasure of the whole.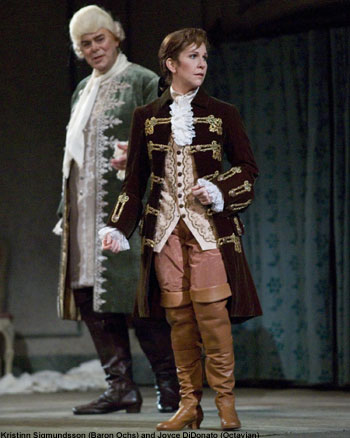 The greatest thrill, however, was the up and coming mezzo star Joyce DiDonato in the title role. Music lovers may know her from her radiant Händel renditions on CD, and opera lovers have certainly heard about the Merola Opera Program alumna and her success with Rossini coloratura roles (Rosina, Cenerentola), her Richard Tucker Award, Singer of the Year award from the Royal Philharmonic Society of London, and the recent Beverly Sills Award from the Metropolitan Opera. The San Francisco Rosenkavalier was only her second foray into Strauss and her very first Octavian, but already the musical lines and harmonic shifts seemed to fit her like a glove. DiDonato has a beautifully balanced, flexible, dark-hued voice with what I would call a mahogany luster. In the duets and trios this dark hue beautifully supported the soprano voices in the lower registers and then soared to thrillingly sensuous, unstressed heights.
And then there is the look. DiDonato inhabits the trouser role with relaxed self-assurance and casts a dashing, perfectly slender and boyish aristocrat. In San Francisco, the reigning city of transvestites and drag kings, this is a special treat. She is the passionate and at the same time delicate and sensitive boy who despairs when the ripe Marshallin has had enough of gushes and kisses for the time being. As the fake maid Mariandel, DiDonato's comic antics and facial expressions reveal her as a born comedian, and she adds an element that is usually in short supply: the sense that Octavian is only just discovering girls' clothes, i.e. the odd potentials of a skirt and bonnet. Most Octavians I have seen spring into the feminine as if cross-dressing had been an amusing part of their education, like fencing. In a particularly funny moment, as Baron Ochs feels her up, DiDonato gets aware of her empty corset, quickly grabs a kerchief from the Marschallin's bed and stuffs her bosom. She successfully toes the fine line that marks Octavian's nobility even when she clowns around as Mariandel, and she always remains boyish underneath – a marvelous accomplishment.
DiDonato holds her own against the great Octavians of the past who have been preserved on video: Sena Jurinac (the most aristocratic) and Brigitte Fassbaender (the most passionate). Her only weak moment was her crucial entry as the Rosenkavalier in Act II, in Sophie's father's Stadtpalais: her entry is too tense and unengaged, as if DiDonato tried to underline the nervousness of the boy who stumbles a bit in his address to the young betrothed. In Sena Jurinac's and Brigitte Fassbaender's entry, by contrast, one gets the sense that Octavian is instantly under a dreamy, almost otherworldly spell, which of course explains much better Sophie's losing her head and being transported to a heavenly realm of bliss.
As the Marschallin, Finnish soprano Soile Isokoski sang with a pretty, but indistinctive voice that at first seemed to struggle to get over the orchestra. She gave the bed scenes with Octavian a girlish thrust, which is interesting as an idea – the aging woman (probably twice Octavian's age) feels young again or wants to be young with her "Bub". But this choice dangerously reduced the all-important contrast between the mature woman and Sophie, which Octavian's change of heart is built on. Nevertheless, taking on more and more dignity of upper class bearing, Isokoski gave a convincing and finally touching performance. Her refusal of Octavian's consolations had the right degree of annoyance and authority—the crucial ingredients to make the young, naive Sophie so irresistible by comparison.
The Marschallin is one of the most sympathetic female figures of the classic opera repertoire. If we did not know that Hofmannsthal had written this character—with her intelligence and courage to face the truth about the inexorable passing of time, about her fading youth and the fleetingness of love—one could swear only a woman could have written this intimate portrait. Of course, Isokoski's performance could not compare with the role model, the greatest Marschallin of the 20th century, Elisabeth Schwarzkopf, whose beauty, charm, perfectly natural Viennese accent and royal bearing made her the very impersonation of the character. Conducted by Karajan, this marvel from the 1961 Salzburg Festival, with Sena Jurinac as Octavian and Anneliese Rothenberger as Sophie, is available on video with English subtitles and on a remastered DVD that unfortunately lacks subtitles. Another worthwhile DVD (with the German libretto text as a choice among the subtitles!) is a superb 1995 performance from the Munich Opera, with conductor Carlos Kleiber, Gwyneth Jones as a particularly feminine Marschallin, Brigitte Fassbaender as Octavian and Lucia Popp as Sophie.
Hofmannsthal had a special feeling for Sophie. Like the Marschallin before her, Sophie has also just been released from the cloister into a forced marriage, and her naiveté and vulnerability made her, to the author, "a person of nameless charm, as if never in the theater, so touching, so helpless..." Swedish soprano Miah Persson had the right look, and her voice was silvery smooth even in the stratospheric top notes. She acted especially well in the scenes that show Sophie's fiery temper and the glitches of a non-aristocratic upbringing, but even though her big shining eyes often seemed close to tears, she certainly was not touchingly helpless. Unlike famous Sophies from the past—Anneliese Rothenberger, Barbara Bonney or Lucia Popp—she embodied a slightly more modern, proud and straight-backed Sophie. Luckily, with her beauty, her lovely singing, and in the arms of DiDonato's Rosenkavalier, this did not matter. I took comfort from the fact that with a less heart-breaking Sophie the subtext of the story comes into focus. The experienced Marschallin expresses it with a sigh: "He will be as happy with her as a man knows how to be... ." In other words, we can imagine that sooner or later Octavian will be bored with Sophie and return to the Marschallin.
Finally, Icelandic bass Kristinn Sigmundsson was an excellent Baron Ochs who did not overplay the buffoonish elements of the role to the point of absurdity. One could almost believe that a less sensitive girl (who had not seen the Rosenkavalier first) might have accepted the compromise of making do with a boor in order to rise to nobility. But even with more understated play the role of Ochs in its traditional interpretation leaves something to wish for.
When Hofmannsthal thought that Ochs was the only truly difficult acting part in the opera he must have had this in mind. It's time for a Rosenkavalier production that breaks the stereotype of Ochs as a Molière-style buffoon and allows him to be more of the Don Giovanni he also has within him. With a little less bulge and vulgar clumsiness one would suddenly understand why nobody in Faninal's house notices anything "off" about this guy who fingers Sophie like a piece of meat. A less ridiculous Ochs would be a much more dangerous suitor for Sophie and his rival, Octavian. If the new director of the San Francisco Opera, David Gockley, would revisit the Rosenkavalier he might opt for one of the radical artistic interpretations he is famous for and cast an attractive singer—Samuel Ramey, for example—in the role of Ochs, thus allowing the Baron's unstoppable lust to appear as a manifestation of the life force that his creators have accorded him. With a better balance between Octavian and Ochs, the old debate about whether there is too much buffoonery in the Rosenkavalier, whether the gross comedy outweighs and sometimes even drowns out the romance, could be given a new twist. After a hundred years of ox-like Barons Ochs it might be a revelation.
Cover Photo - Heidi Melton (Marianne, far left), Miah Persson (Sophie),
Joyce DiDonato (Octavian),and Noah Stewart (Faninal's major-domo, far right)
All Photos - Terrence McCarthy