I was both excited and nervous when San Francisco Opera announced Anna Netrebko's first USA Traviata. I was concerned because La Traviata, especially the first act with its party mania's high C's and E's can undo a singer, no matter that Netrebko has already proved with previous Violettas (and the recent DVD of her 2005 Salzburg Traviata) that she has every ease in the role.
Netrebko had only granted 5 performances to San Francisco, each spaced by a careful number of rest days. The minute her Violetta had died for the last time — and brought a part of the rapt audience to tears — the good-natured, fun-loving diva jumped up and down excitedly during the curtain calls, waving her arms to her audience before spending another two or more radiant hours autographing for her fans.
A number of things hung in the balance for me. I had seen (and raved about) Netrebko's belcanto performances — Roméo et Juliette, I Puritani, Lucia di Lammermoor, all at the Met and all in superb, historically respectful productions. The Salzburg Traviata, by contrast, had been a vulgar, brutal modernization of the story directed by Willy Decker who produced any number of brilliant theater ideas and yet robbed the opera of both sense and sensibility. Netrebko had no problem embodying a modern, tarty Violetta Valéry but the opera wasn't served by the European zeal for deconstructing (spell that destroying) classic opera. (One could wonder if the abundance of opera houses and Traviatas performed everywhere in Europe, day in and day out, necessarily leads to this trend out of sheer inflationary boredom and the lack of truly great voices and exciting singers to fill the bill. One can easily come to loathe this particular opera because of such overdone mediocrity.) The States have been much less affected by the European fashion of "opera d'auteur", so there was hope that Marta Domingo's Los Angeles production would repair the Salzburg damage and let Anna Netrebko restore the subtleties of Verdi's version of the tragic-romantic story by Alexandre Dumas fils. But would this production hold up against Zefirelli's fantastic film version from 1982, featuring the archetypal consumptive waif in Teresa Stratas? We know that Verdi insisted on casting Violettas who not only sang beautifully but also looked the part – that is, looked like her enticing real-life model, the famous French courtesan Marie Duplessis who had died in 1843, only six years before Verdi's opera premiered in Venice. Would Anna Netrebko make us forget the recent embarrassing histrionics of Renée Fleming (at the opening gala of the Met, see Scene4, June 2009), or the over-taxed voice and face of Angela Gheorgiou in the role? Could she be the ideal Violetta her fans have been waiting for, even now that she has gained baby weight?
The answer, as far as I am concerned, is: mostly.
Netrebko has certainly restored the interest the opera held for me in the past. Apart from the occasional stressed top note in Act I, her voice was soaring, both honey-dark and smoldering with emotion and pearl-radiant at the top. Her acting was flawless if at times a tad underwhelming now that we only saw her from a distance, not with the eye of the camera that loves the smooth, unflustered beauty of Netrebko's face, its held-back mysteries of emotion. (Opera films and silmulcasts, meant to bring a larger and younger audience to opera houses, may turn into opera's best enemies by offering cinematic intimacy and alluring closeness for far less money than live opera.) It's only by the middle of Act II and then in the entire Act III, when Netrebko pulls out all the stops, that this Traviata becomes a cathartic piece of art.
Marta Domingo (Placido Domingo's wife and partner) has a lot going for her production which originated at Los Angeles Opera: most of all the fact that she brings a musician's understanding to the task and knows how not to get in the way of everything already perfect in Verdi's design of the drama. Domingo has had a prominent career as a soprano herself and earned her laurels as a stage director and designer. Her direction is subtle and supple: she allows her major star breathing room to be natural (something Netrebko excels at) and there is enough real chemistry between her and her good-looking, sensitive partner Charles Castronovo (a welcome change from the brutish portrayal Rolando Villazón was forced into in Salzburg) to give some heart and feeling back to the story.
The updated setting, to an art deco Paris, is certainly unnecessary but at least still carries the weight of pre-modern morality where a once fallen woman can never rise again – unless self-sacrifice and death turn her into an "angel." It allows for glittery fashion displays from the Roaring Twenties, and Violetta can arrive (late at her own party) in a sensational 1929 Buick, sticking out her pretty legs and waving them at her guests through the car window. The setting also allows for dance numbers that cleverly play off Nijinsky's Paris scandals with his "Afternoon of a Faun" dumbed down to party entertainment for the glitzerati.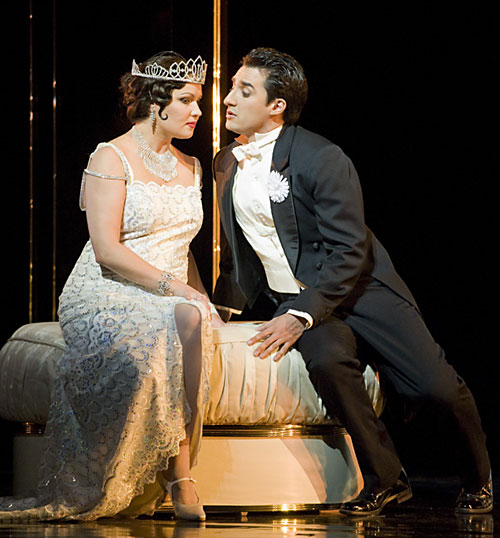 With the Jazz Age and the "liberated"-woman-type of a Flapper in mind, Domingo and Netrebko came up with an unusual interpretation of Violetta Valéry: Netrebko does not play her as the usual saintly-sick idealized woman whom one could hardly imagine in bed with her male "protector" – not to speak of any number of them. According to the legend of Marie Duplessis, a group of seven lovers at one time banded together in order to support her extravagant life style; they had a closet made for her with seven compartments so they could all keep their clothes handy. Young Alexandre Dumas, son of the author of The Three Musketeers, was one of the many to fall in love with her, but the only one who wrote his unhappy passion and her death at age 23 into a novel and play, La Dame aux Camélias. On the opera stage, the saintly-sick, desexualized woman is what Teresa Stratas looked and played to perfection, and the same model, I imagine, was adopted by Callas and emulated by most everyone thereafter. But Netrebko – true to nature – is the naughty girl who doesn't hide that her whole existence is sexual in nature. She is a flirt who doesn't wait until she is courted, but kisses her young suitor Alfredo as soon as he expresses his attraction. This passionate kiss makes more sense of the speed with which she falls for him, in spite of her fear of ending up "alone and abandoned in this populated desert called Paris" as her sickness takes over. In her soul-searching "Sempre libera" Netrebko kicks her shoes high up into the curtains in an attempt to laugh off her "folia" of love, but when Alfredo reappears in her room that same night (another unusual idea) she grabs him and ardently pulls him into bed – no matter that the token camelia she gave him hasn't even started to fade.
In Act II Netrebko plays up the resigned dignity of a woman who has met disappointment all her life. (The real-life Marie Duplessis was sold to a man by her father at age 12.) She holds back the full extent of her sorrow over renouncing Alfredo when his father (Dwayne Croft) arrives and pleads for an untainted marriage for his "pure angel" of a daughter. Only at the end of the scene, when she has given up everything to this conventional man, Netrebko's singing of the plea to be embraced "as a daughter" brings forth such a rush of intense desolation and need for redemption that I was shaken. Equally moving is the way she sings her separation from Alfredo, smothering him with panicked kisses, begging for reaffirmation that he loves her as desperately as she loves him. This sudden burst of heart-breaking loss vividly recalls the way Netrebko's teacher, the great Renata Scotto, sang and acted this scene. (Thanks to a newly unearthed DVD of a 1973 performance in Tokyo, we can see the admirable work of Scotto in this role and at the same time get a measure of the phenomenal work Netrebko has accomplished by evolving from a gifted, pretty young singer to the high caliber artist she is now.)
Netrebko offers another remarkable interpretation in the following ball scene, when she is confronted by her jealous, betrayed Alfredo. The way she lies to him about loving the Baron, to whom she has returned, elucidates (for the first time I can remember ) the psychology of the next scene. The torment and self-loathing in Netrebko's lie explain why Violetta allows herself to be defenseless to her abuse when Alfredo throws his money at her to pay her back "for her services." Then she faints. (Netrebko, with her dancer's grace, is opera's world champion in the art of sitting down, getting or leaping up, fainting or falling, whether in madness, horror, or swoon. When you think of a silk scarf floating down to the ground, you have a good sense of the Anna-effect of falling.) I have also never seen an interpretation that magnetically draws the two separated lovers together again in the middle of the general scandal, the father's horror, the Baron's demand for a duel. Having returned to her senses, Netrebko's Violetta bends down from the pedestal of shame where Alfredo has dragged her and touchingly attempts to hold him and soothe him for his pain.
Act III opens to Verdi's first bars of the ouverture, Violetta's dying music. At the center of the now empty black stage a very large white sofa-bed seems to be floating, covered in a black and white design of flowers. At the back, "outside," it snows; behind the snow the black space is filled with a curtain of stars, evoking fever dreams as well as the transparent border between this earth and another universe. Violetta lies on this day-bed as in a meadow, dressed in diaphanous white fabrics, motionless, eyes closed, hands folded on her chest as if she were already layed out after her death. Her maid has fallen asleep on the floor next to her. When Netrebko painfully arises she is transformed. She seems to be half her size; her long, uncurled hair narrows her face, the veil-like robe and the way she moves make her body seem frail. (Now we get the rewards for Netrebko's not trying to hide her statuesque weight-gain in the other acts, boldly wearing a white tight dress in her party scene, and a stiff, stout evening gown in the ball scene.) She gets up, takes a few steps, gathers her thin robe as if afraid of her loneliness so close to death. She hears the carnival outside her windows (the music is uncut in this version) and, in a hallucination, sees three young girls appear dressed as angel-brides to bring her a bridal veil in a disturbing moment of delusional innocence. When Alfredo has finally arrived to sing his own delusional dream about their future, Violetta has collapsed in his lap from exhaustion. Netrebko manages to appear utterly lifeless for a time. It's only with extreme affort that her hand reaches out to hang on to his body for dear life.
All the emotions of a lost youth, lost love, lost life are in Netrebko's voice during this act. And there is more: We are reminded, or realize for the first time, that La Traviata is not just a love story; in this interpretation it becomes what Verdi clearly meant it to be – the story of a suffering that leads this fallen woman to the redemption she so longs for. When Netrebko sings about watching over Alfredo from above, we hear that she — the "wayward" woman — has succeeded in forgiving herself; she has outgrown the morality that condemned her. She rises once more when the pain leaves her, stands in the metaphorical white meadow, blissful, jubilant, while the snow is falling in the dark sky, then collapses as gently as a snowflake falls.
There is still room for Netrebko to find the production and director for a Traviata that might be a parallel to the famed "Lisbon Traviata" of Callas (and this time, hopefully, it will be simulcast and filmed.) But Marta Domingo with Netrebko, the rest of the cast, and the valiant conductor Donald Runnicles, gave us a balm after the unsavory Salzburg Traviata. There is a lot to hope for.