There is a definitive answer for people who are eager to know how Thailand supports Thai artists. Many of them present outstanding artworks and take part in promoting their communities and hometowns. It is good to see that sometimes the government and private sectors collaborate to help artists, but the true driving force for inspiring young artists is encouragement from senior artists who come back to support them. At the moment, Thai artists bring their works to exhibit in many regions around the world—in Asia, Europe, North America and many nations in the Middle East. The policy from the government sector attracts artists to show-off their artistic creations and the financial support from banks as well as important organizations promote the competition. It is known that artists create dreams and the value of each piece of art depends on beauty, style and other artistic elements rather than price, popularity in the market and names of artists who create such beautiful works of art.
Pichit Paidan was born on 5 December 1964 in Mae Hongson Province which is located near Chiang Mai and Tak Provinces. His primary aim was to be a freelance artist who could help his family and the community. After he finished high school in Mae Hongson, his family allowed him to continue studying art at College of Fine Arts in Bangkok. During this time, he won many awards from art contests that honored his majesty the King of Thailand.
Around 14 years ago, Pichit was selected to go to the South of Thailand and reside in Yala Province in a project to strengthen relationships between artists and people from five provinces in the South. This came after he had won an Excellence award in the "Suan-Sud-Nai-Fun" (zoo in your dream) drawing contest for Songkla Zoo in 1998. His paintings captured the way of living and feelings of Thai Muslims in the South. His paintings were beautiful and impressive. Besides painting, Pichit also was a musician and wrote songs for the community and people he worked with.
In 2000, he participated in Bangkok Bank's "Bua Luang" painting exhibition and later the same year he exhibited his paintings in Suan Pakkad Palace, co-sponsored by the Thai government and UNHCR. In 2012, he was one of the eleven Thai contemporary artists travelling to Los Angeles to mount an art exhibition at the Thai consulate with coordination from Department of Cultural Promotion, Ministry of Culture in Thailand.
At the end of September 2013, I had an appointment to interview Pichit at his house at Doisaket District. He had come back here to build his own garden house surrounded by rice fields and natural canals. Upon arriving there, I met his wife Nattaleya Paidan who was born in Songkla Province; she is also an artist who loves to create surreal paintings. I saw some of her large paintings at the corner of the house. When Pichit arrived, the first thing I noticed was a northern Thai man married to a southern Thai woman who came from an artist's family; her grandfather was a mural painter for temples in the South of Thailand. I believe that this is one of the motivations that inspires Pichit to paint hundreds of large pictures to reflect life and society in the South. In addition to this, a new set of paintings portrays the traditional living and culture of Chiang Mai Province 30 years ago. These colorful paintings contain lively people who live with simple principles. Looking at them, I understand the peaceful atmosphere that surrounds people who live in harmony with nature. I also felt gentleness, faith and determination from his paintings.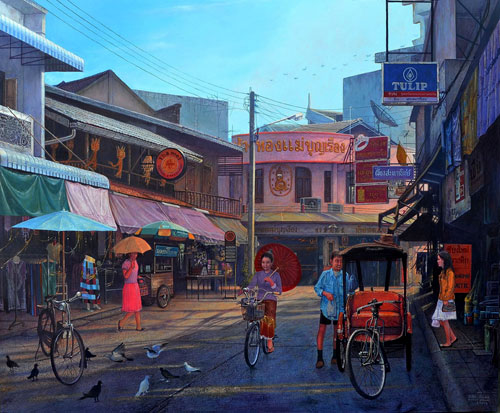 JY: I am personally impressed with your painting and delighted that you travelled down to the South of Thailand to work in five provinces as well as your concern for changes and peace in the troubled South. As you are an artist who helped in public relations, I would like to know about your working role and the many things you were happy to do.
PP: I met people along the way and experienced their way of living in the South of Thailand and I also have many friends who are reporters and journalists. Each person differed in culture, tradition and religion. In actual working we rarely have problems and all these problems can be solved with cooperation among colleagues if we have sincerity and friendship to lessen conflicts and distrust. I still believe that most people still love others. Once I met Muslim villagers who welcomed me. I was very impressed with their warm welcome. I wonder if we have activities for both Thai Muslim and Thai Buddhists such as working or dining together frequently; these activities will be interesting and wonderful in my view.
JY: About changes at the southern borders and the level of satisfaction with such changes, how can we move along a campaign to improve this?
PP: Providing suitable and unbiased education to increase life opportunities for Thai Muslims is a good choice. We can decrease distrust and fear by setting up activities and good public and personal relations to alleviate misunderstanding among people.
JY: Actually, time, environment and technologies have more important roles—how can the southern provinces develop using effective policies and implementation?
PP: Advanced technology makes the world better and worse at the same time. Sometimes news is very sensitive and you should be careful what news to send and to avoid sending. If a leader is careless, implements policies incorrectly as well as sends misleading information to the public, this may cause uncontrollable misunderstanding.
JY: Tell us what you gained when you were one of the representatives of Thai northern artists who went on a field trip to the USA?
PP: When I was in the USA last year, I gained a broader vision in art and saw various artistic dimensions that were so fascinating. I looked at differences in world-class artworks and looked back at my own existing creations for improvements as well as ways to improve Thai artists' proficiency but preserve the unique Thai ways of art. At this time Thai artists are more skilled than the past and popular among foreign art collectors due to government support and encouragement from senior national artists who devote their time and knowledge to train newer generations of artists in order to be on the same level as foreign famous artists around the world. All of this thanks to the Department of Culture Promotion, Ministry of Culture which supports good projects.The most important people to thank are Professor Kamol Tassananchalee and Professor Tawan Duchanee. Both of these outstanding people are national artists who worked hard for better art in Thailand. Every artist is fortunate to be in the same time as them.