On November 13, 2013, Washington National Opera under the direction of Francesca Zambello demonstrated with zest that short American operas can be created rapidly to good effect given the right resources. The WNO American Opera Initiative in its second season premiered in concert format three twenty-minute works that are musically accessible but distinct from each other. Each pair of creators were mentored by composer Jake Heggie, librettist Mark Campbell, and conductor Anne Manson.
The opera were: Duffy's Cut by composer Jennifer Bellor and librettist Elizabeth Reeves, Breaking by composer Michael Gilbertson and librettist Caroline V. McGraw, and Uncle Alex by composer Joshua Bornfield and librettist Caitlin Vincent. Each opera was workshopped in September. Anne Manson said the teams often stayed up all night making revisions after getting feedback from the trio of mentors who each have significant credentials working with contemporary opera. Heggie, whose opera Moby-Dick will receive its East Coast premiere by WNO February 25, 2014, said, "We [mentors] have been in the pool a little longer so we are a little prunier." All agreed that it made a significant difference to work with the talented singers of the WNO Domingo-Cafritz Young Artist Program.
Zambello said the ground rules were that the creative team must be Americans working with American subjects. The story needs to have dramatic tension in the music and the libretto. Musical instrumentation was limited for a variety of reasons including cost and not covering the voices of the young singers. Other limitations ruled out large choruses and children.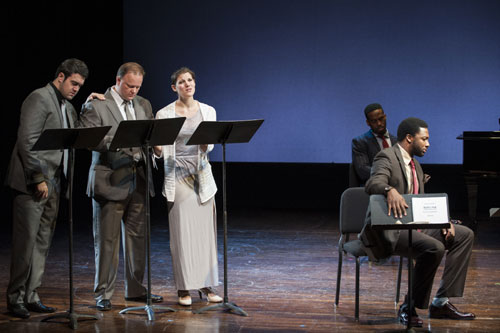 Duffy's Cut concerns an 1832 cover up in a work camp clash between immigrant Irish railroad workers and local farmers in rural Malvern, Pennsylvania. The compelling libretto features the voices of five railroad workers: Phillip Duffy and Malachi Harris who must cover up the deaths of John Ruddy, Catherine Burns, and John Burns. Without realizing the last three characters were ghosts, this reviewer suspected this trio, often singing together, was operating from another plane of reality. The music did its job of making this clear. The music was lyrically pinned with dissonance and accented by interesting percussion, even in the string section. Worthy to note is that this creative pair— Jennifer Bellor and Elizabeth Reeves—did not know each other prior to this initiative. They stated in the talkback session that they were interested in working together in the future.
According to the librettist Caroline McGraw, Breaking was originally inspired by the Boston Marathon bombing. The revised story concerns a news reporter who is sent to cover a hostage situation where things turn out badly not only for the hostages who are killed but also for the news reporter who loses her one opportunity for interview. Much of the libretto has outstanding turns of phrases, such as "Happy endings don't need color" and "This is new to us/This news is new to us." As the music begins, it sounds whimsical and immediately catches attention. Disappointing though the ending falls flat both in words and music as the defeated news reporter goes home to her husband who tries to console her.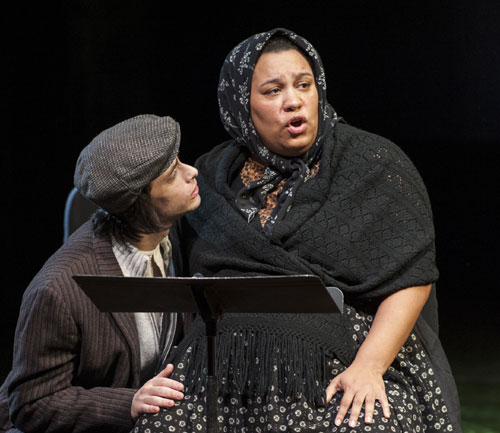 Uncle Alex exhibited an outstanding marriage between music and words. The story about sea-battered immigrants being interviewed by a hard-nosed immigration officer at Ellis Island raised goose bumps for this reviewer. Composer Joshua Bornfield, who has written other operas, had worked with Caitlin Vincent before and it showed.
In December, WNO will premier Jeanine Tesori's and J. D. McClatchy 's The Lion, The Unicorn, and Me, a family opera based on Jeanette Winterson's book of the same title. Zambello said that she wants to achieve the kind of relationship between opera and audience that Puccini had. She walks the talk—before the show started in the Kennedy Center Terrace Theater, she was in the lobby handing out brochures on the upcoming new operas and talking passionately to attendees.
Photos - Margot Schulman