When I was in college, there was an annual film festival on my campus. One year I sat in the theater from three in the afternoon till a quarter to two in the morning, grooving on the esoteric foreign films and smart-alecky, self-consciously arty student shorts that tumbled across the screen.
Quentin Dupieux's Rubber brought back that experience like no other film I've seen since.
Dupieux—who wrote, photographed, edited and directed the film, as well as providing the score under his musical nom de plume of Mr. Oizo—wants to have his tire and blow it out too. In Rubber, he wants to make simultaneously a horror movie spoof and a deconstruction of both horror movies and the people who go to see them. At its best, the film resembles not so much a collaboration as a collision between Jean-Luc Godard and John Waters, Luis Bunuel and Herschell Gordon Lewis. At its worst, however, we feel like the audience within the film, staring through binoculars at vast, arid stretches of empty desert.
From the beginning, Dupieux trumpets his intention to flummox his viewers. We see a row of straight-backed wooden chairs set in a zigzag pattern on a desert road. At the side of the road stands a nerdy, bespectacled little guy (Jack Plotnick) holding dozens of binoculars. A black, official-looking sedan rounds the corner and slaloms around the road, smashing all the chairs to bits. "We could've sat on those!" cries one among the crowd of people to whom the nerdy guy starts handing out binoculars. Then the sheriff (Stephen Spinella) climbs out of the car's trunk and delivers the film's statement of principles.
Rubber, he tells the audience, is a film based on the principle of "no reason"—which, in essence, makes it like every other film ever made. "In JFK, why is the President of the United States assassinated by a total stranger?" he says. "No reason. In The Pianist, why is the hero forced to hide and live like a bum, when in fact he plays the piano very well? No fucking reason."
Rubber proceeds from there, as a scrap tire in a desert garbage dump (in the closing credits, we learn its name is Robert) inexplicably comes to life, takes delight in crushing random items in its path, and learns those things that are too large for it to crush it can cause to explode—up to and including people's heads. Leaving a trail of carnage, Robert becomes fixated on a sexy French tourist in a VW Rabbit (Roxane Melquiada) and follows her to a tumble-down motel. Meanwhile, the sheriff and his team take their sweet time investigating the sudden proliferation of bloody, headless corpses. The audience members bicker and starve in the desert, trying to decipher the action through their binoculars. Holed up in the motel, the nerdy guy receives telephoned instructions from a mysterious "master" who orders him to… Well, no fair to tell you, but I'll just say the nerdy guy makes sure the audience suffers an even worse fate than Robert's victims.
Rubber, alas, ODs on its own self-conscious cleverness. Not since Alex Cox's Repo Man have I seen a film that so openly thumbs its nose at viewers. The pacing is haphazard, the performances variable, the symbolism glaringly obvious (it's giving away too much to discuss Dupieux's symbolism in detail). Simultaneously
Dupieux gives the audience too much and too little to consider. Yet in its funniest, most memorable sequences, Rubber makes some hard-hitting points about the quality of most movies and their effect on the people who see them.
(One further note: toward the end of Rubber, Robert redoubles his murderous rampage after observing a bunch of rednecks burning scrap tires in an open fire. As the longtime environmental reporter for Rubber & Plastics News and Tire Business, I wonder how many hoops Dupieux had to jump through to obtain a permit to burn tires openly. If I knew for sure he didn't have one. I'd turn him in. He's made no friends in the rubber recycling industry, I can tell you that.)
Duncan Jones' Source Code has only two tenuous connections with Rubber. The first is Dupieux and Jones' connections to the music industry (Jones is the son of David Bowie). The second is that, in a broad sense at least, Source Code is the type of gimmicky thriller Rubber delights in mocking. But here's the truth: in every conceivable way, Source Code is a substantially better film than Rubber. Score one for Hollywood.
Every Hollywood thriller these days seems to be a combination of several others, the only distinction being how well the director and writer at hand put together the spare parts. Source Code, written by Ben Ripley, has recognizable antecedents in Inception, Groundhog Day, and the old TV show Quantum Leap, among others.
Source Code begins with a young man (Jake Gyllenhaal), obviously disoriented, sitting in a suburban Chicago commuter train. The young woman sitting across from him (Michelle Monaghan)—who obviously knows him, or thinks she does—is telling him that she's just quit her job and thanking him for advising her to quit. The other passengers read, talk on their cell phones, move through the aisles; why do they all seem so sinister? The young man rushes to the men's room, where a face not his own stares back at him from the mirror.
Then, the train explodes.
The young man finds himself inside a cold, spaceship-like capsule, dressed in battle fatigues. A woman in a military uniform (Vera Farmiga) talks to him through a TV monitor. In a minute reality comes back to him: he is Capt. Colter Stevens, an erstwhile helicopter pilot in Afghanistan, and the woman is Capt. Goodwin, his military "handler." Capt. Goodwin's boss, Dr. Rutledge (Jeffrey Wright), has devised a way (the "source code" of the title) to project Stevens into the brain of one of the victims of the train explosion for the last eight minutes of the victim's life. Stevens' mission is to be sent back over and over again, in an endless succession of eight-minute intervals, to discover the bomber and prevent the threatened explosion of a "dirty bomb" in downtown Chicago.
From here, it's no fair to tell you anything more about the plot of Source Code, though many reviewers have. (David Denby of The New Yorker, shame on him, blabbed a major plot revelation that occurs about halfway through; while most viewers will probably guess it before it's revealed, it's far better not to know it going in.) Suffice it to say there are surprises and thrills aplenty, and even a fair amount of laughs, as Stevens follows different hunches and clues based on knowledge gleaned from previous eight-minute adventures.
The time stricture, of course, adds to the suspense. But what makes Source Code a cut above the usual sci-fi thriller is the depth of feeling Jones and Ripley evoke in the audience. We come to love Colter Stevens, an intelligent, resourceful and plucky young man capable of deep thought and emotion. His emotions become especially deep toward Christina, the young woman sitting across from him on the train, which adds poignancy to his mission. He becomes obsessed with saving Christina, even as Dr. Rutledge and Capt. Goodwin warn him that Christina and all the other passengers are already, irrevocably dead. He can only prevent the future explosion, not the past one.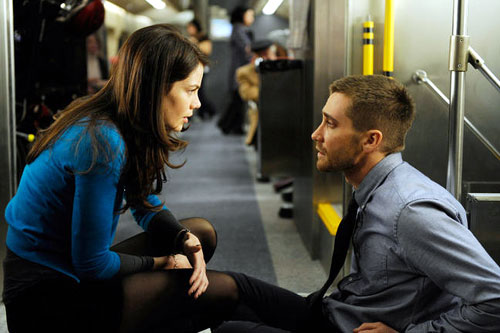 The excellence of Source Code lies as much in the casting as in the filmmaking. Jake Gyllenhaal is one of those actors who can win an audience's sympathy just, it seems, by walking in front of the camera; with his beagle-puppy eyes and wide, expressive mouth, he can convey desperation, determination, sorrow and joy with an accuracy that provokes an almost painful response in viewers. Michelle Monaghan, with her delicate, heart-shaped face, is no slouch in the lovability department. Vera Farmiga develops great sympathy for her character because of the sympathy she displays toward Colter Stevens, just as Jeffrey Wright makes himself an admirably hissable villain by his technocratic lack of sympathy.
In Rubber, we have a movie that seeks to expose the tricks of the movie trade; in Source Code, we have a movie that exploits those tricks for all they're worth. Guess which movie is by far the more satisfying. Rubber is comparable to the teenage Penn and Teller, demonstrating their first tricks in their friends' homes, whereas Source Code is like Houdini at the full height of his powers.