The first major retrospective of Maurice Prendergast's paintings in twenty years mounted by the Bowdoin College Museum of Art in Brunswick, Maine, offers a revelatory look at a painter whose art was a study in contrasts. Entitled Maurice Prendergast By the Sea, Bowdoin Museum curator Joachim Homann and Prendergast scholar Nancy Mowll Mathews have assembled some eighty-eight watercolors, oils, and sketches which explore not only the painter's affinity for the seaside, but also the changing metaphor that the coast represented to him in his work.
Prendergast, whose career spanned the last decade of the nineteenth and first decades of the twentieth centuries, was a painter of the seaside, but not of nature itself; he was a modernist with an affinity for social realism, and he was an American artist, who drew inspiration primarily from European art. And though the sea was a recurring theme in his work, it was less the waters which fascinated him than the throngs of people to be found on the beaches.
In contrast to his contemporary and fellow New Englander, Winslow Homer, who depicted the towering majesty and terrors of nature in his seascapes, Prendergast used the sea as a gentle, sometimes playful backdrop for the delightfully choreographed and composed crowds who populate his paintings. As Homann writes in the accompanying catalogue, "Prendergast's most successful works seem to bristle with energy and create the sensation of perpetual movement; they convey the exhilarating forces that shape the summery crowds in motion on promenades and along busy beaches."
Maurice Prendergast was born in St. John's, Newfoundland in 1858, but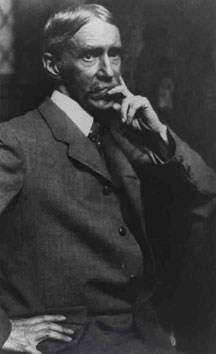 raised in Boston where he apprenticed as a commercial artist. A shy man who never married and was troubled by increasing deafness over the years, he found his solace in painting and in a close friendship with his younger brother Charles, also a painter and frame maker. From 1891-1895 he studied in Paris where he absorbed the influences of Cezanne, Seurat, Van Gogh, Whistler, and other Post-Impressionists. A later trip to Venice introduced him to the Renaissance and Baroque masters. Back in the United States, he won critical acclaim in major exhibitions at the Art Institute of Chicago and the Macbeth Gallery in New York and went on to befriend and exhibit with members of The Eight, among them John Sloan, William Glackens, and Robert Henri, in groundbreaking shows, including the 1913 Armory Show, where American art was seen alongside the European avant garde Impressionists, Post Impressionists, Fauves, and Cubists.
In the decade before his death Prendergast was regarded in artistic circles as one of the most influential American modernists, though his work was thought to be too advanced for traditional museums such as the Metropolitan Museum of Art, which declined to mount a retrospective when he died in 1924. That task fell to the Whitney Museum of American Art in 1934. "He never condescended to make his art easier for the public," Frederick James Gregg had written in the catalogue for Prendergast's first major New York retrospective in 1915, but "he has superb courage, consistency, and determination." It was that determined and quirky vision that set Prendergast apart in the annals of early modern American art.
The Bowdoin College exhibition is organized chronologically showing the progression of stylistic and thematic developments in Prendergast's work. The early works from the 1891-1907 have much to do with French Impressionism. The paintings and watercolors are all about light and dematerialized form. In his middle period (1907-1913) the Prendergast who admires Cezanne, adds dark outlines and more intricate formalized composition to his work and begins to introduce nude bathers. And finally, there are the late paintings, among them several well-known masterpieces, from 1913-1923 in which Prendergast pulls together all the diverse threads of inspiration into his own signature style. This is the period of increasing symbolism and complex compositions reflecting European modernism as well as classicism.
Throughout this progression Prendergast's relationship to the seaside changes as well. From the start he depicts beaches and parks, often in urban contexts, with throngs of folks celebrating their plein air leisure. At first these revels have a joyous insouciance; brushwork and color are the life of the paintings, and rhythms are fluid and carefree. After Prendergast's association with The Eight, the human forms take on increasing significance in his work. The pursuit of leisure became a serious and hallowed theme; the seaside vacation signified not only an idyll for the privileged, but also a well-earned right for the laboring class.This democratization is reflected in Prendergast's subjects, who at first are fashionable, Europeanized upper class folks and who later become a diverse crowd. By the final period, the humans have become at once ideals and abstractions – classicized bathers and integral elements of formal composition. Yet throughout all these mutations of motif, Prendergast retains a vibrant, unique tie to the seaside. As curator Nancy Mowll Mathews writes in her catalogue essay, Prendergast:Change and Sea Change, "He presents the coast as a place of intersections: between water and land, people and nature, and work and leisure. Transitions, zones, borders, and the morphing of one substance into another is the essence of his subject."
In his watercolor Viewing the Ships (1895-97) a well dressed couple sit on the wind swept beach grass and watch two masted ships and a steam-powered vessel sail up a calm waterway. The palette is subdued and gentle, and even the contrast between ships is blunted by the impressionist haze of light. Clearly, Prendergast, having just returned from France, is thinking of Manet, Monet, and even Renoir.
In the later watercolor Surf, Cohasset (1900-1905) Prendergast evidences increasing looseness of brush stroke and greater exuberance of style. The sea is crashing on the rocks while a trio of parasoled ladies observe with fascination. Like the couple in Viewing the Ships, they are well dressed and faceless. It is not their individuality which interests the artist, but rather their energy and their connection to the ocean. This is less a genre scene than it is a painting about the exuberance of the life force. And yet, in contrast to Homer's work with similar subjects, the sea holds no terrors for these ladies.
Despite the oil medium, Prendergast loses none of the lightness of touch in his painting Salem (1902-1904). The hues are darker, and there is the hint of some linear outlines in the figures on the right, but the fluidity of the human forms harmonizes with the sweep of water and sky. The orange ball of sun suggests the Van Goghs that Prendergast had seen in Europe. Only the carefully formalized composition divided into three horizontal planes speaks to the shifting concerns of Prendergast's work.
A trio of works from Prendergast's middle period illustrate the artist's admiration for Cezanne. The oil on panel of St. Malo (1907), one of numerous similar views in the vein of Cezanne's Mt. St. Victoire that he painted during his French sojourn that year, is atypical in that it is a seascape without people. Instead, Prendergast concentrates on the solidity of rock formations and thick, substantial brush strokes to create a moody atmosphere.
In A Beach Scene, Maine (1910-1913) Prendergast returns to the populated seaside scenes for which he is known, but this time, the colorfully dressed men and women relaxing on the rocky shore are interspersed with nude bathers. The inspiration for these bathers came from Cezanne, of course, but also from Manet's D├ęjeuner sur l'Herbe with its clothed and unclothed figures. Prendergast's sketch books, also on display in the exhibition, reveal numerous drawings of erotic nudes, but by choosing to integrate them into a genre scene of New Englanders enjoying their leisure, he managed to scandalize Boston critics. His friend Charles Hovey Pepper wrote to gallery owner William Macbeth, "He [Prendergast] is shocking good old Boston with pictures of ladies bathing in the garb of nature by a very dangerous craggy shore." (in Nancy Mowll Mathews Change and Sea Change). He employs a similar theme in Bathing (1910-1913), here arranging the figures into a carefully orchestrated triangular composition associated with Cezanne. In both works, dark linear outlines give substance to the human and natural forms, and the departure from reality adds a modernist, mythological dimension.
The reaction of puritanical New England led to Prendergast's moving his studio to New York in time for the 1913 Armory Show. He remained there until his death in 1924 creating some of his most magnificent canvasses.
The Promenade (1913) is a large-scale work that synthesizes all of Prendergast's experimentation to that point. The brushwork combines dancing dabs of expressionist color, applied with a hint of Seurat's style, together with black outlines. The seaside figures are both clothed and nude, arranged in two interlocking triangles. The poses of the group to the right suggest the Three Graces of classical art, while the nudes on horseback in the middle ground remind of the Symbolists and Picasso's white horse motif.
In Sunset and Sea Fog (1918-1923), one of his last canvasses, Prendergast makes the motif of girl on horseback central to his composition, placed as she is against a flaming sunset which makes even the water golden. Prendergast's palette with yellow sky and purple sails reflects the Fauves; his figures are even more abstract than before, and his brush work is now thicker and scumbled to create texture.
Prendergast's late works such as this one and Acadia, The Idlers, and Autumn have an almost elegiac quality to them. He returns to his favorite motifs of crowds by the sea, but his subjects and their surroundings have become increasingly abstract, mythicized as if part of a vanishing aesthetic – a culture of leisure and progress that is becoming the fabric of memory.
Maurice Prendergast was a unique voice in late nineteenth and early twentieth century American art. He linked European modernism to American social realism. He reinterpreted classical themes in formalist modern ways. He created a mythical world that, despite the geographical titles placed on many of his works, was really a world of the imagination, a place where human beings became part of the ebb and flow of nature – where their revels merged with the rhythms of the seaside.
As Joachim Homann so eloquently writes of the artist and his achievement: "His images give shape to the faceless city dwellers, acknowledging them as an almost natural force and probing their ability to find a new unity and fulfilling beauty. In his imagination, the ocean is a mirror to the people."
Photos - Courtesy of the Bowdoin College Museum of Art