Santa Fe Opera has spruced itself up in time for its 60th anniversary, expanding back-stage operations, workshop and artists spaces. The audience is offered more amenities, nibbles, drinks, café tables and space to meander and enjoy New Mexico's sunsets. There is also a new ample gift store, a place where you can comfortably chat with the world stars and
starlets, all of whom are present throughout the two-month season. Before seeing Capriccio (Strauss is always prominent in Santa Fe) I chatted with Susan Graham who hung out with co-starring baritone Joshua Hopkins and her little daughter, signing CDs. We talked about the three very different productions of Les Troyens (*qv) she had starred in, and the next night I got a chance to compliment mezzo Helene Schneiderman, whose CDs of Yiddish tunes were on display, on her impressive performance in Vanessa. (**qv) The high artistic caliber of Santa Fe Opera attracts everybody who is anybody: tenor Michael Fabiano (who just debuted as Don Carlo (***qv)
at San Francisco Opera) had come to see Romeo and Juliet, an opera he hopes to sing, he told me, five years from now.
Capriccio by Richard Strauss
What comes first in opera, what gets the pride of place: words or music? Prima le parole, doppo la musica? Or, Prima la musica, doppo le parole? The question was hotly debated throughout the history of opera, and in 1930, the German Jewish writer Stefan Zweig suggested it to Richard Strauss as the very topic of an opera. Zweig wasn't able to write the libretto, the Nazis prevented that, but with a patchwork of librettists and his own input Strauss got his libretto and, in 1942, his last opera:
Capriccio—A Conversation Piece for Music.
The opera is like a post-modern comedy, full of capricious charm, self-reflection and self-irony. But staging and performing it is as difficult as trying to tame champagne bubbles in a glass—which explains why you don't see Capriccio often in the repertoire and don't have many good DVD choices.
The rivalry between words and music plays out like a parlor game, a sophisticated Viennese salon game among artists and aristocrats. A poet, Olivier, defends the primacy of the word against Flamand, a composer, and both vie for the judgment of Countess Madeleine with whom they are in love and who is their patroness while her brother, the Count, is their patron. The other salon guests, theater director La Roche, actress Clairon (Olivier's ex-lover), and at the end even the servants participate in the artistic and amorous battle.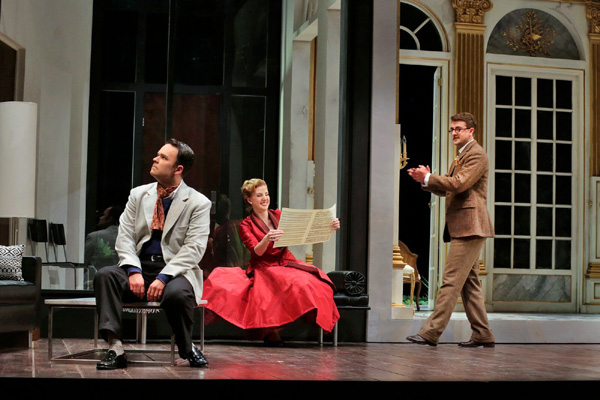 If you don't know the libretto well, and especially outside of Germany, it is a challenge to chase after the subtitles to figure out the quick repartees that are loaded with erotic innuendo, cultural allusions and jokes. The new Santa Fe Opera production by Tim Albery (conducted by Leo Hussain), begins with an effective scene of wordless choreography. The string sextet that usually serves as an ouverture is played onstage as part of a salon afternoon. Countess Madeleine (Amanda Majeski) is seen listening with rapture to the Schubertian harmonies composed by Flamand (Ben Bliss) who can't help conducting a little and getting himself noticed by her. The Count (Craig Verm) is bored and leaves; he is interested in the new play by Olivier (Joshua Hopkins) that will give him a chance to rehearse with the famous actress Clairon (Susan Graham). Olivier doesn't listen either, or perhaps he does, scribbling a new addition to his play, a love poem that is in fact meant for Countess Madeleine. Theater director La Roche is fast asleep. Upon awakening at the end of the sextet, his comment, "The best sleep comes with gentle music," starts the social comedy.
"And in hands like his lies our destiny," Olivier sighs and La Roche retorts, "What do you want? Your works are just dead paper without me."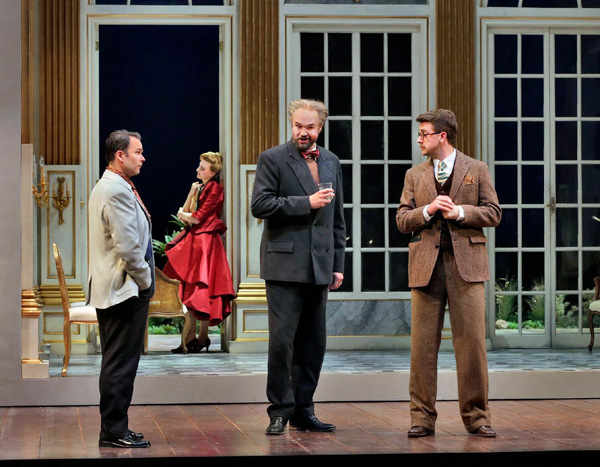 Olivier's love sonnet is snatched away and set to music by Flamand, who of course uses the new song to try seducing Madeleine. Poetry or music, theater or opera? Everyone takes sides. The snide repartees are quick and hilarious, and the audience is invited to weigh in as Oliver's poem is recited twice in spoken language, first by the count as part of the theater rehearsal, then as Olivier's private love declaration to Madeleine. Unfortunately stuck in the gallants' throats, the German sounds like chunks of undercooked potatoes, whereas Flamand's art song is a stirring piece of romantic music. Strauss, who had a lifetime of quarrels with his librettists, may have given the composer the advantage in this set-up. Countess Madeleine, however, can't make up her mind.
To the amusement of the audience, the worlds of theater and opera are much maligned. Strauss engages all the protagonists and side characters in a "Laughing Ensemble" and a "Quarreling Ensemble" of comical proportions. Meanwhile, the two young rivals use every pretext to storm the fortress of Madeleine's heart. To restore peace and protect her fortress, the Countess knows the perfect remedy: she commissions everyone to collaborate on a brand-new opera. Instant suggestions are Ariadne on Naxos and Daphne, two operas Strauss had of course already written, while the orchestra slyly alludes to their themes. No, Madeleine decrees, she wants a modern, experimental opera about real people like herself and her guests, and why not set it at a Salon? In short, she commissions Capriccio.
The charm of this kind of spin is pretty much lost when you pull the opera from its time frame and set it, as British director Tim Albery does, in the period when Strauss actually wrote it. Instead of the 18th century palace Strauss had in mind, the set (by Tobias Hoheisel) is a Bauhaus style villa from the late 30s with a salon room in Baroque style, but this doesn't help the time warp. Strauss continually plays with the fashionable or unfashionable ideas and styles of music in the historical past. Baroque composers like Rameau, Lully and Gluck are alluded to and fought over. Italian opera seria is regarded as passé by the young generation, but trotted out by La Roche, the older generation, with an intermezzo by Italian singers (a slightly grotesque version of what Strauss and Hofmannsthal did in Der Rosenkavalier).
An experimental Capriccio in an 1800s Salon has a charm that falls flat in modern guise. Moreover, the center piece of the intrigue, the love poem (Strauss used a sonnet by the French poet Ronsard) is so convoluted and baroque in its German translation that any 20th century Madeleine would have laughed it off the stage.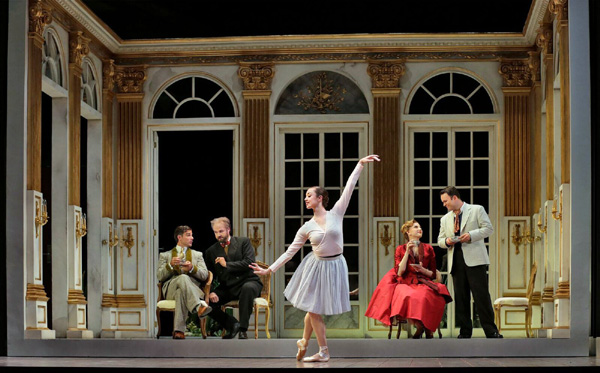 With the new opera project launched, everyone departs happily back to Paris, La Roche with his singers and a young ballet girl he is grooming, the Count accompanying Clairon for an amorous night. Madeleine remains alone with her sonnet, pondering its medium and its message, until a word from Olivier arrives. As he has to write the new libretto he asks her how the new opera is supposed to end? What comes first: words or music? Who wins out in the end: the composer or the poet? He or Flamand?
Romantic vs Modernist Cool
Tim Albery's fine production would have profited from enhancing the comedic and erotic elements so inviting in the libretto and the composition of Strauss. The rivals, Tenor Ben Bliss and Baritone Joshua Hopkins, would clearly have been up for the game, both endowed with beautiful voices, good looks and physical ease. Perhaps the director was concerned about losing the romantic impact with a stronger comedic bite, or maybe he wanted the story to appear more modern and "cool"? Romantic and "cool," however, shouldn't lack erotic spice. Perhaps the certain flatness and smallness of the result came from the fact that the central figure of Capriccio, Madeleine, was sung by the young, up and coming American soprano Amanda Majeski who was not yet able to fill in the many facets of the role. The Countess is a Schwarzkopf role par excellence, demanding aristocratic sophistication, silver-quick wit (and German language panache) as well as the perfect command and authority as a patroness of the arts who is not easily seduced by the flattery of men, and yet tempted by their charm.
Majeski has a distinctive, clear, silvery voice that at first could be cutting and piercing, but then came more and more into its own, shining with a radiant top and unfolding touching colors. In the salon scenes, she never seemed at ease in her demanding designer dress and stilettos, exuding charm in a generic, not authentic way, revealing the effort of the role by acting the same with every man in the room.
But the subdued quality of the production was also evident in the rest of the cast. David Govertsen as La Roche (Strauss played off the German theater great Max Reinhardt) could have—and should have—been larger than life in terms of grandiosity and old-world pomp. And Susan Graham's debut in the role of Clairon was a disappointment, falling short of anything memorable except her chic pant suit. Graham's top- star-power is undeniable and she was in good voice, but she dialed everything back to a minimum. She was not sexy or provocative or anything over the top as she might have been. (Other Clairons in memory, Tatiana Troyanos or Brigitte Fassbender, ate up the role).
To Choose or Not to Choose
For most of the opera, I missed the erotically charged atmosphere that defines Capriccio. One of the many missed opportunities was the ballet interlude that here was only an anodyne filler when it should have told a risqué story about a young dancer's rise to fame.
In the final, 40-minute monologue, however, when the Countess contemplates the end of her opera and her attraction to two
men, young Majeski suddenly slipped into the role. Now alone onstage, with no distraction (and sensitively supported by the conductor) she soared vocally and her natural shyness in acting was perfect, letting this long musical self-inspection reach its full emotional impact without falling into the temptation of "laying it on." Now the sense that she was young and vulnerable added beauty to her longing, tinged with the nostalgic sense that there might not be an easy ending to her opera, at least not a happy ending for her. Where a woman of her class has to make the decision and choose, the question remains without an answer, suspended in her last words, "Is there an ending that would not be trivial?"
An Aside
If you happened upon Renée Fleming's singing Madeleine at the Met (****qv), you might not have been all that sorry for her dilemma. Fleming laid it on, lending so much narcissistic self-congratulation to the role that her Madeleine would have been plenty enough for herself all by herself. If you have seen Kiri Tekanawa live in San Francisco in the role (recorded on DVD) you might have noticed that with a je ne sais quoi of self-assured charm and sensual radiance she sets an idea afloat toward the audience: Why decide, why choose? Doesn't she—and couldn't she—defeat the trivial by loving them both?
Don Giovanni
No such dilemmas about sex in the other major achievement of Santa Fe's opera season: Mozart's Don Giovanni in a production by Ron Daniels, conducted with brio by John Nelson.
The production comes with a star turn by both of the rascals, Don Giovanni and Leporello, master and servant, Daniel Okulitch and Kyle Ketelsen, playing off each other with obvious pleasure and panache. American baritone Okulitch made the cover of Opera News this summer, and for good reason: he is so good that one quickly starts missing him whenever he is not onstage. Elegant, suave, extremely handsome, he sings with an unforced, velvety tone, moves with feline ease and speaks the recitatives with the skill of a natural-born performer. Bass-baritone Ketelson as Leporello (his SFO debut) has just the right power of voice and roughness of demeanor of a lower class "lout," bringing well-acted, relaxed comic relief and speed to the plot. Both singers do Mozart's bidding to perfection. Morality happily gives way to pleasure (and laughs of recognition from the audience), especially when Okulitch, disguised as Leporello, sings his little night serenade "Come to the window" for Donna Elvira's maid, and all the maids of the castle open their doors in their night gowns, eager to follow his call.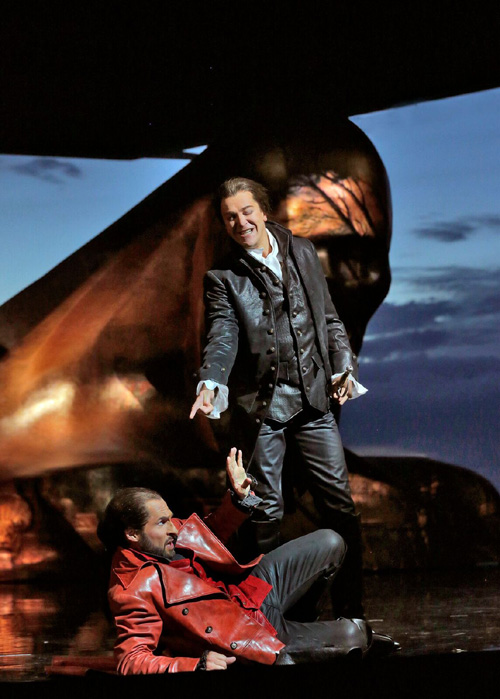 It's a rare pleasure to see a singer in this role who embodies the mythic powers of the character and can cast a spell with his
voice, his sexy ornamentation and phrasing. Okulitch can even have a "barihunk" (baritone hunk) scene in a bathtub, step naked into a towel and continue singing as if this were the most natural thing in the world.
Games of Seduction
This was of course the point for Mozart and his librettist Da Ponte: seducing the audience to be seduced by the notorious seducer. The dream of a guilt-free life of sexual conquests and absolute freedom must, however, run into its dark, devilish shadow, and Brazilian director Ron Daniels manages this balance between the charming and the sinister in the way he and his Cuban set designer Riccardo Hernandez make use of an outstanding stage set.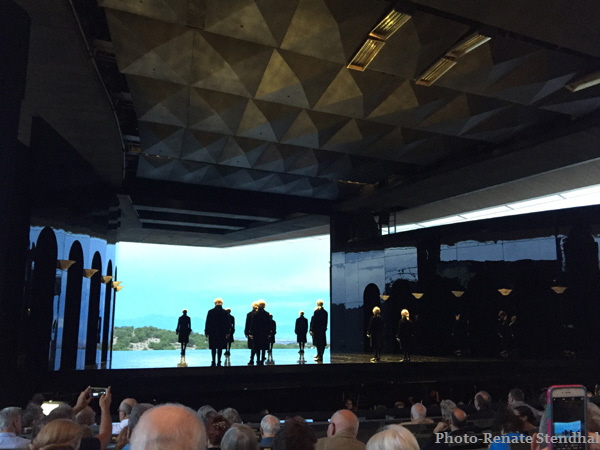 The stage is empty and open to the Santa Fe hills, and the evening sky is reflected by the stage floor like the sheet of a lake. Servants in 18th century livery step up as silhouettes, marking the aristocratic backbone of the story. As Mozart's darkly brooding ouverture sounds, already threatening divine retribution, a colossal figure rises at the back and soon dominates the center of the stage.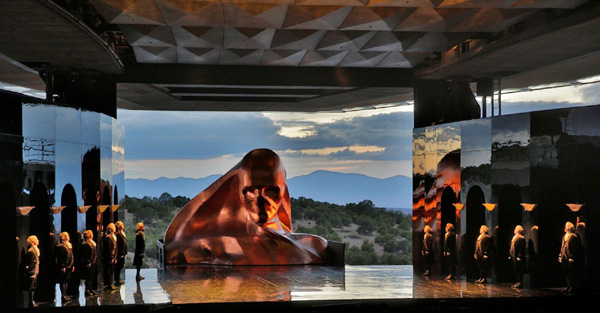 It at first resembles a bronze Sphinx with the withered face of a man, but in the changing light of the scenes, different menacing forms appear, brutal and demonic faces of death and hellish beasts. All the scenes play in front and around the mysterious presence, reminding one that underneath the frivolous pleasure lurks a monster. The mythical figure continually changes its aspects and fascinates with what lies hidden under the seductive charm of Don Giovanni: cruel indifference to the pain caused others, god-like self-love, entitlement and abuse.
The rest of the cast was up to the game. Soprano Leah Crocetto as Donna Anna was a powerhouse of a voice and body, conveying intensity without shrieking. So, too, did mezzo Keri Alkema as Donna Elvira, with a pleasantly strong voice and able acting. Neither diva created much of an erotic stir, but the male characters provided more than enough sex appeal for everyone else. Edgaras Montvidas was a noble Don Ottavio, avoiding the pitiful aspects of the lover who is constantly spurned by his lady's obsession with Don Giovanni and her oedipal attachment to her murdered father. Interestingly, Jarrett Ott as Masetto and Rhian Lois as Zerlina were both attractive singers, but lacked the country innocence that adds poignancy to their characters.
Adding to the storm of divine retribution in Mozart's music in the final scene, a loud thunderclap marked the precise moment when the ghost of the Commandatore showed up to seal Don Giovanni's destiny. No wonder that thunder and lightning were compelled to join the cast in this spectacular production.
*See my review of Les Troyens at http://www.scene4 .com/archivesqv6/2015/sep-2015/0915/renatestendhal0915.html
** Review of Vanessa at http://scene4 .com/0916/renatestendhal0916.html
*** Review of Don Carlo at http://www.huffingtonpost .com/renate-stendhal-phd/don-carlo-starstudded-nig_b_10513870.html
**** Review of "Brave New Met: Brilliance and Kitsch" at http://www.scene4.com/archivesqv6/jun-2009/html/renatestendhal0609.html
Photos - Ken Howard