Champion by composer Terence Blanchard and librettist Michael Cristofer is a musically unique entry in the field of opera. Unlike Porgy and Bess, another jazz piece portraying African-American life, Champion's musical palette slides back and forth (seamlessly) between a modern classical construction (played by a large orchestra under the baton of the original conductor George Manahan) and full blown jazz with its own jazz quartet. Interestingly, the jazz ensemble comprising Dan Hovey on guitar, Fabian Almazan on piano, Nathaniel West on bass, and Jeff "Tain" Watts on drums gets credit as a voice in the cast list though these musicians are not placed on stage. While the singers in Champion are miked as Broadway musicals are, this work is clearly not a musical, given its complex soundscape.
The Washington National Opera production is a company premiere—this reviewer saw the March 6, 2017 performance. Champion had its world premiere in 2013 by the Opera Theatre of Saint Louis. Most of the cast for the WNO production are the same singers who created these roles, including the well-known mezzo-soprano Denyce Graves reprising her role as Ermelda Griffith, the absent mother of the opera's champion Emile Griffith. Her first entrance on stage sees her getting out of an effectively showy cardboard Cadillac in a big-skirted low cut dress. This one hot mama sings how glad she is to see her son in New York but she calls him by another son's name.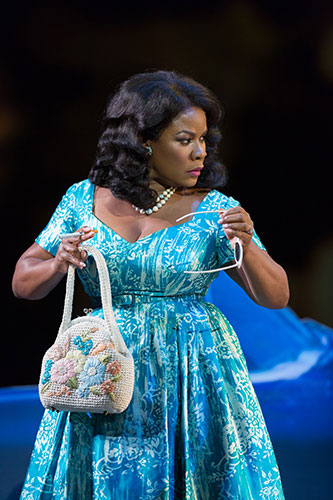 The story concerns the life of Emile Griffith (1938-2013), a U.S. Virgin Island-born waif who comes to the mainland to be a hatter, but is encouraged by his hat-making boss to try boxing. As a middleweight entrant, he fought in 337 championship competitions—69 more than Muhammad Ali—but his fate and reputation were sealed when he fatally knocked out Cuban boxer Benny "The Kid" Paret, who had been taunting Griffith with homosexual slurs. The over-arching theme that dominates the facts of his preference for men and his killing of The Kid is his boxer's dementia. Certainly, dementia is not a sexy subject but the handling of Griffith's demise is compassionately delivered and makes this opera a moving psychological portrait.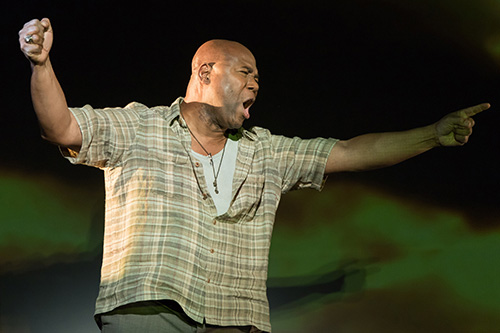 Griffith is played by three singers: the old man Griffith sung by bass Arthur Woodley, the young Griffith by bass-baritone Aubrey Allicock, and the boy Griffith by treble soprano Samuel Grace. The story is pitched from the old man's point of view and opens with Woodley lamenting a lost shoe which Griffith's adopted son Luis (sung by tenor Frederick Ballentine) finds in the refrigerator.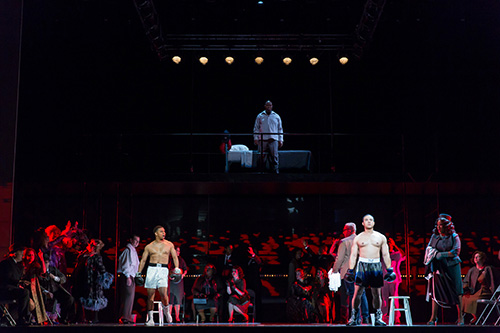 Standout performers include Arthur Woodley and soprano Leah Hawkins who doubles in the roles of Emile's mean cousin caretaker Blanche and Emile's wife Sadie Griffith. Favorite musical scenes are the colorful carnival in St. Thomas with two performers on stilts; the hat factory that includes Graves, Allicock, and bass-baritone Howie Albert; the drag queens' bar with its flamboyant costumes; and Emile's wild proposal to Sadie. Kudos to the projection designer Greg Emetaz for the split screen videos that add an intimate richness to the scenes and the sets.
Despite Blanchard's reworking of the musical score, at three hours with one 25-minute intermission, Champion is too long by at least one hour. While blame could be placed on the librettist for overdone repetition, this reviewer ventures that because the collaboration of composer, librettist, performing artists, conductor, director James Robinson (also the original director) and all his design artists of various elements work so well, that this fine team could rise to the challenge of cutting down this opera to a well-oiled sleek vehicle to put across this moving story with fascinating music.
Photos - Scott Suchman