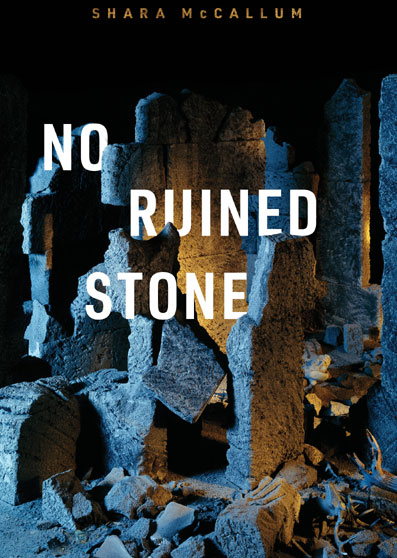 Imagine an alternate history in which Robert Burns, having failed as a
poet, forswears his literary ambitions and instead embarks on a passage to Jamaica to take a position as a bookkeeper for a slave plantation. Such a story is exactly what Shara McCallum presents in No Ruined Stone.
In her fascinating explanatory note at the end of the book, McCallum delineates the actual events that inspired her book. Burns did contemplate emigrating to Jamaica, where his new occupation as bookkeeper would have involved more than simply keeping financial records but would have included managing day-to-day operations as well as acting as overseer to the plantation's slaves. Her poetic sequence speculates on what might have transpired had his book not begun to sell well enough that he could pursue poetry.
In a prologue entitled "No Ruined Stone," the poet speaks directly about the impetus for her book. "You saturate the sight/of those who come after, poets/and painters alike. Your words invade/my mind's listening, manacle/my tongue when I try to speak…." She feels "unloosed, belonging/to no country/no tribe, no clan./Not African. Not Scotland…." and she questions "Why do I find myself/on your doorstep, knocking,/when I know the dead/will never answer."
From the first Burns' journey seems ill starred. "Life itself became disease/aboard the Bell…." and on arrival in Kingston "my illness/at sea gave way to a greater unhinging,/the period they call here the seasoning." The newcomer's adjustment to the unimaginable heat and the foreignness of the island leaves him "nine parts, nine tenths/out of ten, stark staring mad." ("Voyage")
This overt reference to madness looks back a bit to McCallum's previous collection, Madwoman, whose titular character hints in turn at Jane Eyre's mad first wife in the attic and even more to Jean Rhys' Wide Sargasso Sea, the story that imagines the life of the first Mrs. Rochester, who was brought back from the tropics.
As the first section of the book proceeds, we find Burns ruminating on his new home: "such alchemical light, every red
quickly turning to blood and rust" ("Another Life")
He contemplates the moral ambiguity of his present situation:
"Not seeking fortune…
but to flee my disgrace…
I…have become/
the detested Negro Driver I feared,
harrowed by the feeling of the damned." ("Landscape")
And he admits his own hypocrisy and shame:
"When talk turns to Slavery,
arguments for its brutal necessity
prevail, and I sit at the table of plenty,
bite back my tongue." ("To Gilbert," one of several poems titled thus, representing letters home to his brother.)
Charles Douglas, one of the brothers who own the plantation, interrupts Burns' musings to give a ranting—possibly drunken—justification for using slave labor. "They are good for nothing but toiling and fucking…./Tell me: who of our lot could withstand this bestial labor/under this punishing sun?" ("Douglas")
Throughout the book, which comprises a series of monologues, one marvels at the completely convincing characterizations of the fictionalized Burns, the invented granddaughter who appears partway through the narrative, and others who add their voices.
Burns fathered a daughter, Agnes, with the slave Nancy. Agnes in turn bore Isabella, as the result of rape by Charles Douglass (recalling his characterization of the enslaved population). "I entered this world born of rape…/my father the figure lurching through dreams." Isabella is passing for white in an "Edinburgh Drawing Room," addressed by a society matron who notes her resemblance to the Douglas side of her family, attributing her "tawnier" complexion to her years in the Jamaican sun.
One would like to go on quoting more passages, poem after poem, to demonstrate the beauty of McCallum's language—quiet but powerful, simple yet eloquent—but space is running out. The book concludes with a lovely epilogue, again entitled "No Ruined Stone," again seemingly spoken by the poet herself. "When the dead return/they will come to you in dream/and in waking, will be the bird/knocking, knocking against glass, seeking/a way in…." The poem concludes with the sense of obligation that presumably motivated McCallum create this collection. "[The dead]…take all you make as offering./Then tell you to begin again."
At a time when not only the United States but also many other places are reckoning with the legacy of slavery and the systemic racism that remains, this remarkable collection by a brilliant poet, whose ancestry reflects all her characters, will be one of this year's essential books.
I wanted to know more about this book and the poet who created it and Shara was kind enough to answer a few questions.
Thanks so much for agreeing to be interviewed. First, a little about yourself. You were born in Jamaica but emigrated to the US with your family at the age of nine. What motivated your family to come here? Do you return to Jamaica often?
My family migrated largely due to violence that saw a sharp spike in Jamaica in the 1970s. A global economic recession combined with holdovers of colonialism and slavery and the teething pains of independence likely combined to create political and economic unrest that resulted in increased violence in Jamaica at that time. I migrated with my mother's side of the family and didn't go back for over a decade, until I was in my early 20s, even though I had family on my father's side who had remained there. Over the past decades, I have reconnected with Jamaica and with my family there and poetry has played a huge role and been a bridge for me as a person between my past and present. I return as often as I can now, on the average of every year or two. When I'm not in Jamaica, I actively miss it.
You have a Scottish surname, which makes your choice of Robert Burns as your subject very understandable. Am I correct in guessing that your ancestors were enslaved by Scottish planters? When did they arrive in Jamaica? And do you feel any connection to Scotland, emotional or otherwise?
I do have a Scottish surname and it's my father's name I carry. My father was a Black Jamaican, of mixed race himself. It's likely that my ancestors on my father's side included both enslaved Africans as well as Scots and English imbricated in slavery in some way—but I don't have the genealogical records to say this with certainty and I don't know exactly when my father's paternal family arrived in Jamaica, only that they were there for generations. The connection I feel to Scotland comes not so much through ancestral memory but from having spent a good deal of time there. Prior to writing this book, I knew and loved Robert Burns' poems. Through writing this book, I deepened my connection to his poetry and discovered his songs and many other aspects of Scottish culture that resonate with me. The land itself inspires in me the sublime. I equally cherish the warmth, openness, and terrific intelligence and sense of humour of the people I've met and with whom I've developed relationships. I feel toward Scotland love and admiration while needing to look squarely at the painful history of Scottish participation in West Indian slavery, in Jamaica in particular. All of these emotions pull in me.
Your origin in Jamaica is obviously very important, but in addition, your mother is from Venezuela. What influence did she have on your writing, even perhaps your identity?
My mother was herself an immigrant. She left Caracas as a child and moved with her mother (an Englishwoman from Trinidad) to Jamaica, where she grew up from the age of eight onward. My mother's first language was Spanish, but she has only ever spoken to me in English. My mother's tongue is thus not my mother tongue. While I can speak what I refer to as 'baby Spanish' and have forged ties with Venezuela—through aspects of the culture I've embraced and my growing connection to Venezuelan poetry and poets—this was not transmitted to me through my mother. Her identity is far more rooted in Jamaica and in Rastafari, which she has practiced since her early adulthood. Still—because nothing with identity is ever simple—my mother will say to me often now that she feels she got caught between languages and between worlds by leaving Caracas when she did. This feeling of being between and not belonging perfectly or exactly to one place or another is one my mother, her mother before her, and I all share—despite the differences between us in many other ways.
How were you introduced to poetry? Did you know early that you wanted to be a poet? What poets did you read when you were growing up?
One of the earliest sources of poetry I heard as a small child was the King James translation of the Hebrew bible. My mother read me a chapter a day when we lived in Jamaica. I also would hear (and memorized without meaning to in the way children do) nursery rhymes, songs, ring games—all forms of poetry—and stories and folktales that were widely shared. The world I grew up in early on was full of all kinds of poetry and I wrote poems from when I could write. I didn't give any thought to being a poet, though, until I was about twenty and a student at university in Miami. There I was exposed to not only poems but to the notion that someone like me, a living person with my background and history, could possibly be a poet.
History is a very important and recurrent theme in your writing. How did you happen to come upon the story of Robert Burns almost immigrating to Jamaica and becoming a part of the planter culture?
I learned the story when I first went to Scotland in 2015. I was living in London with my family at the time (was teaching over there for a semester) and we went up to Edinburgh for a short visit. The first stop we made when we got off the train at Waverly was to a candy shop on the high street. My children were then 11 and 9, which might explain why this was our first stop. The owner of the shop told me this story about Robert Burns and his near migration to Jamaica when she learned I was Jamaican and a poet.
Your previous book, Madwoman, contained poems you wrote in Jamaican patois, which I and I'm sure many readers found fascinating. Is there a patois tradition in Jamaican or other West Indian poetry? Who are some West Indian poets Americans should know?
Yes, there's a very strong tradition in Jamaican and West Indian poetry of writing in patois and I was heavily influenced by the 20th century Jamaican writer Louise Bennett, especially, in this regard as a young writer. Ironically, I was living in the US, far from any Jamaican community by the time I was consciously apprenticing myself to poetry. There are so many Caribbean poets Americans might like to know that the list would be too long and yet still incomplete if I were to begin in this space. I'll just leave Lousie Bennett's name here as less is often more. Miss Lou, as she was also called, was not only a pioneering Jamaican writer but an incredible actor and a performer with incredible presence and such a wit! I encourage any reader or just lover of language and storytelling to look up and (re)discover Louise Bennett.
And finally the traditional closing question: What projects are you working on or envisioning now?
I'm currently engaged in work writers do to promote a new book (readings, this interview, etc.) and projects and events connected to the Penn State Laureate post I'm holding for this next year. All of it is good work for which I'm grateful but it will pull me away from writing new things for a time to come. My next book of poems I can't yet see. For me, poems come when they want to. Most likely my next book will be a personal essay collection I've had underway for some time. The collection centers on race, migration, memory, and loss. What I think will be the title for the book comes from an essay that took me twenty years to bring myself to write and which was published last spring by The Southern Review: "Through a Glass, Darkly."
To learn more about Shara McCallum and pre-order No Ruined Stone, visit her website at https://sharamccallum.com/.