An artist who has continued to work relentlessly in 2022, I invited to come back for an interview at the Janine Art Gallery in Chiang Mai Thailand, my own residence. He is, Professor Peerapong Duangkaew, a Thai sculptor with metal, stone, and wood carvings that have been placed in many countries around the world for long time. He participated in many important symposia all over the world concerning the materials of sculpture.
(My first Scene4 interview with him was in 2018… Here)
At the end of 2021, his youngest son, Ekaphap Duangkaew, who is an architect and a Founder & Design Director at EKAR had the opportunity to design and build a beautiful temple.
Walk / House is a project belonging to that Buddhist temple, Wat Dhammayan, at the foot of the hill in Phetchabun province, Thailand, which was announced and awarded at the AR House Awards 2021 in mid-December 2021, with a concept describing the location and the beautiful structure.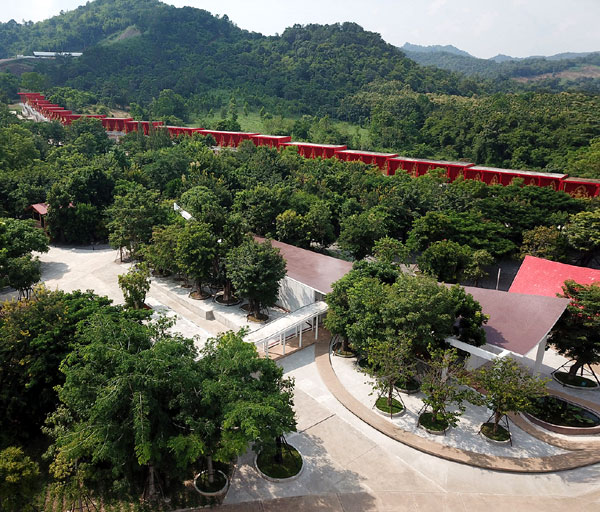 Walk / House is a tranquil part of the temple, surrounded by trees and mountains. It is not only for an abbot to live in but also to maintain his daily ritual practice together with other monks – a walking meditation.
Instead of designing a traditional house, a key concept of walking meditation which is a concentration on the present dimensions of earth and sky to enhance awareness of mental and physical states, was reinterpreted in the architectural context
And the next time, when I saw, I saw a sculpture of iron, stone and wood by Professor Peerapong Duangkaew, standing in front of the Baramee of Art / Dhramma Hall in Chachoengsao Province. It has beautiful colors and I found it new too. There were several other large pieces in the gallery event in Chiang Mai.7Passage of Lanna exhibition at Wattana Art Gallery 100/1 Wat Umong Suthep Rd. ChiangMai 50200.
Professor Peerapong Duangkaew is a sculptor who had his first art exhibition in 1980 when he was around 30 years old. That exhibition was called the 2nd Lanna Group Art Exhibition in Chiang Mai in 1980. Over the course of 42 years from 1980 – 2022, he participated in about 97 Art Exhibitions, inside and outside Thailand.
Sculpture Creation: Biodiversity aims to create sculptures. The artists want to express the inner power of nature, such as a feeling of the continual evolution driving force, coexistence relying on mutual benefit and abundance of diverse environments.
He received research grants from the National Research Council of Thailand in 2017
This is an interview that I asked for immediately following afternoon tea.
JY. Please share your inspiration with sculpture. The colors are beautiful. Is it fiber or plastic? (He had a slightly shocked expression but smiled.)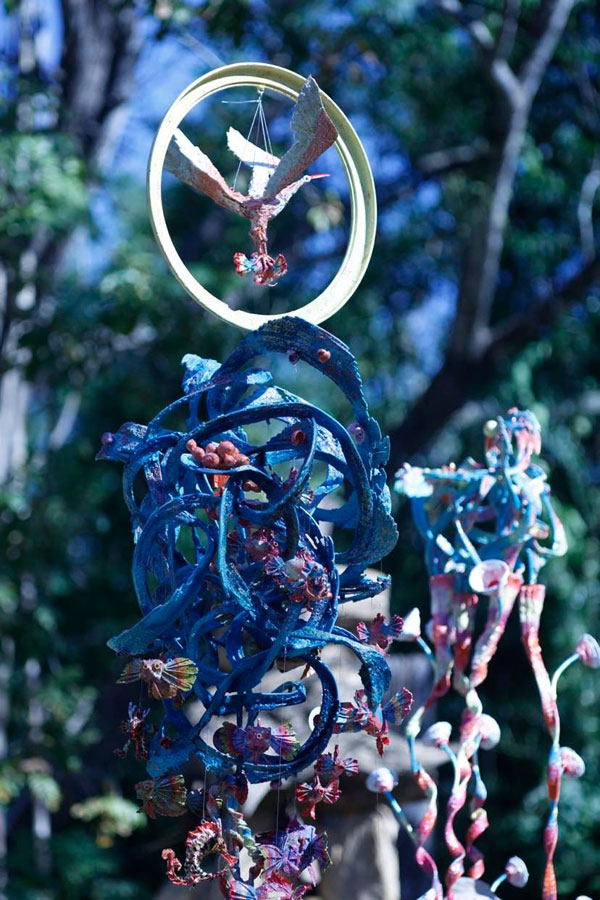 PD. The material is made of stone, wood and metal, no fiber or plastic is used. Sculpture work still has the same stance, which is to bring the environmental pollution content to the work from the beginning.
I am inspired by the problems of natural disasters. global temperature changes. Global warming due to the destruction of nature by products from industrial development. Factory and production have emitted fumes and poisonous things to the ground rivers and the atmosphere. The greenhouse effect in the Earth's atmosphere causes ultraviolet radiation to penetrate the ozone layer directly into the Earth's surface, causing the temperature in the world to increase greatly.
Melting polar ice causes flooding. Along the continental shelf, drought, seasonal inaccuracies, tropical storms, giant waves hit the coast. Earthquakes are caused by tectonic changes. Air pollution has covered big cities and industrial areas. The clouds are filled with impurities thst make people sick
Water pollution causes wastewater discharge into the canal in community and industrial areas. In agriculture, pesticides are used, that destroy natural water resources. The natural cycle is destroyed, the animals that live in nature are affected by food contaminated with toxins. The natural cycle is broken.
The natural food source of many animals went extinct as humans learned when critical crises, epidemics, morbidity and mortality occurred today. We must help each other reduce the pollution that happens in the world. The need to use green energy, to plant trees. Maintain water and air sources together as well as to conserve wildlife and plants from extinction.
Two years ago from traveling to work in many countries,I began to work with my own money to make sculptures that use materials which are from metal, stone and wood. I came back to work on the original Concept Sculpture, Biodiversity. artistic diversity, but I call this new one: The Spirit of Nature. The metal work this time is more difficult than others. The number of pieces is not as much as the previous time. It's hard work!! More than wood or stone, I was inspired by my son who is an architect and home decorator. He requested to take care of and keep all my work well into the future. He saw the value of my work. This time I am adding more colors to be confident of its beauty and each one, makes them much more fabulous.
JY. Please tell me your biography once more.
PD. I was born in Ubon Ratchthani Province, Thailand (1950). I was awarded a Master of Fine Art (Sculpture) from Silpakorn University, Bangkok (1988). I worked primarily as a sculptor carving in timber and stone.
Since 2002, I have exhibited consistently both in Thailand and internationally.
I have been involved in many residencies and symposia about sculpture including:
Saisampan-soul ties, Arts Centre, Chiang Mai University, (2002),
International Sculpture Symposium, Hue, Vietnam (2002, 2003, 2008),
International Sculpture Symposium, Gwalior, India (2006),
16th International Sculpture Symposium, Tultepec, Mexico (2007),
International Sculpture Symposium, Alberta, Canada (2008,
Thai-Japan Sculpture Symposium, Chiang Mai, Thailand (2010).
Haiku Sculpture Symposium,Okinawa, Japan (2009) and Taiwan (2010), International Art Exchange Thailand – USA, LA Artcore, USA (2010).
I also participated in many CMU Faculty exhibitions (2003, 2004, 2008, 2009, 2010, 2012, 2013) and had work selected into group exhibitions including Two Excavating, Saoh Gallery, Tokyo,
14th International Sculpture Exhibition, CMU Art Centre, Chiang Mai (2010) and Confluence of 9, National Gallery, Bangkok (2012).
I had solo exhibitions of my work at the Canberra Institute of Art (1992), Faculty of Fine Art Gallery, Chiang Mai (2009), Foyer Gallery, Australian National University,
Canberra (2010) and the Praewa Studio, Chiang Mai (2011). I was awarded a Bronze Medal for Sculpture at the 32nd National Exhibition of Art (1986) and was the winner of sculpture prizes including the Krung Thai Bank sculpture competition for architecture (2003) and Pongkrai Lodge commission, Chiang Mai (2011).
I was awarded the Australian National University Visiting Artist Residency in Sculpture (1992, 2010).
I was an Emeritus Lecturer, recently retiring from teaching in the Sculpture Department at the Faculty of Fine Art, Chiang Mai University where I taught for over 20 years and held the position of Lecturer and Head of the Department.
In 2020-2022, I developed Biodiversity with an emphasis on durable materials, and more permanent metal and stone materials. They are painted. This makes the work fresh and lively, indicating the abundance of nature, forests and seas.
Today's new work combines various materials. such as wood carving, stone carving. Metal welding paint makes the work durable.
They are permanent to be set up outside a building, anywhere. At the lawn of the park, community area, vacant area along the road making art related to human life society and community.