Chow Chumlap is a leading artist in portrait painting in Thailand and always donates his Royal Family paintings to the Public Health Service as a public relations model that the government uses for important occasions. His faith in Thailand with the monarchy has long held the hearts of the people. Everyone embraced his aesthetic of beauty and care. One of his impressive works was a painting of the Royal Regiment of Prince Mahidol Songkla, the father of King Rama IX.
I graduated from Prince of Songkla University in South Thailand. The university's namesake: His Royal Highness Somdej Chao Fa Mahidol Adulyadej Kromma Luang Songkla Nakarin, formerly Prince Mahidol Adulyadej, was the father of King Ananda Mahidol and King Bhumibol Adulyadej.
During his life, HRH Prince Mahidol took up many positions related to education and medicine. He was Director-General of the University Department in the Ministry of Education; Chairman of the board of faculty of Siriraj College of Medicine and Nursing; committee member of the council of Thai Red Cross Society; Chairman of the organizing committee of Vajira Hospital; invited lecturer of the Faculty of Science and Arts Chulalongkorn University; and resident doctor in McCormick Hospital in Chiangmai. His initiative and effort produced a most remarkable and lasting impact on the improvement of modern medicine and public health in Thailand, such that he was honored with the title of "Father of Modern Medicine and Public Health of Thailand". This was the first reason I intended to interview Chow Chumlap.
Here is the interview:
JY . Please give me the inspiration behind your current work especially your history of becoming an artist.
CC . I was born in 1959 in a very poor family, far away from prosperity in the Thung Song Subdistrict, Thung Song district, Nakhon Si Thammarat Province. At that time, I remember when I was in elementary school, I liked to draw very much, but I was a country boy. I used my school notebook to draw. Being froma poor family, with bare feet andtorn pants I was anorphan; my father died when I was so young. Of my brothers and sisters, I was the youngest.
I was a loner since childhood when my mother was visiting my older siblings who had families. The house was a small one-story old wooden house. After a rain, the front of the house had a clean white sand floor. l always broke dry branches to draw a picture of the King, remembered from the picture framed and hung on the wall of the house when I was a child. I had a dream: one day I would be a painter.
I was ordained as a novice After finishing primary school, I studied Dharma for many years in the temple, which made me find thar religious philosophy was also a good guideline.When I was around 17-18 years of age,I left the temple to train as a conscripted soldier. But before that time, I applied to draw at a movie theater in the provincial town to earn my living. I did everything to survive, thinking that any job was possible for me.I would like to thank all of the team for their support back then. If there weren't those people, I wouldn't have a good career as an artist today. After working with the pictures for movies, I served the nation with two years of military
service.
Since I had the basics of drawing, I did a lot of art service in the army. I made several large cut-out signs installed in the district and many places in the province. I started to make signs of the King and Queen that were set up both in the camp and outside the camp, and included important days and various festivals.
When I finished my two years of duty, I came to live in Bangkok. My plan was to work as a painter for a movie theater in Bangkok, Sahamongkol Film International Co. Ltd. It is a Thai motion picture production and distribution company. It is the leading movie company in Thailand, ahead of GMM Grammy's GDH 559, Five Star Production and RS Film.
The company is privately owned and run by its founder and chief executive, Somsak Techaratanaprasert, who is also known as "Sia Jiang". The company's films include the international hit martial arts films Ong-Bak: Muay Thai Warrior, Tom-Yum-Goongand Chai Lai, and the Nak animated movie, as well as the recent romantic comedy, First Love. The company distributes foreign films in Thailand through its Mongkol Major distribution company. In the 1980s, after the Thai government relaxed import tax policies on cultural imports, Sahamongkol became the primary Thai distributor for major American film studios at the time, which included TriStar Pictures, New Line Cinema, De Laurentiis Entertainment Group and Orion Pictures.
Luckily it was the first time with the filming a movie set I was asking to play a supporting role. At the same time, the start of general freelance work such as movie poster banners - billboards for advertising products, members of the House of Representatives, plenty of work to do and can make money as well. When modern technology begins to replace this type of artist, it fades so I had to adapt to join the event as a co-actor. The exhibition of other artists with the majority of their voices for important charities such as The Thai Red Cross Society, a large organization.
JY . You have a wonderful talent for portraits. and the work comes out beautiful, Please tell me about your inspiration.
CC . My work is classic portraiture. Every picture of my work is with the intention of learning, researching, and experiencing that moment with important images that are personal projects and have been committed to the director of the Bangkok Health Office. My Project for The Royal portrait of Somdej Phra Mahitalathibet Adulyadej Vikrom Phra Ratchanok, father of modern Thai medicine. Paintings are donated all over Bangkok. There are 69 centers, 69 photos, almost half of them have been done and will continue until the number is complete. My intention was that in the future when the health center is completed I will donate a painting to the next hospital. Another important thing is to cheer up doctors and nurses who are on the front lines in the fight against the Covid-19 pandemic.
Every time I touch the brush to paint the picture of the King and the Royal Family, every time I feel like I am close to them. I have that kind of warmth. Everything is born of our faith and trust. It happened in my life, my intuition is always right.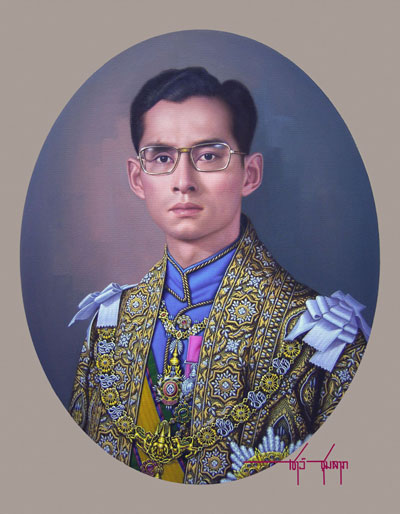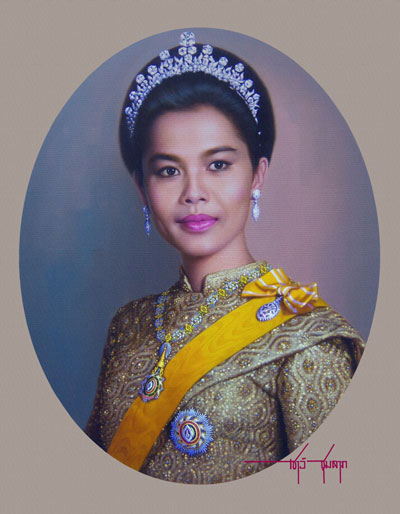 I live by the royal initiative of King Rama IX, sufficiency. It works. Live life carefully and not recklessly because in Thailand we have a lesson: the 1997 Tom Yum Kung Crisis.. Thailand was the point of departure for a devastating financial crisis that began in July 1997 and rapidly spread to other countries in the region. Everyone still remembers. The Thai economic boom came to an abrupt end. The 'Tom Yum Kung' financial crisis shocked the world and ended Thailand's status as an Asian Tiger economy.
JY . I can see the way of your luck and your life are upon your good heart and understanding of the living of Thai life.
CC . I started studying in Primary 1 at Ban Nong Yang School, Thung Song Subdistrict, Thung Song District, Nakhon Si Thammarat Province. At that time, after finishing Grade 4, I didn't continue my education because my mother didn't have the money to send me to secondary school. I was ordained as a novice after finishing primary school. Studied Dharma for many years.
At the age of 17, I attended an educational institution outside the school. At the junior high school level, did not finish high school. I had worked to earn money, and hoped to finish MS.3. go to study Poh Chang. Thinking about it, it was still difficult to earn money to study at that time. If I were a graduate, where will I get money to continue my future studies. The only way to become a painter is to apply to practice drawing at the cinema, the only way I could think of at that time so it started from there.
After being discharged from military service, I came to Bangkok to do all the work with diligence. Being a subordinate, it was like an internship starting from zero, because I had to learn from them: when we have the expertise, we are ourselves. Painting campaign sign of representatives, product advertisements, and movie posters. Join a movie scene to play with. Gained valuable experience and made a set of advertisements for Mitsubishi (Jackie Chan).
I was a painter. Depicted a woman wearing a bikini, a tuk-tuk crashing through a sign. That movie - the star was Pierce Brosnan for 007. I was a painter for a banner inside the movie and the cutout to show along the roads in Bangkok.
I painted pictures for American Express cards,Visa cards, more details to work. I was a very lucky person for all companies that trusted my work, I also did a billboard for SAAB car brands. I was the only one in Thailand at that time. Many car companies came to hire me especially various new car models from Toyota Company. I was asked to draw pictures around the Pattaya Circuit at the opening of the circuit for the first time.
I love to try a new thing, It can be seen it was very easy for me to do and come to improve and to keep up with the 4.0 era. Developing with modern technology, artists who live in the social world have to try it out. I can use the computer and edit, can use a graphic design program projector for precise outlines but also had time to paint parallel royal and royal portraits. Show exhibitions and act as a committee of 96 independent artists to organize art exhibitions in honor of His Majesty the King and Her Majesty Queen Sirikit.
For Her Majesty Queen Sirikit, started from the beginning to the present, the 24th time by the Revenue Officer, the Thai Red Cross Society, and many other exhibitions. I donate photos to various charitable organizations.
When I had a family that was growing up, I was a workaholic who was very serious about work. At that time, the Thai economy was fading, the Tom Yum Kung crisis. Paying installments on my car, and the house. My plan was to be married at the same time. I was 39 years old, my wife at the time 27 years old, Nowadays I have one son and one granddaughter, three years old already.
Why do I like to do by myself? Because it has been a habit since childhood, being left alone and used to being at work, having fairly high self-confidence, but a loving family and hardship before, made me patient and very strong today. A man who eats easily sleeps easily. Love someone and then still love her like the first time we met.
JY . What would you like to tell us about working or becoming a teacher of painting for free in the Department of Health in Bangkok for more than 10 years.
CC . My routine project is to help people who are interested in drawing. It helps to relieve students' stress. Students prepare to learn materials that they like and use according to their aptitude, when they have time, they can go to class. There is no limitation that they have to come every day. I give advice and provide inspiration for job creation. Provide ideas and a place of sale.
Artists record history. Thailand has a long history because the artist was the one who conveyed it in the bygone era. There was no camera, whether it was Rome - Egypt - India 4000 years ago. It was the artist's skill that recorded the events of each era. There were many famous artists in this era, and Thailand was the one in the world for mural paintings. Pha Taem National Park is a national park on the Mekong River in Ubon Ratchathani Province, northeast Thailand. Rock art includes both humanoid and animal figures like the Giant Mekong Catfish.
It is notable for its Dipterocarp forest cover and for extensive rock art on cliffs above the Mekong. The art is estimated to be 3,000 years old. The park also has several examples of mushroom rocks as well as the largest flower field in Thailand.
Thai temples recorded a lot of history. Thai society is a shared society, influenced by cultural traditions from good ancestors to their descendants.
I have my routine to teach drawing and painting at Public Health Service Center 56 Thap Charoen for many years now for people who are interested in painting and drawing. When I start to teachdrawing lessonsin a drawing class,I amtalking about the importance of meditation. When teaching in the classroom, I am a straightforward person. Repeat, repeat, repeat, do a lot, do not rush, slow like water seeping in a sandpit, andthe result will be good. I always thought that any country with a wide variety of arts and cultures and a wide variety of creative works of local artists will flourish. What is difficult is cherished. That which is difficult to do and takes a long time is worth
more.
Projects
1996. Painted pictures of King Rama IX, celebrating the anniversary of his accession to the throne in the area of ​​Ratchadamnoen Road and the palace area. More than 10 pictures next to Chitralada Palace.
2002. Art exhibition in honor of His Majesty King Bhumibol Adulyadej, Her Majesty Queen Sirikit.
Continuing for the 24th time, currently, with the Thai Red Cross Society in collaboration with a group of 96 independent artists and the Revenue Office of His Majesty the King to nourish the Thai Red Cross Society.
Started November 7, 2012, my project to donate oil paintings of Somdej Phra Mahitalathibet Adulyadej Vikrom Phra Boromrajchanok Father of modern medicine to the Bangkok Health Office, totaling 69 places, I have delivered more than 30 photos, and my intention to gradually deliver all 69 photos.
2021. Phayathai Nawamin Hospital I donated oil paintings of Somdej Phra Mahitalathibet Sadulyadej Wikrom Phra Rajchanok .
2016. I donated two oil paintings of His Majesty the King IX for the Chao Pho Luang Art Gallery, a new military training center, Sattahip Navy.
2012. Art exhibition in honor of Her Majesty the Queen on the auspicious occasion of the 80th birthday ceremony on August 12, 2012, at the Ratchada Criminal Court.
Lecturer for teachers in the Northeastern region and the South.
Organized art activities, pointing art to teachers to youth by SACICT, Center for the Promotion of Arts and Crafts International (Public Organization).
Teaching adults at Public Health Service Center 56 Thap Charoen, Bangkok.
Donation of oil paintings of Somdej Phra Mahitalathibet Adulyadej Vikrom Ratchajanok was delivered to the Public Health Service Center.
2020. Donated two oil paintings of Somdej Phra Mahidol Adulyadej Vikrom Ratchanok and Somdej's grandmother's paintings to the place of those who repented of quitting drugs at Ban Phichit Jai.
2016. Donated one oil painting of King Rama IX to the Friends Phueng Pha Foundation.
2019. Celebrating the coronation of King Rama X, organizing an exhibition under the umbrella of His Majesty the King at The Mall Bangkapi.
2019. Evolved an exhibition of 10 Thai artists honoring the King Bangkok Art Gallery.
2019. Tosa Thammaracha Exhibition, Seacon Square.
2022. Thai-Chinese Art and Culture Exhibition in Xiamen hosted by the Consulate General in Xiamen.
Performance schedule: May 28, 2022 at the Arts and Cultural Exchange Center, show duration one month.