Once when I was on a writing assignment, I went to a Jazz Festival in New Orleans. In those days, before Hurricane Katrina, N'awlins was a tobasco'n mix of colonial French, Creole, and west-Southern American cultures with a little Catholic-Voodo sauced in. It had a luscious underground life-style... of course, the city was precariously planted below sea level. Katrina loved that.
One night, I sashayed into a festival venue to listen and nod to Mongo Santamaria. We had smoked-up an acquaintance at the long-gone but memory-sizzling El Mirador in Chicago. It was good to hear again his personalized brand of Afro-Cuban jazz, live. And it was good to see that smile.
Late in the evening (early morning by suburban time), I was fingered into a party of Mongo fans who were throbbing with the music and downing a colorful kaleidoscope of drinks. Sitting across from me at the table was a pair of very attractive twins. Not just twins... the most remarkably identical twins I had ever seen. I was so stunned by what I saw (not by what I was drinking) that I stared at them, stared at them, until I had to move over next to them and say hello. They were both dressed in a la boheme darkest purple tuxedos, with lighter purple shirts sans neckties, and each had a violet silken scarf draped over the shoulders and around the neck. I stared in at them so close, I almost kissed one of them. I was a stunned fool! They were exact carbon copies of each other, exact, except for one small detail:
one had neck-long hair, one had longer shoulder-length hair. They were pleasant and friendly. They smiled a lot but didn't say much.
When my embarassing behavior caught up to me, I quickly moved back to my chair on the other side of the table. I suborned the woman next to me and asked who they were. "Oh them," she said, "that's Jamie and Jenna. Pretty aren't they!" And then she shattered what was left of my breath and brain with: "They're brother and sister." I droned: "I don't believe it, I don't believe it! How do you tell them apart?" As I was about to crumble out my chair, someone jumped up and suggested we move to another more secluded night spot. Mongo had finished for the night and I managed to collect enough of myself to exchange a few words and get his hotel number. Then I followed my party-gang out into the night to the other side of the French Quarter.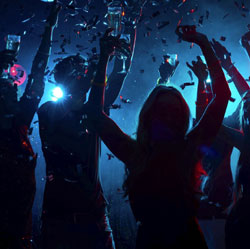 It was a cellar-like place (not many cellars in N'awlins you would guess) filled with paintings on dark walls, clouds of smoke most of it sweet -smelling, and of course, jazz. It was also packed with people. Of all kinds, shapes, and status quos. It was too crowded to pull tables together, so we split up. The twins were at one table, I was at the other... staring at them.
The one with the longer hair, Jenna, was corraled by a good-looking slick to dance with him. She did. They moved together freely and seductively which is what you have to do when you dance to the free and seductive provoking evocations of jazz. The other twin, Jamie, watched them with disturbed care. When the slick began running his hands all over Jenna's body, her brother lunged up and in between his sister and her feel-up partner. The slick was having none of this. They tusseled and stumbled until Jamie felt the closing hands around his throat. He broke free, pounded the slick in the belly, cracked him on the back of his neck, and delivered a collapsing knee to his point-of-no-return. No longer slick, M. Slick was now M. Jelly on the floor. Jamie then dragged Jenna to a corner of the room, pressed him up against the wall and in the shadows they whispered what was obviously a heated, strident argument.
My suborned friend turned close to my ear and said: "Aren't they wonderful? They're like a married couple." I shut my eyes. Then she offered: "Oh, you asked who's who? Jamie is the one with the longer hair!"
I caught my breath turning blue until I poured down a Courvoisier and flashed as bright red as blush could be. It was my Spring Awakening, a metaphor of what jazz music was all about, how it poured into people's blood like cognac and lived with them in their lives.
From its early predominantly repressive male days, Jazz evolved into a de -genderized, tenderized music expression. Because... it's only the music, the lyricism, the song of it all that matters. Something that most rock, all rap and Bob Dylan never understood.