Why would the Steiny Road Poet go to the
AWP Seattle Book Fair in 2023?
Steiny lives on the East Coast. The trip on a direct flight is six plus hours to Seattle from the other Washington and the fares, while not expensive
going, seem unreasonably high and hard to book for return. Covid is still out there infecting lots of people and wearing a mask on the plane, not to mention how little space a traveler has in coach, is uncomfortable.
Well, Steiny did wear a mask on the plane but not on the floor of the Seattle Convention Center because her love of selling beautiful books of poetry to book buyers prevailed, cancelled fear of contagion. Who can persuade anyone to buy poetry if your words are muffled into a vocal fry with a mask?
In the past, Steiny has written about her selling strategy which is merely to approach anyone passing her publishing table and say most exuberantly, "Poetry!" Those interested then stop to take her tour of new poetry books.
This year her running commentary went like this: "The Word Works has been publishing eye-catching books of remarkable poetry since 1975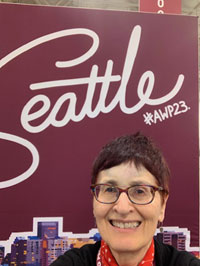 and you are looking at the first poet published by The Word Works [yup, Wandering on the Outside by Karren Alenier, a.k.a. Steiny]…I was the second president and over there is Nancy White who is the third president. Furthermore, there is my latest publishing project." Here Steiny pointed to From the Belly: Poets Respond to Gertrude Stein's Tender Buttons. "This is how it works," she says as she reaches for the book and shows them how Stein's poem is on the left page and the response poem is on the right.
Then she asks what interests them, do they write poetry and maybe have a manuscript? She hands them the new Word Works brochure with Five Ways to Publish with Us and done up royally in the same colors as From the Belly—oh, her designers are so generous, so talented! One fragment of scintillating information leads to another and the customer and Steiny end up laughing. It's pure joy to talk about poetry with those who love writing and reading.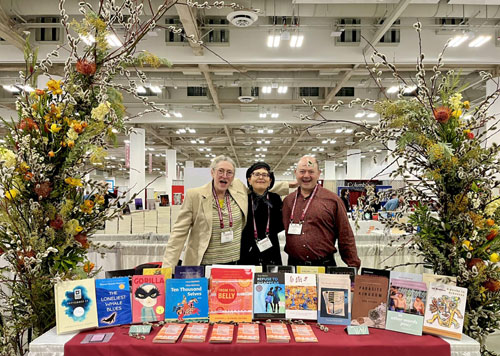 This year was especially unique because Nancy White enlisted her Seattle -based cousin to create a pussywillow and flower arch that sent a gloriously fresh perfume into the air. While many AWP convention goers wear costumes to attract attention, The Word Works created a garden.
Hey, anyway Word Works had their own Gorilla—our 2019 Tenth Gate Prize-winning book by Christine Hamm. In the sterile environment of a convention center the flower arch—this natural work of art—attracted people who might not have otherwise ventured down their aisle. If the person standing before Steiny said, "I already bought too many books; my suitcase is full" or "I spent all my money" or "This is my first pass, I'll come back later" Steiny said, moving them closer to the floral arch, "Breathe, we have created a sacred space for our books and customers." Someone suggested that couples could get married at The Word Works table!