Im Westen nichts Neues (Nothing New in the West), the 1929 novel by Erich Maria Remarque, remains the most celebrated fictional treatment of World War I. In English-speaking countries it is known as All Quiet on the Western Front. Edward Berger's film—the third to be made from the
novel, but the first in German—won the BAFTA Award for Best Picture earlier this year, three years after another movie about World War I, Sam Mendes' 1917, received the prize. At the 95th Academy Awards ceremony, Berger's film won four Oscars out of nine nominations, including the award for Best International Feature Film.
The reviews for Berger's film have generally been excellent, but there are nay-sayers. As noted by Alex Ross in The New Yorker and Nicholas Barber in The Guardian, many of the negative reviews have appeared in Germany, where critics accused Berger of Oscar-Geilheit ("Oscar-lust"). German reviewers objected to the wholesale changes that Berger and co-scenarists Lesley Patterson and Ian Stokell made to Remarque's story. Some even accused Berger of presenting Germany as the victim of the Armistice, a theory advanced by Hitler that helped send Germany down the path to the Third Reich and World War II. Barber agreed. "(E)ven if (Berger) didn't set out to make a film that would appeal to nationalists, Nazis and Putin apologists, that, unfortunately, is how the film may be seen," he wrote. Barber expressed this opinion even as two reviewers for his own publication, Wendy Ide and Peter Bradshaw, lauded the film. "Edward Berger's stunning, horrifying indictment of lives sacrificed on the whims of powerful, thin-skinned men remains uncomfortably resonant today," Ide wrote.
The critical divide on the new All Quiet on the Western Front attests both to its resonance and to the level of discomfort it creates. At a time when Russian troops are laying waste to Ukraine, it is no surprise that a movie about a nationalist war, even one fought more than a century ago, should inflame passions. (Berger has noted, rightly, that he could not have anticipated the invasion of Ukraine when he made his film.)
Lewis Milestone's 1930 version of All Quiet, which followed Remarque's novel much more closely and won Best Picture and Best Director Oscars, is the better of the two. But that is not to deny the gut-punch power of Berger's version. I am not the first reviewer to note that whereas Remarque's novel and Milestone's film concern the brutalization, and annihilation, of a group of teenage German soldiers from the same small German town, Berger's film concentrates on the insanity of war itself.
In a Hollywood Reporter interview, Berger said that most war movies reflect the viewpoint of the victorious American and British forces, which is the total opposite of the German war experience. "In our national psyche, there is nothing but guilt, horror, terror and destruction," he said. "And we have ourselves to blame for that. It's not like someone attacked us, it's our own fault. I think it makes us look at war differently."
Berger expanded on this in a later interview with The Wall Street Journal. "In an American film, you can kill a bunch of Germans and think, 'Great,'" he said. "But in a German movie, you cannot tell that story. Any life that gets taken must hurt somehow."
I understand Berger's rationale for changing the story of All Quiet on the Western Front, but I don't agree with some of his choices, or see how they advance his thesis. Certainly Remarque and Milestone didn't make German war service look anything less than bleak or futile. Berger removes all scenes of Paul Baumer (played by Lew Ayres in Milestone's film and Felix Kammerer in Berger's) with his family; eliminates important characters such as the officious Corporal Himmelstoss; and moves the bulk of the film's action to the last four days before the Armistice. This last decision excises much of the camaraderie between Paul and his fellow soldiers, sapping Berger's film of the intimacy that makes Milestone's so moving. An encounter Paul and his friends have with a group of French girls, ineffably tender in Milestone's film, is played offstage and without Paul in Berger's. Berger does include some touching scenes between Paul and the older soldier Stanislaus "Kat" Katczinsky (Albrecht Schuch). In one, the illiterate Kat receives a letter from his wife; Paul reads it to him, and in doing so learns of a tragedy in Kat's past. There are also the scenes, echoed in Milestone's film, of Paul and Kat stealing geese from a French farmer; in an inversion of Marx, those scenes are played first as farce, then as tragedy.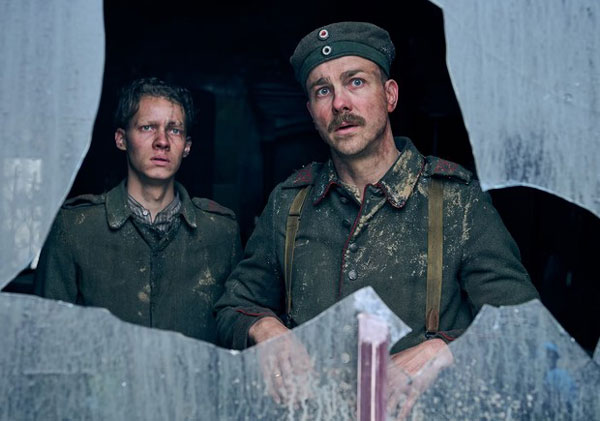 Nevertheless, if Berger downplays who these soldiers are, he amplifies to an agonizing degree what war is. We see soldiers bayoneted, crushed by tanks, incinerated by flame throwers, blown to bits by shells. Paul and his mates find an entire troop of recruits gassed to death. The presentation of war is as shockingly vivid as in 1917 or Saving Private Ryan, but without the sense of ultimate victory that alleviated the horror of those films. Berger is right; this is not the usual viewpoint of war movies. Holding to his premise, he also ensures that every death hurts. One scene that Berger retains from the book and the earlier film—Paul in a foxhole, overcome with remorse over the corpse of the French soldier he has just killed—encapsulates the general mood of despair.
Even more amazing is the film's opening sequence, which begins with a forest of pines and a family of foxes cuddling in their den. From this scene of peace, the miasma of war arises. We see young soldiers running, unsuccessfully, for their lives. We see their corpses stripped of uniforms and hastily buried; the uniforms are sent back behind the lines, where they are washed and mended, the seamstresses' sewing machines resounding like machine guns. Finally we see a recycled uniform handed to the eager young recruit Paul, who stops in confusion: the name of the uniform's previous, dead wearer is still pinned to the tunic. Scorsese did something similar, although more abbreviated, in Gangs of New York, showing Union recruits shipping out for Civil War service while another ship laden with Union dead unloads its cargo of coffins.
Berger veers most sharply from Remarque in scenes portraying the German and French high command, which played no part in the original story. These sections have drawn the heaviest criticism, as German official Matthias Erzberger (Daniel Bruhl) tries to negotiate a peace agreement with intransigent French Marshal Ferdinand Foch (Thibault de Montalembert). It is here that some critics have accused Berger of promoting the "stab-in-the-back" theory of the Armistice, with literal echoes at film's end. (Historians tell us German generals advanced that story to deflect blame from themselves for the defeat. Erzberger died from that lie three years later, via an assassin's bullet. Foch, conversely, had statues raised in his honor and streets in multiple countries named after him.) I think the negotiation scenes are strong per se, and Berger's slant on the Armistice can at least be debated. However, I prefer Remarque and Milestone's focus on infantrymen trapped in a conflict that makes less sense with each new bloodletting.
The Armistice was signed at 5:10 a.m. on Nov. 11, 1918, but Foch decided to set the official cease-fire at 11 a.m. This was partly to ensure that word of war's end got out to all the troops, but also because Foch liked the symmetry of ending the war at the eleventh hour of the eleventh day of the eleventh month. That love of symmetry cost nearly 3,000 lives on the morning of that November 11.
Berger creates a German general named Friedrichs (Devid Striesow). Friedrichs, as Alex Ross notes, is reminiscent of Erich Ludendorff, the right -wing general who in 1923 joined Hitler in the Beer Hall Putsch. He also resembles the swinish French generals in Stanley Kubrick's Paths of Glory, who frame three soldiers for cowardice to save face for an incompetently planned attack. Bivouacked in a sumptuous mansion, drinking wine, smoking cigars, the bullet-headed Friedrichs grouses at his bad luck that the war is ending. "I am a soldier," he tells his adjutant. "What is a soldier without war?"
Friedrichs, a miles gloriosus by proxy, responds to news of the Armistice by ordering an attack just before 11. Such an attack was indeed ordered, according to Ross—but not by a German general. Ross tells the true story, and Americans will not feel pride at reading it.
Though not as breathtaking in its technique as 1917 or Saving Private Ryan, All Quiet on the Western Front is solidly made. Berger gets masterful assistance from cinematographer James Friend, whose panoramic shots of nighttime battles resemble sunsets in Hell, and composer Volker Bertelmann, whose repeated three-note motif injects acid into viewers' bloodstreams.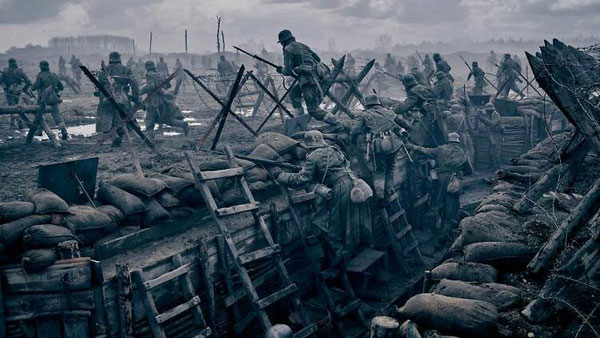 The acting is praiseworthy throughout All Quiet on the Western Front, despite Berger's de-emphasis on individual characters. The standouts are Schuch, who projects a salt-of-the-earth decency, and Kammerer, who bears a slight resemblance to 1917's George MacKay and has the same quality of heartrending honesty.
It is almost redundant to say that All Quiet on the Western Front is punishing to watch, and I wish Berger had hewed closer to the original story. I understand the caveats others have about the film, but I also appreciate it as a persuasive depiction—and by extension a denunciation—of war. Both Berger and Milestone use the ancient quote from Horace, what Wilfred Owen—killed a week before the Armistice—denounced as the old lie: Dulce et decorum est pro patria mori .