San Francisco Ballet's Next@90 Festival of new works finished with Program C, another trio of pleasant surprises. The festival had a major theme: what does the future of classical ballet promise to look like?
My overall impression of the nine new works presented in three evenings was inconclusive. While there was no work that shattered the tried and true of neo-classical and contemporary styles, a glimpse of the future of ballet was manifest in its relative diversity. Each program had at least one black and one female choreographer. (Program A even showed off two black male dancemakers, reviewed last month.)
Program C: Schreier, Blanc, Possokhov
Kin
The one black female choreographer of the festival was Claudia Schreier, a Stanford-schooled and Harvard-educated dancer who became Choreographer in Residence at Atlanta Ballet. Schreier's creation Kin showed considerable self-confidence in moving twelve dancers plus two couples across the stage in fast, edgy formations, using adventurous lifts, throws and turns from ice skating – a refreshing spice. The backdrop was a disappointing abstracted forest of planks; the music was a written for Kin by young Californian composer and song writer Tanner Porter. The partly illustrative and at times bombastic modes of Porter's score were mainly ignored by the abstract, athletic, rhythm-based choreography. A vague story line flickered in and out: one "leader" of the group, elegant Wanting Zhao, clashed with an apparent outsider, Dores Andé, who was fiercely determined to enter the group. She finally seemed to make it, receiving a welcome kiss from Zhao, but nevertheless ended up alone onstage, making me wonder about a possible "Blood is thicker than water" allusion. In other words: a kiss doesn't make you kin.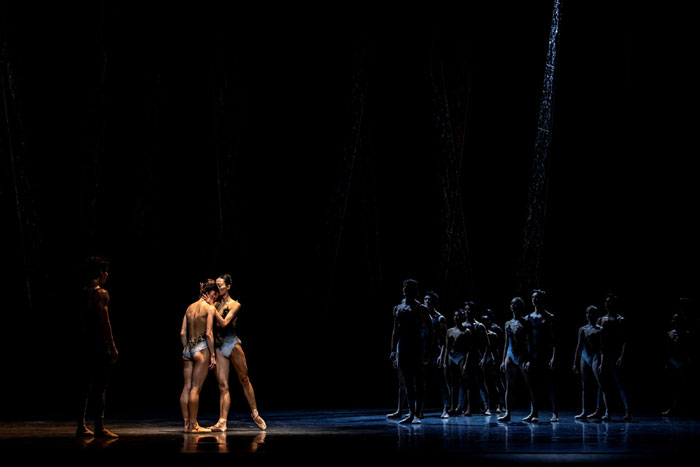 Both women danced with passion and were passionately partnered by Aaron Robison and Isaac Hernandez, but their role in the struggle remained obscure. The mix of abstract dance and story line didn't gel – a problem that showed up in a number of this festival's creations. Perhaps Schreier didn't have time to fully develop her themes and thus left the impression of a promising draft.
Gateway to the Sun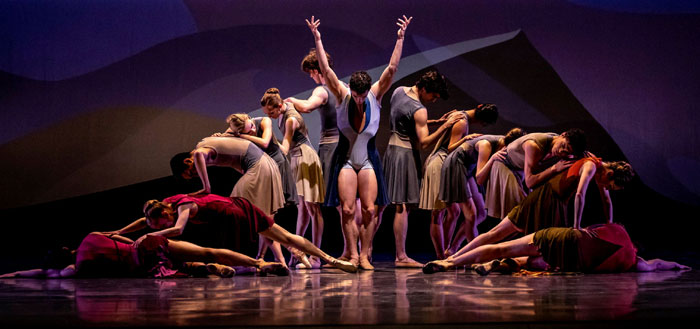 Fully controlled and mature, by comparison, was Gateway to the Sun by French choreographer Nicolas Blanc. Blanc is an ex-Principal of SF Ballet, who started creating pieces for the SF Ballet School then the Joffrey Ballet where he worked as Principal and rehearsal director. In order to bring maximum diversity to his creation for Next@90 he chose women for his creative team, in particular Grammy-nominated composer Anna Clyne. Her composition, "Dance," is lyrical and emotionally evocative – a perfect foil for the purpose of the choreographer. Gateway to the Sun is both abstract and narrative, "telling" about the awakening of the poet Rumi in the Persian desert of the 14th century.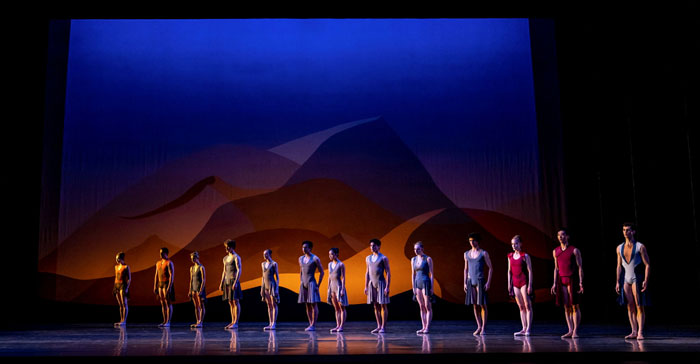 Sounds of wind and sand begin the piece. Cut into the black backdrop is a sliver of desert, bathed in sunlight, and the dancers are seen in silhouette, standing staring into the desert, slightly shifting to one side, then the other. The group begins to dance. The Poet (Max Cauthorn) approaches a male dancer and lays his head against his back as if to listen to the man's inner life. This gesture of "soul searching" and the ensuing dance evokes the relationship Rumi found with the dervish Shams-e Tabrizi that changed him from Islamic teacher to mystic and engendered his most passionate poetry.
From the moment of listening in, the two men danced, joined by the group, and the backdrop opened to the full, glowing desert hills. The costumes – knee-length skirts with an open front for everyone – added their strangely archaic, even biblical associations to the ritual and tribal atmosphere of the piece. In beautiful ways, Blanc showed the power of the poet as a prophet/teacher, but also the outsider. He appeared and disappeared and assisted couples in discovering love while apparently also learning about love himself. Blanc was exquisitely served by the artistry of Principal Max Cauthorn who exuded both a strong muscular masculinity and feminine, lyrical attunement. The perfect simplicity of this narrative line filled the work with existential warmth and meaning – just the thing Claudia Schreier and others in this festival reached for but did not quite grasp.
Violin Concerto
Yuri Possokhov, Russian Choreographer in Residence of SF Ballet, was the second dancemaker of the festival who boldly took on an iconic masterpiece from the past and made it his own. The first one had been Yuka Oishi (Program B) with her take on Béjart's Bolero by Ravel (reviewed last month). Possokhov took on Balanchine's famous Violin Concerto by Stravinsky. Instead of the fiercely controlled symmetries of Balanchine's eight elegant dancers, we got a happy cavalcade of sixteen, plus one "Muse" cavorting in and out of an illusionary dance studio. There were no straight lines, no architectural groupings in this version . Even the barre at the back was curved. Six partitions divided the back wall showing slide projections of the composer and his score. It was a marvelous effect to see Stravinsky peer bug-eyed from behind his glasses like a deity watching his little children play with his tricky rhythms.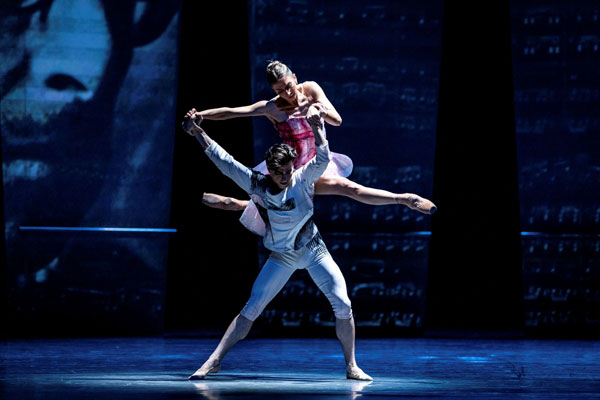 The constant entrances and exits were full of lively, inventive moves, leaps and lifts, perfectly suited to the music, which was no surprise given this choreographer's great musicality. The merry chaos got organization and accents from the Muse: she snowed in with her gauzy, tiered pink tutu like a summer breeze, drove the male dancers on, then stood still at the barre like the emissary of the composer keeping watch. At one point she interfered in a pas de deux as if quoting from the romantic ballet La Sylphide in the original French version from 1832. Only Possokhov, who has known every dancer intimately for over a decade, could have made the inspired choice of Sasha Mukhamedowfor the Muse -- a corps member with an earnest unpretentious confidence and aplomb. She needed no extra dose of charm or smiles to be a delight.
Now the suspense remains: which of the nine new world premieres of Next@90 will make it inti the SF Ballet repertoire? This will be up to the new artistic director, Tamara Roja. Yuka Oishi's bold Bolero is on top of my list together with Jamar Roberts's edgy Resurrection (see last month) and Nicolas Blanc's poetic Gateway to the Sun. And I count on Possokhov, hoping to see an elaboration of certain ideas like the intriguing but underused barre. It will be rewarding to see his slightly chaotic exuberance evolve into a more transparent architectural form.
Giselle

Interestingly, this year's festival of new works did not showcase a successful narrative piece of work, and so it was a pleasure to dive back into the past with Giselle, a full-throttle narrative ballet. Helgi Tomasson's version of the romantic classic leaves most of the tradition intact. His sets recall a children's pop-up book: a German village square with a rustic house and a castle in the distance. In Act II, a gnarly forest that opens to a lighting with Giselle's grave. Nothing more is needed to set the story of the village girl betrayed by her suitor, a prince in disguise. Losing her mind and dying from a broken heart, she returns as one of the "Wilis"– nightly spirits of dead maidens betrayed before marriage.
All the great romantic ballets are about love and death, betrayal and forgiveness. La Sylphide (1832), Giselle (1841) or latecomer Swan Lake (1875) share otherworldly elements, fiendish challenges for the dancers, and high demands in acting and miming. The most demanding is Giselle because of the triple aspects of the heroine: dance-loving, but fragile village girl, heart-broken mad girl, and all-forgiving ghostly lover. It's a career -defining role and great ballerinas are often remembered as "one of the most devastating Giselles."
SF Ballet has had a long line of Giselles since artistic director Helgi Tomasson presented his version in 1999. He usually let five or six of his dancers take the lead in a run of a good dozen performances. I've been lucky to see a few of the "most devastating" Giselles: Yuan Yuan Tan and Lorena Feijoo (reviewed in these pages). This year I was able to add a third candidate: the new Principal Misa Kuranaga. I saw an exquisite excerpt of Giselle at the opening Gala, and learned on YouTube that the Japanese dancer could not make it in the West until she decided to develop a specialty: pirouettes. Turns on pointe are the most tricky moves in the classic vocabulary. Kuranaga demonstrates in the video the astonishing perfection she attained, which opened the doors for her.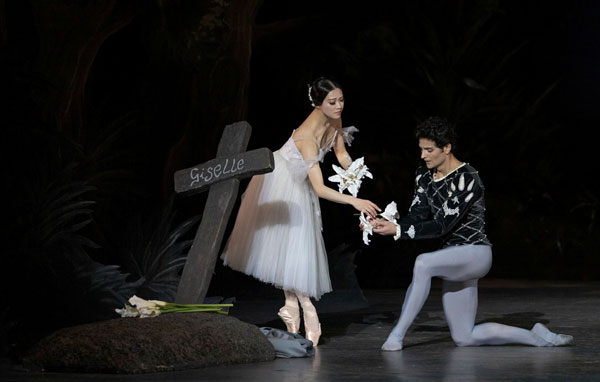 Kurnaga displayed artistry in every aspect of the role. She was a lovely, shy, sensitive village girl, turned ferocious in the mad scene, and in the long second act, turned diaphanous, a white, weightless, floating soul. Her technique seemed effortless, carried by musicality and sincere, convincing emotion.
Albrecht, her prince, was Angelo Greco, a fine dancer with very long limbs whose leaps seemed to push against the limits of the stage space. He had an air of pushing boundaries with youthful exuberance that made him sympathetic even in his betrayal. Greco and Kuranaga achieved a rousing crescendo when she helped him not to succumb to his punishment by the Wilis: having to dance himself to death. When the church bells strike morning and the nightly spook ends he is still alive, thanks to Giselle's love. Their separation at her grave had the depth of grief and transcendent tenderness that felt… well, devastating.
The secondary character of the village hunter Hilarion was flawlessly danced by Steven Morse, but his character was watered down to "just another nice guy in love with Giselle" which is a dramaturgical mistake. Hilarion is supposed to bring a dark and threatening note to the fairytale (and the illustrative music by Adolphe Adam leaves no doubt about it). A "nice-guy" Hilarion can unbalance the tale unnecessarily by outshining Prince Albrecht and making the audience wish she had chosen him instead.
Myrtha, queen of the Wilis, was danced by Principal Jennifer Stahl, technically perfect, but strangely and uncharacteristically stiff in her arms and torso. If this was an attempt to radiate Myrtha's rigid authority, it was a misjudgment. The extensive passages when she calls up the maiden spirits in their bridal veils, and finally calls Giselle from her grave, are supposed to set the mood for mysteries and introduce the magic of wafting spirits. Her severity has to come later, when the male intruders, Hilarion and Albrecht, disrupt their melancholy rituals. One only has to look at other classical versions, the Bolshoi Giselle, for example, to feel sorry about what was missed in this interpretation.

No matter, the group of the Wilis, corps members and soloists, provided plenty of magical grace. The famous passage when they enter, six at a time, and cross the stage with tiny hops in arabesque, holding their lines in perfection until they fill the whole stage, was admirable and brought the house down with the excitement of witnessing the almost impossible – a romantic ideal.
Photos - Lindsay Thomas