July 2, 2007 marked the passing of Beverly Sills, a renowned coloratura soprano and a highly successful advocate for opera in the 21st century. In 1983 as General Manager of New York City Opera (NYCO), Sills pioneered the use of surtitles in the United States. Use of surtitles has revolutionized the experience of opera by removing the barrier of sung text in languages not understood by the majority population and by clarifying the native language. Having first seen surtitles used in China in the spring of 1982, Sills realized how this accommodation could dramatically increase audience attendance.
MOORE SAID, YOU ARE BABY DOE
Although Sills referred to herself as a diva (and often comically), the path of her career and life was fraught with challenges that required fortitude beyond the courage and stamina required for public performances. Although she began her singing career at the early age of four and consistently worked in the entertainment field, her first significant break came at the age of 29 when she won the role of Baby Doe in Douglas Moore and John LaTouche's The Ballad of Baby Doe. Although it was the second production (The Ballad of Baby Doe premiered 1956 in Colorado by the Central City Opera), the 1958 NYCO presentation with Sills in the lead role clinched this opera's place in the repertory and was indelibly connected to Sills.
In many ways, this opera reverberated with Sills' life and provided a cautionary tale. The operatic story is based on the real life characters of silver millionaire Horace Tabor, his first wife Augusta, and his second wife Elizabeth McCourt Doe (a.k.a. Baby Doe). Points in common with Sills' life are a young woman marrying an older man who obtained a divorce from his first wife under stressful circumstances, the younger woman marrying into great wealth, the snubbing of the newly united couple, the close relationship the young woman had with her mother, a child who does not have a successful life, and the younger wife surviving a husband who has lost his way. Without rehashing the life story of Beverly Sills, which has already been told by Sills in her autobiographies Bubbles: A Self Portrait (her childhood nickname) and Beverly: An Autobiography, here is an annotated timeline starting with her marriage that includes her most significant performances.

1956 Sills marries Peter Greenough, a man 12 years her senior and the custodial father of three young daughters, one of whom is institutionalized with mental disabilities. Sills moves from New York to Cleveland, Ohio, where she and Greenough are snubbed by the upper crust Cleveland society. Greenough's first wife suffering severe mental problems belonged to the upper crust social set that still supported her though she had abandoned her husband and daughters.
1958 Sills appears in the New York City premiere of The Ballad of Baby Doe.
1959 Sills gives birth to her daughter, Meredith, known as Muffy.
1961 Sills gives birth to her son, Peter, Jr., known as Bucky.
1961 Bucky is diagnosed with severe mental retardation. He is also deaf. Muffy is diagnosed as profoundly deaf.
1966 Sills plays Cleopatra in the New York City Opera production of Handel's Julius Caesar.
1967 Bucky is institutionalized in Massachusetts where the family moved in 1960.
1968 Sills sings title role in Massenet's Manon.
1969 Sills performs in Rossini's The Siege of Corinth at La Scala opera house in Milan, Italy.
1970 For New York City Opera, Sills portrays Queen Elizabeth I in Donizetti's Roberto Devereux. She also debuts at London's Covent Garden in Lucia di Lammermoor.
1974 Sills undergoes a successful surgery for ovarian cancer.
1975 Sills debuts at the Metropolitan Opera in Rossini's The Siege of Corinth.
1979 Sills sings her final performances of a complete opera at New York City Opera in Menotti's La Loca. She becomes General Manager of NYCO.
1988 Sills retires as New York City Opera's General Director.
1995 Sills' mother, Shirley Silverman, dies at age 91.
2002 Sills becomes Chairman of the Metropolitan Opera.
2005 Sills retires as Chairman of the Metropolitan Opera.
2006 Peter Greenough dies of Alzheimer's disease at the age of 89.
2007 Sills dies of non-smoker's lung cancer at the age of 78.

In her day, Beverly Sills was one of few American Jews working as a professional opera singer. In New York, she never experienced any prejudice, but in Cleveland, she was not only snubbed because she married a man who fought for custody of his young children, but also because she was a Jew in a WASP milieu. In addition, part of her family refused to talk to her for five years because they were not invited to her very small wedding and because she married a Gentile.
Being selected by composer Douglas Moore for the role of Baby Doe over 100 rejected hopeful sopranos probably saved Sills from an unhappy life in Ohio. What Sills said about her audition, which came after no one else was deemed acceptable, is telling about her strength of character.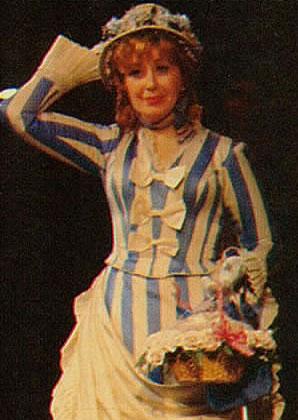 Originally she was told she was too big for the role of Baby Doe. She was five feet eight. Later when she was called and felt reluctant to go to the audition because they might still reject her, she showed up in spike heels and a mink hat that made her look [in her own words] "tall as a skyscraper."
In her autobiography Beverly, Sills said, "The Ballad of Baby Doe turned out to be one of the most successful operas I ever did. It was the first major triumph of my career, and for a long time I thought it might be the only one. Although people began paying attention to me after Baby Doe, a full eight years passed before I experienced the same combination of artistic accomplishment and public recognition." The way she sang "Willow Song" from Baby Doe still dazzles opera audiences. Sills can be seen and heard on the Internet at YouTube.com singing this captivating aria.
MINING THE SILVER
Unlike Baby Doe, Sills knew how to make good choices for herself and her family. At the age of 50, she retired from her singing career. She said she had planned this exit with her husband in advance and that leaving the stage at this point in her life made sense. If the Matchless Silver Mine was Baby Doe's demise, the NYCO, dependent on Sills' star power to bring in audience, would become a new source of recognition and acclaim for the singer-turned-entrepreneur. Despite NYCO being close to financial ruin, Sills did not abandon the company where she distinguished herself from other opera singers. Instead as General Manager, she turned a financially failing opera company into a viable and cutting edge organization promoting young singers and new operatic work.
One other note about the course of her career and the way she handle herself is that the Metropolitan Opera did not offer her a chance to debut on its stage until 1975, which was very close to the end of her singing career. Although Sills said that the Met "robbed [her] of any intense feeling about appearing there" by making her wait so long, Sills took this in stride and never let this fact get in her way. Opera singers and opera general directors must never burn bridges. Besides, she rationalized that as a "kid from Brooklyn, [she] had made good' just by getting on the stage at the Met. Subsequently, Sills became Chairman of the Met but as NYCO's General Director, she often got generous help from the Met. For example, when the NYCO costume warehouse burned down, the Met opened their costume inventory to her.
What's remarkable about Sills was that she was as comfortable vamping and cracking funny with comedienne Carol Burnett on Johnny Carson's The Tonight Show and singing "The Ride of the Valkyrie" with the Muppet Miss Piggy as she was portraying Queen Elizabeth I, a role in which she slapped her leading man Roberto Devereux as played by Plácido Domingo. In the annals of opera history, Beverly Sills (née Belle Miriam Silverman) will stand as an artist and leader who brought opera to the people and revitalized a dying art.