The 9-11 attacks redefined every day levels of paranoia. What would once have been considered an overactive imagination or even obsessive or pathological focus on what others might be thinking, planning or doing to harm us is now part of the every day political discourse. Have we really changed that much or has paranoia always pulsed through the political landscape? Has the trajectory of our preoccupation with the dangerous other been a steady slope upward or have there been periods, like the McCarthy and post 9-11 eras, when paranoia spiked and created a new normal?
Two new plays presented by the Oregon Shakespeare Festival this summer examine, among other things, how paranoia looked and felt to American politicians and activists in the 1960s. Both plays were created through OSF's impressive American Revolutions: the United States History Cycle, which is commissioning nearly 40 plays about pivotal moments in American history. "Party People" explores the Black Panther and Young Lords movements. "All the Way" revives the first eleven months of the Lyndon Baines Johnson presidency.
Lyndon Johnson ascended to the U.S. Presidency after John F. Kennedy was assassinated in 1963 with less than a year remaining in his first term. With such a short amount of time to make his mark as president and win reelection, Johnson took a brave stance and decided to push through Kennedy's Civil Rights Bill which had stalled in Congress. The legislation declared major forms of discrimination against African Americans and women illegal. This included racial segregation in schools, public places and the workplace. In pushing for passage of this bill Johnson had to attempt to find a balance between the demands and desires of Martin Luther King, Jr., and his colleagues while also finding enough support from his own democratic party. The Democratic Party at that time included several powerful Southern legislators who were staunch segregationists and therefore vehemently opposed to legislating equality.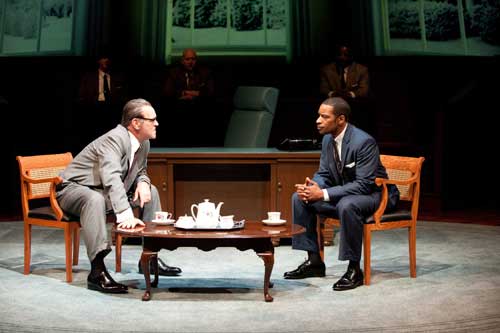 It was an inspired decision for OSF to approach Pulitzer-prize winning playwright Robert Schenkkan to write this play. He is a master of translating America's truth and mythology to the stage. His linked one-act plays, "The Kentucky Series" won the Pulitzer in 1992 and he garnered an Emmy for one segment of the documentary series "The Pacific." "All the Way," whose title was taken from Johnson's campaign slogan "All the Way with LBJ," elegantly portrays the daring path that Johnson treads in passing this legislation and getting himself reelected. The dialogue is most brilliant in a series of tĂȘte-Ă -tĂȘtes, intense portraits of manipulation that were Johnson's trademark. Johnson (played with force and finesse by Jack Willis) uses good ol' boy storytelling and a bottle of Cutty with one of his southern opponents then morphs into another persona when he shares a gentile cup of tea and speaks of his unflinching dedication to the cause with Reverend King (played with pensive authority by Kenajuan Bentley).
Schenkkan's masterful command of the subject and his ability to write dialogue to expose complex characters inspired scintillating performances on opening night, especially from Willis. Molding his face into a fierce scowl or a peevish grin and transforming his body language to communicate frustration, determination, coercion, complicity and in the penultimate scenes, when all seems nearly lost, howling self-pity, Willis fills the stage, the theatre and the psyche of those in the audience. For days after seeing the play I could not get him out of my head. The scenes kept running over and over again in my mind. The three-hour performance was jammed with dialogue, complex arguments about archaic Congressional rules and strategies, changes in locale from Washington to Mississppi and elsewhere, actors playing multiple roles by quickly changing costume, and yet it all flowed seamlessly. OSF's Artistic Director, Bill Rauch, directed the action and somehow managed to keep the complexity from overwhelming the story.
In style and form "Party People" could hardly be further from the more traditional staging of "All the Way." Created by the trio that goes by the name Universes (Mildred Ruiz-Sapp, Steven Sapp, and William Ruiz aka Ninja), "Party People" is ambitious in scope, scale and style. With such a variety of ways that a world premiere production could go wrong it was all the more surprising to witness how beautifully the piece worked. A multi-generational, multicultural, multimedia, multi-genre work that also crosses five decades and captures a bi-coastal movement grounded in resistance to, among other things, racial inequality, police brutality, unfair housing practices and poverty, could hardly have taken on a more complex subject.
The success of this piece is due in no small part to the performers who sing, dance, act, march and embody a script that was created by doing hundreds of interviews with former members of the Black Panther Party and the Young Lords. Meanwhile, the set includes a backdrop of multiple video screens carrying footage of the actors either on the stage or as their characters giving interviews. A camera is also used onstage to project a live video feed onto the screen. Remarkably, this never feels chaotic or over-stimulating. The actors' commitment to their roles and their ability to move between forms and flow from narrative structures to lyric poetry, song and dance provides a compelling coherence.
The basic conceit is that two friends in their early 20s are organizing a party that, like the play itself, is many things at once. It is an exhibition of Black Panther and Young Lords' memorabilia, it's a reunion for members of both organizations and others who knew them, and it's a party where the elements of shock and surprise are meant to provoke the guests. The opening scene warmly introduces the two young men as they discuss, even while the audience is still settling into their seats, their plans for the night and their progress, or lack of progress, toward pulling the evening off. Their youth and exuberance are immediately on display as Jimmy (William Ruiz aka Ninja) and Malik (Christopher Livingston) are fiddling with their computers and video cameras. Jimmy's face is buried in his laptop as begins to congratulate himself on what he's doing. "Nobody has skills like me," he sings in an a capella voice. "Nobody." He confirms. "That's what my mom says." With this laugh he wins over the audience and pulls us deeper into his world.
It's the day of the event and they are completely disorganized. The loose narrative follows them throughout the day as people call or stop by and they all try to pull off the show. This narrative is frequently interrupted by movement sequences, dance or sometimes marching, song and spoken word segments that tell a more nonlinear version of the creation and activities of the two movements and their eventual demise. As the event finally comes together friends and enemies are reunited, secrets are revealed and tensions rise and fall. Jimmy pulls off a surprise appearance as a cross between a television game show host and a clown. He parades around the party asking pointed and evocative questions trying to provoke conflict and controversy. It all works as the characters reveal long-held secrets, release pent-up feelings and discover things about their collective past.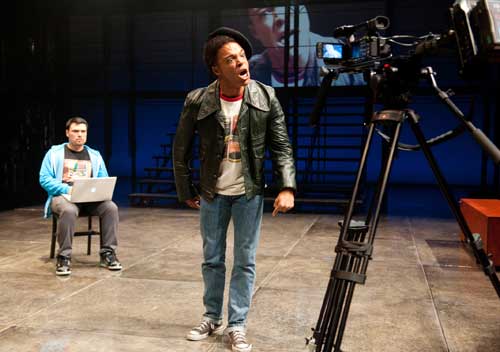 An eerie specter hovers over both plays: J. Edgar Hoover. He held the reigns of the Federal Bureau of Investigation for nearly 50 years and made his own rules as he went. Illegal wiretapping, blackmail and intimidation were his equal opportunity strategies for gathering information on everyone from the Black Panther activists to presidential candidates and presidents themselves, including at least JFK and LBJ. His tactics were successful, in spite of also being blatantly illegal, unethical and underhanded; he contributed significantly to redefining American paranoia. The only force potent enough to stop him was death itself. The U.S. Senate subsequently put in protections so that future directors of the FBI could serve for only ten years.
Hoover only briefly appears in "All the Way" and is never present in person in "Party People." But his physical presence isn't necessary. Once his bugs are placed in Johnson's office and Martin Luther King's hotel room, he is essentially everywhere. Likewise, in "Party People," once the FBI successfully placed moles inside the organizations, members began to crack under the pressure of knowing they can trust no one, especially not each other, and the movements imploded.
It is not only paranoia that links us to these highly charged times in the 1960s. Themes of steadfast resistance to equality, civil rights' violations in the name of national security and intransigent politicians carry both plays from the 1960s to our present political climate.
Both plays and several others run through November 3 at the Oregon Shakespeare Festival. www.osfashland.org.