Thai northern artists in the present are well educated to preserve old Thai traditional art and they sometimes try to combine this in their new artistic creations. This is one of the reasons why many people including me admire them so much. During my childhood, I was fascinated with art since my grandfather took me to Wat Phra Singh temple where he was headmaster at a high school there. I also learned about printmaking and knew that its processes are a bit more complex and time consuming if we compare it with painting.
Last month I had an interview with Srijai Kuntawang who is an artist and
art lecturer from Rajamangala University of Technology Lanna, Chiang Mai Province. He invited me to go to one of his art studios in Mae Tang District, actually this place is also a restaurant called "Pankled". Flowers, leaves and branches of trees are still mysteries for me in that they represent thoughtfulness and carefulness in the rhythm of nature. After having lunch at the restaurant, an image of a large tree stretching its branches away and all golden tiny five-petal flowers blooming at the same time caught my attention. Moreover, I saw this kind of imaginary flowers in many of Srijai Kuntawang's art exhibitions. This is probably his signature, portraying the cycle of seasons as flowers bloom, wither and then fall to the ground.His works are a pleasure to view.
After twenty years, woodcuts and printmaking among Thai artists became more unique. But it can be said no Lanna artists attempt to do the same as Kuntawang. At many exhibitions, he said "my works come mostly from the surroundings around me." His prints reveal trees with large branches and flower petals blooming everywhere just like the trees uphill in Chiang Mai and Chiang Rai which we call "Wild Himalayan Cherry". This flower is astonishing and very beautiful in Winter. Old leaves fall and only flower blossoms remain. His flowers are from his imagination and we can see 3-6 petals in various forms. In his catalog, he refers to the flower patterns from a scripture cabinet. These original patterns are lacquered and gilded.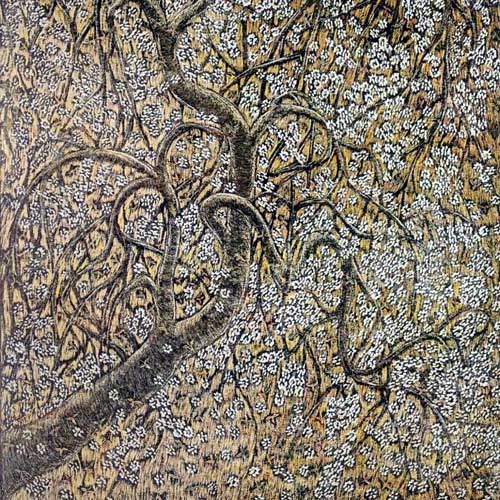 On the day I met with him, he just finished his 10thexhibition with Jed Yod Group at the Chiang Mai University Museum. Later, there was an exhibition of the Japanese artist Sharaku. He also gave a lecture and workshop about woodcuts and printmaking at Rajabhat University.
JY: I am very happy to meet you in person today. I've followed your exhibitions for a long time.
SK: For more than 20 years, as I continued to work with woodcuts and printmaking my works drastically changed. Such works of art are not well known in Thailand because the process is quite complex, more than painting, but my passion in printmaking began from ancient textiles and I want to preserve the imagination of our ancestors which can tell the thinking and creativity on clothing. Then I study the patterns from various items in Buddhism. This will show the way of nature and faith of people and the pilgrimage journey to the Maha Chedi (the great pagoda) on the high mountain. I use elephants as symbols to travel uphill. Flowers fall down to congratulate the act of merit. Trees and flowers are symbols of strength and beauty. There are some fish in the water to show the abundance of natural resources. Turtles stand for the longevity of age. From the same period. I use a big peacock to illustrate as a sign of observing present events from the beauty of colors, figures and their eyes .
JY: Can you tell me about a new technique in your Lanna art form. You said it was a monoprint in color.
SK: Printmaking is one of the visual arts that is not common in Thailand but it has an important role in many countries such as Japan, Europe and America. The problem is that the technique is high in cost because of the equipment. The process is repetitive but only one picture is made from a wood block print. I try to teach some students about woodcut in a relief process. This is the same as linocut. Printmaking from wood is more durable than the linocut. We can select the type of wood. In Thailand, the wood to make prints comes from masonite and plywood. The size is large enough, very dense and cheap in cost. When we cut the image it will be sharp enough for printing. We use offset ink from oil colors which is very bright. In Japan, they use water color. Other essential tools are rollers and barens. We can rub the back of paper using a hand-made baren that fits the palm of the hand. The oil to remove the ink must be carefully selected according to safety and availability. In the near future, I will use this place to be a workshop and studio. People can observe how I work and view the gallery. This is a project that will be ready soon.
JY: Today I saw an example which is the movement that is changing your work as well as the ideas you to present to the public. This is a great chance to study printmaking. Everything is ready to show to the public. In my view, not only does your work tell us about ancient art, bur your works are also very systematic. This is a progress that is beautiful and active.